Sushi Restaurants
in San Francisco
Isobune:

the Original Sushi Boat Restaurant

Sad news! Isobuni Sushi has closed permanently.

There are many excellent sushi restaurants in San Francisco, but Isobune was one of the best, and definitely the most fun.
A Review of Isobune as it used be...
This delightful San Francisco sushi restaurant is located in Japantown at 1737 Post Street, in the Japan Center mall.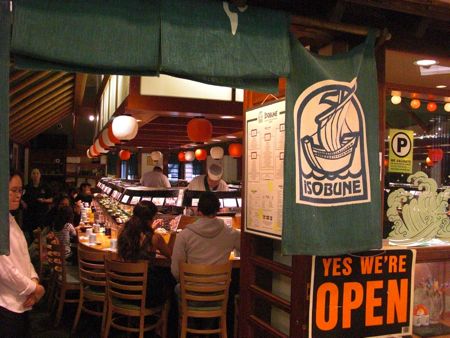 The fish is very fresh and there is a great variety of dishes to sample. The server starts you off with a hot towel and mug of green tea.
My favorite part is the little river with the sushi boats sailing past your plate. So relaxing, almost hypnotic. Isobune guests sit at one oval table, which wraps around the chef and his work area in the center.
Isobune Sushi is the original sushi boat restaurant in the U.S. (they patented the system in 1982).

The Original Sushi Boats
Each boat has three or four dishes of different sushi selections. You get a look at what's available and just help yourself to what is passing your plate. Instant gratification!
The plates are color-coded by price, so you have a good idea of what the bill will be. Green tea is served with the sushi; refills are unlimited.
Be sure and try the dragon roll: a large and satisfying combination of delicate eel, buttery avocado with rice, wrapped in nori. The salmon is very fresh and tasty as well.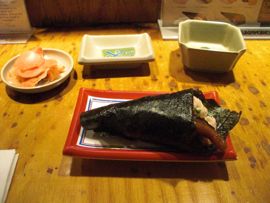 Dragon Roll
Salmon
The crab roll is delicious, and if you like something with a zing, try the spicy tuna roll.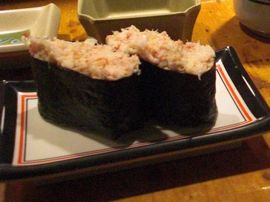 Crab Roll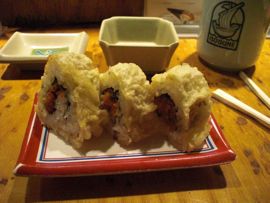 Spicy Tuna Roll
The assortment of sushi on the boats changes as you sit; if you don't see what you want, wait a bit and new items will appear. The variety is amazing! You can also order from the menu.
I enjoy sushi, but I have a friend who is sushi-obsessed. She has been eating sushi in San Francisco for years and has tried many of the sushi places in the city, but she keeps coming back to Isobune. Her verdict: this is the best sushi restaurant in San Francisco - extremely fresh, generous portions and reasonably-priced.
Prices
The dishes vary in price, with most of the seafood selections in the $3.20 to $5.60 range.
Four plates would fill up most people, but the sushi is so tempting many guests eat a lot more than that. The most I've seen is 17 plates stacked up- yikes!
Hours
Daily, 11:30 am to 9:30 pm.
Location
Isobune is at 1737 Post Street, between Webster and Buchanan, in Japan Center, the shopping mall in Japantown. You can enter from Post Street, or from inside the mall.
Map of Japantown and Isobune
Map data (c) OpenStreetMap and contributors, CC-BY-SA
Parking for Isobune
There is parking on the street; the spots near Japan Center are metered and there usually aren't many available, but you can usually find a couple. There is also free parking in the neighborhood a block or two away (though it's not the safest area at night).
The easiest parking: park for about $4 (including discount with validation at Isobune) in the Japan Center Garage in the same block of Post Street (enter from either Post Street or Geary Boulevard). Then just go upstairs from the garage; as you enter the mall, Isobune will be right in front of you.
Parking garage entrances are marked on the map above, with blue P's.
By Bus
The Japan Center is on Geary Boulevard, so the 38 Geary bus goes right by it; you can catch it on Geary downtown or at Union Square.
Explore Japantown
For more suggestions on where to eat in Japantown, see Japantown restaurants, including some tasty ideas for Japanese sweets.
After you've filled up on sushi, take a look around Japan Center, Japantown's shopping mall. There are lots of interesting, authentically Japanese stores to explore, with imported items from Japan: music, books, ceramics, art, housewares, Japanese pastries, etc.
Don't let the word "mall" turn you off; this is a unique shopping area, not at all touristy like Chinatown. The Japanese, and Japanese-Americans, have mostly moved away, but many still come in to Japantown to shop and eat. For more tips on what to do and see there, visit Japantown.
---
More to explore...
Home

>
Isobuni Sushi Restaurant