My Solo Build It Review
Also known as Site Build It or SBI
I've included my "Solo Build It" review to let people know about the company that made it possible for me to create the website you're on now.
If you're thinking about starting an online business, or you already have one that's not going as well as you'd like, perhaps my experience can help steer you in the right direction and avoid the mishaps that have waylaid far too many good people.
I've managed to build two high-traffic, travel websites using the tools provided by Solo Build It at sitesell.com. Not because I had any special talent or background in creating online businesses, but because the company Solo Build It, or "SBI" for short, has created such a great program for teaching anyone how to do it.
I want to say right up front that this is not a sales pitch. You won't find any "sign up here" or links to earn an affiliate commission by signing someone up. The links in this article are to provide more information; I don't benefit financially whether anyone signs up with SBI or doesn't. 
Phew!  I felt I had to point that out because I've run into so many fake reviews about making money online that are not honest. Basically a funnel using misleading arguments to get someone to sign up so they can earn a commission. Very discouraging, but that's the reality these days.
Can You Earn a Decent Income From the Internet? 
At home, in your pajamas, like the ads say? 
Weirdly enough, the answer is...possibly.
In this time of downsizing, layoffs, and uncertain job security, a lot of people are looking for a way to earn money by creating their own businesses, especially one that doesn't need a major capital investment. And many would like to supplement their retirement income to be able to enjoy those years more.
If you've done any searching for ways to "work from home" or "make money online",  you've probably seen lots of people claiming to have the answer. And sorry to say, lots of those are bogus, mainly a way of transferring their customer's resources into their own pockets! 
Fortunately, there still are some decent companies out there, and Solo Build It is one of the best, in my opinion. Using their system, I've created a business that provides a nice retirement income for me. And OK, I have done some of the work in my pajamas.
Not saying that to brag (I was raised to believe tooting your own horn is very bad form), but to illustrate that "work from home, earn money while you sleep" is actually possible...if you have the right guidance and tools, and are willing to do the hard work required.  And as long as you can avoid the hyenas on the internet lying in wait for vulnerable people...ugh!

---
My Story
The Problem...
Over 10 years ago, I was in a position where I had to change careers. Due to a medical problem, I couldn't continue in my chosen profession. I loved my work, but I had to move on.
I started looking around for a new career or business. Now what? I investigated all sorts of self-employment ideas, but nothing really appealed to me.
I probably went through a lot of the same things many others in my position did. I researched and studied various work-at-home businesses, real estate investing, stock trading, etc. 
Having an internet business sounded ideal. Work at home, make your own schedule, take time off when you want, even do your business on your laptop from anywhere in the world...a dream job!
It sounded too good to be true. I studied Robert Allen's Multiple Streams of Internet Income, Scott Fox's Internet Riches, and Corey Rudl's Internet Marketing program, among others. They all were very inspiring, but I could never seem to get going on them. 
The Solution...
Then in one of my readings I ran across a mention of Site Build It (now called Solo Build It), a company founded by Ken Evoy that teaches people how to create a real business on the internet. The more I looked into it, the more encouraged I felt.
What was different about this company? Solo Build It takes you step by step through the entire process and provides super-useful tools to figure out what topic to choose for your business and how to write content that Google loves so they'll put you on the first page of their search results (which equals lots of traffic).
Creating a website about San Francisco has been great adventure! I get to explore my own city and do all the fun things that I write about, and earn money doing it, and hopefully provide lots of helpful information for our visitors.  And there is no way I would have been able to do this without SBI.
Site Build It also teaches you many ways you can earn an income from the traffic you receive, plus keeps you up to date on the ever-changing requirements that website owners need to know about. 
And I love owner Ken Evoy's approach: the goal is to over deliver high value information and services to your website visitors and customers, in the most ethical manner.
An added bonus:  SBI's forums are extremely helpful and well-organized. Ken's philosophy is to pay it forward; those with more experience generously help the newer members with their questions, as they themselves were once helped. SBI'ers are a friendly bunch; SBI has sort of a family feel, only more supportive, ha ha.
---
How Hard Is It?
Is it easy? No, it's not. And anyone who says that building a real business which earns real money is quick and easy is fibbing! Run the other way!  
The hard work is at the beginning, probably the first year or two, then your site tends to reach cruising altitude. There's always more you could do, more content to add if you want to, or different ways to monetize the traffic (like creating ebooks or even your own products to sell), but the bulk of the hard work is done.

There is a steep learning curve to creating a successful internet business. I've had plenty of episodes of wanting to toss my computer out a second story window, but I also have to say that I haven't had so much fun in years! There's a ton of new things to learn, and a real sense of satisfaction when you look at what you've accomplished.

Building any successful business requires a lot of work, whether it's on the internet or in the "real" world. However...it is definitely do-able for anyone who follows SBI's Action Guide and is willing to do the work. And the result is a steady business that continues to earn while you are on vacation, or just hanging out with your friends or family.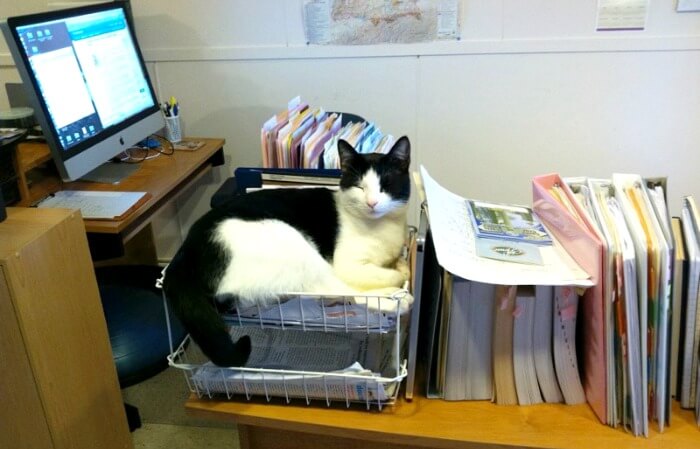 Full In-Basket, Home Office
---
What is Solo Build It ?
Solo Build It has been described as a business in a box and an MBA rolled into one. It's been an amazing educational experience. I had no idea that there were so many aspects to creating an online business!  Even the first step, choosing a subject or niche, requires careful analysis so that you have the best chance of ending up with a business that gets excellent traffic and that can produce a decent income down the road. 
They lay out all the steps in their Action Guide, which is in both written and video format.

You don't need to learn coding to build the website; they have a nifty Block Builder tool that lets you create and customize your site, using drag-and-drop or clicks. (Take a look at their tools here, or some sample videos that show you how to create your web pages here.) You can also use Wordpress is you want to.
What kinds of templates do they have? Here are some current examples, including responsive ones that work with mobile as well as desktop: see SBI templates. Very pretty and modern. You can also use the tools to design your own website, or even do your own coding, if you like.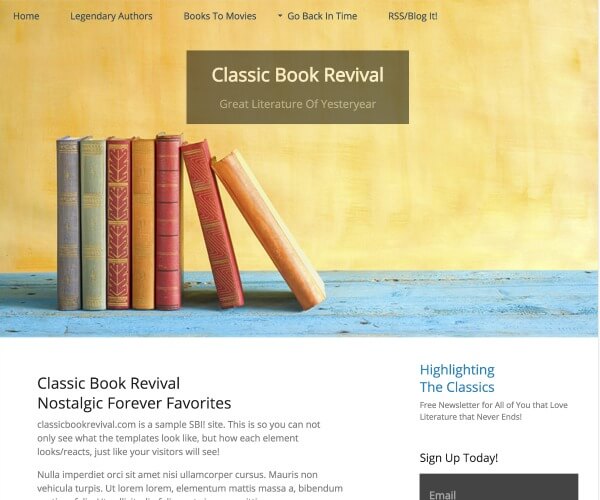 ---
SBI's Success Rate
It really boils down to this: does using the Solo Build It system produce success? What's the track record for businesses built by SBI members? 
That's what is so exciting! Lots of SBI members have very successful websites. Here is a list of 500 SBI sites, including my two sites, that are in the top 0.5% of traffic for all websites on the internet. That means they are getting the high traffic that can produce a very good income.
There is an amazing variety of niches among SBI members: rose gardening, learning Japanese, drought resistant plants, children's birthday parties, auto detailing, raising rabbits, etc. My other site is about traveling in Germany.
You can read about the personal experiences of other people who have built businesses through SBI.
---
Some Monkey Business!
Solo Build It's management recently noticed that a bunch of negative reviews about SBI were showing up on Google when searching for "Solo Build It reviews" or "Site Build It reviews". It turned out that lots of them were written by members of a competitor company, Wealthy Affiliate (WA). See fake reviews for more on what was happening.
These "reviews" compared WA with SBI, and all of them concluded that people wanting to start an internet business should sign up for Wealthy Affiliate (for which they earned a big commission) instead of SBI. But the problem is not with healthy competition. The claim that WA was a better choice than SBI for creating a successful business just isn't true, and people were being mislead.

---
The Study 
SBI did a huge study of all the active websites of both companies, Solo Build It and Wealthy Affiliate, and looked at how much traffic these sites were getting.
It turns out there are about 10,000 active SBI sites and 17,000 active WA sites.
And here are the mind-blowing results: an SBI site was 33 times more likely to be a high traffic site than a WA site! 5 times or 10 times more would be impressive, but 33 times? 
Below is a graph showing website ranking by Alexa.com, based on amount of traffic.
Traffic Ranking from Alexa.com
SBI in blue, WA in red
Higher traffic on left side
The lower the Alexa rank, the higher the traffic. The above graph shows the percentage of SBI and WA traffic at each level, highest traffic on left.
The highest traffic sites are in the 1 to 1 million (M) rank range, 1 being the best. Of these, 93% of the websites in the high-traffic range are SBI sites. And SBI has fewer total sites.
Here's another way of measuring traffic. Semrush.com measures traffic coming from search engines like Google.
The High Traffic Range
The above graph shows the number of SBI and WA websites getting the highest search engine traffic, 5,000 per month and above. This group is overwhelmingly composed of SBI sites.
Out of the 707 websites with really high traffic, 680 were SBI sites, and 27 were WA sites.
The same pattern emerged for websites getting a medium level of traffic;  still a good amount, and way better than the average website or blog on the internet.
3,463 websites were in the medium traffic range: 3,103 SBI sites and 360 WA sites.
These numbers are even more striking considering that Wealthy Affiliate has a lot more active websites than Solo Build It: 17,000 vs 10,000.
What about the other end of the success spectrum, the no-traffic sites?
WA sites were 87% of the no-traffic ones! 
The study used three different measures of traffic, which correlate strongly with one another with large sample sizes like this: Alexa.com, SimilarWeb.com, and Semrush.com. And all three gave the same overall results.
Here is the report of the study results, with all the statistics and charts for measurements at different traffic levels. 
You don't have to be a mathematician to appreciate the odds of success using SBI vs WA. The numbers speak for themselves. And SBI lays out in great detail how to do the study they did, so it's repeatable. 
So I just want folks to be aware when they run across those reviews by WA members recommending WA over SBI that the numbers don't support the claims of WA being better. Caveat emptor.
---
Customer Satisfaction Guarantees
Another thing really stood out when I compared the two companies. 
What if it turns out it's not a good match for you, or you decide that you don't have the time right now to make a go of building an internet business?
These programs aren't super expensive, but they're not cheap either. SBI is $29/month, or $299/year. WA is $49/month, or $359/year.
Solo Build It will refund 100% of your fee if you cancel in the first 90 days. After that, they will refund for the time not used in the year's membership, pro-rata.
Wealthy Affiliate offers a "free trial", but it's not a free trial of their full program. Most of their tools and training are only available to paid members, so you're not really getting a realistic test of their system for free.
Also, if you've paid an annual fee to WA, there is no refund; you're stuck for the entire year's fee, even if you decide it's not for you after 2 months. I've seen complaints about this online.
From Wealthy Affiliate's Terms of Service:
"If you subscribed to a yearly plan, any cancellation will only be effective at the end of the then-current annual billing period and no credits or refunds will be issued to you for prepaid fees."
---
One More Thing...
Wealthy Affiliate likes to emphasize that they will host 50 websites for you for the same fee, while SBI hosts only one website per subscription. But who's going to build 50 successful web businesses? 
Building a business is a lot different than building a website (with no traffic).

SBI recommends that people build only one web business to start out, and only consider a second after they've created a successful business with no more expansion possibilities.
I've got two web businesses and it's a lot! I pretty much neglect my Germany site, though it continues to generate a lot of traffic. If I had it to do over again, I wouldn't do even two sites at the same time.
---
Waiting for the Sausalito Ferry

"Going to work" in my business with Solo Build It! is deciding what to explore in San Francisco today, then writing it up and picking out the photos to use. No time clocks, no employees, but lots of fun and a chance to be creative!
For others, it could be musical instruments, beekeeping, vegan recipes, beach vacations, or anything you have a passion for.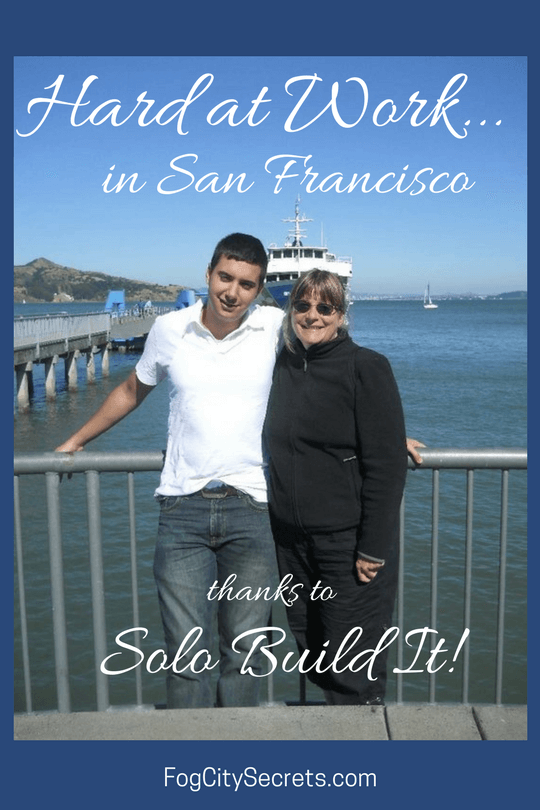 Solo Build It was one of the best things that ever happened to me. My life would be totally different now if I had never come across it. Thank you, Ken Evoy and SBI!

Highly recommended! 
Check out Solo Build It! here.
Solo Build It Review