Alcatraz Tickets Sold Out?

What to do when Alcatraz is sold out...

How do you get last minute Alcatraz tickets if Alcatraz is sold out for the dates you want to go?
There are basically four ways to get Alcatraz tickets for sold-out days: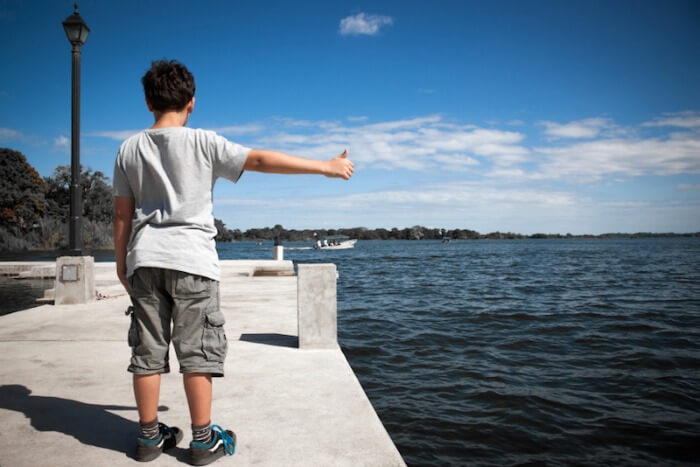 ---
Tip: if you just want to get out to Alcatraz and can't get day-tour tickets, booking the Alcatraz/Angel Island tour is one way to do it.
If you take the earlier of the two sailings for this tour, the 9:30 am one, you will go directly to Alcatraz; the next part of the tour, the boat to Angel Island, leaves around 12:00 pm, but it's optional.
You can skip Angel Island and stay on Alcatraz, and take any of the boats back to SF when you're done. The second sailing at 9:40 am goes to Angel Island first.
---
Note: Need tickets within the next four days? The tour companies that book the combination tours have to give Alcatraz Cruises the names of visitors at least four days before the scheduled tour.
As a result, if you need tickets sooner than four days, the only way to get Alcatraz tickets is with the early line-up method or watching for cancellations.
---

---
1) The (Very) Early Morning Approach...

Line up early for same-day, Alcatraz Day Tour tickets.
---
Note: a visitor reported on December 28 that Alcatraz Cruises is not selling same-day tickets for the day tours during the federal shutdown. No early morning tickets are available at this point.
---
Desperate. Alcatraz Cruises (alcatrazcruises.com), the official seller of the tickets, and the ones who operate the ticket office at Pier 33, sets aside a bunch of same-day tickets for the day tours that are sold daily on a first-come, first-served basis when the ticket office opens at 7:30 am. 
Alcatraz Cruises doesn't mention these on their website, primarily to avoid the problem of too many people showing up and being disappointed. And the employees answering the phones will tell you that they are no longer offering the same-day tickets when Alcatraz is sold out. Not true. 

I get the details by going down to Pier 33 and talking to the ticket agents at Alcatraz Landing, and from visitors sharing their experiences with me.
How many tickets are available? A limited number of tickets for that day's Alcatraz day tour are sold every morning at the pier: typically around 100 in high season (summer and holidays), and sometimes 200, but only around 50 tickets the rest of the year.
The ticket agent emphasized that everyone who plans on using the tickets also has to be present at this ungodly hour, one ticket per person. There is a limit of four people per group.
Also, anyone wanting a ticket has to be present in line the whole time; if someone leaves the line for any reason (other than a bathroom break), they have to go to the back of the line when they return. This is enforced by the ticket personnel at the pier.

When people arrive at the line, they are given a ticket voucher, one per person, so you know then if you'll be able to get a ticket.
How early should you show up? The office starts selling the tickets at 7:30 am, but people start lining up much earlier, especially in the busy months.
By late June, people are usually starting to arrive by 4:00 am. A recent August visitor arrived at 4:30 am and found 19 people already in line, and another August visitor arrived at 5 am and found 40 people in line, and by 5:30 there were over 100. But it's unpredictable. See below for historical patterns for different times of the year.
What time are the same-day tours?: The same-day Alcatraz tickets are usually for one or more of the morning tours.

So, if you're an early bird, or truly desperate to get out to Alcatraz, this is one possible approach. Some people have been known to bring sleeping bags. Unfortunately, there's no way to predict how many folks will show up any particular day, so it's not a sure thing. Sometimes hundreds will be lined up by 5:00 am during the busiest seasons.
Alcatraz Cruises has a sign at the ticket booth that mentions it:
Same Day Ticket Sale Advisory
Alcatraz Cruises releases a limited amount of tickets each day for same day, walk-up sales only.

Tickets are sold on a first come, first served basis. Alcatraz Cruises does not guarantee immediate availability.

The maximum number of tickets sold to one person is one.

Tickets are sold one ticket per person, physically present. All members of the party must be present in line until the time of purchase at the ticket window for a ticket.

Government issued photo identification is required for purchasing tickets and for picking up pre-paid tickets.

---
2) Alcatraz Night Tour Standby By Tickets
The night tours usually sell out faster than the day tours, but there is also a system for getting same-day tickets for the two night tours at 5:55 pm and 6:30 pm (most of the year). In winter, November through March, there's only one night tour, at 3:50 pm. The night tours are smaller, but more extensive. (see Alcatraz Night Tour for the scoop on the night tours.)
Night Tour standby tickets go on sale when the ticket office opens at 7:30 am. They are good for either of the two night tours. Just before the first tour leaves at 5:55 pm (or 3:50 pm in winter), holders of the standby tickets are allowed on if there are any spaces available due to no shows. The tickets are honored in the order they were purchased, earliest first.

There is only one ticket line in the morning before the office opens, so you will be in line with all the people wanting tickets for the day tours.

Only around 10 to 20 standby tickets are available each day and are only good for that night's tours. If you don't get on the 5:55 pm tour, you can try again for the 6:30  pm one (and in winter, there's only one tour at 3:50 pm).

As you would guess, this is hit or miss, depending on the number of spaces that open up. If you aren't able to use your ticket, go back to the ticket booth that night, and they will give you a refund.
The good news is that people with night-tour, standby tickets often get on the boat; sometimes everyone gets on and sometimes about half get on. It's not a sure thing, but the odds are pretty good.
Night Tour Seasonal Pattern
In summer, they usually have about 20 night tour standby tickets available each morning when the ticket booth opens at 7:30 am. During the past summer, the folks with night tour standby tickets almost always got on the boat that night. If not on the 5:55 pm sailing, then on the next one at 6:30 pm.
I was down there once around 6 pm on June 29. There were about 12 people in the standby line, and they all made it onto the 5:55 pm boat.
During winter, including the Christmas holiday season for December 2017, they generally had 10 to 15 night tour tickets for sale to standbys for the 3:50 pm sailing when the ticket office opened at 7:30 am.

As of December 29, 2017, they'd been selling around 10 night tour standby tickets for each night. Sometimes everyone got on, sometimes only half the people got on; depended on the available places that night.
---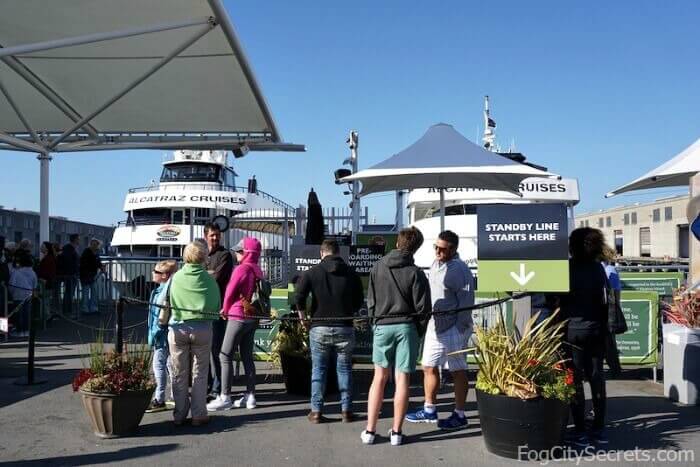 Standby Line for the Night Tour (they all got on)
---
Tip: if you don't mind a more strenuous, 4.5 hour tour of Alcatraz, you can also do the night tour on their newest addition, the  Behind the Scenes tour.  This tour costs $90 for adults and adds a 2-hour guided walking tour of Alcatraz before you join the regular night tour.
These tours are more expensive but don't sell out as fast. Visitors for this tour must be at least 12 years old and able to climb stairs and hills.

This is a great tour; I went on it recently and really enjoyed it. You get to see areas not open to the public, like the underground tunnels and the creepy dungeon cells, plus it's a much smaller group. The rangers have some interesting stories to tell (and it's not that strenuous).
 See Behind the Scenes tour for more info.

---
Historical Patterns for Day Tour Tickets
Here are some past ticket-sale patterns for Alcatraz tickets at different times of year, to give you an idea of typical situations for sold-out days.

Typical summer ticket pattern...
By the end of June, people were already starting to line up for same-day tickets at 4:00 am, according to the staff at the ticket booth.
For example: one day at the end of June, they had around 65 same-day tickets available. The first people showed up at the ticket booth around 4 am, and the next group arrived around 6:30 am. So it's hard to predict the turnout for any particular day, but earlier is better.
Summer Madness... one visitor in July reported that they got to the pier at 4:15 am and there were already 3 groups in line ahead of them! The ticket personnel were enforcing the no leaving the line rule. She also reminded people to dress warmly; it's pretty cold that time of the morning in San Francisco, even in the summer.

I had two reports in August 2018 of the ticket office having around 200 tickets available for morning walk-ups. That was also happening in August, 2017, so hopefully that will continue. Very nice for visitors. 
To give you an idea, on August 6, 2018, around 200 same-day tickets were handed out Monday morning. By 5 am, about 40 people were already lined up, and within 10 minutes, another 40 had shown up. By 5:30-5:45 am, the line was over 100, and by 7:30 am, more than 300 people were in line. As soon as people arrived, they were handed a red ticket which would guarantee them a ticket that day, until about 200 tickets were handed out.
August 7, 2018: by 4:30 am, there were 19 people in line. People were handed vouchers as they arrived, and by 5:45-6 am, all the tickets were taken. People in line were allowed to leave the line to use the bathroom or get a snack. All the same-day tickets that morning were for the 8:45 am tour.
August 16, 2018: around 200 tickets were handed out, and by 5:30 am, there were about 50 people in line.
---
Fall Alcatraz Tickets
By September (after Labor Day Weekend) the ticket situation starts to ease up. And by November it's much better.
The first week of October every year is Fleet Week in SF and there's a surge in the demand for Alcatraz tickets for that week.
October 21, 2018: there were 11 people in line by 6:30 am, and by 7 am, there were over 30 people in line.
---
Christmas Holiday Season
During the Christmas holidays they usually have about 50 tickets for sale for same-day, walkup purchasers for the day tour.
For example: on Friday, December 29, 2017, they had 50 tickets for sale, and people started lining up at 3:45 am. By 6:30 am, there were already about 70 people in line.
But you can get lucky, too. I was down there on December 29, checking on the ticket situation, and when I was at the ticket booth at 12:20 pm, I was told I could get on the 12:30 pm sailing which was just boarding because there had been some cancellations due to a medical problem. So you never know.
After the holiday season is over, by the second week of January, things tend to get back to the winter pattern of ticket sales when it's much easier to get tickets.
---
Other Holidays
Alcatraz tours are very popular during many of the year's holidays, and tend to sell out well in advance. Memorial Day Weekend(May 26-28 in 2018) is usually very busy, booking up far in advance, and Easter Week (from Palm Sunday through Easter Sunday, March 25-April 2, 2018) also tends to book up fast. Tickets for the four-day Thanksgiving Holiday in late November are hard to get as well.
For example, I noticed that by March 10 of this year (2018), all the day tours were already sold out from March 26 through Easter, April 2. The same pattern holds for the 3-day Labor Day Weekend, September 1-3, 2018.
One visitor's experience...

Here's an example of how the same-day system worked on a busy holiday weekend.

A visitor wrote to tell me her experience trying to get tickets to Alcatraz on Memorial Day in May. (For our visitors from outside the U.S., this is one of our busiest holidays, a three-day weekend when the kids are out of school.)
The tickets were sold out for that day, and she really wanted to see Alcatraz, so she decided to try the get-there-early approach. She was in line at 6:15 am, and by that time she was number 27. There were 51 tickets available that day, and by 7:00 am, all the tickets were taken.
The first group of people in line had gotten there around 5:00 am, and the third group was there by 5:30.
The ticket office opened at 7:30 am and everything went smoothly. She was able to get her tickets and went out to see Alcatraz that day.
---
Off Season - Winter Tickets
The only time it's "easy" to get Alcatraz tickets is in winter, and that's only the day tour tickets: in November (but not over the Thanksgiving Holiday), and in January & February, after new year's and before spring. In winter, you may get same-day tickets online or in person, depending on how early you start trying, but you can usually get tickets for most or all of the day tours for the next day, including the coveted Early Bird tour.  March is iffy; later in March it starts to get booked up again, especially around Easter break.
Even in winter, there's still a wait to get tickets for the night tours and the Behind the Scenes tours. The night tours tend to be sold out about 6 weeks in advance even in the slow season, and the Behind the Scenes tours about 2 weeks in advance.
---
Something cool for Bay Area residents. Residents get a good deal on Alcatraz tickets during the slow season in January and February every year.
The Buy One Get One Free sale is available for Day Tours on the following dates for 2019:
Jan 8-9, 15-16, 22-23, 29-30.
Feb 5-6, 12-13, 19-20, 26-27.
See BOGO tickets for the list of eligible Bay Area counties, booking and more info.
---
Alcatraz Ferry at Pier 33
---
3) Checking for Canceled Tickets
The official website for Alcatraz tour tickets, alcatrazcruises.com, adds back the canceled tickets to their online ticket sales. The customer service rep told me they update these several times a day, so keep checking for the days you want.
In high season, the summer months, the tickets are often sold out a month or two in advance, but I've seen tickets pop up for a date one week in advance, in July, so it is possible if your timing is good.
A number of people have told me they've had success getting tickets this way.
An easy way to do it: stay on the window with the day you want and just keep hitting "refresh".
---
4) Alcatraz Combination Tours
There are also many other companies that sell tickets to Alcatraz in combination with their other tours. If you don't mind paying more and just not doing the other tour, or if it's OK to do the other tour(s) as well, it's worth looking into some of the combination tours for availability.
Note: I may earn a small commission if you make a purchase through some of the links on this page, at no extra cost to you. This helps me provide all the free information I post on this website. Thank you for your support!

There's a great variety of well-liked, Alcatraz combo tours. You can pair Alcatraz with a city tour, or a trip to Muir Woods, Sausalito, or a bay cruise, or a number of other San Francisco activities. 
These tours might have tickets...
When Alcatraz is sold out, many of the popular combination tours are also sold out, but there are some companies that still have Alcatraz tickets for the sold-out days in summer and into fall.
I rounded up some popular tours to check out for Alcatraz tickets on sold-out days. 
Hop On Hop Off Bus Tour + Alcatraz. Get Alcatraz tickets plus a 3-day pass on the double-decker tour bus, with stops at many of San Francisco's attractions. Includes 4 bus tours: City Tour, Parks & Beaches Tour, Sausalito Tour, and Night Tour. Also 2 walking tours, and more. $124.99. $5 off if booked online. See Hop On Hop Off & Alcatraz for info and booking.

Alcatraz plus a City Bus Tour. See Alcatraz in the morning, then tour the city sights by bus in the afternoon, with photo stops at the Golden Gate Bridge, Golden Gate Park and Twin Peaks. $108. See Alcatraz & City Tour for more info and booking.
Alcatraz and a Guided City Bike Tour. Do Alcatraz one day and the next day see San Francisco on a bike, with a guide who takes you along the waterfront and to the Golden Gate Bridge, or through the Streets of SF. $76. See Alcatraz and City Bike Tour for info and booking.

Alcatraz and Craft Beer Tour. Visit Alcatraz in the morning and spend the afternoon tasting beer at three local brewpubs with a guide. $127. See Alcatraz and Beer Tour for more info and booking.
Alcatraz, Muir Woods and Sausalito. Wander through an ancient redwood forest, explore charming Sausalito, and get a ticket to Alcatraz. $114. See Alcatraz, Muir Woods & Sausalito for info and booking.

Alcatraz plus the Go Cars. Zip around San Francisco in a self-guided Go Car. This combination includes a trip to Alcatraz plus 2 hours touring the city in a Go Car. $245.88. See Alcatraz & Go Cars for more info and booking.

There are tons of Alcatraz combination tours available. You can check out a long list of them at Alcatraz combo tours.

---
What if you only want the Alcatraz part of a combination tour?
Do you have to show up for the other tour to get the Alcatraz tickets? No, not necessary.
For the tours booked through Viator, they suggest that after you make the tour reservations, you call them at 1-888-651-9785 with your booking number, and they will let you know how you to get your Alcatraz tickets. If the menu choices don't apply, hit "0" to get a customer service rep.

---
If you're looking for some good combo tours farther in the future and don't need tickets for sold-out days, here are some combination tours that have been popular with lots of visitors.
---
Missed the Boat?
What if you've missed your boat that day? Refunds aren't available, but you do get one more shot at it. You can wait by the standby line sign when a ship is boarding, and if there are any no-shows, they will let people on after the ticketed passengers have boarded.
On a very busy day at the end of December, I saw 8 people waiting in the standby line for the 12:30 pm boat, and all 8 got on.
Standby line for a missed, day-tour ferry in November 2018
---
Beware of Scalpers
You may run into people offering to sell you their tickets at the dock at steep prices. This is risky for a couple of reasons. First, selling scalped tickets is a misdemeanor in California, not something one would want to be involved in, and second, there's a good chance the tickets won't be usable.
But since people can print their own tickets from their own computers, dates and times could be easily altered, and when the ticket bar codes are scanned getting on the boat, they may not be for the right day or time (or the printout may be a duplicate already sold to someone else!).
Also, at the departure gate they may check to see if the name on the ticket matches yours. The tickets have to be in your name; they can't be transferred after purchase, to avoid scalping. Oops. Best not to take the chance.

The exception: if someone has tickets they can't use, they can take them to the ticket booth at Alcatraz Landing and let them know. Then the staff will let people trying to purchase tickets know about the available tickets and issue them the tickets if they want to buy them. But that is doing it through Alcatraz Cruises and with their approval.

---
What about Stub Hub tickets? The problem with buying "second hand" tickets for Alcatraz is that the tickets are officially not transferable; they are issued in the name of the person who purchased the tickets. If they check names at boarding, the tickets won't be honored unless the purchaser is present, though they usually don't check. And those tickets are usually quite expensive.
---
Deciding Which Alcatraz Tour to Take
To learn what all the different tours of the island are like (Day Tour, Night Tour, Behind the Scenes Tour, and Alcatraz & Angel Island Tour), see my page on Alcatraz Tours.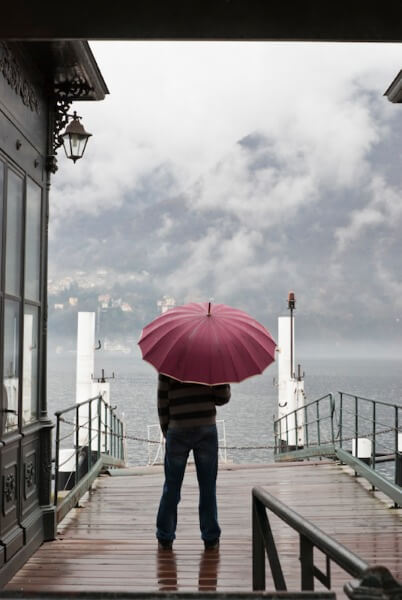 It's never this gloomy in San Francisco.
---
Alcatraz Bay Cruises: the Next-Best Alternative
If none of the above options works, there are bay cruises that sail around Alcatraz, but don't stop at the island. You get a great view of Alcatraz, and a trip out under the Golden Gate Bridge, which is a treat in itself.
Bay Cruise. There's a nice, one-hour ferry cruise from Pier 39 that circles Alcatraz and also takes you out under the Golden Gate. $28.99, $4 off to book online. See bay cruise for more info and booking.

Catamaran Cruise. There is also a popular, 90-minute sailing tour on a catamaran that goes out under the Golden Gate, as well as sailing around Alcatraz Island. Gorgeous views of the bay, bridge  and city, plus wine, beer and snacks on board. $45. Leaves from Pier 39. See Adventure Cat cruise for more info and booking.

Money-saving tip: goldstar.com often has half-priced tickets for these bay cruises. Go to goldstar.com to see what they have available. It's free to sign up.

For more cruise options, see my page on San Francisco Bay Cruises for details and tips about the various bay tours.
View of Alcatraz on a Bay Cruise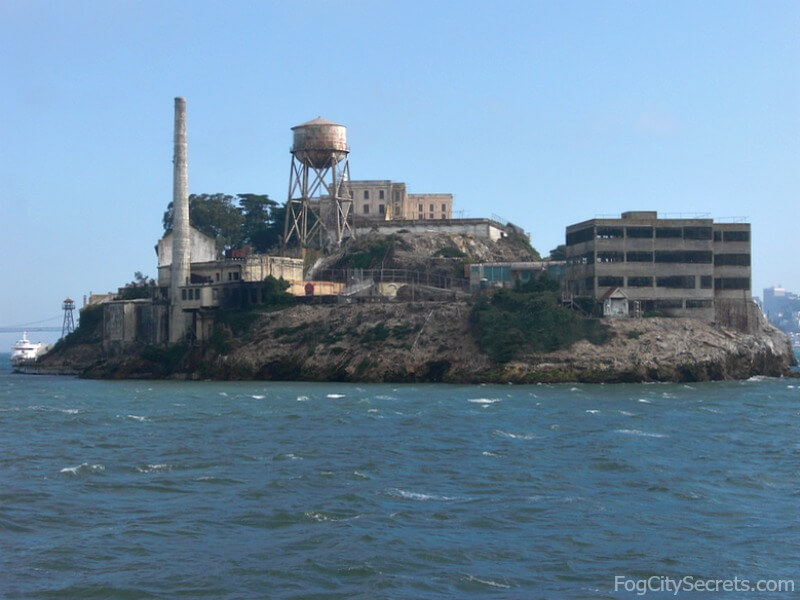 The Other Side of Alcatraz Island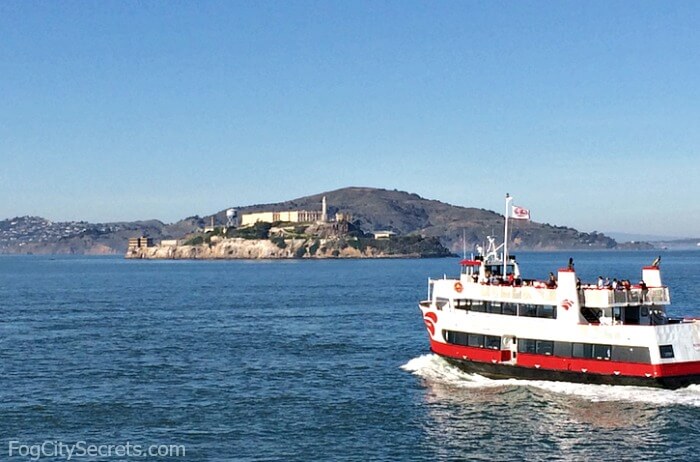 The Red and White Ferry Heading for Alcatraz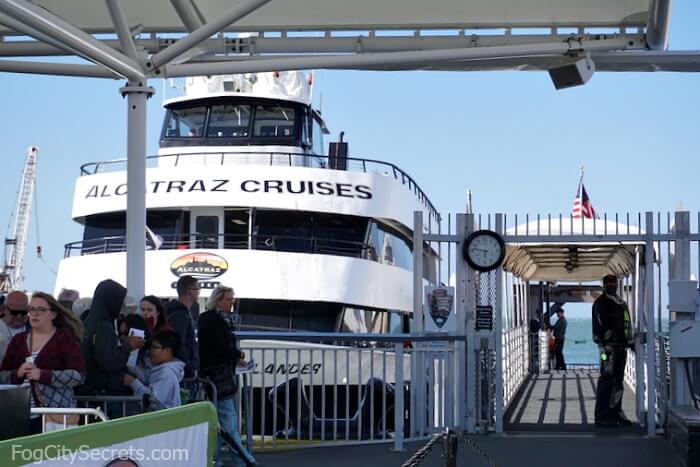 Boarding the Alcatraz Ferry, Pier 33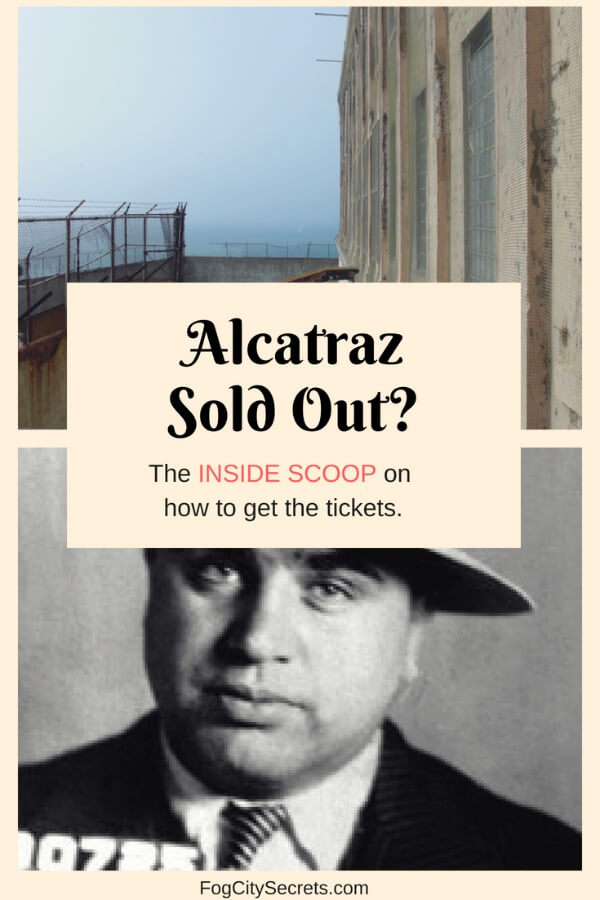 For more information on Pier 33, the ferry ride, what to bring, parking, transportation, and what to expect on the island, see my tips on visiting Alcatraz Island.
---
More to explore...
---
Alcatraz Tickets