San Francisco Beaches
San Francisco beaches combine great views with the fresh tang of cold ocean breakers, perfect for long walks or just contemplation.

San Francisco isn't known as a beach town, but we've got some gorgeous beaches well-worth exploring:

Sheltered beaches near Fisherman's Wharf.
Beaches with close-up views of the Golden Gate Bridge.
Wild beaches at the foot of sandy cliffs.
And yes, we have some nude beaches.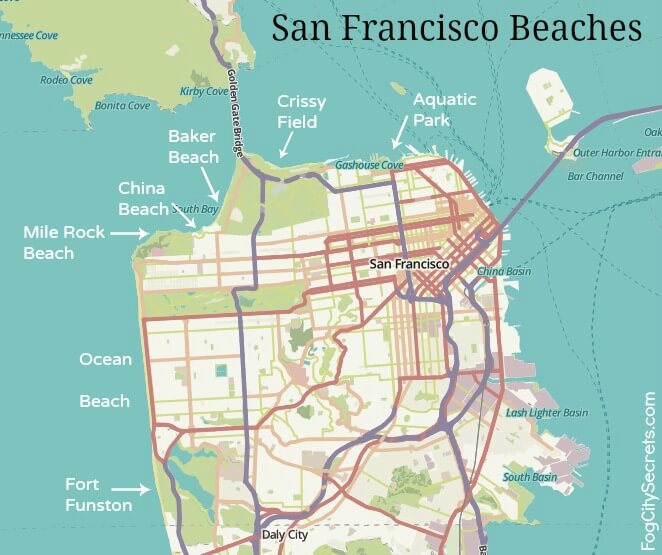 ---
Ocean Beach
Ocean Beach
Ocean Beach is the grand-daddy of San Francisco beaches, stretching out for three miles along the entire western edge of San Francisco. This wide, flat expanse of sand is the best beach for long walks or a run. It's also the most popular, which means lots of people on our warm, sunny days. This is a great surfing beach, and dogs can be off-leash in certain parts.

More info on Ocean Beach, and why only experienced surfers should go in the water!
---
Baker Beach
Northern End of Baker Beach
Baker Beach has the famous postcard view of the Golden Gate Bridge. This beach sits just outside the Golden Gate, with the old guns of Battery Chamberlin guarding the approach to the bay.
This San Francisco beach is a must-see; be sure to bring your camera! (It's also the local nude beach, but only one end of it, and usually it's too cold for that!)
See Baker Beach for more info.
---
China Beach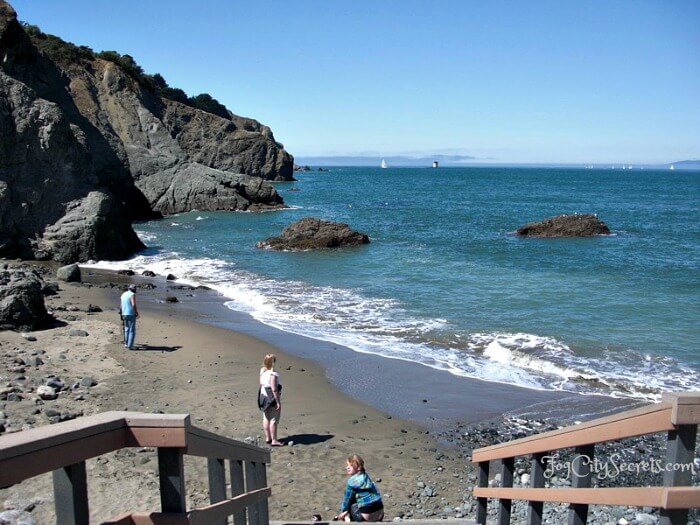 China Beach
China Beach is a pocket-beach: a miniature, lesser-known cove next door to Baker Beach, tucked away in an exclusive neighborhood. Too small for long walks, but with a great view of the Golden Gate Bridge. A few brave souls swim here.

More info and tips for visiting China Beach.
---
Fort Funston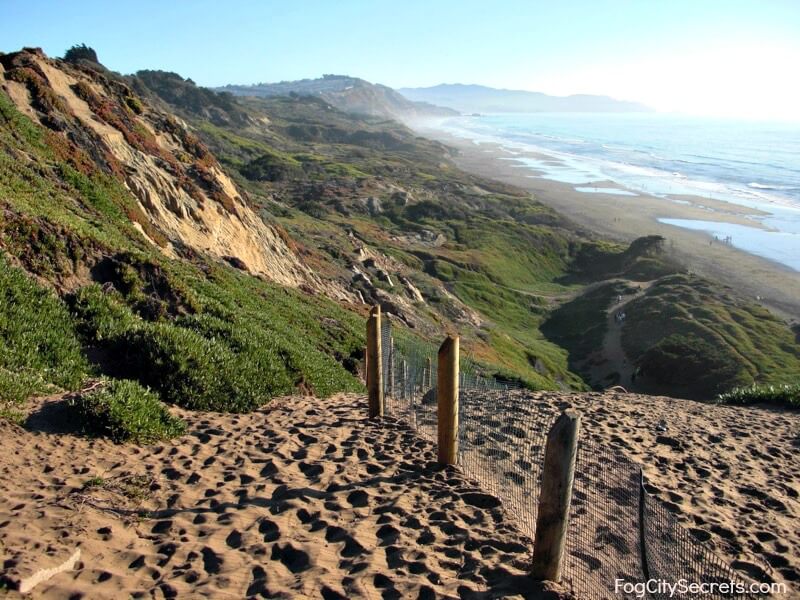 Steep Sand Ladder Down to the Beach
Another San Francisco beach located near an old fort.   Fort Funston is my favorite, a rugged beach with crashing surf at the bottom of 200 foot cliffs, just south of Ocean Beach. Very popular with dogs, as well. When the winds are blowing, you'll see hang gliders soaring from the cliff tops.

More info on visiting Fort Funston.
---
Crissy Field East Beach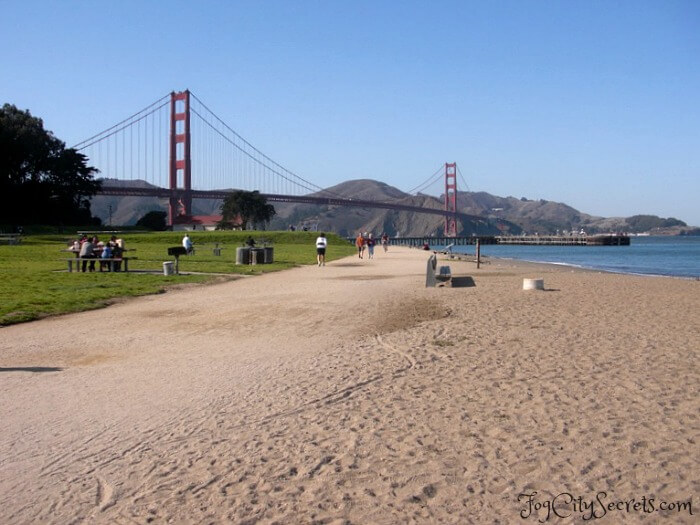 Crissy Field East Beach
Just inside the Golden Gate, Crissy Field has a wide, sandy beach with a pretty view of the bridge and Alcatraz. It's a short, 10 minute walk from Fisherman's Wharf. Of the San Francisco beaches, this one's the most popular with windsurfers.

---
Aquatic Park
Aquatic Park, Fisherman's Wharf
This San Francisco beach is in a protected cove at the western end of Fisherman's Wharf, an easy stroll from the popular tourist areas. Great spot for a peaceful picnic on the sand and taking a break from the crowds at Pier 39. Most popular (and safest) for swimming of all our beaches.

---
Mile Rock Beach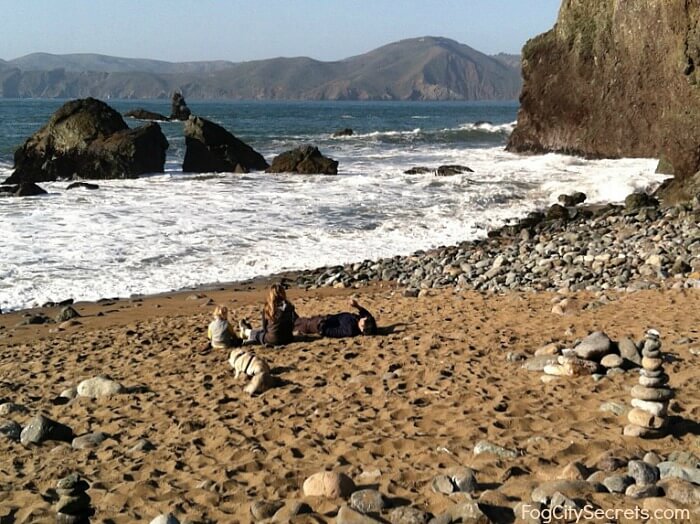 Mile Rock Beach
At the western tip of San Francisco, jutting out into ocean, is Lands End: a nature park of steep cliffs with beautiful views of the Golden Gate Bridge and the Marin Headlands. It has a small, rocky beach, called Mile Rock Beach, accessible from the Coastal Trail. Wonderful beach to walk to.

More info on Mile Rock Beach and hiking at beautiful Lands End.
---

Insider Tips:
The usual San Francisco advice: bring your jacket. The weather is fickle, and it tends to be windier and colder at the beaches than in the city, especially the ones facing the Pacific Ocean.

The best time to go is usually between 11:00 and 2:00. The typical summer pattern is fog in the morning which burns off, and then rolls in again around 2:30 or 3:00. The afternoon fog comes with a cold wind.

If you want to walk on the beach at Fort Funston, check the tide schedule at Tide Tables. The high tide swallows most of the beach.

Bringing a dog? Fort Funston is the best bet, with more limited off-leash areas at Ocean Beach.

Don't plan to go swimming at the beaches in San Francisco (except Aquatic Park on a hot day). There are very dangerous rip currents, especially at Ocean Beach; people drown there almost every summer. A few people swim at China Beach, but I wouldn't recommend it. The water's way too cold, anyway! The water temperature in September (our warmest month) is around 57 degrees F or 14 degrees C. The surfers at Ocean Beach wear wetsuits all year round.

See Safety Tips for beaches in San Francisco. Important to know before hitting the beaches! Information on rip currents, especially at Ocean Beach.

---
More to explore...
SF Beaches