Fisherman's Wharf
San Francisco
The #1 San Francisco Tourist Attraction
Fisherman's Wharf is the most popular San Francisco attraction. Then why do the natives avoid it like the plague?
This place has some kind of magnetic effect on our visitors that has us San Franciscans scratching our heads. We only come here when we have guests from out of town who drag us down here. But there are so many people from all over the world really love Fisherman's Wharf. What's the truth about this place?
Fisherman's Wharf Area
Originally Fisherman's Wharf was the dock where the Italian fishermen brought their daily catch to be sold on the waterfront. This was the best place to get fresh seafood, right out of the bay. Clams, oysters, mussels and many different kinds of fish were brought in on the small fishing boats to supply the residents with food. Part of the catch was boiled, grilled or steamed right here on the wharf for hungry citizens.
And that part is still true. You can still enjoy some great fresh seafood at the stands along the wharf. Clam chowder, crab legs, steamed mussels, just pulled out of the water...delicious!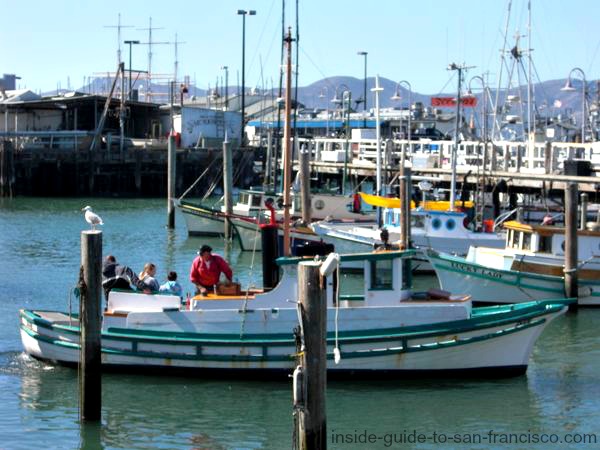 Fishing Boats in the Fisherman's Wharf Marina
Fisherman's Wharf has become a playground for tourists, and that's OK. The tacky T-shirt and souvenir shops are there, of course, but there's also a lot of really fun things to do. The wharf area has a festive atmosphere that is rather contagious and I've actually been having a great time doing "research" for this site!
View of the Waterfront from the Highrise Apartments
---
Things To Do at Fisherman's Wharf
Eat fresh seafood
Browse the shops
Take a bay cruise
Climb on old ships
Explore weird museums
Watch the street entertainers
Tour the aquarium
Watch the sea lions
Pretty much everything is located along a few blocks of Jefferson Street, the main drag of Fisherman's Wharf.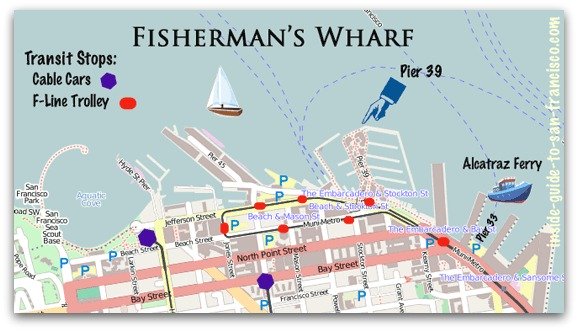 Map data (c) OpenStreetMap and contributors, CC-BY-SA
---
The Two Faces of the Wharf
This is part of why Fisherman's Wharf gets a bad reputation: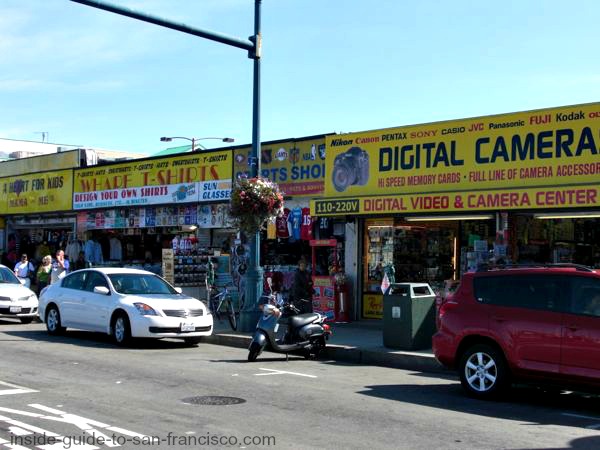 Not Pretty
But look the other way and you see a different world:
View of the Bay From Pier 39
---
Catch of the Day
There are rows of stands where you can buy fresh seafood - crabs, fried fish, mussels, and more. Keep an eye out for the thieving sea gulls if you walk around with it.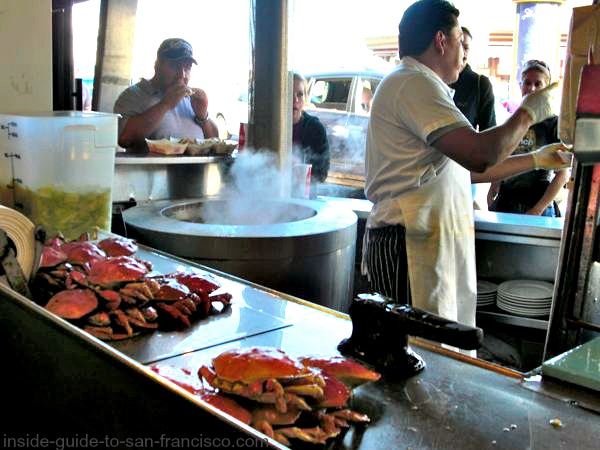 Fresh Crab at the Wharf
You wouldn't think restaurants geared for serving large large numbers of tourists would be very good, but there are actually some with excellent food.
Fisherman's Wharf Restaurants
Some of my favorites:
Cioppino's, serving a delicious version of their signature dish, cioppino (seafood stew in a tomato base). I had the best polenta I've ever had there, and the spaghetti carbonara was wonderfully rich and tasty as well. With a relaxing seating area al fresco on the main drag.
400 Jefferson Street.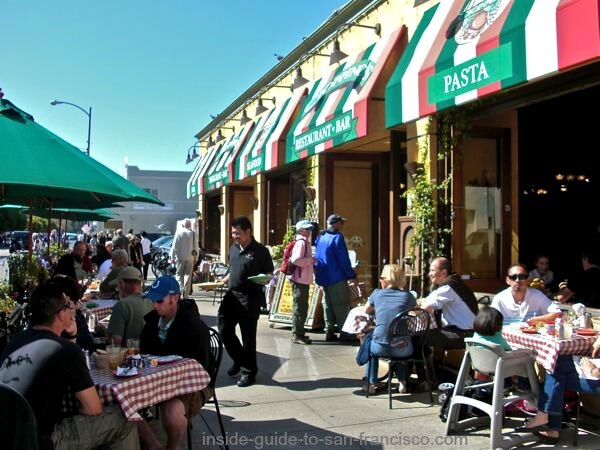 Cioppino's Restaurant
Lou's Fish Shack: which doesn't look like a shack at all, also has very tasty food, in spite of catering to large numbers. There's an outdoor seating area for people-watching, and friendly, fast service. The fish tacos are delicate and wonderfully seasoned, and the beer-battered fish and chips are very fresh.
300 Jefferson Street.
Scomas: expensive, often a wait, but the food is scrumptious and they have a gorgeous view of the bay. From Jefferson Street next to Castanola's restaurant (near Jones Street), go down Al Scoma Way (looks like an alley next to the marina) to Pier 47.
They validate parking for the Triangle Parking Lot at Taylor and Jefferson: 2 hours free 10 to 6, 3 hours free 6 pm till midnight. Reserve online at scomas.com, or call 415 771-4384.
1965 Al Scoma Way, Pier 47.
---
SF Bay Cruises
These are great fun: a perfect way to see the bay, sail out under the Golden Gate Bridge and around Alcatraz Island. One of my favorite things to do at the wharf.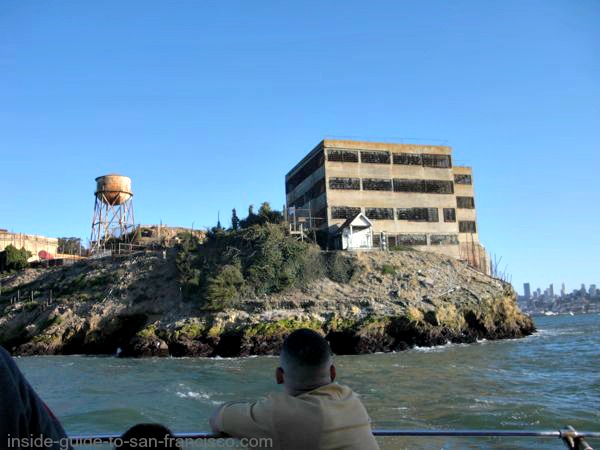 Alcatraz, on a Bay Cruise
Both the Red and White Ferries and the Blue and Gold Ferries leave from piers at Fisherman's Wharf, as do the small fishing boats.
Note: I may earn a small commission if you make a purchase through some of the links on this page, at no extra cost to you. This helps me provide all the free information I post on this website.
Boat Tours From the Wharf
A number of boat rides and bay cruises leave from Fisherman's Wharf.
Tip:
Goldstar
often has half-priced tickets for many of the bay cruises and other SF activities. Check with them first before booking a tour. It's free to sign up, then you can see what's available. See
goldstar.com
.
Some popular boat tours:
Blue and Gold Ferry. Sail out under the Golden Gate and around Alcatraz. One hour, $27.99 ($3 off if booked online). See Bay Cruise
Adventure Cat. Sail the same route on a catamaran. 90 minutes, audio tour in 7 languages, drinks on board. $45. See Sailing Cruise
Rocket Boat. High speed, rock and roll, 30 minutes of zooming around the bay. Go under the Bay Bridge, and past AT&T Park. $28. Runs May through October. See Rocket Boat.
For lots more information on the boats and tips about getting out on the water, see my page on SF Bay Cruises.
The Alcatraz ferries leave from Pier 33, about a ten minute walk from Fisherman's Wharf.
San Francisco Bay Ferries
The Blue and Gold Fleet ferries leave from Fisherman's Wharf at Pier 41. You can take the ferry to Sausalito and explore the seaside village, or take the ferry to Tiburon, another pretty town on the bay.
The ferry to Angel Island leaves from here, too. (Plus the ferries to Oakland (Jack London Square), Alameda and Vallejo (Six Flags Discovery Kingdom).
For info on what to do and see on Angel Island (that big island in the middle of the bay), see my page on Angel Island.
Should you book the ferry in advance? No, you don't need reservations on the ferries. They don't fill up, and they have frequent departure times. The Blue and Gold ticket booth on Fisherman's Wharf is just to the left of Pier 39. See Blue & Gold Fleet for schedules and fees.
---
Pier 39
Pier 39, the last pier in the Fisherman's Wharf area, is a mecca for shopping, entertainment and eating, and the goofy sea lions are there. Created for visitors, it is touristy, but it's got lots to offer. I've spent many enjoyable hours there.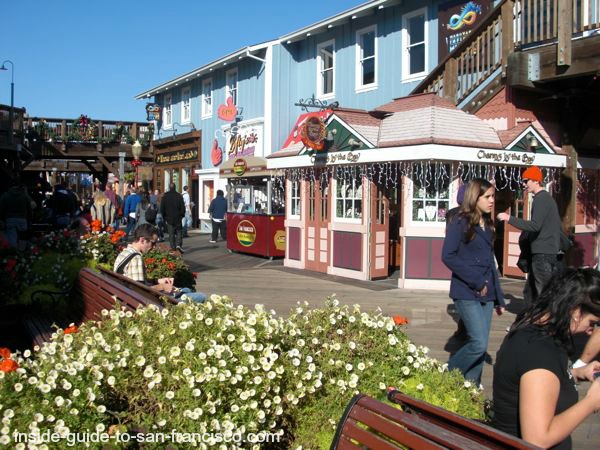 Pier 39
The sea lions have colonized the marina right next to Pier 39; get a close-up view of them lolling on the docks!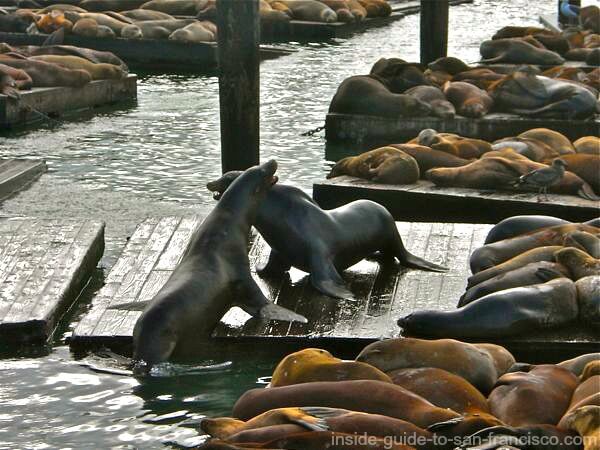 Pier 39 Sea Lions
For tips on what to see and do there, see Pier 39.
---
Aquarium of the Bay
San Francisco's aquarium at Pier 39 focuses on the wildlife of SF Bay, the folks living just off the dock. It's located at the entrance to Pier 39, and worth a visit. Sharks, otter colonies, and more, run by a non-profit organization. (The other SF aquarium, the Steinhart Aquarium, is in the California Academy of Sciences in Golden Gate Park.)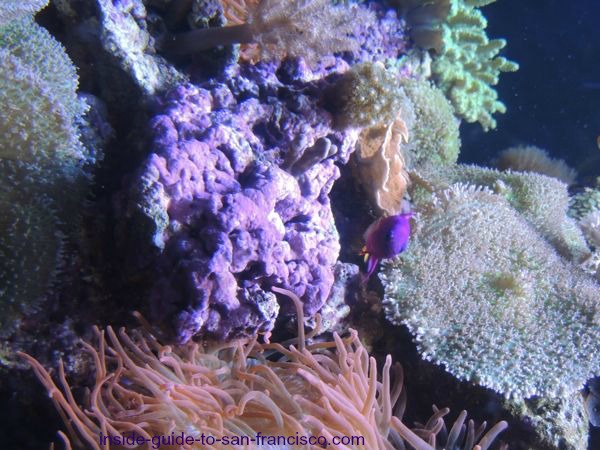 Coral Reef at the Aquarium
It's $2 off to book online through City Sightseeing. See Aquarium of the Bay.
---
Entertainment
We're not talking high-brow; this is the waterfront, after all.
Weird Museums
Museé Mechanique is my favorite. Over 100 vintage mechanical games from the turn of the century, and some familiar electronic arcade games from the 1980's; you can play them for a quarter. An amazing collection and lots of fun, located at Pier 45. For all the details about the museum, see Museé Mechanique.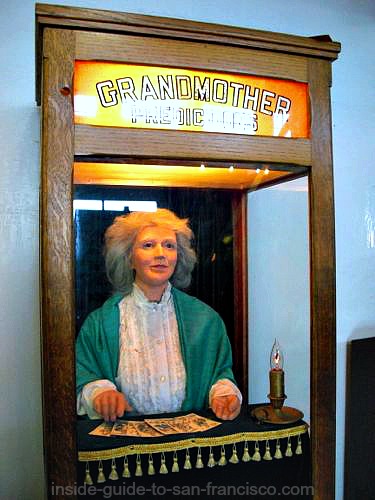 Museé Mechanique
Others "Museums"
There are also these three, all in the 100 block of Jefferson Street:
Madame Tussauds Wax Museum
Ripley's Believe It Or Not
San Francisco Dungeon
The Dungeon is kind of fun, in a campy sort of way. It does give you an interesting glimpse into San Francisco's darker history. The acting is a bit hammy and the audience has to participate, but it's got some good scares in it.
I wouldn't recommend it for younger children, both for the scare-you-in-the-dark aspect and some racy situations. It is definitely creepy. My 25-year-old son enjoyed it more than I did, and wants to go again; judging by the reviews, most people seem to enjoy it.
You don't need reservations, but sometimes you can get some deals by buying tickets online. You can get a two-for-one deal (Dungeon plus Madame Tussauds), and discounts on the Dungeon, on the SF Dungeon website.
More Weirdness
It wouldn't be San Francisco without some serious oddballs.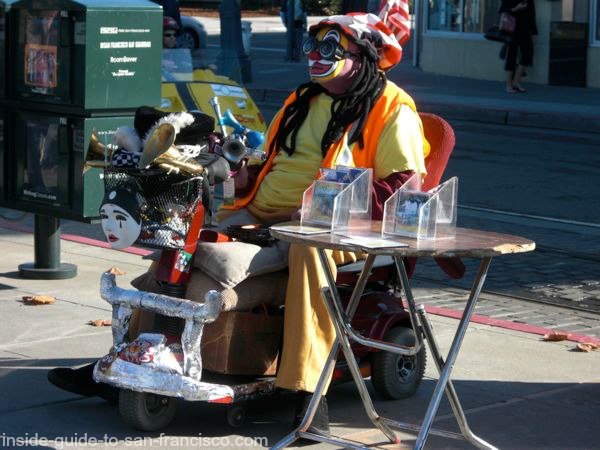 No Comment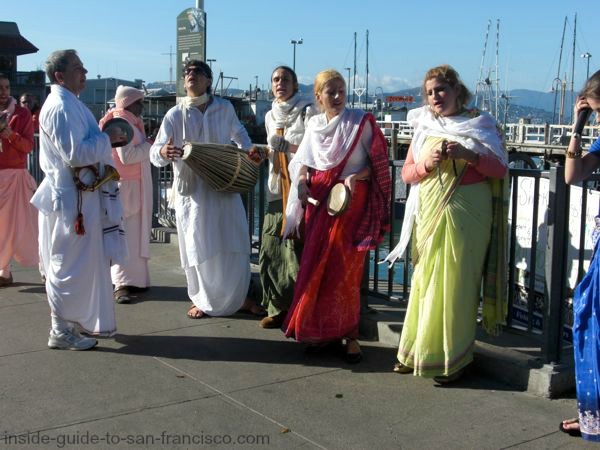 They're Baaack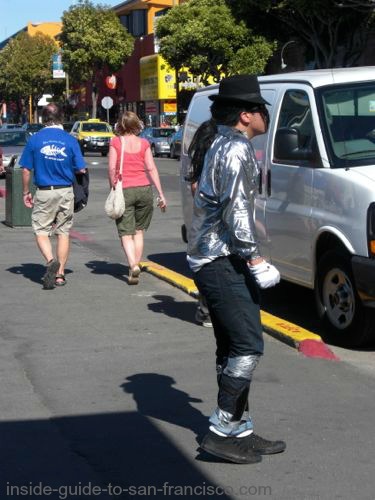 Michael's Back, Too
But the Bush Man is no longer hiding behind a bush at Fisherman's Wharf, scaring the passersby. A tradition of over 30 years has ended; now there's a Bubble Man blowing soap bubbles near the marina where the Bush Man used to hang out.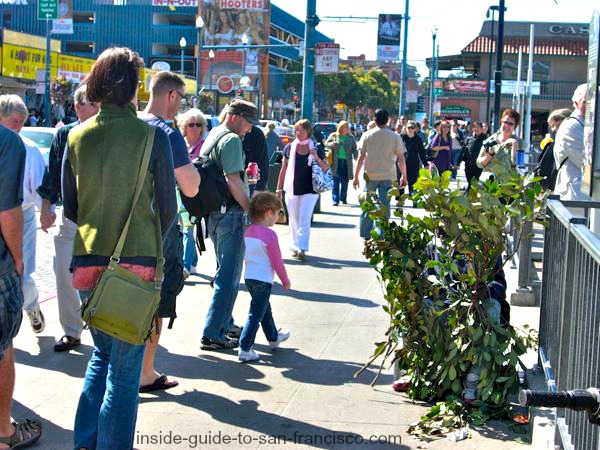 No more entertainment from the Bush Man
---
Explore the Historic Ships
There are two piers with historic ships you can climb around on for a modest entry price.
Hyde Street Pier
At the western end of Fisherman's Wharf is the Hyde Street Pier, with it's row of vintage ships. The three-masted Schooner is an interesting one to explore; you can see it in the photo at the top of this page.
Pier 45
At Pier 45, two U.S. Navy ships used in World War II are open to the public: a submarine, the USS Pampanito, and the SS Jeremiah O'Brien, one of the only two liberty ships still in existence.
It's fascinating to crawl through the submarine and see the small quarters men lived in for weeks at a time.
The liberty ship was used in the filming of the Titanic. The scene with the water flooding the boiler room was shot on the ship.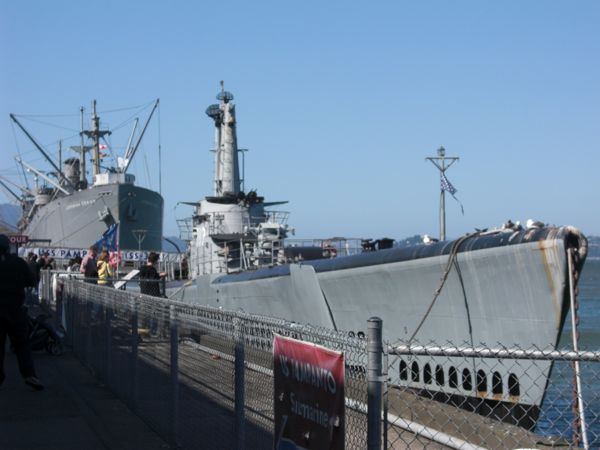 SS Jeremiah O'Brien & USS Pampanito
The SS Jeremiah O'Brien is still a functional ship. You can go sailing on the ship on one of it's periodic trips. They don't sail often, but it would be quite an experience. I've watched it sailing around the bay and under the Bay Bridge during Fleet Week. See their sailing schedule.
---
Action! More Things to Do at the Wharf
Some of the more active tours leave from Fisherman's Wharf, as well.
Go Cars
The Go Cars, the little yellow cars with the self-guided GPS city tours, have a rental office here. Their other office for renting the cars is downtown. Having rented their cars at both locations, I can say it's a lot easier traffic-wise to do it from Fisherman's Wharf.
You can read an account of what our two Go Car experiences were like. We tried out both routes (and did something kind of dumb...oops) but had a great time. I posted images of the Blue and Red Route maps, so you can see where they go (going down Lombard Street was great!). See my page on the Go Cars.
For booking the Go Cars, go here. It's $5 off to book online.
Segway Tours
There are a couple of Segway tours of the waterfront and North Beach (which is right next door): a one hour tour and a two hour tour.
Bike Rentals
There are a number of bike rental companies in Fisherman's Wharf. You can rent bikes to explore on your own, plus there are guided bike tours available.
Bike the Bridge. One of the most popular things to do here is renting a bike and riding across the Golden Gate Bridge, then downhill to Sausalito, and taking the Sausalito Ferry back to Fisherman's Wharf. Gorgeous views, and a cute, seaside town to explore.
Tips on bike rentals and tours. I researched the bike rentals and did the bike ride myself over the bridge and down in Sausalito. Highly recommended! Read about the best ways to rent the bikes and what to expect on the ride, plus useful tips on taking the ferry back to the city, at biking the bridge. Also info on the guided bike tours over the bridge.
If you're not up for a trip to Sausalito, it's also a lot of fun to ride from Fisherman's Wharf to the Golden Gate Bridge; great scenery and an incredible view of the bridge from Fort Point right below it. It's four miles, mostly flat, and takes about 30 minutes. See bike to the bridge for maps, photos, and more info on the ride to the bridge.
---
Tips to save money...
The attractions at Fisherman's Wharf can add up, but if you plan to see several things or go on various tours, you can save some money by using one of the passes. Takes a bit of wading to look at all of these!
The Hop On Hop Off Bus Tours
If you are planning a city tour, and want to see several attractions, the City Sightseeing Mega Pass is an option.
The Mega Pass gives you 1, 2 or 3 days on the Hop On Hop Off bus which takes you all over the city with a tour guide, and lets you choose from some of the most popular attractions. Fisherman's Wharf is one of their stops. It gives you easy city transportation, as well.
Plus, the bus tour is optional; you can pick a selection from any of the activities on the list.
The list of attractions to choose from includes lots of the Fisherman's Wharf activities: the Bay Cruise, Rocket Boat, Go Cars, bike rental, Aquarium of the Bay, San Francisco Dungeon, Madame Tussauds, 7D Experience, Angel Island Ferry, Sausalito Ferry. Plus lots of other fun things like the Academy of Sciences Museum, the Exploratorium, a Muir Woods tour or a Sausalito tour.
See Mega Pass for booking details. It's $5 off to book online.
---
Getting to Fisherman's Wharf
Fisherman's Wharf is very accessible via public transportation; given the parking situation, that may be the best way to come.
Jefferson Street is where most of the action is.
Map data (c) OpenStreetMap (and) contributors, CC-BY-SA
Muni Streetcars
The F-line vintage street cars that run all along the surface of Market street through the downtown go all the way out to Fisherman's Wharf. There are several stops along Jefferson Street, starting at Pier 39. Takes about 15 minutes from the end of Market Street, the Embarcadero stop.
From Union Square you can walk down Powell Street to Market and catch it there.
(Also see Map of F-Market Line and Bart Stations for the entire F-Line route).
---

Insider Tip:
The F-line streetcars at Fisherman's Wharf can get extremely crowded, especially during the summer months. Leaving Fisherman's Wharf heading back towards Market Street or the Alcatraz Ferry?
The stop at Jones Street just off Jefferson is the end of the line, and the beginning as well. Everyone has to get off there, then it pulls forward a little and people can get on. That's the best spot to catch the trolley. If you try and get on at a later stop, there is a good chance the tram will be full and you won't be able to get on, or at best you will be really jammed in.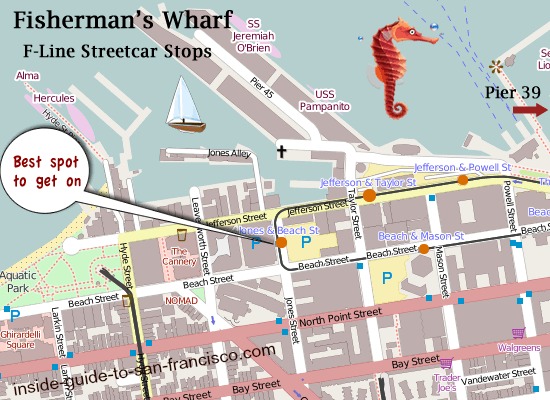 Map data (c) OpenStreetMap and contributors, CC-BY-SA
---
Cable Cars
The two cable car lines that end at Fisherman's Wharf both start at Powell and Market.
The Powell-Hyde line ends at Beach Street near Aquatic Park and the Buena Vista Cafe, and the Powell-Mason line ends on Bay Street, about three blocks above the wharf (see map above).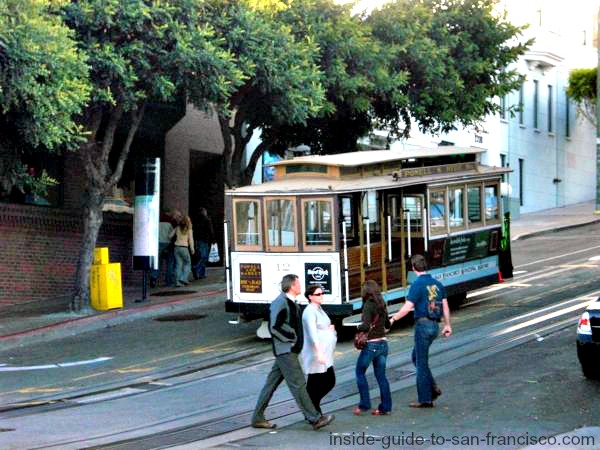 Powell-Hyde Cable Car Arriving at Fisherman's Wharf
Buses
There are four bus lines (19, 30, 47 and 49) that go to Fisherman's Wharf from different spots on Market Street. See maps links below.
City Transportation Maps
If you want the complete transportation picture, check out the transit map for bus, streetcar, BART and cable car routes in the downtown and Fisherman's Wharf areas. You can download the map at Downtown Transportation Map.
To check out the route for a specific bus, streetcar or cable car, including live info on where the buses are on the route, go to route maps. Click on the route, and you'll also see a live map showing where the buses are at the moment, and expected arrival times. Pretty cool!
A very handy website for getting around on public transportation in the Bay Area is 511.org. See how to get from point A to point B on their trip planner. Just plug in your beginning and ending locations. Also, you can get all the bus schedules here. Note: SFMTA is the bus and streetcar system.
Getting to Fisherman's Wharf from BART
If you are coming in on BART, it's easy to get to Fisherman's Wharf. Get off at any of the stops along Market Street (Embarcadero stop would be the most efficient), come up to the surface of Market Street and find the nearest trolley (F-line streetcar) stop. There's a streetcar stop at Embarcadero.
Fare for adults on the F-line is $2.75, exact change required. For ages 5-18, and 65+, it's $1.35.
For a complete guide to using public transportation in San Francisco, and the scoop on all the different travel passes and tickets, see my page on getting around SF.
---
Parking at Fisherman's Wharf
Driving to the wharf is pretty easy, but parking is a bear anywhere near this area. Forget street parking. There are several parking garages at the wharf; they are expensive, but the one next to Pier 39 does give one or two free hours with validation, as do the coupons available at Pier 39 (see the Pier 39 page for details).
There are quite a few parking lots and garages a short walking distance away along the Embarcadero; see Embarcadero parking a map and details.
Parking tip #1: a parking app like Spot Hero is a handy tool that allows you to view the parking garages and lots near Fisherman's Wharf and reserve a guaranteed space ahead of time. You can check online for the best prices and availability, and not have to worry about the garage being full or paying an arm and leg once you get there. The Fisherman's Wharf area garages can fill up during the high season.

I recently got a space via Spot Hero in a parking garage in the heart of Fisherman's Wharf and paid $9 for the whole day, vs. the normal $18 fee.
Parking tip #2: park free at Fort Mason next door to the wharf (west side, towards the Golden Gate). Some are two-hour and others are four-hour spots. There aren't a lot of spaces, so it's sort of hit or miss, but sometimes it can work out. It's about a fifteen minute walk to the wharf. Entry on Bay Street near Van Ness Avenue.
Parking tip #3: use the parking app Spot Angels to scout the area for street parking. The app also keeps track of where you parked your car, and can warn you when you are running out of the max time on the meter, or if a tow-away period is coming!
---

Insider Tip:
Inside the magazine racks at Fisherman's Wharf, there are two
free publications
that are very useful:
Fisherman's Wharf Map: very-detailed map that shows the attractions, stores, hotels and transit stops.
Bay City Guide: info on the attractions, restaurants and tours. Plus maps of the city, Fisherman's Wharf, Union Square, Golden Gate Park, BART, F-line, and ferries.
Also, both publications are full of coupons to save money on lots of the attractions and tours associated with Fisherman's Wharf (and beyond).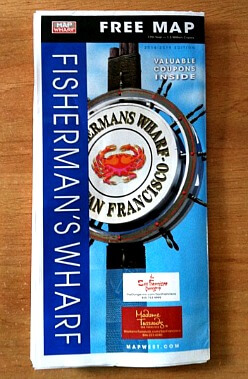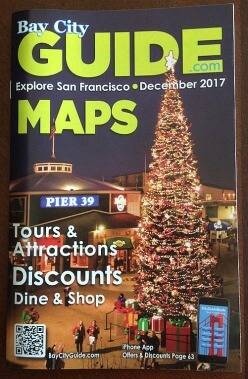 ---
In the Area...