By Karen
Getting Around San Francisco
On public transportation
...and some car free (carefree?) alternatives
A local's guide to getting around San Francisco.
My tips on using San Francisco's public transportation system without excess stress!  
---
Best transit options for short-term visitors to SF
Here are my recommendations for most people visiting the city: 
If you are here for just a few days or a couple of weeks, the most practical and economical way of getting around San Francisco would be getting one of the 1, 3 or 7 day passes that allow unlimited travel on all the buses, streetcars and cable cars (but not BART) in the city. 
You can purchase the SF Visitor Passports that give you unlimited travel for 1, 3 or 7 days. You can buy passes via the MuniMobile app, virtual or plastic Clipper cards, or paper tickets from kiosks.
If you don't plan multiple rides on the cable cars, but plan more than one bus trip a day, you can get the 1 day Muni Day Pass which covers unlimited bus and streetcar rides. Can be loaded onto MuniMobile but not Clipper. 
Paying for fares via MuniMobile or Clipper cards is probably easier than paying cash because you need exact change on buses and streetcars.
Plus now kids 18 and under ride free in San Francisco! But just on the buses and streetcars. Everyone over 4 pays $8 for each cable car ride.
Another option, especially for first-time visitors, is getting a 1 or 2-day pass on one of the Hop On Hop Off bus tours that combine a city tour with transportation over a large part of the city.
---
How to use the SF transit options
See below for the nitty-gritty on using each of the systems and passes:
The huge variety of ticket options, transit passes and modes of transportation can be very overwhelming.
I've tried to create some order out of it and present the pros and cons of each.
Why is the transportation system in San Francisco so complicated? One reason is that the Clipper Card covers the whole Bay Area and the MuniMobile app just covers San Francisco. They are gradually trying to merge the two, so at the moment they only partly overlap. 
The Covid schedule cutbacks are mostly gone now, though there are some lines not running at the moment.
Face masks are no longer required on the buses, trains and ferries.
---
Quick jump to transit schedules:
SF Muni bus and streetcar routes:  Muni bus schedules 

The F-line trolleys: F-line streetcar schedules
BART: BART train schedules.
The SF Ferries: Golden Gate ferries and SF Bay Ferries.
Golden Gate Transit between SF and Marin: bus schedules.
The PresidiGo shuttle:  shuttle schedule.
---
The good news. San Francisco is one of the better cities in the U.S. for getting around without a car.
Not so good: the San Francisco public transportation system can seem very confusing and complicated. But there are ways to make it easier and to save money while doing so. Read on!
A big benefit of using public transportation is not having to drive in San Francisco traffic, and best of all, not having to hunt for parking (especially with the current epidemic of car break-ins...ugh!).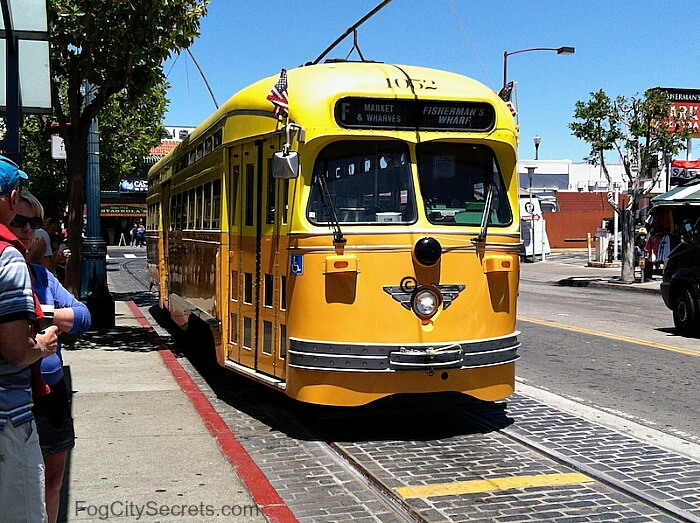 F-Line Trolley at Fisherman's Wharf
---
I may earn a small commission if you make a purchase through some of the affiliate links on this page, at no extra cost to you. See disclosure policy. This helps me provide all the free information on the site. Thank you!
San Francisco Public Transportation

...in a nutshell
The San Francisco public transportation system includes: 
City buses (called Muni)
Streetcars/Trolleys (called Muni Metro)
BART trains (Bay Area Rapid Transit)
Cable cars
San Francisco Bay Ferries
Golden Gate Ferries
Golden Gate Transit (SF & North Bay buses)
PresidiGo (free shuttle)
You can buy individual tickets or get transit passes for unlimited travel over different time periods.
Clipper Cards and MuniMobile are cashless methods of paying for individual tickets and can also be loaded with the passes.
---
SF Muni: the bus and trolley system
San Francisco Muni operates both a bus system and a network of streetcars (or trolleys) that run on rails.
Locals generally refer to the buses as Muni and the streetcars as Muni Metro.
The F-Line. In addition to the regular street cars that travel all over the city, San Francisco has a rail line with antique street cars from other cities that runs from the Castro District to the Ferry Building and down the Embarcadero to Fisherman's Wharf.
These cars are fun to ride; check out a vintage street car from Milan or Chicago! See F-line for route, schedule and live map info.
Together, the two systems cover most of San Francisco. The fares are the same and the passes work the same way on both systems.
---
San Francisco Bus Fares
How much is it to ride the SF Muni buses and trolleys:
Adults: $3.00 (Clipper card/MuniMobile: $2.50)
Seniors: $1.50 (Clipper card/MuniMobile: $1.25)
Anyone under 19 years of age rides buses and streetcars free (but not cable cars).
How to pay for buses and streetcars:
They accept payment in a variety of forms:
Cash (must be exact change)
Visitor Passports (1, 3 or 7 days)
Muni Day pass
Monthly passes
Clipper Cards (now available via smart phone)

MuniMobile app (on your smart phone)
None of the passes can be purchased on the bus or streetcar (except the Muni Day Pass). See passes below for info on how to purchase them.
---
Handy links for using SF Muni
Find the bus route and fare: plug in your starting and ending locations. Get bus #, transit times, and fare, plus a route map. See Trip Planner.
List of bus routes. Click on the route and get the route map plus real-time bus locations and arrival times for buses. See bus routes.
Muni map of all routes. Download the PDF version of the complete Muni map for San Francisco. See Muni map.
---
Latest additions to the Muni subway system: Union Square & Chinatown stops.
The T-Third St Line has been extended to Chinatown, the Rose Pak Station, with another stop, the Union Square/Market St Station, on Stockton Street near Union Square. All deep underground.
---
Here's my best tip for riding Muni Metro during rush hour. I'm surprised more people don't do this; in fact, I almost hesitate to mention it!
When the trains leaving downtown are arriving packed, and almost no one can get on, at the Powell, Montgomery or Civic Center stations, take a train the opposite direction back to Embarcadero station. All the trains (except the N-Judah & K-Ingleside) start out empty there! Get on there, get a seat, and relax. 
---
Golden Gate Transit
Golden Gate Transit is a public transportation company that mainly provides bus and ferry services for the North Bay (Marin County and Sonoma County, north of the Golden Gate). But within the city, their buses run from downtown SF to the Golden Gate Bridge. It's also a good way to get to Sausalito from SF.
For more info on getting from San Francisco, across the bridge, and down into Sausalito by bus, see buses to Marin.
How to pay the fare (distance based). They accept cash, and don't require exact change like SF Muni buses, but you get a change card only good on their transit system. They accept Clipper Card payments, but not the SF Visitor Pass or MuniMobile.
They also run the Golden Gate Ferry system, which takes people from the SF Ferry Building to Sausalito, Larkspur and Tiburon. Purchase tickets at the terminal. These ferries accept the Clipper Card. See Golden Gate Ferry for more info.
Golden Gate Transit's bus route #130 (San Rafael-San Francisco) runs from the Transbay Terminal downtown, with a stop at Civic Center in SF. The bus stops at the toll plaza at the Golden Gate Bridge before crossing the bridge and stopping in Sausalito, before its endpoint in San Rafael. See bus route #130 for more info.
For more info on routes and schedules, see Golden Gate Transit.
---
Cable Cars
The San Francisco cable cars run on three routes:
Powell-Hyde line. From Powell & Market Streets to Fisherman's Wharf, at Beach and Hyde Streets.
Powell-Mason line. From Powell & Market Street to Fisherman's Wharf at Bay & Taylor Streets.
California Street line. Along California Street from Drumm Street to Polk Street.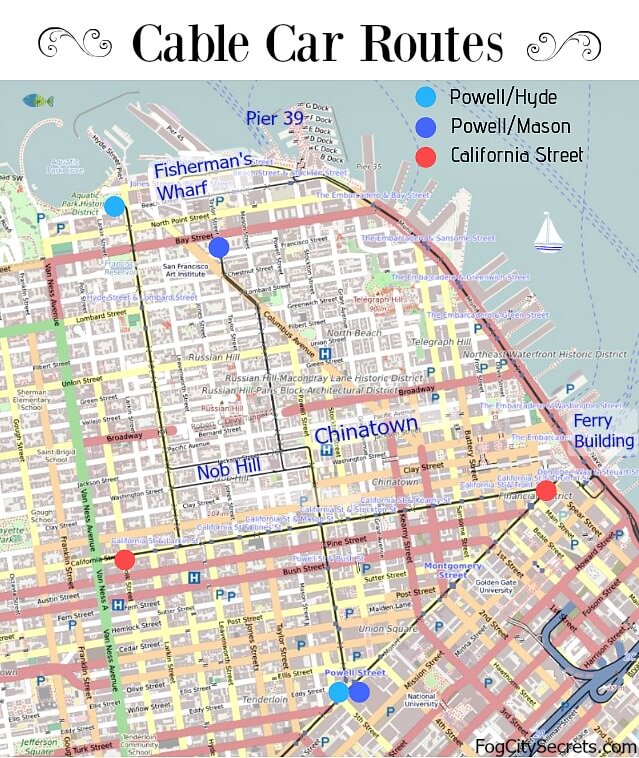 ---
Cable Car Fares
Adult & Youth: $8.00
Senior/Disabled: $8.00 7 am - 9 pm; $4.00 9 pm - 7 am.
Payment accepted: cash, paper tickets, SF Visitor Passport, Clipper Card, MuniMobile.
Note: the official website says exact change is required on the cable cars. I have seen them make change for bills $20 or smaller, but that may not always be available. 
---
Tips on riding the cable cars
One of the first things visitors to SF notice is the very long lines for the cable cars! Here are a few ways to avoid them:
Get on a block or two away from the starting point. They don't fill up the cars at the turnaround spots, so there are usually spaces to get on at later stops.
Go for an evening ride. Not only is it less crowded, it's quite magical riding after dark.
Ride the California Line. Most people ride the cars between Market Street and Fisherman's Wharf, but the ride through Chinatown and up and over Nob Hill is very pretty (and steep!).
You need to purchase a ticket before getting on at the cable car turnarounds at Powell & Market, Hyde & Beach, and Bay & Taylor (but not on the California line where there's no ticket booth).
Otherwise, you can buy a ticket once you're on.
Using passes or individual tickets on the cable cars. Get on, find a spot, then hand the pass or ticket (paper or plastic) to the ticket-taker, or show them MuniMobile payment on your phone, or if you're using a virtual Clipper account, hand them your phone to scan it.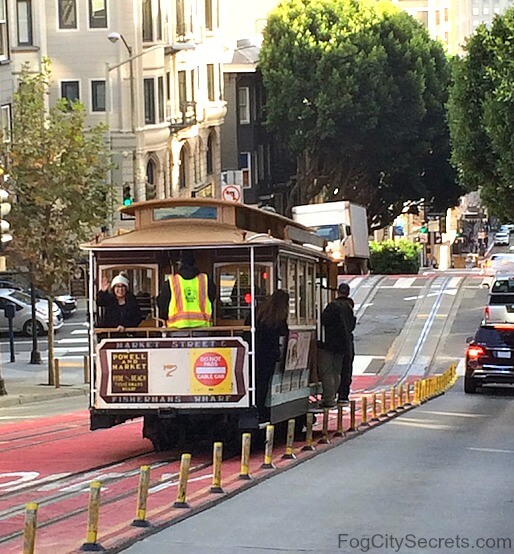 Cable Car on Powell Street
Good to know: the cable car line that stops at the top of the crooked block of Lombard Street is the Powell/Hyde line. 
The two Powell lines leave from the same spot on Market Street, and use the same line. If you're in line to get on, and it's the Powell/Mason car, but you prefer the Powell/Hyde Line (written on the cars), you can let other people go ahead of you to take the other car.
From Lombard St., it's only three blocks to the end of the line in Fisherman's Wharf. Easy to walk to the wharf from there, but if you get back on the cable car, you get a fun ride down a really steep part of Hyde Street. Good photo op on that stretch, too: nice views of Alcatraz and the Wharf.
Note: if you want to get back on the cable car, you have to pay the fare again, unless you have a pass with unlimited rides. See transit passes below for how to get them.
For more tips, see my detailed guide to riding the cable cars.
---
BART in San Francisco
BART, or Bay Area Rapid Transit, is a train system that runs through San Francisco and out to other cities in the East Bay and down the Peninsula.
In San Francisco. The Bart trains run underground, under Market Street, like a subway, then emerge above ground in the outer areas of SF.
East Bay. After leaving the last SF stop downtown (Embarcadero), the trains run under San Francisco Bay, through Oakland, then north through Berkeley to Richmond and Antioch and south through San Leandro to Fremont and Pleasanton.
The Peninsula. South of San Francisco, the trains stop at several towns along the peninsula, going all the way to the SF Airport and Millbrae.
Both the SF and Oakland airports are connected to BART.
See BART map and list of stations at BART info.
Insider tip: avoid the BART (and Muni) station at Powell and Market if you can. (Civic Center BART isn't great, either.) It's earned a well-deserved reputation for grossness! You'll see things you would never want to see. Sorry!
---
BART Fares & Tickets
Calculation of BART fares. BART fares depend on the distance traveled. Tickets can be purchased at the BART stations via ticket machines which take cash and credit cards.
Tickets must be purchased prior to getting on the train, and you need a ticket to open the entry gate.
BART has an app on their website to calculate the fare. See fare calculator.
Using the paper tickets. To get on BART, you put your ticket in the slot to open the turnstile. When you get off, you do the same, and the amount in automatically deducted from the value of your ticket.
What if you underpay? You'll see the "Underpaid: Go to Add Fare" sign pop up. Then you go to the Add Fare machine nearby to add more money, cash only (they tell you how much).
---
BART Passes and Discount Cards
Clipper Cards. You can use your Clipper Card for BART tickets throughout the whole BART network. The fare is calculated automatically when you exit.
If you are using a Clipper Card, tap your card on the Clipper Card logo at the turnstile. It kind of looks like you should insert it into the ticket slot, but don't. You wouldn't be the only one trying to do that ;-)
Tap it both entering and exiting, so it can deduct the correct fare.
Now you can also use your smart phone to use a Clipper account instead of the card. Hold your phone near the device.  See below on how to set it up.
BART/Muni Adult "A" Fast Pass is a monthly pass for unlimited rides on BART within San Francisco (Embarcadero to Balboa Park stations) and on all SF Muni buses, trolleys and cable cars. For use on Clipper Cards only. $94.
BART discount tickets. BART sells Blue Tickets (6.25% off, everyone), Green Tickets (62.5% off, seniors 65+), and Red Tickets (62.5% off, disabled and Medicare cardholders). Also only for use on Clipper Cards, must be added online.
---
When is the best time to visit San Francisco? Check out my guide to which months have the best weather, and how to avoid the rainy, foggy months: best times to visit.
---
San Francisco's "Subway" System
Does San Francisco have a subway system? Sort of.
Two underground train lines run underneath Market Street downtown, from the end of Market Street near the Ferry Building, out to the neighborhoods further west or south.
The Muni Metro streetcar lines are on the first level under Market Street, and the BART train tracks run on the lower level below the Muni trains.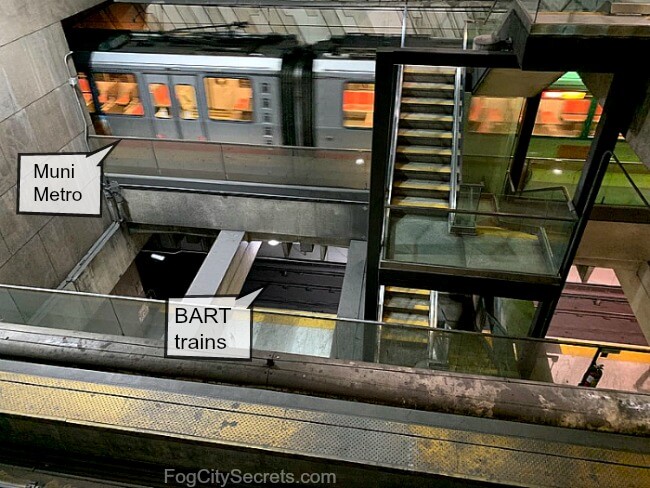 BART & Muni Metro running under Market Street
Both lines then emerge (at different points) and run like streetcars and trains above ground for the rest of their routes. Most of the routes are above ground for both transit systems.

The two rail systems share the same stops from the Embarcadero Station to the Civic Center Station, but the BART stations are on the deeper level.

Muni Metro is a subway while it is downtown and a streetcar line further out.
Muni Metro ends (or starts) at the Embarcadero station in San Francisco, while BART continues under the bay in the Transbay Tube to Oakland and beyond.
BART is also a subway under Market Street until Civic Center Station, then it goes on to four more underground SF stops. Going south, it's a train from Daly City (at the SF border) to the SF airport.
Heading east out of San Francisco, BART stays underground for a few Oakland and Berkeley stops after it crosses under the bay, then travels above ground for the rest of the East Bay stations. 

It's not really a subway compared to the extensive, city-wide, underground-transportation networks that other cities have. It just gives us a little taste of a subway vibe, while most of our city rail travel is above ground.

---
PresidiGo Shuttles
The PresidiGo Shuttle is a free transportation service provided by the Presidio Trust, a federal agency associated with the National Park System.
They have two shuttle routes:
Downtown Route
South Hills Route
The Downtown shuttle runs from downtown SF out to the Presidio Transit Center at the Main Post.
You can catch the Downtown shuttle at Drumm and California Streets near the Embarcadero BART and Muni stop, and take it to the Main Post at the Presidio.
The South Hills shuttle runs from the Presidio Transit Center on the Main Post all through the Presidio. Towards the end, you can get off at stop #10 and pick up the #29 bus to Baker Beach, China Beach and Lands End.
You used to be able to take it out to the Golden Gate Bridge, but now it's a bit more complicated. You can get off the shuttle at the entrance to the Presidio and walk 3 blocks north (right) and catch the #28 bus to the bridge.
PresidiGo Schedule:
The buses run daily, from morning to evening (times vary with route and day of the week), every 30 or 60 minutes. 
For more info, see PresidiGo schedules with live bus maps for the three routes. 
There are over 40 stops inside the Presidio, formerly an army base, now a part of the National Park system with lots of things to do and see. See Presidio for more info.

---
Untangling all the SF Ferries!
It can be confusing because there are four ferry services connecting San Francisco to other locations.
The public ferries take Clipper Cards; the private ones don't. 
Two ferry services are considered public transit and two are private services.
The SF Bay Ferry is considered public transportation even though a private company, the Blue and Gold Fleet, has the contract to run the ferries. It is primarily a commuter service for people who work in San Francisco. 
Something new: there's a new app that you can use to buy tickets on the SF Bay Ferry. See SF Bay Ferry Mobile App.
Oracle Park Ball Games. When the SF Giants are playing home games at Oracle Park (formerly AT&T Park), the SF Bay Ferry operates special ferry services to the ballpark.

Do you need a reservation for the ferry? No, they don't sell reserved places on the ferries; it's first-come, first-served. And the ferries are large, so they don't fill up. 
Exceptions: you do need a reservation to take the Alcatraz ferry. Alcatraz tours sell out so booking in advance is very important, especially during the summer season on holiday weekends.
Also, if you're returning to SF with a bicycle on the Sausalito Ferry during the busy season, it's best to get in line early; they are limited to the number of bikes they will take on each trip. See taking the Sausalito ferry for more info.
The various SF transit passes don't include the ferries. 
The Red and White Ferry. This is another ferry company that you'll see at Fisherman's Wharf and out on the bay.
This ferry does bay tours, including their very popular, one-hour bay cruise, leaving from Pier 43 1/2, but they don't provide transportation to other locations. See Red and White Ferry.
---
San Francisco Transit Passes
There are a variety of transit passes available for getting around San Francisco without needing cash in exact change on the buses, trolleys and cable cars.
And the passes can be purchased in a variety of formats:
a paper version
loaded onto a plastic Clipper Card
loaded onto a smart phone (MuniMobile app or Clipper app) 
---
Types of SF Transit Passes
These are the San Francisco transit passes available:
Note: the San Francisco CityPass provides access to 3 or 4 San Francisco attractions, and used to include a 3-day transit pass for all SF buses, trolleys and cable cars.
This pass stopped including the 3-day SF Visitor Passport as of March 1, 2020. However, you can still purchase the two passes separately.
---
San Francisco Visitor Passports
SF Visitor Passports.  1, 3, & 7-day passes. Unlimited rides on buses, trolleys & cable cars. Consecutive days.
1 day: $13
3 days: $31
7 days: $41 

Note: the prices above are for passports loaded on MuniMobile or a Clipper Card. The prices are higher for paper passes.
See price list of all Muni fares, passes and passports.
How to buy the SF Visitor Passports. 
In person. You can buy them at ticket kiosks and at various retail locations throughout the city. See map of locations.
Online using a Clipper Card or MuniMobile account. 
Clipper Cards purchased online are mailed, so if you want to get a Clipper Card for this pass and use it right away, you can buy the card for $3 at a number of locations (including most ticket booths) in the city, then set up the account and put the pass on it.
If you already have the card, you can load the pass online or at a ticket booth. But if you need the pass right away, load the pass a  ticket booth. 
If you have an Apple Pay or Google Pay account, you can use the Clipper app to connect them to a Clipper account and use your smart phone to board.
More on Clipper Cards.
MuniMobile
MuniMobile. If you have a smart phone, it may be easier to set up a MuniMobile account on your phone and put the pass on it. You can do it all online without hunting for the purchase locations. Then you use your phone to pay the fare on the buses and cable cars.
Download the app for either ios or android; or set up the account at their website here. The app has gotten mixed reviews; works well for some but not for others, apparently. I found it easy to use and very convenient. See MuniMobile for more info.

Cool things about MuniMobile: you save $0.50 on each bus or trolley ride, don't need to carry cash, don't have to add money to the card in advance (it uses your credit card), and you can buy tickets for the whole family on one phone. You can use MuniMobile for individual tickets, or load your passes onto it.

Differences. Clipper Card vs. MuniMobile:
Clipper Card balances don't expire. MuniMobile pre-purchased tickets or passes expire in 90 days.
If you add money or passes to the plastic Clipper Card online, there is a lag of several days before it becomes available. MuniMobile is available immediately. You have to add $$$ or passes to the Clipper Card at a ticket booth to have it available right away. Or set up a virtual Clipper account.
Clipper Cards can be used on many regional Bay Area transit systems outside SF, but MuniMobile is only usable in the city (no BART).
Clipper Cards can be used on the SF Bay Ferries and Golden Gate Ferries (but not the Blue and Gold Ferries or Alcatraz Ferry). MuniMobile can't be used on the ferries.
Note: You can only set up an online Clipper account on the new Clipper app if you have a U.S. address and phone number for your Apple Pay or Google Pay account. But you can get a plastic Clipper card regardless of address.
But there is a new mobile app to buy tickets available specifically for the SF Bay Ferries which you can download ("San Francisco Bay Ferry" app). 
Tip: the SF Visitor Passports are cheaper if you have them on MuniMobile or a Clipper Card (as opposed to the paper version): $13 vs $24 for 1 day, $31 vs $36 for 3 days, and $41 vs $47 for 7 days.
---
San Francisco CityPass
(This pass no longer includes a transportation pass, but it is still a good deal if you plan on doing the attractions listed.)
San Francisco CityPass. Adults $84, Kids (5-11) $64. Includes:
Admission to California Academy of Sciences 
One-hour cruise on SF Bay
Admission to two of the following: Aquarium of the Bay (at Pier 39), Exploratorium, San Francisco Zoo, SF Museum of Modern Art and Walt Disney Museum.
How the CityPass works. When you purchase an SF CityPass, you can either print out the entry tickets or just use your mobile device to show them upon entrance.
Save money. If you are interested in seeing those attractions, then it's a really good deal.
Purchased separately, all those attractions would cost almost double compared to the CityPass. See SF CityPass for more info and booking.
---
Monthly Muni Passes
San Francisco sells monthly Muni passes, good for locals or longer-term visitors. 
Note: these passes can only be used with a Clipper Card (see below for card info).
Types of monthly Muni passes.
Adult "M" Pass. Unlimited rides on SF Muni buses, trolleys and cable cars. $81.
Adult "A" Pass. Unlimited rides on SF Muni buses, trolleys, cable cars & BART within SF. $98.
Discount Pass. Unlimited rides on SF Muni buses, trolleys and cable cars. Seniors 65+, youth 5-18, and disabled persons. $40.
How to purchase the passes. First, get a Clipper Card (see below) then add the monthly pass online to your Clipper account, or go to a ticket machine in any Muni Metro station (where you can buy an adult Clipper Card and put the passes on it), or to a retail location that handles Clipper Cards (see list of locations).
You can add one month at a time, or set up autoload for upcoming months.
For the current month, the pass has to be purchased between the 1st and 16th of the month. After that, the pass will be for the following month.
---
SF Muni Day Pass
 The $5 Muni Day Pass is the newest addition to the Muni pass collection, giving you 1-day, unlimited Muni travel for $5.
You can ride all the Muni buses and trolleys until 11:59 pm, but not the cable cars. To add cable cars, you would need to get the 1-day, SF Visitor Passport (see above) for $13.
But it's only available through the MuniMobile app. Once your MuniMobile account is set up, you can purchase the pass on it.
---
Clipper Cards
Clipper Cards were introduced to San Francisco years ago to make it easier to travel on the buses without a pocketful of coins and dollar bills. 
It looks like a plastic credit card, with the Clipper logo on it.
There is a small discount (50 cents per bus ride) for using the cards, but the main advantage is not having to carry exact change (required on SF buses and street cars).
Who can get a Clipper Card? Anyone, including visitors to San Francisco. You put money on the card and use it up by traveling on the buses, trolleys, cable cars, BART, CalTrain and some ferries.
The cards don't expire, so you can use it for more than one trip (but it can be a hassle to get the money refunded once it's on the card). You can put as much or as little as you want on the card.
Advantages: convenience, don't need to worry about exact change. Discount, but a very slight one.
My advice: if you live in the Bay Area or plan an extended stay of a month or more, it could be handy having a Clipper Card if you plan to use public transportation, especially for transit outside the city like BART or ferries.
Otherwise, for most visitors, it would probably be easier just to get one of the bus passes (SF Visitor Passports or Muni Day Pass) for a limited number of days on the MuniMobile app. See bus passes for more info.
How to get a Clipper Card. You can buy adult Clipper Cards from the Muni and Golden Gate Ferry ticket offices and machines, BART stations, and at various locations in San Francisco, or you can order one online (clippercard.com). The cards are mailed to you if you order them online, so take the mailing time into account.
---
Now A Virtual Clipper Card!
Do you have to get a plastic Clipper Card? Not any more. Now you can use your Clipper account on your smart phone.
You will need either an Apple Pay or a Google Pay account. Then you can set up a Clipper account either via the Pay account or by downloading the Clipper app and setting it up through that.
You will connect the Apple or Google Pay account to your Clipper account and load funds onto the account or buy one of the Muni passes to load onto the account.
How do you use the online Clipper account? When you board the transport, hold your smart phone near the Clipper card reader like you would the plastic card. 
For more details on setting it up and using it, see Clipper card accounts.
---
Where can you use the Clipper Card? On all of  the SF muni buses and streetcars, BART, plus the cable cars, and a number of Bay Area transit systems, including Caltrain and the Golden Gate Transit buses and ferries.
See list of all transit systems accepting the Clipper Card.
Note: the Clipper Card is not accepted by the Blue and Gold Ferry, which goes to Sausalito and many of the same locations as the other ferries. Blue and Gold is a private company and not part of the public transportation system. But you can use Clipper on the Golden Gate Ferry to Sausalito.
Loading money or other value onto the card. You can load money through your online account, over the phone (877 878-8883), via ticket machines, or at a number of locations around the Bay Area (see Clipper Card locations for the list and map).
Important. There is a time lag if you load the money or passes to your plastic Clipper Card online: up to 5 days for bus and trolleys!
If you need to use the card right away, add the money or passes in person at the ticket booths in Muni Metro and BART stations, or at one of the locations linked to above.
If you are using the virtual Clipper Card, you can load money immediately.
Loading bus passes. The Clipper Cards can also be loaded with most of the Muni bus passes and SF Visitor Passports available for purchase in San Francisco. The passes can be loaded online or at any of the locations in the link above. 

Note: You can load cash on the card at BART stations, but not the passes.
Exception: you can't load Muni Day Passes onto Clipper cards (as opposed to the 1 Day SF Passports).
---
Using the Clipper Card
At downtown Muni and BART stations (underground). At the ticket turn style, you will see a Clipper logo to the right of the entrance gate. Just hold or tap the Clipper card on the logo and the gate will open and your payment will be registered.
You will need to tap it again when leaving the BART station (but not the Muni station) so the correct fee can be deducted. 
On the bus or street car. Each entrance will have a Clipper card payment device; get on and just as you enter, you'll see the Clipper logo on the device. Tap your card on there (or hold your phone near it, if using a virtual Clipper account) and it will light up green. 
You can get on using either the front or rear entrances with a Clipper Card. You don't have to "check out" with the card when you get off.

Tapping on the Clipper card device will also load the money you've added to the card since your last ride.
If the money on the card isn't sufficient, or it didn't register properly, it will beep and show a red light. If you have the proper amount of money on it, try holding it on there longer until the green light appears.
On a cable car. After you get on and find a place, just hand the card (or your phone for the virtual Clipper card) to the ticket taker and they will scan it. 
---
Discount Clipper Cards
Youth (5+), seniors (65+), and disabled persons can get Clipper Cards that will charge them the discounted rate on public transit. Upper age limit for youth varies with different transit systems.
You can order these online or by mail and supply the required documentation. See Clipper discounts for how to do it.
There are a few limited locations where you can get the discounted cards in person (with the required documents). See list of in-person locations. Otherwise, you have to wait until they are mailed to you.
---
Alternatives to Public Transportation
There are also quite a few options for getting around San Francisco with services provided by private companies.
Taxis
Ride sharing: Lyft and Uber
Hop On Hop Off tour buses
Go Cars
Blue and Gold Ferry
Water taxis (Embarcadero & Fisherman's Wharf)

Pedicabs (ditto)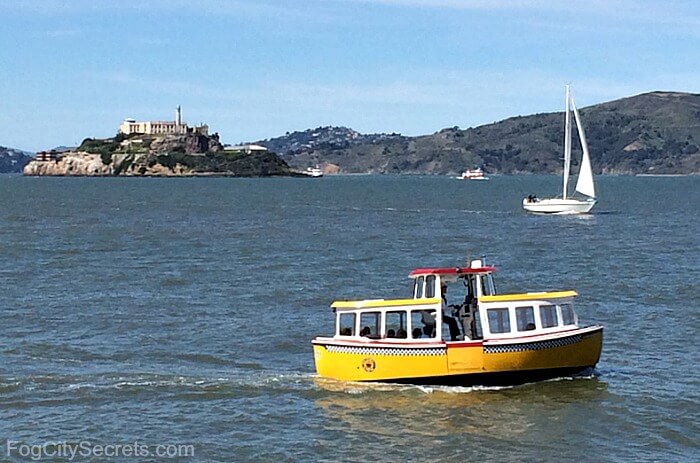 San Francisco Water Taxi
---
Lyft & Uber
The two ride-sharing companies in San Francisco are Lyft and Uber. The pricing and services are pretty similar between the two. Download their apps to check prices and find cars.
---
Hop On Hop Off Buses
San Francisco has two tour companies that do the Hop On Hop Off, double-decker bus tours.
With a 1 or 2-day pass, you can get around to most of the major tour attractions and activities in the city, along with a guided tour of city.
For a first visit, this can be a handy way of getting an overview of San Francisco along with transportation all around the city.
The 1 and 2-day passes on the Skyline Sightseeing Hop On Hop Off Buses include a city tour covering most of the popular tourist attractions, plus a tour across the Golden Gate Bridge to the cute seaside town of Sausalito. There are also  options to add the night tour of the city (with a great view from Treasure Island) to either the 1 or 2-day tours.
They throw in some more fun stuff, too, like a guided walking tour of Chinatown, and an hour bike rental.
See Hop On Hop Off tours for more info and booking. Usually $8 off if booked online.
---
Go Cars
The little yellow Go Cars that you see zipping around the city come with GPS guided tours that tell you where to go and interesting things about the sights you're passing, so it's a fun way to tour the city at your own pace.
But you're not limited to staying on the tour route. You can drive anywhere in the city (except on the freeways and bridges) so it's like having your own wheels to get around. They're easy to park, too; tuck them into any small space.
Check out my page on our experience with the Go Cars. We tried out both routes and had a great time, in spite of making some mistakes!
Tip: start at Fishermans' Wharf, not Union Square, and don't try to go up the steep hills!
For booking, see Go Car reservations. 
---
Blue and Gold Ferry
The Blue and Gold Ferry company provides transportation around the bay in addition to its boat tours.
They run a ferry service to several locations around SF Bay, including Sausalito, Tiburon and Angel Island.
The ferries leave from Pier 41 on Fisherman's Wharf.
---
Between the Ferry Building & Fisherman's Wharf:
A lot of popular activities for visitors are spread out along the Embarcadero, the waterfront area that runs from the Ferry Building to Fisherman's Wharf, including Alcatraz Landing, Pier 39, the cruise ship terminal and dockside restaurants.
See a list and map of all the San Francisco piers at SF Piers.
Two fun, and a bit unusual, ways to travel are available along this stretch, one on land and the other on the water: pedicabs and water taxis.
---
Pedicabs
Pedicabs are available on the waterfront along the Embarcadero, from the Ferry Building to Fisherman's Wharf, and will take people on rides to Chinatown, North Beach, AT&T Park and Union Square.
Fares. They charge $20 per mile (for 2 people) so the trip from the Ferry Building to Pier 39 (1.3 miles) should be about $26. See sfpedicabs.com for more info.
---
Water Taxis
This is a colorful way to get along the San Francisco waterfront. It makes for a mini-tour of the piers and SF skyline along the Embarcadero.
These little boats run between the Ferry Building, at Pier 1.5, to the end of Fisherman's Wharf at the Hyde Street Pier. 
They operate from 10:30 am to 6 pm back and forth; it's about a half hour journey.
Fares: $10 adults, $5 kids (5-14), Under 5 free.
See sanfranciscowatertaxi.org for more info.
---
San Francisco Airports
The San Francisco Airport (SFO) is located just south of San Francisco in South San Francisco (actually a different town), about a 20-30 minute drive from the downtown or tourist areas of the city, depending on traffic.
Travelers can also use the airports of the nearby cities of Oakland (OAK) and San Jose (SJC) to fly in and out of SF.
Which airport should you use to get to SF?  For a great overview of our local airports, and tips on using them, see flying into or out of San Francisco.
---
More to explore...
---