The San Francisco Piers

...By the Numbers
Need a guide to the numbered San Francisco piers? Lots of the waterfront attractions in San Francisco are designated by their San Francisco pier locations.
Map of the San Francisco Piers
(The Odd-Numbered Ones)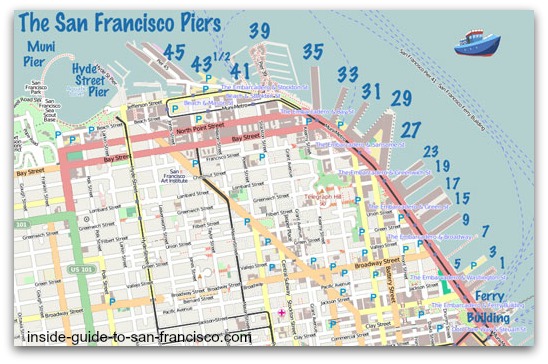 Map data (c) OpenStreetMap and contributors, CC-BY-SA
The piers in San Francisco run along the Embarcadero, the street that follows the curve of the northeastern edge of the city.
The numbering starts at the Ferry Building at the end of Market Street; to the left are the odd-numbered piers, and to the right, the even-numbered piers.
The waterfront tourism activity mostly happens between the Ferry Building and Fisherman's Wharf to the north and west. Hence, the piers associated with various San Francisco activities and attractions are usually the odd-numbered ones, like the well-known Pier 39.
---
Guide to the San Francisco Piers
What's where at the piers? Here are some items of interest to visitors associated with the San Francisco piers.
SF Piers, 1961
(image courtesy of the San Francisco History Center,
San Francisco Public Library)
---
First..the Odd Numbers
Ferry Building and Pier 1
Ferry Building in 1930
(image courtesy of the San Francisco History Center,
San Francisco Public Library)
The Ferry Building is still a major hub for all the ferries coming into San Francisco from around the bay. Inside is an enticing collection of foodie stalls, and out in front there's a popular Farmers' Market on Tuesdays, Thursdays and Saturdays.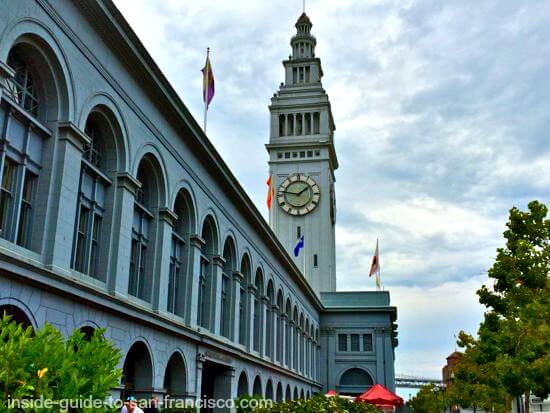 The Ferry Building
Did the name of the store, Pier 1 Imports, comes from the Pier 1 that's just to the right of the Ferry Building? Haven't been able to find out, but I suspect that might be the case.
---
Pier 1 1/2
A boating dock available for the public; tie your boat up free for three hours. A water taxi service is now available here; you can sail to Fisherman's Wharf or the ballpark for $10 ($5 for SF residents).
Also at Pier 1 1/2: La Mar, an upscale Peruvian restaurant chain specializing in ceviche (they also have empanadas...yum). Both inside and outside dining.
---
Pier 3
San Francisco Pier 3 houses the offices of the Hornblower yacht company; their bay cruises leave from here.
Pier 3, Hornblower Landing
Their paddlewheel steamboat, the San Francisco Belle, is at the dock.
There is some parking available here, handy for evening cruises ($10), but the lot fills up fast in the daytime. I don't think it's bookable online.
The Plant Cafe Organic, is here also, another upscale chain, indoor/outdoor restaurant featuring organic, locally-grown produce. California fusion, vegetarian and non.
---
Pier 5
San Francisco Piers 1 through 5 have been designated the Central Embarcadero Piers Historic District. These piers were originally used for inland trade, shipping cargo upriver into the Sacramento Delta.
During World War 2 they were heavily used for military purposes: troop and supply ships bound for the Pacific Theater were loaded here.
San Francisco Waterfront
Loading Military Equipment, 1944
(image courtesy of the San Francisco History Center,
San Francisco Public Library)
After the war, the most of the commercial shipping moved to the Port of Oakland across the bay, which was better able to handle the large container ships.
TV chef Michael Chiarello, of the Bottega restaurant in Napa, has opened a restaurant at Pier 5, featuring Spanish cuisine. Coqueta serves dishes from Madrid, Catalonia and the Basque Region, and has a tapas bar.
---
Pier 7
Pier 7 and the San Francisco Belle
San Francisco Pier 7 is a long, skinny pier, lined with benches, looking straight down at the Transamerica building. This pier is a very popular spot for fishing. Locals do some serious crab fishing here, mainly at night, and also catch sharks and perch. Incredible views of the city; very romantic at night with the twinkling lights.
---
Piers 15 and 17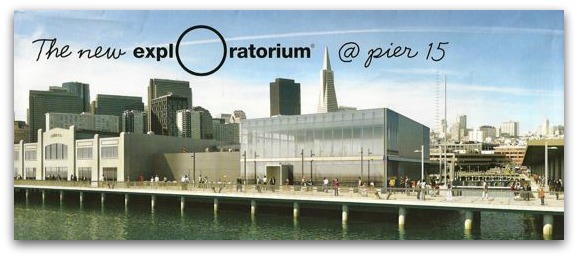 New Exploratorium
The Exploratorium, our fascinating, hands-on, science museum, is now located at piers 15/17, in its new and much larger space. More on the Exploratorium.
Piers 11 to 19, 1934
Exploratorium Building third from left
(image courtesy of the San Francisco History Center,
San Francisco Public Library)
---
Pier 23
This is the location of the oddly-named Pier 23 Cafe. A funky dive, with good seafood and pretty views of the bay form the eating area in back.
Pier 23 Restaurant
All day parking is available inside the pier structure for $20 (double for special events).
Fishing From Pier 23, 1958
(image courtesy of the San Francisco History Center,
San Francisco Public Library)
---
Piers 27 and 29
Pier 27 was the home of the 2013 America's Cup facility. Now the site of the new cruise ship terminal.
It can handle only one cruise ship at a time; overflow goes to Pier 35.
New Cruise Ship Terminal
The western side of Pier 27 is now a large parking lot open to the public ($15 for two hours, $20 for the day weekdays, $25 day flat rate on weekends). Open 6 am to 11 pm.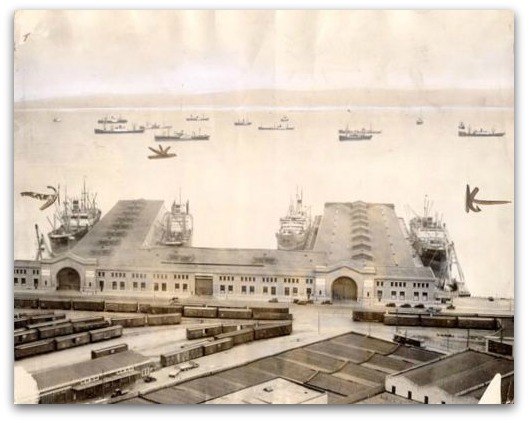 Piers 29 and 31, 1934
(image courtesy of the San Francisco History Center,
San Francisco Public Library)
---
Pier 33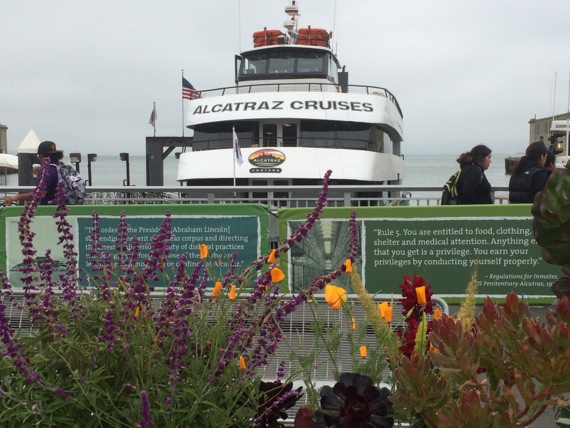 Alcatraz Ferry at Pier 33
Alcatraz Landing, the departure point for the Alcatraz ferry, the only one that actually stops at the island.
Check out my tips on the best Alcatraz tours to take and how to get the tickets.
---
Pier 35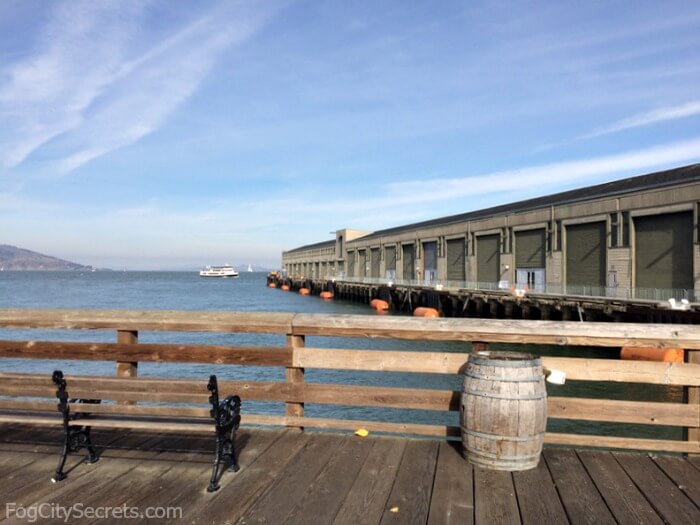 Pier 35
Backup pier for the cruise ship terminal. Handles the overflow from the terminal at Pier 27.
---
Pier 39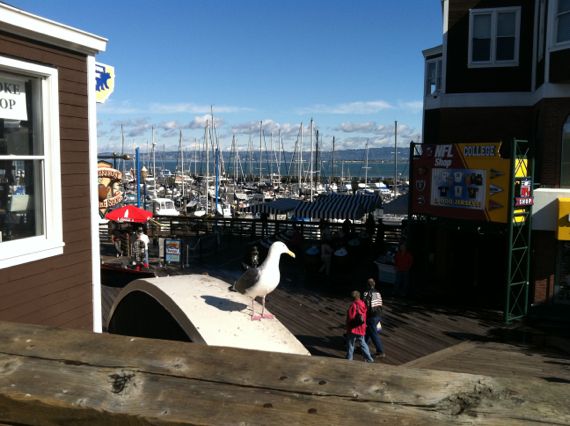 Pier 39
The famous attraction. Shopping, entertainment and the sea lions. More on Pier 39 from a local's viewpoint.
---
Pier 41
The Blue and Gold ferries and the Rocket Boat leave from Pier 41 (and the Ferry Building). For more info on bay cruises, and transportation to Sausalito, Tiburon, and Angel Island, see San Francisco Bay Cruises.
---
Pier 43 1/2
The Red and White fleet of ferries leaves from this pier for their bay tours. For more info, see San Francisco Bay Cruises.
---
Pier 45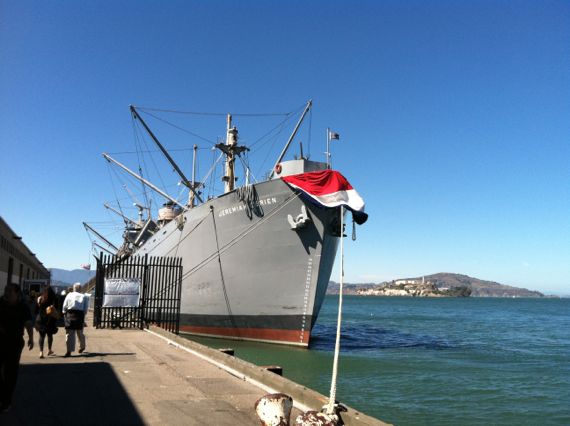 S.S. Jeremiah O'Brien at Pier 45
Pier 45 has three really cool attractions, two World War II ships to climb around on and a funky museum:
The USS Pampanito, a submarine used in WWII in the Pacific.
The SS Jeremiah O'Brien, a Liberty Ship used to transport troops and supplies during WWII (and used in filming the Titanic).
Musée Mécanique, a weird and fun museum with 200 antique, coin-operated games.
A terrible fire on May 23, 2020, destroyed a large warehouse on the pier, but fortunately the WW2 ships and Musée Mécanique were spared, thanks to heroic efforts by the firefighters. The SS Jeremiah O'Brien was blackened in places, but the damage was more cosmetic than structural. Luckily no one was killed in the fire, but the local fishing industry was seriously damaged because a lot of their equipment was stored there. See SF Chronicle article.
---
Other San Francisco Piers
In addition to the numbered San Francisco piers, there are a couple of other well-known piers past Pier 45, at the western end of Fisherman's Wharf.
Hyde Street Pier
Hyde Street Pier at the end of Fisherman's Wharf hosts a number of older ships available for exploring: sailing ships from the late 1880's and several steam-powered ferries and tug boats.
The Municipal Pier
This city pier extends way out into the bay in a long, curving arc, just west of Aquatic Park. Great views of the Golden Gate Bridge and Alcatraz.
---
The Even-Numbered San Francisco Piers
Most of the even-numbered piers are industrial, working piers. They start with Pier 14, just before the Bay Bridge, and run south from the Ferry Building,
Map of the Even-numbered Piers
Map data (c) OpenStreetMap and contributors, CC-BY-SA
Highlights of the Even Piers
Pier 14
Pier 14 (on the other side of the Ferry Building), is another extremely long pier, jutting way out into the bay, with great views of the Bay Bridge and the city.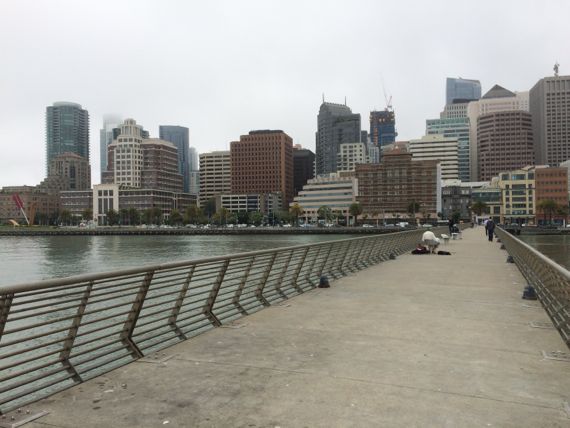 City View from Pier 14
It was on Pier 14 that Kate Steinle was tragically killed in July 2015. For more photos and information about this pier, see Pier 14.
---
Pier 24
This pier right underneath the Bay Bridge houses a relatively new art gallery dedicated to photography, but also presents showings of other types of art. Admission is free, but only by appointment. See Pier 24 Photography for info on current exhibits.
---
Piers 30/32
This formerly busy pier is now a parking lot.
Piers 30 and 32 in 1939
(image courtesy of the San Francisco History Center,
San Francisco Public Library)
These 13 acres of pavement have been proposed for all sorts of uses (hotels, condos, art galleries, George Lucas' museum, Cirque du Soleil, etc.), but first, massive amounts of money are necessary to prevent it from sinking into the bay. Only used for parking now: 1000 spaces, Mon-Fri 9 to 6, $4 for 2 hours, $18 max. $10 after 6 pm.
---
Pier 40
Pier 40 is the location of City Kayak. You can rent kayaks, take lessons and go on guided tours via kayak. Paddle over to watch the Giants from McCovey Cove next to Oracle Park, or head under the Bay Bridge. See City Kayak for more info.
---
Pier 48
This pier has a large indoor space that is used for various entertainment events; Oktoberfest By the Bay is usually held here. It sits across McCovey Cove (where the home run baseballs land) from Oracle Park. There is a huge parking lot in front of Pier 48, used by people going to the games and events at the pier.
Pier 50 is next door, mostly industrial, but has a newish restaurant there, Atwater Tavern. It shares the parking lot with Pier 48.
---
Pier 70
Pier 70 is undergoing major development, including housing construction, a park, and renovation of some historic, brick factory buildings.
This pier is the current headquarters of the Juul company, seller of vaping e-cigarettes. The city has been engaging in an ongoing battle with Juul, trying to remove them from this city-owned property and trying to ban e-cigs altogether (but not tobacco cigarettes).
In June, 2019, Juul bought a 28-story office building downtown for its expanding workforce, but they plan to keep their HQ at Pier 70.
Other Pier 70 tenants include Uber and Gusto. See Pier 70 renovation for more info.
---
Pier 80
Pier 80 is huge, 60 acres of concrete. This pier is San Francisco's main cargo terminal and was going to be used as a massive auto importing facility, but it's not going well. Apparently, massive repairs would have to be done before it's usable for that, so this plan may fall through.
It's also been used to dock Navy ships during the Fleet Week ship tours, and provides a vast, free parking area for tons of cars during those events. More on Fleet Week.
Fleet Week Ship Tours at Pier 80
---
Exploring the Embarcadero
Lots of interesting things are located on the Embarcadero, running alongside the piers from the Bay Bridge to Pier 39. It's a pleasant and scenic place to stroll, popular with both locals and visitors. For more information and photos of the attractions along this boulevard, see The Embarcadero.
Parking at the Piers
I've created a page on the best prospects for parking along or near the piers: see Embarcadero Parking
Note: I may earn a small commission if you make a booking through the link below, at no extra cost to you. This helps me provide all the free information I post on this website. I only recommend things that I believe are helpful. Thank you for your support!
You can use parking apps like Spot Hero to check for prices and availability for some of the garages and parking lots nearby, and to book a parking spot ahead of time. Gives peace of mind for major events like New Year's Eve and Fleet Week. I use this app myself to reserve parking.
---
Things to do on the piers...