Musée Mécanique
Coolest collection of antique games!
Musée Mécanique is open again. 

Laughing Sal, with her crazy cackling, greets visitors to Musée Mécanique, a huge collection of old-time mechanical entertainment. Funny, amazing and even a bit creepy!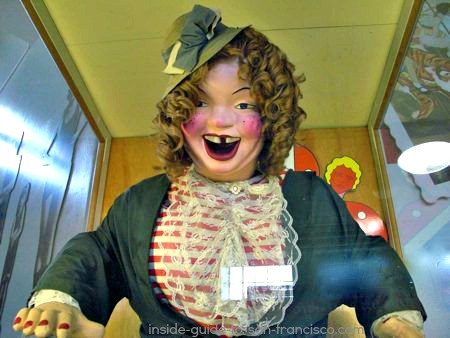 Laughing Sal
---
What is Musée Mécanique?
Musée Mécanique is one of the most remarkable collections of "entertainments" from the early 20th century and later. The earliest precursors of video games, if you will; explore the games your grandparents used to play!
Put a quarter in and you never know what you'll see. Have your fortune told, see weird little plays, test your strength, and watch antique peep-shows.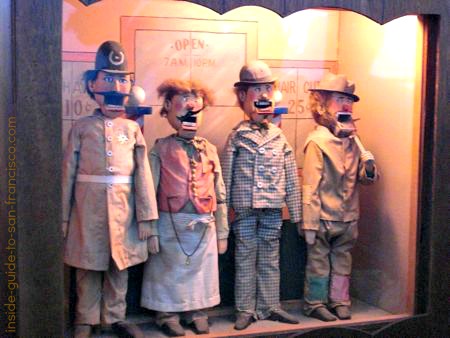 A quartet to sing for you
Towards the back of the exhibit, there are more "modern" games: ms. pac-man, space invaders, pinball, and various other arcade game from the more recent past.

---
History of the Collection
Ed Zelinsky is the owner of the collection at Musée Mécanique; he started collecting game machines when he was a child in the 1930's and eventually amassed around 300 items, mostly vintage.: music boxes, slot machines, penny games, etc.
This collection has been on public display for decades, first at Playland on Ocean Beach, then in basement of the Cliff House, and since 2002, at Pier 45 on Fisherman's Wharf.
Laughing Sal (or more correctly, Laffing Sal) was one of a series of down-at-the-heels, laughing ladies made by a Philadelphia company and sold during the 1940's to amusement parks around the country.
Typical are the frumpy clothes, missing teeth and annoying laugh! Laughing Sal has a sister on the Santa Cruz boardwalk.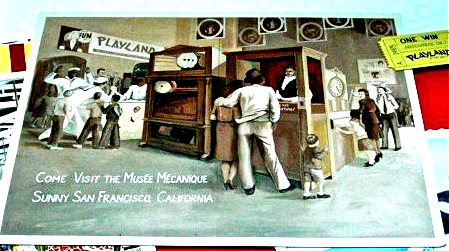 Musée Mécanique at Playland SF
---
A Sampling of the Collection
There are so many games and oddities here...imagine 200 of them in one room. I've just picked a handful to give you a taste of what there is to see.

Fortune Tellers
There's a number of folks here who would be happy to reveal your future: wizards, wise women, gypsies, etc. Here are a couple of them.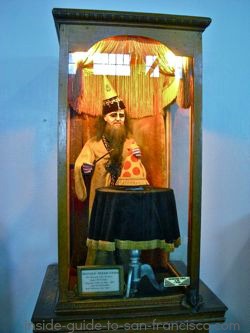 Wizard Fortune Teller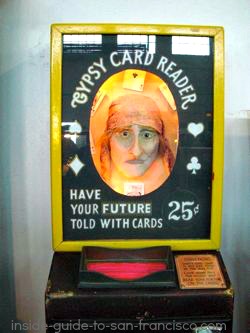 Gypsy Card Reader
---
Test Your Skills
Wrestle with the strong man, or play ball.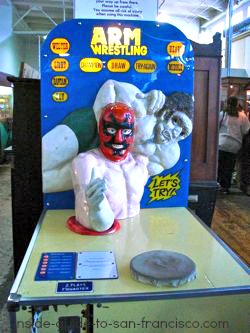 Test your strength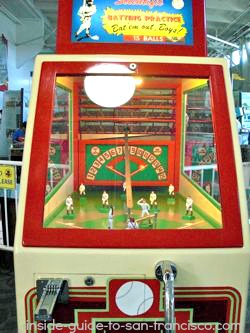 Play baseball
---
Morality Plays
The evils of alcohol and drugs. A message from the past; odd little plays unfold.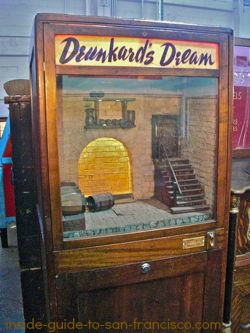 The Drunkard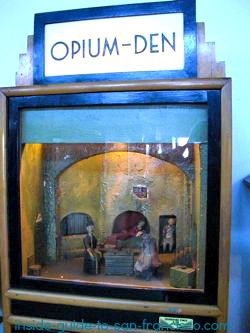 The Opium Den
---
Grim and Grimmer
Execution scenes, French or English, take your pick. Drop in the quarter and be appalled.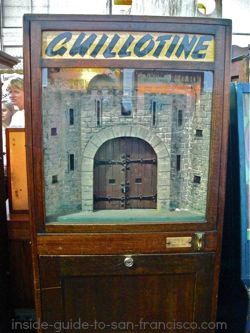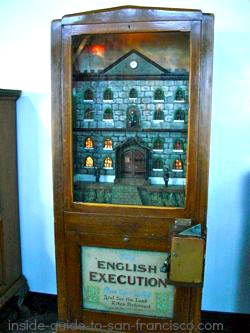 ---
Peep-shows from the past
Disasters and marriage advice.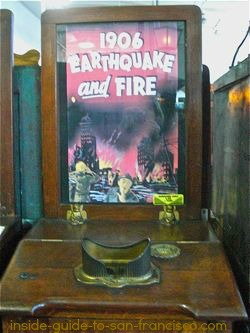 Earthquakes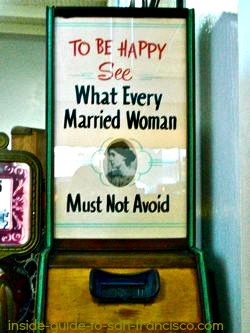 What could it be?
---
The Unexplainable
This one is the strangest of all: The Inquest. You'll never guess what happens when you put in the quarter!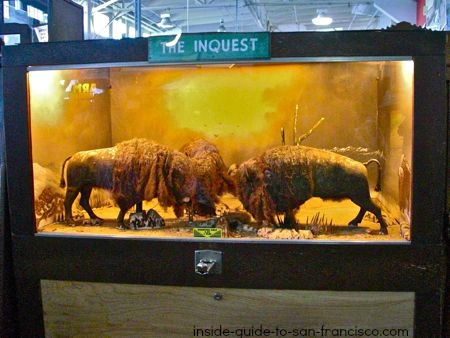 The Inquest...?
---
The Unmentionable
Not really...but they do warn the easily offended;)
I had to find out; pretty funny! Kids would especially enjoy the humor.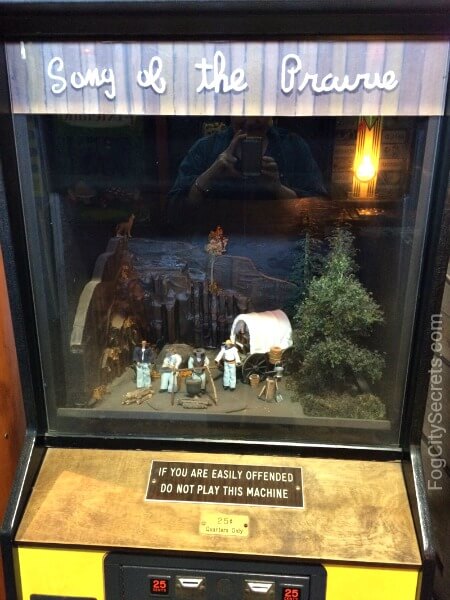 What is the "song of the prairie"?
---
Other Fun Stuff at Musée Mécanique
Besides the old arcade games mentioned above, you can play fussball, air hockey, ride a horse, drive virtual cars, whack moles, shoot baskets, etc.
This attraction is good for at least a couple of hours of entertainment for visitors of all ages.

---
Hours and Fees
Musée Mécanique is open daily: 10 am to 8 pm. Entrance is free, but the machines require coins (quarters).

Good to Know: All of the machines require quarters to operate, most only one quarter. There are change machines in the building to supply you with the quarters.

---
Location of Musée Mécanique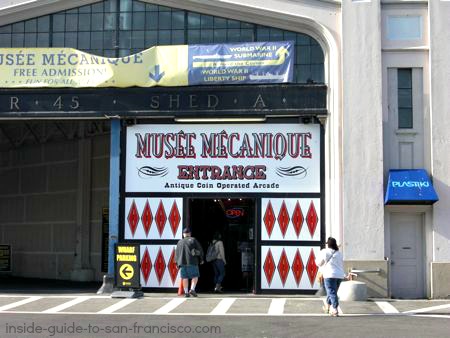 Entrance to Musée Mécanique
The museum is in a large building right in the heart of all the activity at Fisherman's Wharf, on Taylor Street, just off the main drag on Jefferson Street.
It's at Pier 45, right near the Red and White Fleet dock.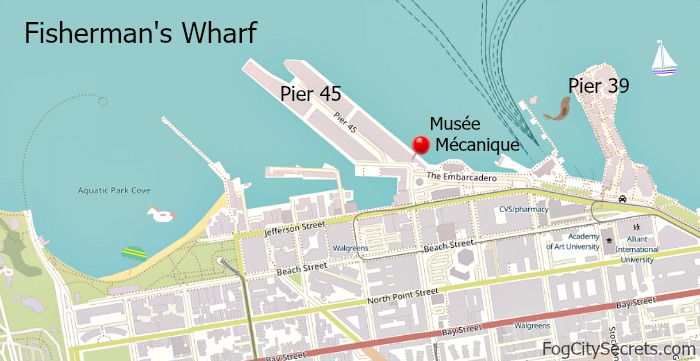 ---
More to explore nearby...
---
Musée Mécanique