The Santa Cruz Boardwalk
There's something timeless about the old-fashioned Santa Cruz boardwalk, with it's row of funky rides, decadent junk food stands, and low-key, beach bum atmosphere. A true California experience...or maybe, how California used to be.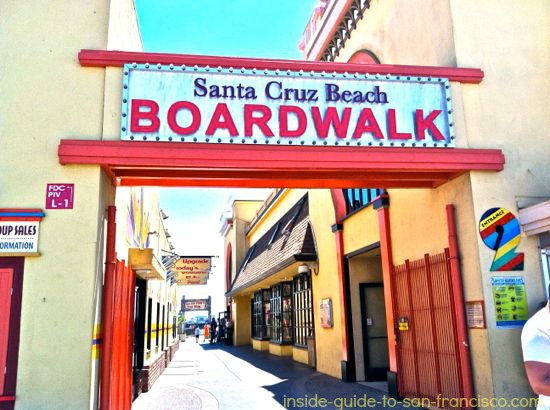 Enter the Boardwalk
It's like going back in time, when amusement parks on the beach were innocent and amateurish, but loads of fun. It's the only seaside amusement park on the West Coast.
Rides, and More Rides
And bring your bathing suit; the boardwalk has one of the nicest swimming beaches in Northern California.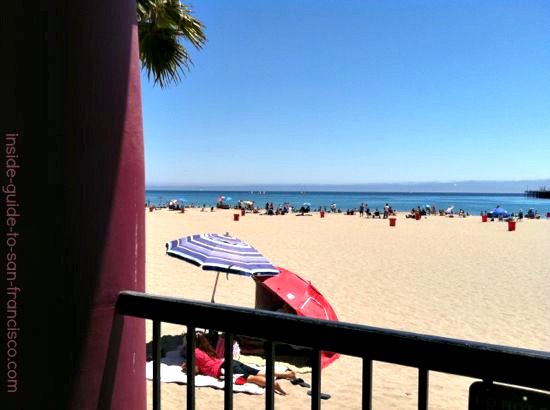 A Perfect Day at the Beach
Surf's Up! Do you feel your inner surfer coming out? If you've ever wanted to try surfing, Santa Cruz is a mellow place for beginners to get their feet wet. They have a 3 hour lesson available for those just starting out (they provide all the gear). See surf lessons for more info and booking.
The Rides
The Santa Cruz Boardwalk is not a large amusement park, but it has a decent variety of rides. A sampling:
Rollercoaster
Water chute ride
The usual twirling and spinning rides
Free fall tower
Bumper cars
Spooky inside rides
Ferris wheel and carousel
Little kid rides
Laser tag
...and lots more: mini golf, arcade games, bowling, climbing wall, etc.
The Haunted Castle
The Giant Dipper
This is an antique (but well-maintained), wooden roller coaster, which opened here in 1924. It's been featured in various films and TV shows over the years, and was named a National Historic Landmark.
Odds and Ends
Laffing Sal (sister of the one at Fisherman's Wharf in San Francisco) is here, in all her weirdness.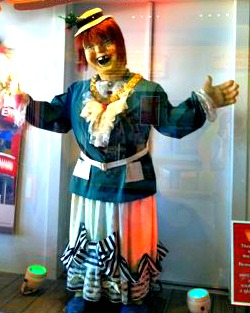 Laffing Sal
Junk Food Heaven
Hot dogs, pizza, cotton candy, deep-fried Twinkies, burgers, funnel cakes, sno-cones, Italian ice cream, kettle korn....feeling a little nauseated? It's all good, as long as you don't do it too often.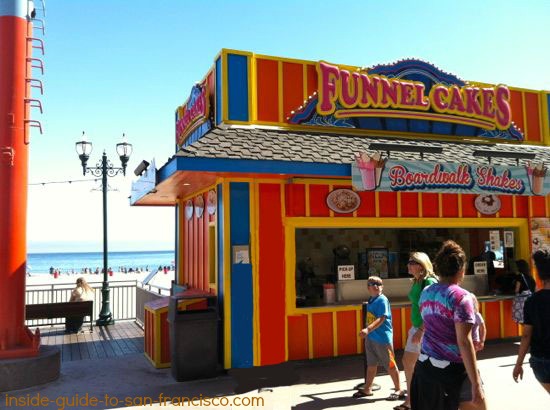 Funnel Cakes!
You can get some fun (temporary) tattoos while you're there, too.
Getting in the mood: flash mob in Santa Cruz:
Tickets for the Rides
Individual tickets are $3 to $6 per ride; it probably makes more sense to get one of the combo tickets, starting at $31.95 (unlimited rides), if you want to go on lots of them.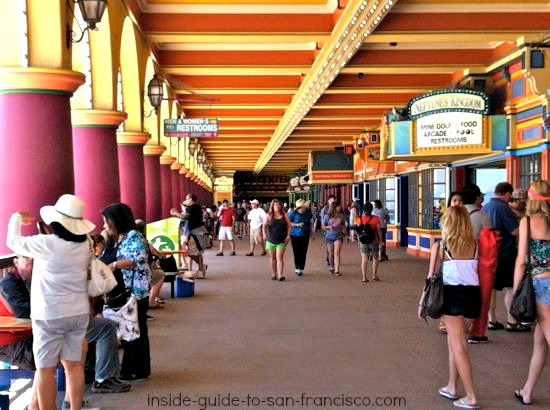 Santa Cruz Arcade
Hours
Hours vary, depending on the season. Generally speaking, open daily all summer, until 11 p.m. Spring, daily but more limited hours and rides. Winter and fall, weekends 11 a.m. till 7 or 8 p.m. Check their website for details: Boardwalk hours.
Summer Events
Santa Cruz has a couple of cool, free entertainment traditions at the boardwalk in summer (June-August):
Rock concerts on Friday nights.
Classic movies on an outdoor screen Wednesday nights.
Visiting the Santa Cruz Boardwalk
Santa Cruz is about an hour and twenty minutes from San Francisco. The boardwalk is located at 400 Beach Street, and there's a parking lot across the street. Notice the train tracks in front of the boardwalk? See train info below.
Nearby attractions:
The Santa Cruz Mystery Spot:
Weirdness Central. Balls roll uphill and the laws of physics are turned upside down. Located on the outskirts of town. Very cool. More info on the Mystery Spot.
Redwood Forests:
Hike, camp and fish in the nearby redwoods. Closest ones are in Henry Cowell Redwoods State Park, Mt. Hermon Road exit off Highway 17, just after you come over the mountains and before you get to Santa Cruz. We had a great experience camping there amongst the big trees.
Roaring Camp Railroads
This is great fun, highly recommended! Ride the Santa Cruz Beach Train, an old steam engine train, from the mountains in Felton (station is right near the HQ for Henry Cowell State Park, above) down to the Santa Cruz Boardwalk, or vice versa. 3 hours round trip, start at either end. Daily in summer, weekends spring and fall. My son loved it when he was little, and so did I. See Roaring Camp Railroad.
For a shorter, one hour experience, take the Redwood Forest Steam Train up the mountain on a narrow gauge track, into the Big Trees and across a gorge on a trestle bridge.
This train leaves from Roaring Camp in Felton, near Santa Cruz, off Highway 17.
Note: I may earn a small commission if you make a purchase through the link below, at no extra cost to you. This helps me provide all the free information I post on this website.
See Redwood Steam Train for more info and booking.
San Francisco to Santa Cruz
View
Santa Cruz Boardwalk
in a larger map
---
More day trips...