Alert: due to extremely poor air quality in SF resulting from the forest fire, many park areas and activities (including Alcatraz visits) are closed starting Nov 16, through Sunday, Nov 18.
See GGNRA website for list of closed facilities.
See Bay Area Air Quality for current air quality status.
The Mystery Spot Santa Cruz
The Mystery Spot in Santa Cruz...what is the mystery all about? Is there really a physical anomaly in the Santa Cruz redwoods?
Do the laws of physics work differently here in the Vortex? Why do balls roll uphill and people shrink?
And most important, is it worth a trip here to find out?

How It All Started
Entering the Vortex
Once upon a time, in 1939, a group of surveyors were working in the dense redwood forest just outside of Santa Cruz. They started in the flat area of the parcel, but as they worked their way uphill, they began noticing some strange things.
The compass stopped working and became unreliable, and the men felt dizzy and had to sit down. They noticed these effects only within an area about 150 feet in diameter and just on the side of the hill.
As time passed, other strange effects were observed and were so striking, that this area was open to the public in 1940. Since then, hundreds of thousands of visitors have been amazed by the balls rolling uphill, people visibly shrinking and growing taller just by standing in different spots, and other weird phenomena.
What is Going On Here?
Is it real, or is it a trick? I don't want to spoil it, so come and see the Mystery Spot in Santa Cruz for yourself! It's definitely great entertainment and the redwood setting is beautiful. I've been several times and it's a kick to bring your friends and family up here; a surprising number of the guests are repeat-visitors.
Some Mystery Spot "theories" suggested by the guides:
A vortex of molten rock rises close to the earth's crust here.
An alien spaceship is buried here.
Aliens buried a magnetic cone here to guide their spaceships.
Dielectric biocosmic radiation (????)
A hole in the ozone. (OK, I almost couldn't write this)
I have to say that the presentations by the guides really make this experience. Not only are their demonstrations of weirdness sufficiently amazing, their patter and explanations are tongue-in-cheek hilarious.
And some of the visitors did report feeling spacey and dizzy- was it the power of suggestion? See what you think when you take the tour.
That's scary.
Is It Worth Seeing?
This is a definite yes! I don't think I would make a special trip to Santa Cruz just to see it, but if you are in the area, don't miss it. This is truly a unique experience, and you definitely get way more than $8 worth of entertainment!
Before I went the first time, I was reluctant to go the Mystery Spot. I had seen those bumper stickers for years, and thought it was probably really hokey, like some other roadside attractions (snake farms come to mind), but I was pleasantly surprised. This is a first-class operation. Besides, you get a free bumper sticker.
So now we come to the thorniest mystery of all....why do so many people put those bumper stickers on their cars? The experts are stumped.
---
Mystery Spot Tickets - Hours and Prices
They are open 365 days a year!
Summer Hours: Monday-Friday: 10 to 6. Saturday/Sunday: 9 to 8.
Winter Hours: Monday-Thursday: 10 to 4, Friday 9 to 4, Saturday/Sunday: 9 to 5.
Entry Fee: $8 entrance fee (cash or check only at the door, credit cards online). Free for children 3 and under, and active duty military. It's also $5 to park the car (cash or check only).
To get advance reservations, call (831) 423-8897, or buy tickets online at the www.mysteryspot.com.
---

Insider Tip:
The Mystery Spot in Santa Cruz is very popular and can sell out on summer weekends and holidays. If they sell out, they will close the road in and only folks with reservations are allowed to park. Sometimes the road will close by noon. If that happens, you can still call in and get a later reservation by phone. On those busy summer days, get a reservation in advance. (I've never had a problem getting in, though.)
The Mystery Spot Tour
The Mystery Spot tours last 45 minutes and one starts every half hour. Your guide takes you up the hill, gives you the history and demonstrates the mysterious effects of the Vortex.
After the steep climb up the hill, the crooked shack appears, barely hanging on to the slope. The guide puts a ball on a level plank (which looks like it is sticking up in the air), and the balls rolls off. The board is level (I tested it) and a visitor's water bottle also rolls off the end.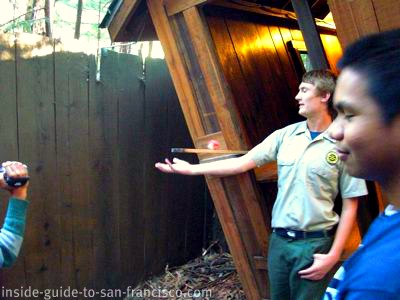 The ball rolls uphill.
The shack is fun. There are pendulums to play with, ledges to stand on and lean out into space, and ladders to climb. The angles are disorienting.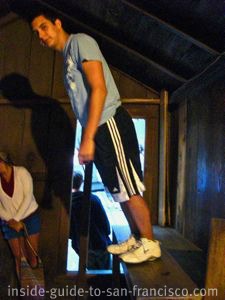 Gravity is haywire.
The next demonstration is outside the shack. People of different heights are lined up, shortest to tallest, on a level board (also measured as level by moi). Looks OK. Then, everyone lines up the other way, and something goes very wrong. Everyone is the same height, on a level surface. Very cool.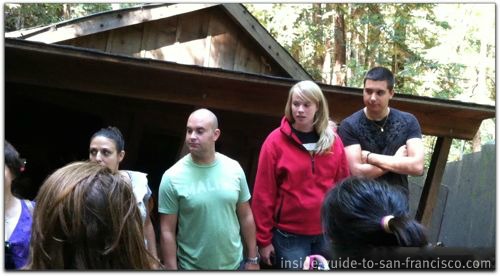 Looks right.
Something's wrong.
Another demonstration of people standing on a level surface, and shrinking or growing depending on which side they're on.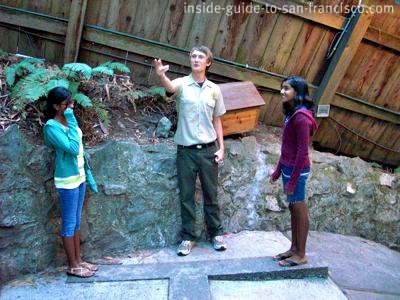 The Vortex strikes again.
There are also strange tree-growth patterns that only occur in the area surrounding the shack; the others in the area farther away look normal.
Spoiler Alert

- Mystery Spot Explanations

Scientists have offered their explanations for the phenomena observed at the Santa Cruz Mystery Spot, as well as other mystery spots around the country like the Oregon Vortex.

I won't go into detail (you can read their analyses on other websites), but it basically boils down to optical illusions created by the steep hillside and tilting shack, and the suggestible nature of human beings.

I'm a skeptic, so after I went to the Mystery Spot the first time, I went and read the scientific explanations, because the effects really are amazing to see.

I even brought a carpenter's level with me (yes, I'm a geek, and my son was embarrassed). I tested the surfaces that the guide was using his level on to prove they were flat, and they really are level.

So even after reading the explanations, some things are still mysterious. Like how could a ball roll rapidly along the surface of a level board? The guide allowed spectators to roll round objects of their own on the board, so it wasn't a trick ball. Hmmm, guess I'll have to go back again.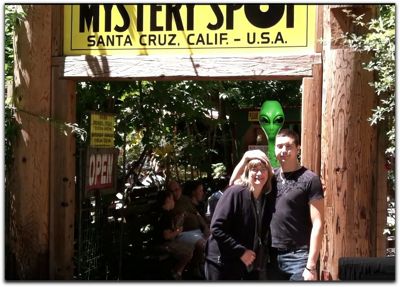 Doing Research at the Mystery Spot
Enjoy your trip!
The Official Mystery Spot Video:
Getting to the Mystery Spot
The Mystery Spot is just a short drive (10 minutes?) into the mountains outside the town of Santa Cruz. It's on Mystery Spot Road, naturally.
From Highway 1 running through Santa Cruz, take the Morrissey Boulevard exit (440). Head to N. Branciforte Avenue (see map, it's a little tricky) and go north on that road, which takes you into the mountains that begin on the edge of town. Mystery Spot Road will be on the left. Follow Mystery Spot Road to the Vortex!
Map of the Mystery Spot
---
More day trips...