American River
Whitewater Rafting
One thrilling ride!
If you have even a tiny bit of daredevil in you, consider going on one of these whitewater rafting trips on the American River.
American River rafting runs from April through September.
I finally got talked into it (I admit being reluctant) and I'm glad I went. What a rush, zooming through those rocky channels, in such a peaceful, natural setting!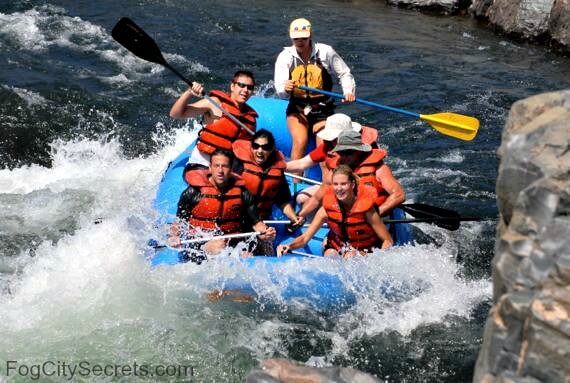 South Fork Rapids, American River
The American River
One of the best whitewater rafting rivers in California is only a two and a half hour drive from San Francisco.
The American River comes down out of the Sierra Nevada mountains, and travels through a series of boulder-strewn rapids as it heads towards the Central Valley of California.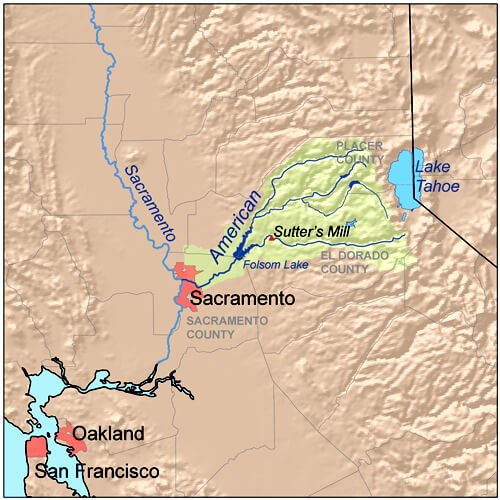 American River Watershed
(Kmusser, CC-BY-SA license.)
This is a long-established and well-loved whitewater rafting spot; people from all over Northern California come here for a super ride with experienced river guides. The setting is very pretty and the weather is amazing.
The water is snow melt: ice cold and beautifully clean!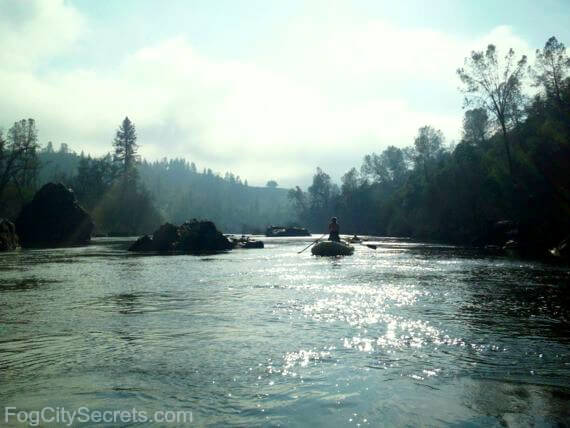 Calm Stretch, South Fork
The American River has three forks: the South Fork (Class II and III rapids, best for beginners), Middle Fork (Class IV) and North Fork (Class IV).
The whitewater rafting stretch of the South Fork runs right by the location of Sutter's Mill, where gold was first discovered in 1848.
Whitewater Rafting Trips
In spring, the snow in the mountains begins to melt and the river flows fiercely. Usually around May, the flow is sufficiently tame for rafters to venture out on it (this year, April).
The flow is regulated to an extent by the dams upriver, so the rafting is steady all season (generally May through September).
Most rafters go down the South Fork; the rapids are exciting but OK for beginners (with a guide).
The South Fork is called a rock garden type of rapid: narrow channels of boulders and rushing water, alternating with calm areas.
Doing the South Fork
Generally, the river is rafted in two sections, each one making a nice day experience. The upper section, Chili Bar (Chili Bar to Coloma) and the lower section, The Gorge (Coloma to Folsom Lake).
Each section is about 10 miles long. Chili Bar has 7 rapids, 6 of them Class III, and can be done in a half day. The Gorge has 17 rapids, starting out with mostly Class II's, then finishing with some intense Class III rapids. This is a full day's run, and is usually broken into a morning and an afternoon session. Most beginners start with The Gorge, and move on to Chili Bar for the second day if doing a two day trip.
Guide Companies
There are a number of companies that do guided whitewater trips on the American River. Check their reviews before signing up. I went with River Runners (riverrunnersusa.com), and they were great. They've been doing it a long time, have experienced guides and are well-organized (and very nice!).
My Experience Rafting the River
River Runners has an option of one or two day trips and I did the two day. The first day is The Gorge, and Chili Bar on the second. The 2 day trip is $310, and the 1 day is $110 to $130.
The Camp
River Runners uses a section of Camp Lotus for their trips. There's a grassy area right on the banks of the river where the tents are set up, provided by River Runners. Also, there's an eating area with picnic tables where the meals are prepared and served: breakfast both mornings, dinner after the first day of rafting, and lunch after the second day on the river. Lunch the first day is provided on the river. Relax around the campfire at night.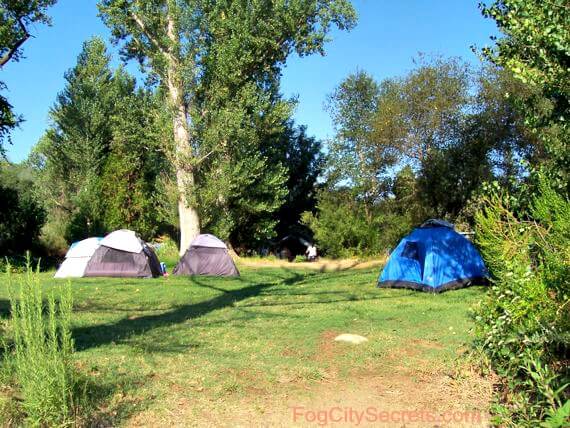 Lotus Campground
You arrive the afternoon before and pick out a two-person tent and tent location (the tents are already set up, but you can move them around...easy, peasy).
Tip: get there in the early afternoon and you'll get your choice of tent locations; spots near the water or trees are more private and shadier. It gets really hot in the afternoon up there! Bring lots of liquids; alcohol is OK, but not on the rafts.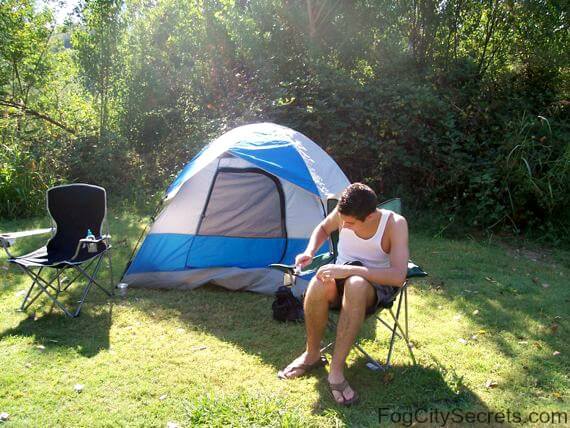 River Runners Tent, Camp Lotus (in a good spot)
You do need to bring your own sleeping bags and air mattresses. I'd bring a cooler for cold drinks, as well. You can stock up in the town of Coloma near the camp. I was glad we brought chairs to sit in, also.
You're on your own for dinner the first night, but from then on, you are well-fed!
Facing the Whitewater
After a hearty breakfast the next morning, there's a safety and procedure briefing. Then it's off to the boats right at the camp.
The boats hold about six or seven people, plus the guide, so you'll be sharing a boat with others unless you have a larger group.
Day 1, The Gorge
The Morning...
The first day starts off gently on some smoother water where you'll practice getting back in the boat; they also teach a nifty way of pulling someone else in the boat that's amazingly easy and requires no strength, even with a full grown adult.
You'll be told the paddling commands (very important for navigating and not wiping out) and what to do if you fall in (can happen, but not that often).
Then come the first rapids, Class II's for the first stretch, and one Class III, but still very exciting!
After a fun couple of hours on the river, there's a stop on the bank where a buffet lunch is set up.
The Afternoon...
The afternoon run has some challenging Class III rapids, including the notorious Deadman's Drop, Satan's Cesspool and Hospital Bar. Here's where the importance of having a good guide comes into play!
Day 2, Chili Bar
The second day you take a short bus ride to the put-in spot on the upper section of the river. Right away you're into a fiercer series of Class III rapids, but by now you're an experienced sailor. Don't be put off by the names: Meatgrinder, Triple Threat, Trouble Maker. With a good river guide, you'll be in for some thrills without any serious mishaps!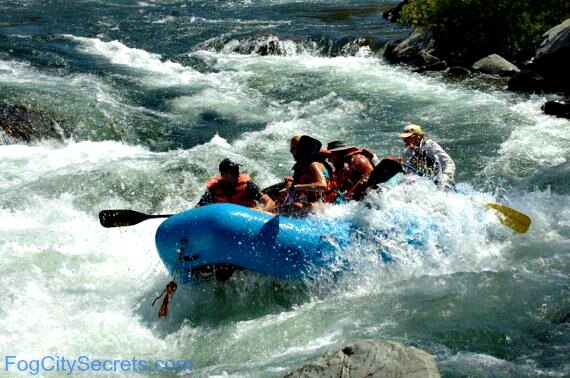 Trouble Maker Rapids
One of my favorite parts was at the very end of Chili Bar. There was a long, calm stretch where we could get off and swim, or let the raft tow us; the icy water felt great after being under the hot sun all day!
The second day's rafting ends at lunch time. River Runners serves lunch at the camp then you're on you're way home.
I only went once, but my son loved it so much he's been three times, and plans to go again this summer.
I was really impressed with the professionalism of the guides. The camping experience was also very mellow and friendly and the food was good. All around, highly recommended!
Is it safe? Yes, and no. Given the wildness of the river, and the huge number of people who ride on these rafts, it's pretty amazing that so few people get hurt on these trips. All ages (6 and above) go on these trips. Experienced guides are really good at navigating the river, and giving the passengers good directions for paddling. Timing is critical!
---
Here's a good video that shows what it's like to go through most of the rapids on the South Fork.
---
Note: I may earn a small commission if you make a purchase through some of the links on this page, at no extra cost to you. This helps me provide all the free information I post on this website.
Taking a Tour From San Francisco
What if you're not local, and don't have a car or a sleeping bag, etc? Viator has a whitewater rafting trip you can take from San Francisco.
This tour is a day trip from San Francisco where they drive you up to the American River in the Sierra foothills, and take you rafting down the South Fork, near where gold was first discovered in California.
For trip details and availability, check Whitewater Rafting Excursion from SF.
---
Nearby Attractions: a Gold Rush, Ghost Town
The river rafting goes right by the spot where the Gold Rush began, Sutter's Mill, which now has become a state park and museum with about 20 old buildings and all sorts of activities associated with that period. If you have a little extra time, it's an interesting historical sight with lots of fun things to do (including panning for gold). See Gold Rush Museum for more info.
The California Gold Rush began on January 24, 1848, when James Marshall found gold in the stream at Sutter's Mill, near the town of Coloma which is right on the South Fork of the river, halfway along the rafting area.
The Gold Rush transformed California from a sleepy backwater to a world-famous destination. San Francisco was a village of around 400 people in 1847, but by the end of 1849 there were 25,000 residents (and by 1880, 233,000).
---

Insider Tips:
In spring, the river is rougher due to heavier water flows. Go in summer if you want a milder ride.
It's often over 100 degrees in Coloma during the summer. Hats, water and sunblock essential.
The Hot Seat in the boat (most likely to fall out) is the left rear one (my seat, but I stayed in!).
---
Getting There
Driving Up
From San Francisco: go over the Bay Bridge, then take I 80 north to Sacramento. In Sacramento, take US 50 to Placerville, then US 49 north to Lotus Road. From Lotus Road, take Bassi Road to Camp Lotus.
This takes about two and a half hours with normal traffic.
Route to Camp Lotus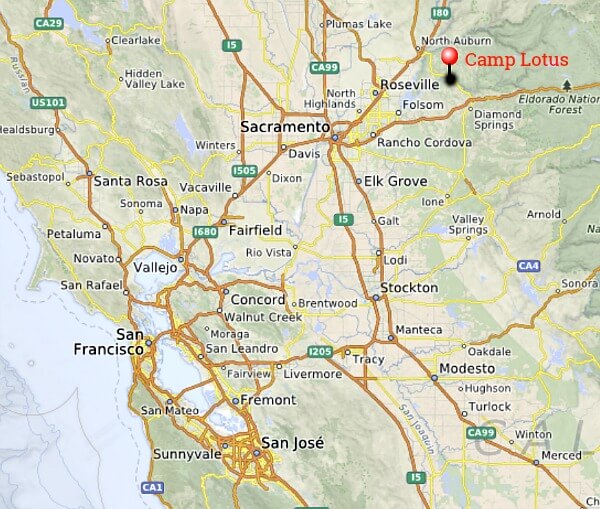 Map data (c) OpenStreetMap and contributors, CC-BY-SA
---
Other day trip ideas...