Updated May 27, 2023.
Napa Wineries
...some tips from a local
Visiting the wine country is a great side trip to do when you're in San Francisco. It's beautiful and the wineries are so much fun to visit.
Which are the best Napa wineries to visit for wine tasting?
There are over 400 hundred wineries scattered up and down the Napa Valley. So which ones to choose? To make it a bit easier, I've listed some suggestions...a small sampling of Napa Valley wineries that I personally think are worth a visit.
Trying to see too many in one day detracts from the relaxing nature of the experience; three or four is about right. Leisurely sipping and peaceful enjoyment is the ticket!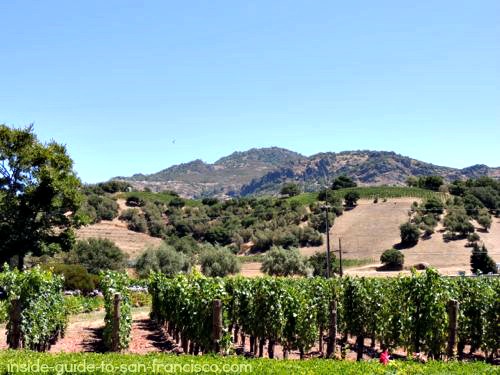 Napa Valley
My parents lived in Napa for over 20 years, so I've made countless trips from San Francisco to the Napa Valley, and explored it top to bottom. Napa's been like my second home for a long time, so I'm practically a local.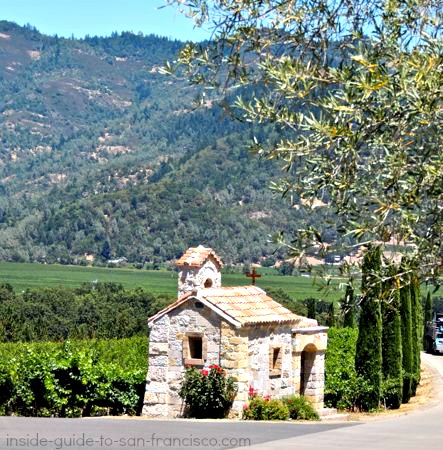 Winery Chapel, Castello di Amorosa
---
Take a Wine-tasting Tour or Do It Yourself?
There are pros and cons to each approach.
Take a Tour...
Pros:
Everyone can do the wine-tasting. A biggie! No worries about drinking and driving, or missing out on one of the most fun aspects of visiting the Napa Valley.
No stress about navigating to the wineries.
No stress about hitting traffic coming back from Napa. Very important! Late afternoon traffic coming back to the city can be ugly.
No additional expenses like renting a car and paying the bridge toll.
Wine tastings are included on some tours. Tastings generally start at $15 and go up.
Interesting information about Napa wine production and the wineries from the guide.
Cons:
They choose the wineries.
You're on a schedule, no wondering off to explore.
Traveling with a group.
Do It Yourself...
Pros:
You go at your own pace; spend two hours hanging out at a winery if you want.
You choose the wineries. Is there a particular type of wine you're interested in? Have you heard about a particular winery you want to visit?
Time to explore some of the wine country towns: Calistoga, St. Helena, Yountville.
Travel without a group
Cons:
Expensive to rent a car.
Stressful driving in Bay Area traffic.
Need a non-drinking driver. Someone gets left out of tasting.
You have to educate yourself on winemaking. etc. The guide who takes you there usually fills you in on a lot.
You have to pay for all the tastings and tours, gas and bridge tolls. It can add up.
If you're here without a car, I recommend doing a tour. By the time you rent the car, pay for any insurance, pay the Golden Gate Bridge toll ($8.80), pay for gas, and pay for the wine tastings and tours at three or four wineries, it's probably a lot cheaper and easier to do the tour.
On a tour you can sit back and admire the scenery, and taste as much as you want. Traffic jam on the freeway on the way back to the city? No problem, just sit back and enjoy the view!
Note: I may earn a small commission if you make a purchase through some of the links on this page, at no extra cost to you. This helps me provide all the free information I post on this website.
Some popular tours to check out:
Napa and Sonoma Wine Country Tour. Visit 3 wineries in Napa and Sonoma, and have lunch (on your own) in the cute Napa Valley town of Yountville. $160 (all tastings included- good deal). 8 hours. See 3 Winery Tour for more info and booking.
Sonoma Wine Tasting Tour. This shorter, 6.5-hour tour, visits two wineries in the Sonoma Valley, the beautiful, but "less-traveled" wine country. Join a small group to sample the wines and also visit the quaint, historic town of Sonoma. Tastings included. Hotel pickup and drop off. $189. See Small Group Half-Day Wine Country Tour for info and booking.
Small Group Napa Valley Tour. This is an all day tour of the Napa Valley with wine-tasting at 3 wineries and a tour of my favorite Napa winery, the Castello di Amorosa, an actual Tuscan castle reconstructed in the Napa Valley. Learn the art of wine-making and see several of the charming Napa towns of Yountville, St. Helena and Rutherford. All tastings included. See Small Group Napa Valley Tour for info and booking.
Wine Tasting & Muir Woods Tour. Combine wine tasting at 3 Napa and Sonoma wineries with a stroll through the redwoods, with hotel pick-up. 11 hours. $170 (wineries' tasting fees included). Often $10 off if booked online. See Wine and Redwoods.
Note: most tastings run around $15 to $25, and often include 5 or 6 wines. Long gone are the days of free tastings, alas. Guided tours of the winery are more. Inclusive tours save money, but offer less flexibility. Personal preference.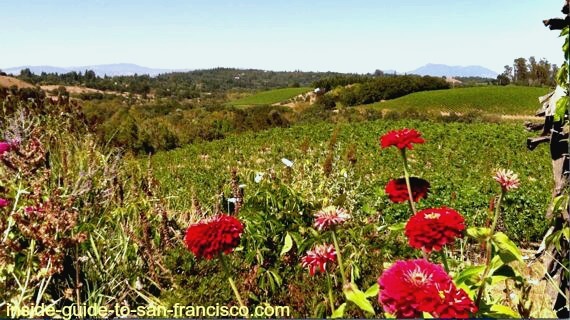 Sonoma Vineyards
The Napa Wine Train
Travel back to 1915 on the elegant wine train, enjoying a multi-course, gourmet meal while the beautiful Napa Valley vineyards glide by the windows.
I went on this years ago and it was great fun! The vintage cars are decorated like the European trains of the early 1900's: a nostalgic experience of the life of the leisure classes in years gone by.
Tip: the wine train is available for either lunch or dinner. During the summer when the days are long, either one is a great experience. However, during the winter months, I recommend doing the lunch trip, because after dark you can't see any of the gorgeous scenery.
I was in Napa when the Wine Train was pulling into the Napa train station.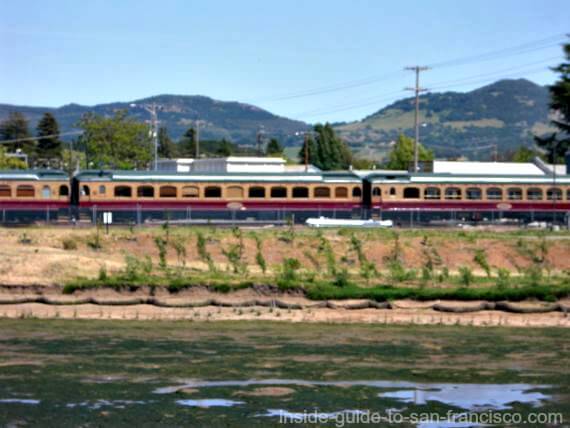 The Wine Train Arriving in Napa
Booking a trip on the Wine Train
If you are going to be in Napa, or have transportation to Napa (an hour and a half drive from San Francisco), you can book either the lunch trip or the dinner trip.
The lunch trip has a 10:30 am check in at the Napa train station, and the dinner trip checks in at 5:30 pm. The train journey itself is 3 hours, plenty of time for a leisurely meal in your very own Orient Express.
Tours starting in San Francisco
At the moment, there aren't any tours that take you from San Francisco up to the Wine Train and back to the city.
Here are some tours that used to run. I've listed them so you can check to see if they are running again.
To book a trip on the wine train, with transportation from San Francisco, click here.
Or combine the wine train with a tour of one or two wineries. To check out the tour, click here.
Combine a gourmet lunch on the Wine Train with a private tour and tasting at the cool Tuscan castle, Castello di Amorosa. See Wine Train and Castle Tour for more info and booking.
---
Doing Your Own Winery Tours
I like to do some research on interesting wineries before I set out, and check for wine tasting coupons. If you can, it's much more enjoyable to go during the week and avoid the weekend crowds and traffic.
Tips for saving money on wine tasting.
Get coupons for free wine tasting!
Often hotels and B&B's will have coupons given them by certain wineries for free or discounted wine tasting. Be sure to ask if you're you're staying in a hotel.
Also, sometimes wineries will have coupons on their websites for free or discounted tastings. Requires some research, but could be worth it.
You can sometimes get a free tasting if you buy a bottle of their wine. Ask.
My suggestions for a
do-it-yourself wine tour
. Here's a trio to try out:
A famous winery: Mumm Vineyards
A pretty winery: Pine Ridge Winery
An unusual winery: Castello di Amorosa
---
A "Famous Name" Winery
Mumm's Winery
Mumm Napa is the place to stop if you like champagne and other sparkling varieties.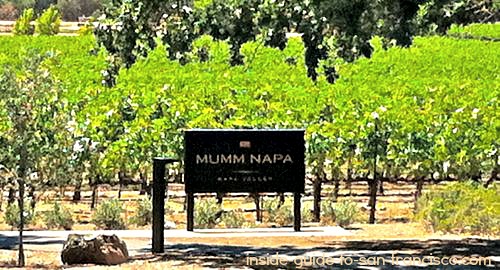 Mumm Vineyards
The buildings are unpretentious and placed in a low-key, garden-like setting. You can do the tasting in a choice of settings: a glassed-in patio, an open air patio or a terrace area, all overlooking the pretty grounds and vineyards.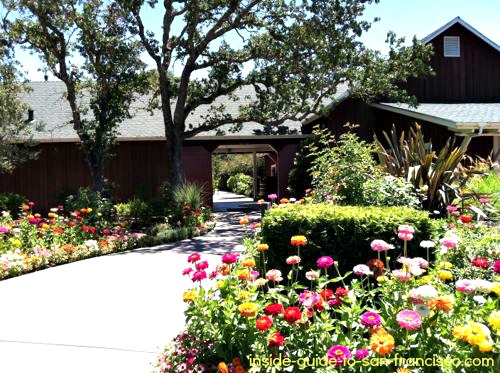 Mumm Napa Winery
Mumm Napa was named one of America's best tasting rooms by Wine Enthusiast. They also have a nice art gallery with Ansel Adams photographs.
Tasting: $40 to $48 per person, depending on which tasting option you choose. We also shared a yummy Artisan Cheese Tray ($25). Reservations are required. Everyone in the group must be 21+. Up to 8 in a group.
Tours: 2-hour tour of the vineyard and winery. Tours offered daily and include wine tasting of 5 wines and a cheese plate: $125 per person, must over 21. Limited to up to 6 people. Reservations required.
Hours: Daily 10 to 6.
Location: 8445 Silverado Trail, Rutherford (20 min north of Napa).
Very crowded on weekends; get there early. Better on weekdays.
Mumm's Napa website, (866) 783-5826 (reservations), (800) 686-6272.
---
A Beautiful Winery
Pine Ridge Winery
The Pine Ridge Winery has one of the loveliest settings I've seen, tucked up against a steep hillside covered with grape vines.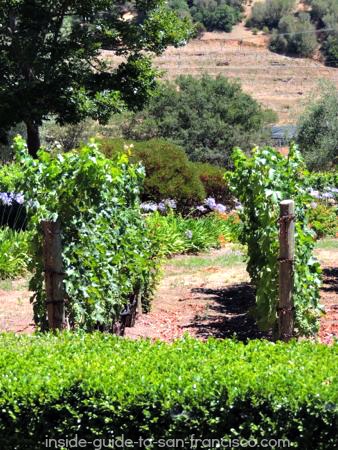 Pine Ridge Vineyards
They've also created a demonstration vineyard for guests to explore just outside the building.
Tasting: choices of five wines: $55 for a selection of current Pine Ridge wines. Reservations required.
Tours: extensive 2-hour tours of the vineyard, wine production, and caves, followed by a tasting. Six tours between 10 and 3. Reservations required, ages 21 and up only. $125 per person, max of 8 people.
Hours: open daily, 10:00-4:00. Last tasting at 3:00 pm.
Location: 5901 Silverado Trail, just north of Napa.
The San Francisco Chronicle named Pine Ridge Winery as one of the "Best of the Best Tasting Rooms in Napa".
(800) 575-9777. Pine Ridge Vineyards website
---
An Unusual Winery
Castello di Amorosa
This one is great fun: a full-scale medieval castle has been created in a gorgeous Napa Valley setting.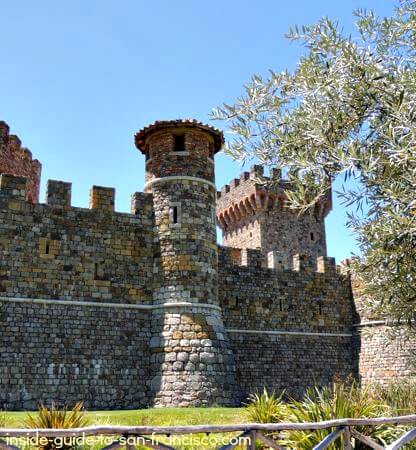 Castello di Amorosa
The owner has a passion for medieval architecture, so along with tasting some excellent wines, you get to explore a huge, authentic Tuscan castle! Truly amazing (and odd).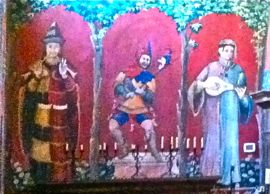 Scene from the frescos decorating the walls of the Great Hall, Castello di Amorosa.
See more info and photos on the weird and amazing Castle of Love winery.
Unusual in that kids are allowed at some of the tasting options.
Tasting and entry: $50 or $60 (ages 2-20, $25). Includes 5 wines and entry to the castle.
Tours: $70 (adults 21+ only). One hour, 50 min, includes tasting of 5 wines. Reservations required.
Hours: Daily, weekdays 10-5:30, weekends 10-6.
Location: 4045 North St. Helena Way (Highway 29), Calistoga.
Castello di Amorosa website, 707 967-6272.
Wine Country Tour that includes the Castello di Amorosa. If you want to explore this cool winery and two others, there's a highly-rated tour from San Francisco that takes you up to three Napa Valley wineries for tastings. This is a small group tour, limited to 15 people, accompanied by a guide to fill you in on winemaking in Napa. About 9 hours. Ages 21+. $299 per person. See Napa Wine Country Tour for more info and booking.
---
Renting a car for your trip to the Napa Valley
Driving up to Napa to explore the wineries and the charming wine country towns is a fun way to explore this beautiful area in a leisurely way.
I always drive up in my own car when I visit Napa, but it's easy to rent a car to get up there on your own.
I recommend checking out Discover Cars to find a good deal on a rental car. They cover the major car rental companies and offer a one-stop way of checking for the best prices and car availability.
---
Map of Napa Wineries
Two parallel highways travel up the length of the Napa Valley: Highway 29 and The Silverado Trail.
Tip
: the Silverado Trail runs close to the mountains on the east side of the valley; it's prettier and less crowded.
Recommended route for driving to Napa:
Most scenic and easiest.

View San Francisco to Napa Valley in a larger map
---
The Town of Napa
Napa itself is not an especially attractive town, compared to a charmer like Sonoma, but it is a pleasant spot for a stopover.
A few years ago, the city decided to spiff up the downtown, which was a typical, pokey Northern California small town, with a court house on the main square and a few blocks of Victorian houses.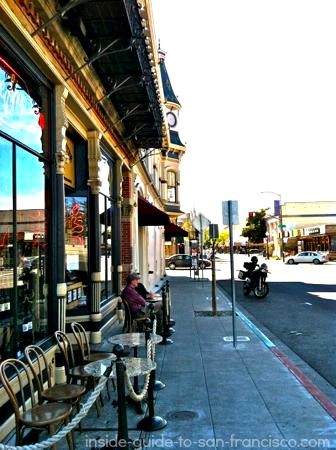 Downtown Napa
They built a series of buildings along the Napa River (a small and unremarkable river) that are new-looking but surprisingly attractive.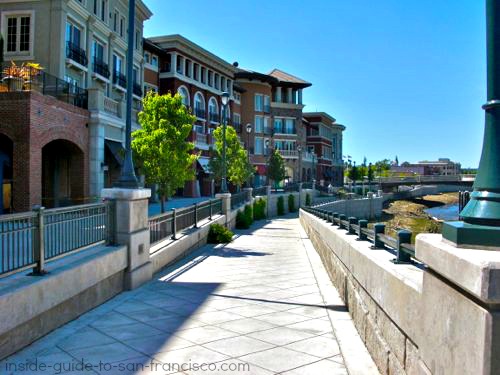 Napa Riverfront
In addition to condos and offices, a handful of excellent restaurants have been tucked in there, making it an enjoyable place to stop for lunch or dinner.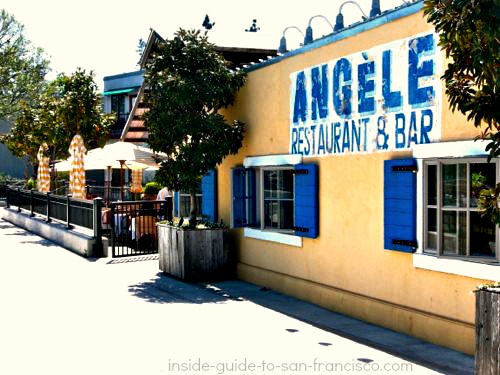 Angele, French Restaurant
Restaurant Suggestions
Just a few ideas for a good meal in Napa:
Angele. Gourmet French cuisine. Delicious food, pretty patio setting on the river. Somewhat pricy, but worth it. 540 Main St.
Celadon. Hard to classify; Asian, Mediterranean, Latin American selections. Yummy. In the Napa Mill, 500 Main Street.
The Pearl. Pork chops, polenta, oysters, tacos, etc. Moderately priced, small, cute. 1339 Pearl St.
Cole's Chop House. In the mood for meat? This is the place. Try the onion hash. Great desserts, too. 1122 Main St.
Grace's Table. Wide geographical variety. Friendly and tasty. 1400 2nd St.
---
Exploring the Napa Valley
There's a lot more to do and see in the Napa Valley besides the wineries! Safari parks, lakes, museums, geysers, petrified forests, and more.
For a great guide to the valley, including things that kids will enjoy, what to see, where to stay and where to eat, check out a local's article, the Napa Valley Wine Country with Kids.
---
More day trips...