The Castello di Amorosa
A Winery in a Tuscan Castle
The Castello di Amorosa, or Castle of Love, is in a class by itself. When I first heard about this winery, I thought, the horror, Disneyland in the Napa Valley. But no, it's not like that at all. In fact, it's hard to believe that the "castle" hasn't been standing there for centuries (instead of 2007).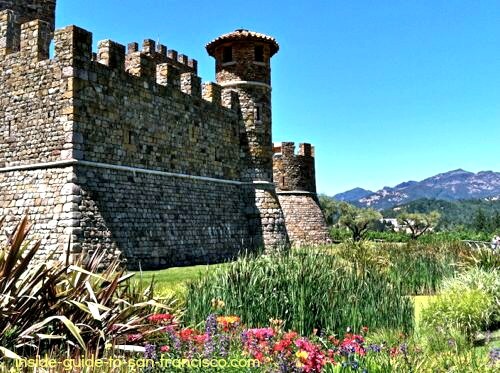 The Castello di Amorosa
The castle and winery were built over a period of years by an Italian-American winemaker, Dario Sattui (who also owns the V. Sattui winery in St. Helena). He had a passion for the architecture of the Middle Ages; authenticity of design and materials were very important in the construction. Many of the stones used to build the castle are actually very old, collected from various sites in Europe and shipped to the vineyard just outside of Calistoga.
Mr. Sattui has essentially recreated a 13th century Tuscan castle in the northern end of the Napa Valley. What was supposed to be a modest winery got out of hand and turned into a massive fortress. And now it's open to the public for wine tasting and a tour of the winery and grounds.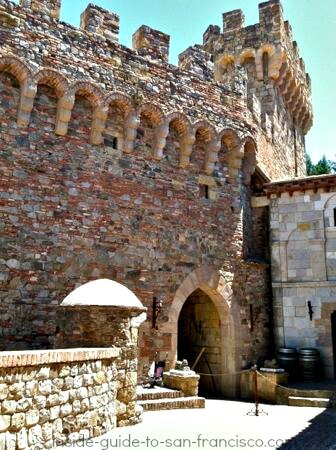 Tours and Tasting
Wine Tasting. It costs $25 to get into the castle, but you get a tasting of five of their wines as well, in a medieval cellar under the castle. Very cool. You can explore the castle on your own, if you like. Minors ages 8-20 pay $15 (juice included, ha ha). Visitors under 21 have to be accompanied by someone older.
Tour and Tasting. Even better, do a combination tour and wine tasting for $40 (Ages 5-20, $30). The tour includes the viewing and history of the Grand Hall, chapel, courtyard, towers, then into the fermenting and storage areas of the winery. Allow 60 minutes for the tour and 45 minutes for the tasting. They recommend reservations; we didn't have any and it worked out fine, but we went mid-week. 707-967-6272.
You can also do tastings that pair the wines with cheese or chocolate- yum!
The Great Hall...Amazing!
I wasn't expecting a grand, medieval hall with the walls completely covered by authentic-looking Italian frescos. An expert in this style of painting was brought over from Italy to do all the work. Gorgeous!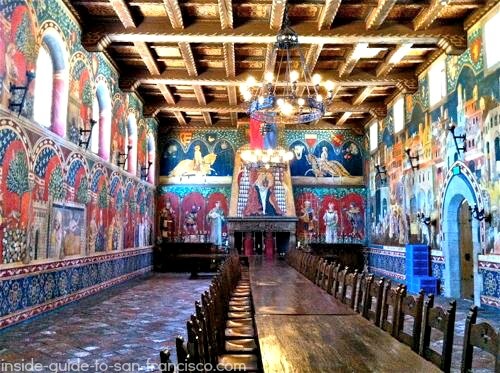 The Great Hall
There is also a large chapel that has the feel of a very old European church, and a courtyard where you would expect Juliet to show up at any moment.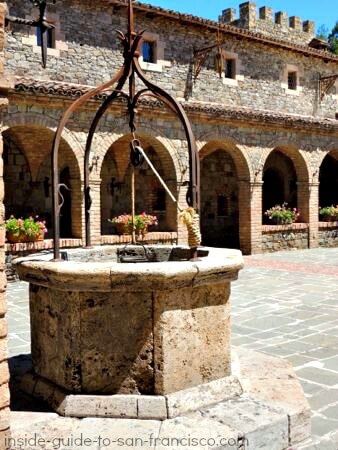 Castle Courtyard
The tour takes you past huge metal vats used for heating the grape juice.
Underneath the castle are rooms and rooms, caverns really, with thousands of barrels of wine in various stages of fermentation.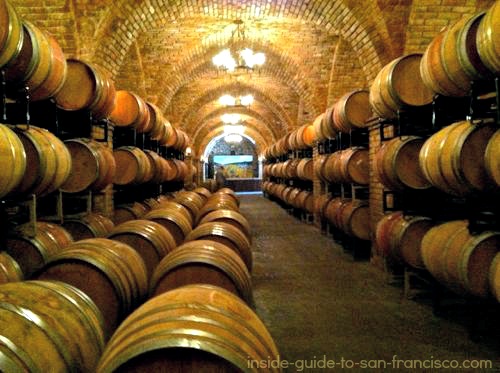 Wine Barrels in the Cellar
This castle even has a dungeon with authentic medieval torture equipment...a bit creepy. The iron maiden is there along with the rack and an oubliette. The guide said they have great Halloween parties there...I'll bet they do.
Outside there is a menagerie roaming the grounds: white peacocks, goats, chickens, etc.
Wine Tasting
After an interesting tour, it's time to taste some of the wines produced at the castle.
The tasting takes place in an atmospheric cellar, with guests comfortably seated at a long bar.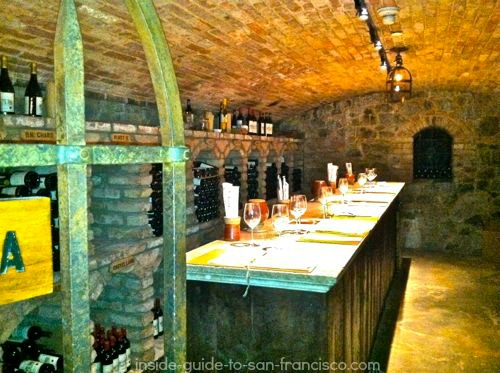 Wine Tasting in the Cellar
The standard tasting program allows you to taste 5 different wines from a full page of options. Cabernet, Merlot, Sangiovese, Pinot, Barbera and more in the Reds; Chardonnay, Pinots Grigio and Blanco, and Gewürtztraminer in the Whites, and a collection of dessert and sparkling wines. Something for every taste! Several of their wines have won high honors in respected wine competitions.
Hours
Open daily
March-Oct: 9:30-6
Nov-Feb: 9:30-5
Finding It
The address is 4045 North St. Helena Way (Highway 29). The turn off is between St. Helena and Calistoga on Hwy 29, 2 miles south of Calistoga. Watch for a large sign for the castle (you can't see the castle from the highway).
Note: I may earn a small commission if you make a purchase through some of the links on this page, at no extra cost to you. This helps me provide all the free information I post on this website.
Winery Tour to Castello di Amorosa
If you want someone to drive you up there, there's a nice, guided tour from San Francisco that takes you to three wineries in the Napa Valley, including the Castello.
This is a small-group tour that's gotten good reviews, and includes hotel pick-up and a picnic lunch (tastings extra). $105, 9 hours. See Winery Tour for booking and info.
Check their website for more info:
www.castellodiamorosa.com
.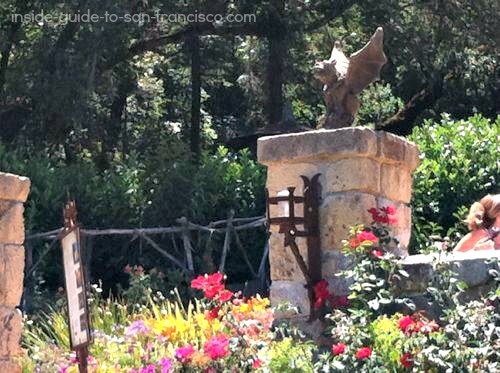 Gargoyles, too