---
The Redwood Trees
Redwood forests have been tucked into these misty canyons along the California coast for thousands of years, and some of the giant trees in Muir Woods are over 1000 years old. The coastal redwood is the world's tallest tree.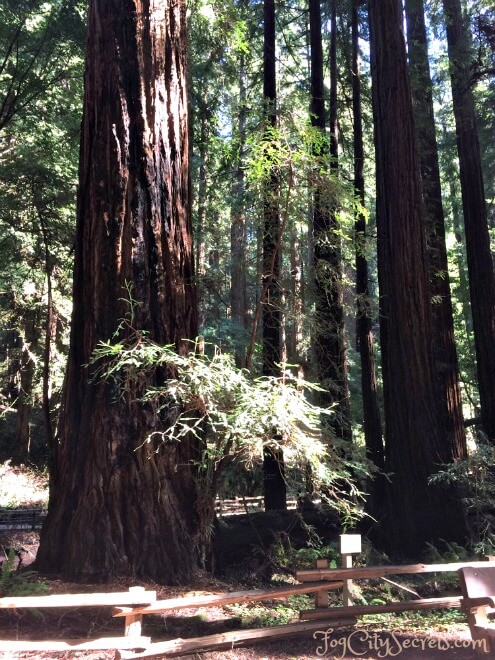 Redwoods in the Bohemian Grove
California has two varieties of redwoods: the coastal redwood (Sequoia sempervirens) and the giant sequoia (Sequoia dendron giganteum).
"Sequoia" comes from the name of Sequoyah, the Cherokee who invented an alphabet for his people's language.
Muir Woods has coastal redwoods, which are also found in a number of special spots up and down the coast. The giant sequoias are found in several parks on the western slopes of the Sierra Nevada mountains  (in Yosemite, Sequoia and Kings Canyon National Parks). 
Differences: the coastal redwoods grow to only (!) about 20 feet wide, while the giant sequoias are up to 40 feet wide. Both species can be over 300 feet tall, with the coastal redwoods reaching about 60 feet taller.
Redwoods as a species are beyond ancient; they have been on earth for 150 million years and used to live all across the Northern Hemisphere. Individual redwoods can live over 2000 years, and are amazing survivors due to some interesting characteristics of their structure.
Muir Woods is just one of a number of beautiful national parks in Northern California. 
For ideas for visiting some other gorgeous parks in the northern part of our state, check out the redwoods, volcanoes, mountains and lakes in this guide to Northern CA's national parks.
California Redwood Oddities
Fire is good for redwoods. These trees are helped when forest fires burn out the undergrowth; seeds can reach the soil easier, and are less likely to be damaged by fungus and bacteria living in the brush.
In addition, the bark of a coastal redwood is at least 6 inches thick, and can be up to a foot deep. That, plus the high tannin content, makes the redwood quite resistant to fire.
No bugs! The tannins that resist fire damage also make the tree unappealing to insects. You will notice a minimal number of flying insects and creepy-crawlies while strolling in the grove; another happy fact about redwood forests!
Life in the fog belt. Coastal redwoods need a damp, drippy environment. As a result,  they live only within the fog-drenched strip of land that runs along the ocean from Northern California up into Oregon. They get moisture directly from fog condensing onto their leaves as well as from water that drops down to the forest floor.
These redwoods tend to be found in canyons near the ocean, where they are protected from the wind, near streams, and where shade and fog create a milieu where they can flourish.
Fairy Rings and Cathedrals. Because of the way redwoods reproduce, they sometimes create majestic circles of trees that look like they were planted. In addition to dropping seeds from their small cones, redwood trees grow lumps called burls on their roots and bases. These burls can sprout and grow into trees if the parent tree is damaged or dies. The trees remaining after the original tree has died and decomposed are often standing in circles. 
Cathedral Grove in Muir Woods is one of these impressive arrangements.
Timber! Coastal redwoods have very shallow roots for their height and weight and as a result are known for falling over. Californians living in redwood areas are aware of the hazard; it's not unusual for these trees to come down in a storm. Unfortunately, they're not as stable as many other species.
The oldest redwood in Muir Woods is over 1200 years old! Many of the trees in the grove are over 600 years old.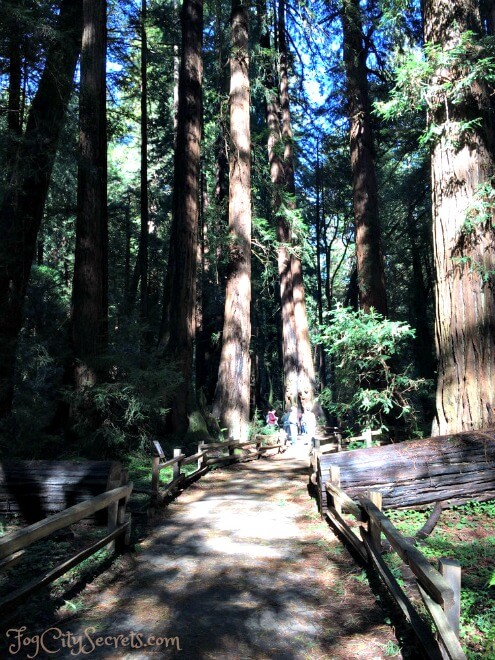 Muir Woods Trail