The Rocket Boat
Sun, Speed and Rock and Roll!
Ready for a wild ride on San Francisco Bay? Spend 30 minutes on the Rocket Boat.
Note: the current Rocket Boat has been retired for 2019, but they are introducing a "new and improved" version in the spring of 2020.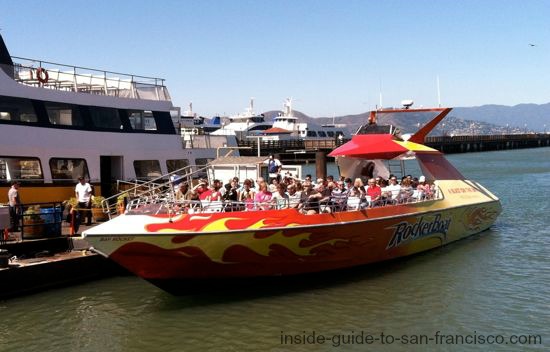 Leaving from Fisherman's Wharf, next to Pier 39, is one of the most exhilarating adventures on the wharf. The Rocket Boat takes a group of voyagers for a fast speed boat ride out onto SF Bay, under the Bay Bridge, and zooms past the city skyline and ATT Park.
There are warnings about riding with back and neck problems, but I thought it was milder than a typical roller coaster. There were a couple of good jolts as the boat hit a few big waves, but overall it was just speed, wind and sun for a wonderful 30 minutes.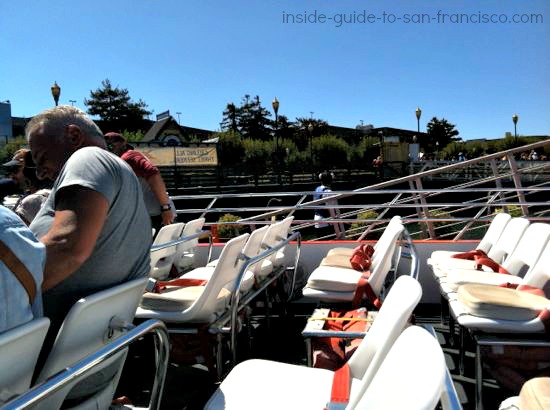 Seating on the Rocket Boat
The combination of classic rock and roll, incredible views, wind in your hair, and flying across the water at 60 mph, truly lifts the spirits. Looking around at my fellow passengers, I saw lots of big grins. What a rush!
I've seen this boat at Fisherman's Wharf for years, and finally ventured out on it. I had a great time and would highly recommend it. It's not only a fun ride, but you get a tour of SF Bay: past the sea lions, Alcatraz (from a distance), right underneath the Bay Bridge, ATT Park, and close-up views of the city skyline from the north and east vantage points.
At one point, the speed boat races towards the Ferry Building at full speed, then swerves away. Lots of spins and tilts, crossing of the ship's wake, and the chance to see the huge container ships passing by from the Oakland docks towards the sea.
When to Go
The Rocket Boat runs May through October (unless the weather is "inclement", whatever that means, probably raining or rough seas). Fortunately, there is hardly ever rain during those months. The months of September and October are usually the sunniest months, with May, June and July foggier.
There are a number of trips each day, and the boats run daily in summer when school is out. They are closed Monday and Tuesday during the school year.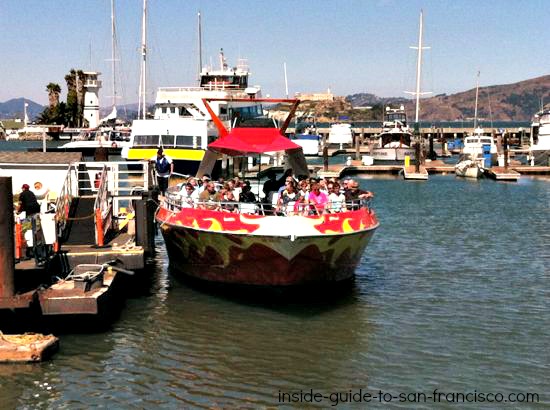 Getting Tickets
The regular price for an adult ticket is $30, less for seniors and children. Visitors have to be at least 40 inches tall (1.016 meters) to ride the Rocket Boat.
The ticket is good for any ride that day, and for any day for 6 months after purchase. There are no reservations for a particular time of day; first come, first served.
Note: I may earn a small commission if you make a purchase through some of the links on this page, at no extra cost to you. This helps me provide all the free information I post on this website.
The best deal for tickets that I've found is through Goldstar.com, my favorite go-to site for discount tickets for all sorts of things in San Francisco.
Goldstar typically has tickets 50% off (plus a $3 to $5 service fee tacked on). They may or not have the half-price tickets for the event you're looking for at any particular moment, but it's definitely worth checking.
Want to get
50% off on SF tickets
, including the Rocket Boat?
Click here
to sign up for Goldstar.com (free to register) and see what they've got available.
If you buy tickets online, you pick them up at the Blue and Gold Fleet ticket kiosk, to the left of Pier 39. You can buy tickets there as well.
---

Insider Tips:
Getting a seat. There are no assigned seats, or even assigned times, and your ticket is good for any ride that day (and for 6 months after purchase). You should probably get in line about 15 to 20 minutes before the departure of the time you want, and 25 to 30 minutes before during the summer months. The line forms at the dock on Jefferson Street, just to the left of Pier 39.
Which seat? They say the rear seats are "wetter", but no one got really wet on our trip; I sat near the front. Sitting on the far edge gives the best view and there is a sturdy hand rail there, too, which I enjoyed clutching, ha ha.
Sunburn. Use sunblock; I got fried standing in line and then being out on the water. It feels cool, but the sun is powerful.
What to bring. Wear hats at your own risk; the wind is fierce at those speeds. Lots of passengers were using their smart phone cameras, though, without mishaps.
---
More watery fun...