By Karen
Ghirardelli Square
Ghirardelli Chocolate & More!
Ghirardelli Square in San Francisco is a very popular attraction located at Fisherman's Wharf: the go-to spot for chocolate lovers and the best place for ice cream sundaes at the waterfront.
Is it touristy? Definitely. But the location is authentic and their chocolates are great. Plus they serve tasty and very large ice cream sundaes to go with their chocolate sauces. It's a pretty location as well.
---
The Ghirardelli Chocolate Company began in 1849 when Italian immigrant Domenico Ghirardelli opened a shop in a tent in Stockton, California, selling candy and other goods to the Gold Rush miners; the same year he also opened a second shop in San Francisco.

SF's Gold Rush Chocolate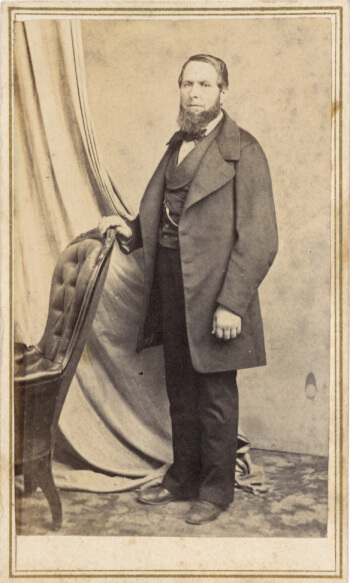 Domenico Ghirardelli, 1862
He was originally from Italy, where he learned the chocolate business in Genoa as a teenaged apprentice.
At the age of 20, he sailed to Uruguay with his wife to work in a business there. Only a year later, in 1838, he started a confectionery business in Lima, Peru, and when he heard about the Gold Rush in California, he decided to try his luck there. 
In 1856, Ghirardelli opened a general store for the miners in the Gold Rush town of Hornitos, in the Sierra Nevada foothills, and sold his chocolates there. The town of Hornitos is a ghost town now, looking much like it did in the 1800's.
At its peak, it was notorious for its lawlessness, full of saloons, outlaws and gamblers. The shop operated until 1859, and the ruins of the Ghirardelli building are still there today. See Hornitos for more info.

The Ghirardelli Chocolate Company was incorporated in San Francisco in 1852, and is the oldest, continuously-operating chocolate producer in the U.S.
Domenico Ghirardelli is buried in the Mountain View Cemetery in Oakland, California.

---
What's at Ghirardelli Square?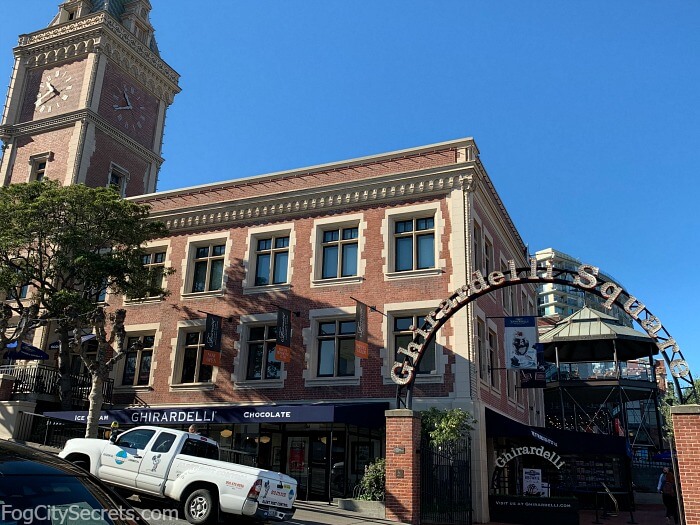 Entrance to Ghirardelli Square
Ghirardelli Square is a full city block of 19th century brick buildings, formerly factories of various kinds, repurposed in the 1960's into a charming collection of restaurants and shops.
The buildings are arranged around a "square", with a mermaid fountain and places to sit.
Ghirardelli Clock Tower Building & Mermaid Fountain
The old-time ice cream parlor is on the lower floor of the Clock Tower Building (above).
The location is great, too. The restaurants that face the bay have pretty views of Alcatraz, Angel Island and part of Fisherman's Wharf.
View from Ghirardelli Square
The star attraction, of course, is the Ghirardelli Company's chocolate shops and ice cream parlors, where visitors have been coming for decades to enjoy their generous ice cream sundaes, and more.

To get a glimpse of how the chocolate was made, head to the lower level of the building with the clock tower; follow the chocolate smell to the back where they have the vat of liquid chocolate.

The original chocolate machine
The giant "Ghirardelli" sign was erected in 1922 and has become a San Francisco landmark. The white lights make a pretty display after dark and can be easily seen by all the ships coming and going on SF Bay. 
Ghirardelli Square was placed on the National Historic Register in 1982, preserving it for the future. Ghirardelli Chocolate is currently owned by the Lindt chocolate company.
How do the locals pronounce Ghirardelli? It sounds like "gear uh deli".
Fun fact: the big sign used to say "Ghirardelli" on both sides, written in white light bulbs, but the neighbors complained (they're super bright), so they took them off the side facing the residential area. 
---
Things to do in Ghirardelli Square
The main attraction in Ghirardelli Square is, of course, enjoying the Ghirardelli Company's chocolates and ice cream sundaes in their ice cream salons (4 of them at the square).
There are also a number of restaurants, wine-tasting outlets and shops in the square as well. Even miniature golf, a new addition.
The Sweet Stuff
The original ice cream salon in the Clock Tower Building has expanded over the years to 4 ice cream salons at Ghirardelli Square, so if one is crowded, you can try another. The original salon tends to be the busiest.
The upper level of the Clock Tower Building has an ice cream salon that is open during the busy season, and a new salon was installed a few years ago in the old Woolen Mill building (where the factory was located). Plus a mini salon and chocolate shop faces the bay on the street level on Beach Street.  
The chocolate sauce on their sundaes is hand-made from Ghirardelli chocolate.
Ghirardelli chocolates are sold in all the ice cream salons and in the little chocolate shop at the entrance to the original salon. There's no way to avoid them, so go for it!

Shopping for souvenirs? They sell some chocolates with special packaging that are only sold at Ghirardelli Square.
---
Ghirardelli menu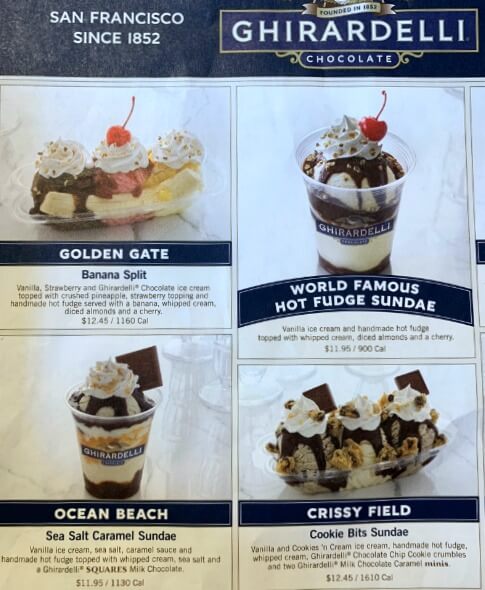 Some of their sundaes
Good to know: if you wander into the little chocolate shops, you'll probably get a free sample.
---
Ghirardelli Shopping
The whole complex of buildings used to have lots of shops on all the levels, but the largest building has now been taken over by the Fairmont Hotel chain.
There are luxury hotel rooms in there now ($899 and up per night!) which also are offered for sale in sort of a time-share arrangement. See Fairmont Heritage Place for more info.
The shops are primarily on the main level now, mostly upscale boutiques, and are fun to browse.
---
Wine Tasting
There are two places to do wine tasting on the square.
The Wattle Winery offers some of its Alexander Valley (Sonoma) wines for tasting.
 Vom Fass carries gourmet goodies and offers wines along with olive oils for tasting.
---
Ghirardelli Square Restaurants
There are a number of places to eat at the square.
San Francisco Brewing Company, a brew pub serving their own handcrafted beer and pub food.
McCormick & Kuletos, steak and seafood, great bay view.
Barrio, a gourmet, Latin-inspired restaurant, also amazing view from inside and a large outdoor patio.
The Cheese School, a soup and sandwich place focusing on cheese. (In Jan 2023 they moved to the Dogpatch area, 2535 3rd St.)
The Pub BBQ, Southern comfort food, including brunch on weekends. Open till 1:30 am.
Palette Tea House, a Chinese dim sum restaurant.
Palette Tea House is new, but they are associated with two well-known and very popular dim sum restaurants in San Francisco and Daly City, Dragon Beaux and Koi Palace. Open daily from 11 or 11:30 am.
See my page on the best SF dim sum places for info on the other two. 
Tip: at the Palette Tea House, you can try Dragon Beaux's signature dish: the xiao long bao sampler (soup dumplings in 5 colors) Very nice!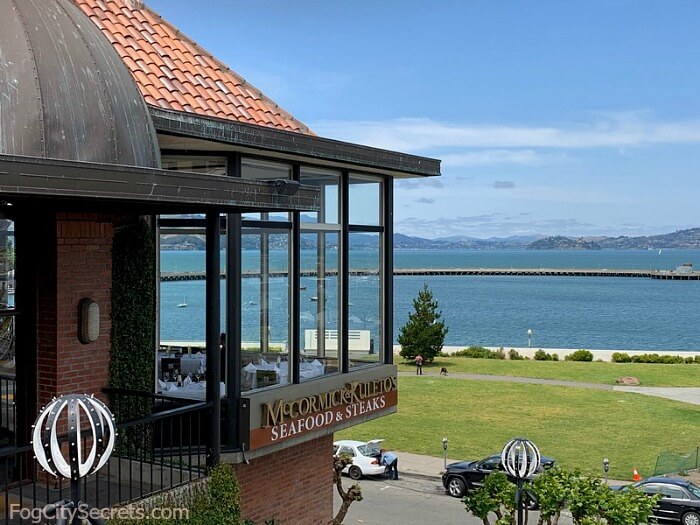 McCormick & Kuleto's at Ghirardelli Square
---
Mini Golf - SF Style
A recent addition to Ghirardelli Square is a cute, San-Francisco-themed, miniature golf course, named Subpar, located in the lower level of the Woolen Mill. They take walk-ins, but recommend reservations on Friday, Saturday and Sunday.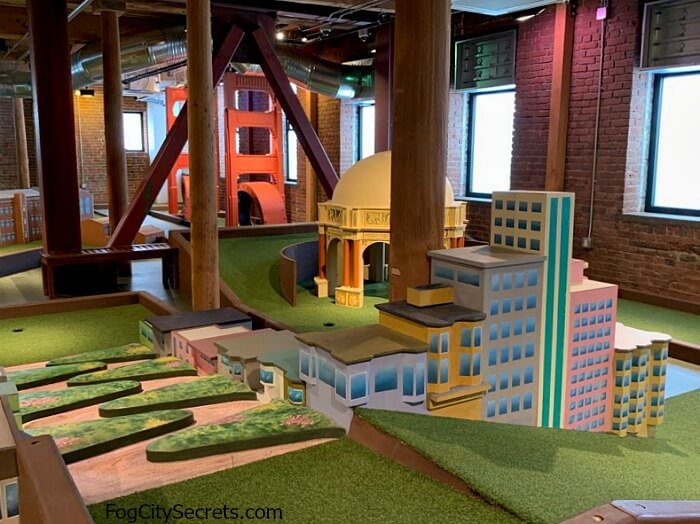 SubPar miniature golf
---
Just for Kids
Culinary Artistas has cooking classes for kids from age 3 to teens.
It's drop-the-kids-off, so it's a two-for-one: kids learn cooking and parents get a break. Visitors to SF are welcome. See Culinary Artistas for info.
---
The Ghirardelli Chocolate Factory
Ghirardelli Square is the original location of the Ghirardelli Chocolate Factory; the factory was set up in 1893, in the building labeled the Woolen Mill.
Old Woolen Mill Building
Are there tours of the Ghirardelli Chocolate Factory? Alas, no. But there is a chocolate factory in SF that does tours. See Dandelion below. 
Where's the Ghirardelli Factory now? The Ghirardelli Chocolate Factory moved across the bay to the town of San Leandro in 1967. They don't do tours at the factory. However, Ghirardelli has an outlet store at the factory location.
Ghirardelli Factory Outlet. This is kind of a local secret; not only is there a big selection of chocolates to choose from, they offer really good discounts. Their outlet store is a popular place for locals to do some Christmas shopping; the prices are really good and they have been giving out free hot chocolate to shoppers...a festive experience.
The factory and outlet store are at 1111 139th Avenue, San Leandro, CA.
---
Tours of Ghirardelli Square
I'm not aware of any tours that focus just on Ghirardelli Square, but there are tours that include it.
Segway Tour of Ghirardelli & North Beach. If you're up for a Segway ride, this highly-rated tour takes you to Ghirardelli Square and Fisherman's Wharf, and also explores the charming North Beach neighborhood. 2 hours. $60. See Fisherman's Wharf & North Beach Segway Tour for more info and booking.
Free walking tour. SF City Guides, a non-profit organization, gives high-quality walking tours all over the city. Their Fisherman's Wharf tour is excellent (I went on it) and starts at Ghirardelli Square. The guide begins with information on Ghirardelli, then moves on the other areas of Fisherman's Wharf. No reservations necessary, no charge, just show up at the scheduled time. See SF City Guides for more info.
Hop On Hop Off bus tours. The double decker buses stop at Fisherman's Wharf, and of course Ghirardelli Square is one of the attractions covered in the tour. See HOHO bus tours for more info and booking.
Private City Tour. Local guide takes you on a 3-hour tour of the city, including Ghirardelli Square. See the famous landmarks and lesser-known places. $92. See city tour for info and booking.
---
Events at Ghirardelli Square
Popular annual events at Ghirardelli Square:
The Ghirardelli Chocolate Festival (September)

Ghirardelli Christmas Tree Lighting (November)

The Ghirardelli Chocolate Festival. This is a very popular event featuring chefs demonstrating their chocolate prowess, dessert tastings and local wines to sample. It usually takes place the second weekend of September. 
Ghirardelli Christmas Tree Lighting. Every year in late November they put up a big tree in the square and have a festive tree-lighting ceremony with Santa and music.
---
Ghirardelli Hours
Ghirardelli Square is open 11 am to 9 pm daily. Restaurants may have different hours.
Ghirardelli Ice Cream & Chocolate Shops. Daily: 9 am to 10 pm. 
---
Getting to Ghirardelli Square
GPS and official address: 900 North Point Street.
Ghirardelli Square is located at the western end of Fisherman's Wharf (hard to miss with their huge sign once you're at the waterfront).
The complex of buildings is bordered by Beach, Larkin, North Point and Polk Streets, and it sits overlooking the water at Aquatic Park.
Cable Cars: Ghirardelli is one block from the end of the Powell-Hyde cable car route. Catch it at Market & Powell or Union Square. See cable car tips for info on taking a cable car.
Buses: catch the #30-Stockton near Union Square, at Stockton St. & Geary.  Or take the #47-Van Ness that runs from Van Ness & Market, all along Van Ness, out to Fisherman's Wharf. Both buses stop at Polk & North Point, right at Ghirardelli. The #19-Polk runs along Polk St. from 9th & Market out to the wharf, stopping in front of Ghirardelli on Beach St. near Aquatic Park.
F-Line Street Cars. The antique street cars run from downtown, along Market Street, all along the Embarcadero waterfront, to Fisherman's Wharf. Get off at the last stop, Jones St., and walk west (towards the Golden Gate) 3 blocks.
See Muni map for bus and cable car routes.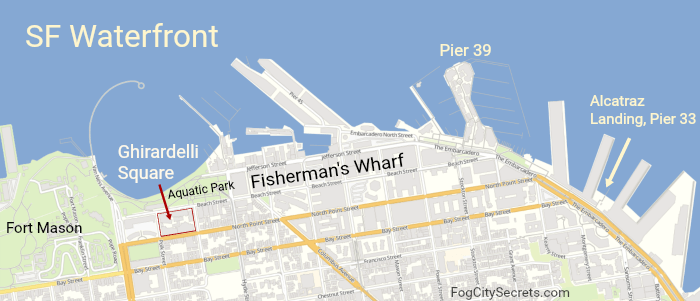 ---
Parking at Ghirardelli Square
Parking garages in this area tend to be very expensive. Forget street parking...quite a challenge.
Solutions:
Ghirardelli Square has its own parking garage underneath which is also expensive. 0-3 hours: $18. Open 6 am to midnight. Entrances on Larkin and Beach Streets.
Best bet: get a reserved spot nearby in a garage or parking lot for a greatly reduced price through Spot Hero. 
Unfortunately, the area around Ghirardelli Square is one of the hottest areas in San Francisco for car break-ins. Be extra careful about not leaving things in your car here.
---
Things to do nearby
Ghirardelli Square is at the western end of Fisherman's Wharf, so all of the waterfront activities are close by. Pier 39 is at the other end of the wharf.
Also, the Maritime Museum is just across the street, on the water. This is a cool art deco building built to look like an ocean liner.
Originally it was intended to be a bath house for people swimming at Aquatic Park. Now it houses exhibits related to San Francisco's maritime history. Check out the beautiful, WPA murals on the walls. Admission is free.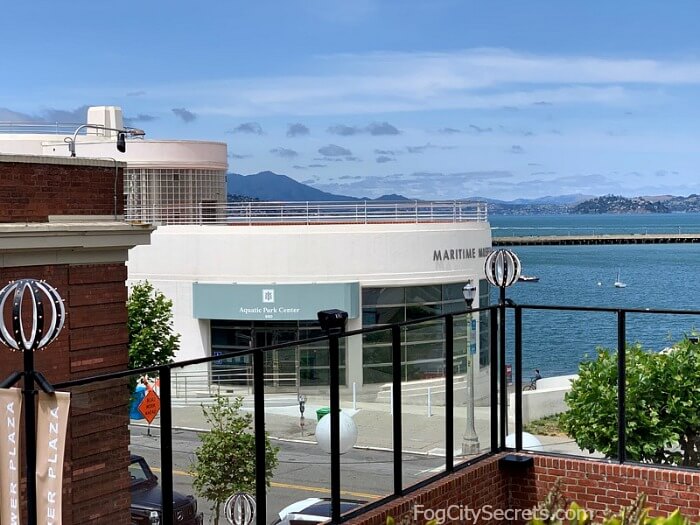 The Maritime Museum across the street
---
More Local Chocolate Factories
Ghirardelli isn't the only chocolate factory in the area.

See's Candy Factory
See's Candies has a big factory in South San Francisco (a separate town) not far away. All their truffles and cream-filled chocolates are made at this factory. The South San Francisco factory also has a room where they do handmade chocolate for special orders.
See's has a second factory in Los Angeles.
Unfortunately, the See's factory doesn't do tours, either. But they have a nice shop where you can buy their candies.
The See's Factory & Shop in South San Francisco
Location: 210 El Camino Real, South San Francisco.
Hours: open daily, 10-7 (Sunday 11-6).
---
Dandelion Chocolate Factory & Tours
There is one chocolate factory in San Francisco, Dandelion Chocolate, and they do have tours.
Dandelion is a relatively new chocolate company and specializes in handcrafted, gourmet chocolates, made at their facility.
They've moved from the Mission District to a new location at 16th Street & Alabama.

Tours of the factory are $20, plus there's a walkway where you can inspect the factory on your own for free. Tours: daily, running every 15 minutes, by reservation. Reserve a spot.
Tip: they make the chocolate weekdays until 2 pm, if you want to see the factory in action.
They have a number of classes as well where you can do tastings, learn about the process, or actually make your own chocolate from the cacao beans.
They do interesting pairings events like chocolate and saki, or chocolate with chamber music.
See Dandelion Chocolate for more info and tour bookings.
---
Eat at the Chocolate Factory
Dandelion Chocolate Factory
You can also enjoy a Chocolate Tea (or an Ice Cream Tea) in their recently reopened Bloom Chocolate Salon: sample four dainty chocolate-inspired creations, washed down with tea or hot chocolate.
We tried both teas; they're a bit pricey ($45 and $40), but fun and very pretty.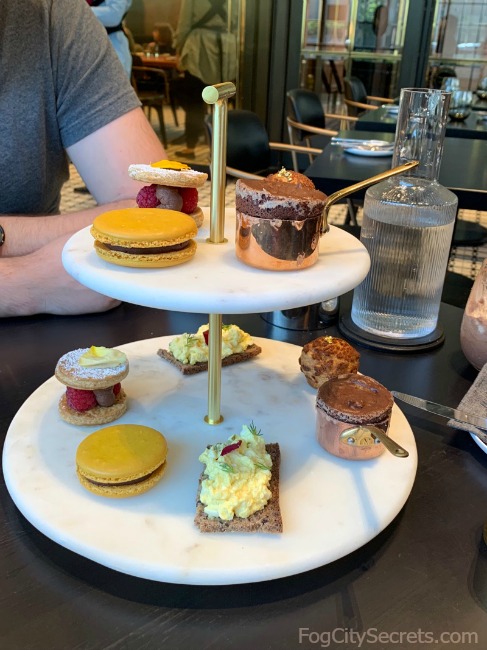 The Dandelion Chocolate Tea
---
Visit the Chocolate Factory
Location: 2600 16th Street, San Francisco, at Alabama Street.
Hours: Mon-Thurs, Sun: 10-10. Fri & Sat: 10-11.
Tip: Dandelion has an outlet in the Ferry Building where you can buy their chocolates and get free samples.
Many people rave about their rich European Hot Chocolate.
---
SF Chocolate Tours
There were some highly-rated, San Francisco chocolate tours available, but the tours stopped running during Covid and haven't resumed, unfortunately.
---
More Sweet Attractions
The San Francisco area has even more candy factories and sweets-related museums.
Jelly Belly Factory
The Jelly Belly Factory is in the town of Fairfield, about 60 minutes north of San Francisco. They sell their jelly beans there, of course, and give tours of the factory.
The Jelly Belly Factory has a self-guided tour available:
Pick up a ticket at the ticket counter ($7 adults, $3 kids) and go on the tour. Included are admission to the Jelly Belly Museum and a ride on the Jelly Belly Express, a little train that takes you to the museum.
Tour tips...
The factory only operates Monday through Friday, so the self-guided tour would probably be more interesting then, even though the free tours run daily.
Also, the factory stops running for three weeks in summer, usually April, so check before going.
Location: 1 Jelly Belly Lane, Fairfield, CA.
Hours: open daily, 9-5. Free samples on the tours.
See jellybelly.com for booking and more info on the tours.
---
Museum of Ice Cream
Still closed at the moment.
San Francisco is the permanent home of this "museum" that has also been exhibited in several other U.S. cities.
They've created a fantasy land of colorful, ice-cream-related scenes to enjoy and photograph. This is one of those Super Instagram spots.
One of the highlights: sliding into a pool of giant sprinkles.
The exhibits, such as the cookie carousel and unicorn ring toss, change from time to time.
Key: this is mainly a place to take photos of cute, sweet-related, pastel creations and enjoy the free treats. It's not really a museum.
Visitors have given it mixed reviews. If you're OK with paying $38 for some fanciful selfies and tasty ice cream treats, it can be a fun experience.
Tip: you have to make reservations online; no ticket sales at the door. See Museum of Ice Cream for more info.
Location: 1 Grant Avenue, at Market Street.
Hours: open 6 days, closed Tuesdays.
---
Note: it appears the cool Pez Museum in Burlingame has closed. 
---
More to explore nearby...
---