Fleet Week San Francisco

Returning October 2-10, 2022
Fleet Week San Francisco was canceled for 2020 due to COVID, but Fleet Week returned for 2021 and will be here again in 2022.
The Blue Angels did not perform in San Francisco for 2020. They were back in 2021 and will be in SF for 2022. See the list of air show performers for 2021 (2022 participants TBA).
With the roar of the Blue Angels over the city, we know Fleet Week San Francisco is here!
Here are some tips from a local on what to see and how to enjoy it with the least stress!

Every year around Columbus Day in October, San Francisco hosts a series of events that celebrate our naval forces.
San Francisco's Fleet Week is enormously popular and draws huge crowds to the city's waterfront.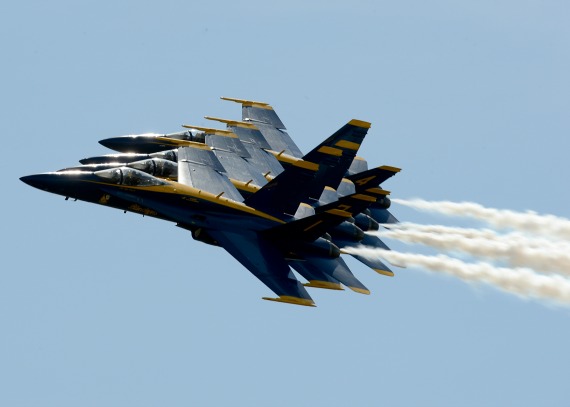 Blue Angels in Formation
(image courtesy of www.blueangels.navy.mil)
---
Highlights of Fleet Week

The Air Show
Friday, Saturday and Sunday, from 10:00 to 4:00 p.m., an air show takes place on San Francisco Bay, visible all along the waterfront from the Ferry Building to the Golden Gate Bridge.
In past years, the show has always started at 12 noon, so I don't know which performances will be happening from 10 to 12. The official website doesn't give times of specific performers.
A series of stunt planes swoop and loop above the water, warming the crowd up for the main event, the Blue Angels at 3 pm.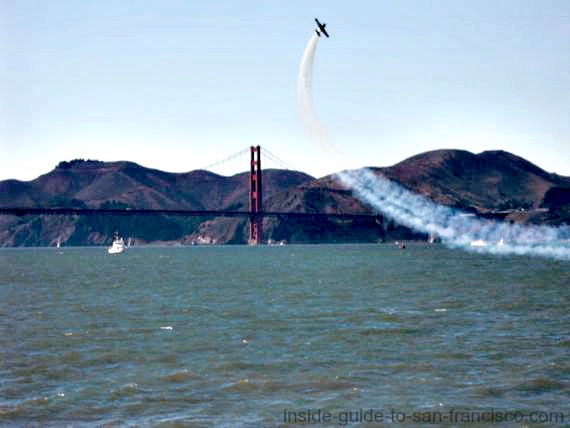 Warm-up Air Show
---
Air Show Schedule 
From 12:00 to 3:00 pm each day (Fri, Sat, Sun), there are performances by the other aircraft. 
The show is the same each day. 
At 3:00 pm, the Blue Angels begin their performance, which lasts about 40 minutes.
The Blue Angels usually do a practice show on Thursday at 3 pm, which is pretty much the same routine they will do for the other three days.
---
Many of the participants are the same each year, and of course, the Blue Angels are always here. 
2021 Air Show Performers
The Blue Angels
U.S. Navy Leap Frogs (parachute team)
U.S. Air Force F-16 Viper Team
Red Bull Helicopter, Edge 540, and Wingsuit Skydivers
Sean Tucker and Team Oracle (stunt plane)
Lucas Oil Air Show (stunt planes)
Ace Maker T-33 fighter jet stunts
C-17 airlift plane demo
P-3 & P-8 Poseidon military planes (anti-submarine)
US Coast Guard Rescue
United Airlines jet (show sponsor)
---
U.S. Navy Leap Frogs
A team of active duty Navy Seals will be doing parachute jumps.

Navy Leap Frogs
---
The Blue Angels
At 3:00 p.m. each day, the Blue Angels roar in over the Golden Gate Bridge; such a cool sight!
Six navy fighter planes perform frighteningly daring stunts over San Francisco Bay. Precision flying at its most breathtaking. Don't miss this! This is what most of the crowds have come to see.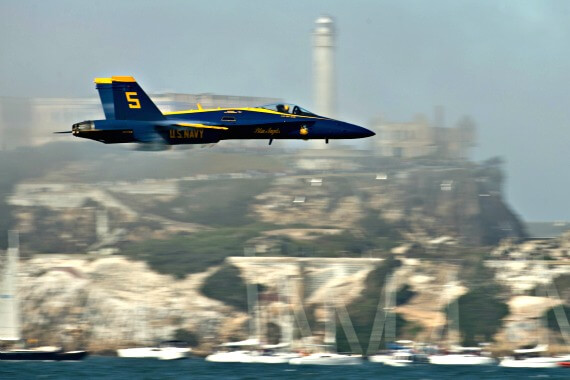 Blue Angels Hornet in Front of Alcatraz
(image courtesy of www.blueangels.navy.mil)
The Blue Angels fly from 3-4 p.m. Friday, Saturday and Sunday, and usually on Thursday as well (a practice day). For lots more information on the Blue Angels, including the best places to watch the show, see the Blue Angels San Francisco.

---
Parade of Ships
When: the Friday of Fleet Week, October 7, 2022, from 11:00 a.m.
A variety of U. S. Navy (and one Canadian Navy) ships sail under the Golden Gate Bridge into San Francisco Bay, usually including destroyers, missile cruisers and amphibious assault transports.
The "parade" lasts for about one to two hours; you can watch it from anywhere along the waterfront, though try to be where you can see them come under the bridge. It's such a great setting to watch the ships come in.
---
Ship Tours on the Big Ships

Ship tour schedule. Their new policy (for security reasons) is to wait to announce the identity of the ships until after they're placed at the dock.
I'll post the information when it becomes available.
Last year's schedule (2021)...
When:
Some of the big Navy vessels will be open to the public Wednesday, Thursday, Saturday, Sunday and Monday of Fleet Week.
Wed 10/5, Thur 10/6, Sat 10/8 and Sun 10/9: 10 am-4 pm.
Mon 10/10: 9 am-12 pm.
All the ship tours are free.
If you've ever been curious about what it's like to be on a war ship, this is your chance to explore some of them. They will be moored at some of the piers along the San Francisco waterfront.
Where: 
The tours will be held at Pier 30/32 and Pier 35. Five different ships were available for exploring last year. This is likely going to be the set-up for 2021 as well, or something similar.
Pier 35 is walking distance from Fisherman's Wharf; Piers 30/32 is not. Pier 30/32 is about a six block walk along the waterfront from the Ferry Building (south, or left).
Tip: get there early. The lines can be long, hours long at times. Also, there's no shade while waiting, so plan accordingly.
To see photos of the ships for 2018, read a little about each one, and see a map showing where they were on the piers, see Fleet Week ship tours. 

---
Blue Angels Pilot Autographs
It's really cool to see the actual pilots up close. If you're willing to hang around Fisherman's Wharf until evening on Saturday, the pilots are usually signing autographs at the entrance to Pier 39, from 6:15 to 6:45 p.m.. Have an early dinner at the wharf, then see them in person. In the past, the wait hasn't been very long.

---
Fleet Week Cruises
There are a number of options for doing a Fleet Week cruise. All these cruises take you out on the bay and stay out there for part of the air show, including the Blue Angels performance at 3 pm. They tend to book up so get your tickets early if you want to go.
Covid requirements for the cruises: vaccinations? masks?
These cruises do not require proof of vaccination to board, but some require masks.
The Red & White and Blue & Gold cruises do not require use of masks on board.
The Hornblower cruises and SS Jeremiah cruises no longer require proof of vaccination to board, but masks are still required for inside the Jeremiah and while moving around the ship on the Hornblower cruises.
Masks (but not vaccinations) were required to board the U.S. Navy ships in 2021.
The Red and White Fleet offers a bay cruise to watch the Blue Angels show from the water. The view from the ship is excellent and the scenery is spectacular.
They keep the boat in one spot for the show, a little ways offshore and directly across from Alcatraz so you can see the planes easily with no obstructions.
I went on this one a few years ago and it was a great way to see the air show.
View from the Red and White Ferry
This is a two hour cruise that leaves from Pier 43 1/2 at Fisherman's Wharf at 2 pm, and returns at 4 pm, on Friday, Saturday and Sunday.
The tickets are a bit expensive (in 2021 it was $100, kids 5-17 $80), but you can sometimes get them half price through www.goldstar.com.
Your ticket includes two drinks. No buffet this year like years past (see my photos of the ship buffet) but hopefully that will return at some point.
There's a bar on board for purchasing additional beer, wine and soft drinks.
This cruise is slightly cheaper than the Blue & Gold Fleet Week Cruise below, plus they go out all three days, but the Blue & Gold is a half hour longer. Otherwise the cruises are very similar.
Front Row Seats for the Blue Angels
There were a lot of people on board, but it didn't feel crowded. Highly recommended!
I got 50% off my tickets from goldstar.com when I went. Check with them first, at Goldstar. It's free to sign up, then see what they've got.
To book tickets directly with the Red and White Fleet, see Fleet Week Cruise.
---
The Blue and Gold Fleet has a two and ½ hour Blue Angels cruise during Fleet Week, (2021 price was $110 adults, $70 kids 5-12), including two free drinks and open bar. Saturday & Sunday, 1:30-4 pm, leaving from Pier 39.
You can get the tickets at www.blueandgoldfleet.com, and sometimes at Goldstar as well.
---
See the air show from a sailboat.
The San Francisco Sailing Company sometimes has Fleet Week cruises set up for the Thursday through Sunday air shows on their sailboats. See sailsf.com for info.
I went on one of their 90-minute bay cruises and had a great time. For what their regular sailboat cruise is like, and pictures of the boat, see my page on the Privateer cruise.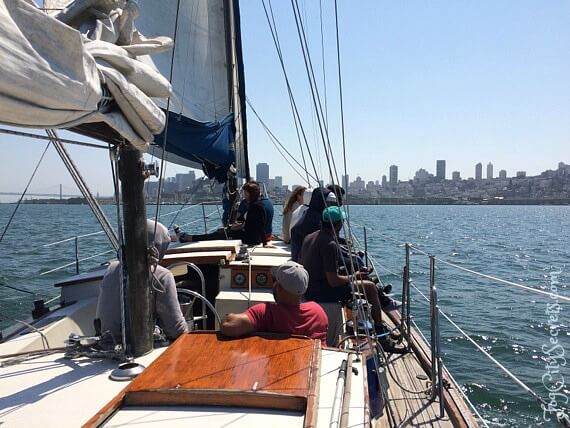 Out on the Bay with the Privateer
---
Hornblower Cruises:
Another way to get out on the water to see the Blue Angels, a bit more expensive at $114.90, but rather elegant, is the Air Show Lunch Cruise on the San Francisco Belle, one of ships in the Hornblower fleet.
The Belle is a charming recreation of an old-time, Mississippi riverboat, complete with paddle wheel and three levels of decks.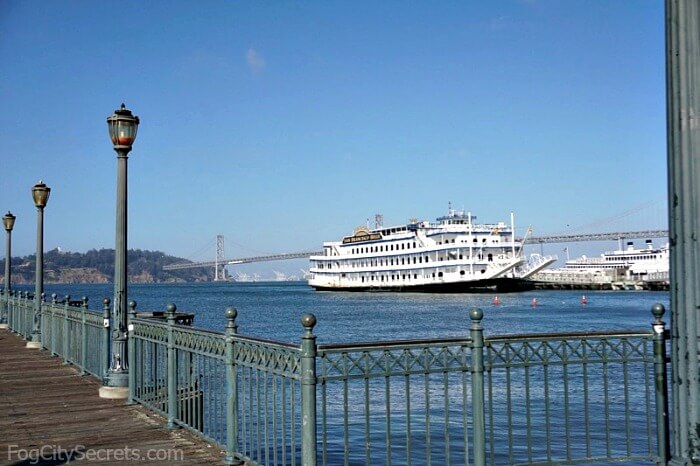 View of the San Francisco Belle from Pier 7
The champagne flows freely and you are treated to an extensive buffet with salads, entrees and desserts, during the two hour voyage.
This cruise goes out at 2:30 p.m. and returns at 4:30 pm on Friday, Oct 7, and Saturday, Oct 8, and Sunday, Oct 9, 2022, of Fleet Week, from Pier 3 (Hornblower Landing) close to the Ferry Building.
Their parking lot at Pier 3 will be closed during Fleet Week, unfortunately.
---
If you're up for a longer cruise on a historic war ship, you might consider the USS Jeremiah O'Brien, one of the few remaining liberty ships used to transport troops during WW2.
They have a Fleet Week cruises on Saturday, from 10 to 5 (boarding at 9), that sail around the bay, under the Bay Bridge, and give you a great view of the air show. $165 adults, $100 kids 5-16. See Jeremiah O'Brien for details. Food, drinks and music included. It's an interesting ship to explore (the Titanic's boiler-room scene was filmed on it).
This is the same ship that's normally parked at Pier 45 on Fisherman's Wharf and available for a visit year-round.
---
New addition: full day of sailing on the bay, with lunch and mimosas. This sailboat tour was added in 2021; check back later to see if they are doing it for 2022.  See Lintika's Fleet Week Cruise.
---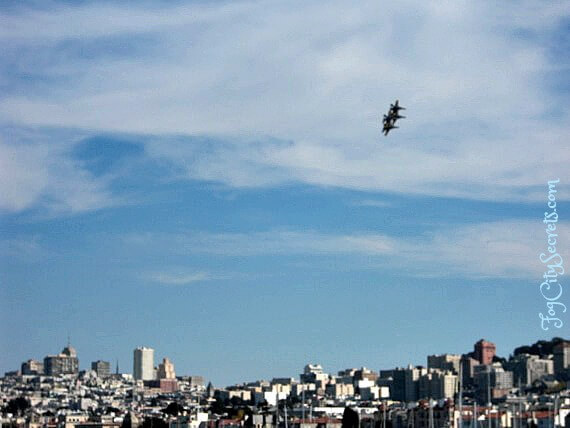 Blue Angels over the City
Tip: the Fleet Week cruises are very popular and tend to sell out, so it's good to book early if you plan on going.

---
Other Events
There is usually a Marine and Navy Band concert in Herbst Theater on Wednesday, at 6 pm. The concert is free. See Honor our Fallen Concert for current info.

There's usually a band concert in Golden Gate Park on Monday of Fleet Week, from 10 to 3. The US Marine Corps Band performs, then there's a competition among local high school bands. It's on the Music Concourse, at the bandshell, between the Academy of Sciences and the de Young Museum. Unknown if it's happening this year.
A long-time, San Francisco tradition, the Italian Heritage Parade, formerly known as the Columbus Day Parade, starts at 12:30 p.m. on Sunday of Fleet Week, at Jefferson and Powell Streets, goes along Jefferson Street in Fisherman's Wharf, then down Columbus Avenue to Washington Square in North Beach (see parade).
There is also a festival at the Marina Green, with food, information booths, etc, from 10 to 5, Friday, Saturday and Sunday, including exhibits about disaster preparedness.
Pier 39 has some Fleet Week activities, as well. Check out Pier 39 for scheduled activities.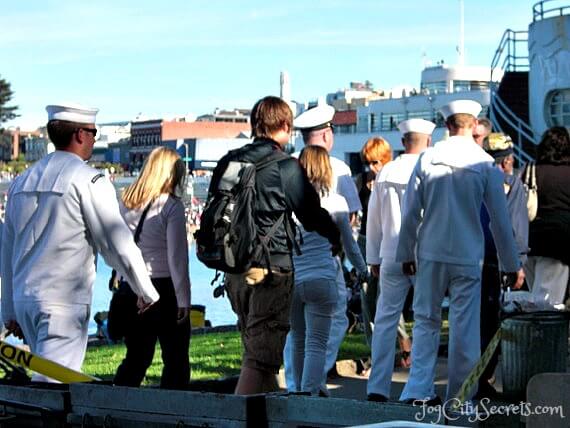 Some of our sailors
---
Getting to Fleet Week San Francisco
Public Transportation for Fleet Week
Around 1 million people come to watch the Blue Angels. The sheer size of the crowds for Fleet Week in San Francisco is pretty scary, so a hefty dose of patience is required for taking Bart or Muni.
Coming into the City on Bart, or taking Muni: 
Get off Bart (or Muni) at Embarcadero station, then go upstairs to Market Street where you can catch the F-line trolley in the direction of the Ferry Building. Or walk to Fisherman's Wharf, about 35 minutes along the Embarcadero.
The F-Line Trolley runs along the Embarcadero (the street along the waterfront where all the piers are) to Pier 39 and Fisherman's Wharf. You can use your Muni (but not BART) transfer for the trolley. Muni buses and streetcars are now $3.00 for adults, $1.50 for seniors 65+ and youth 5-18. 0-4 yrs, free. Exact change required (or use the MuniMobile app on a mobile phone, or a Clipper Card, to pay, and get a slight discount.).
If you're going to the Navy ship open houses, get off at the pier(s) listed on the ship tours schedule (see info on ship tours and map). Piers 30/32 are not on the F-line; they are about six blocks south of the Ferry Building on the Embarcadero. For the Blue Angels show, get off at Fisherman's Wharf (the end of the F-line). 

---
Coming by Car:
Driving to Fleet Week in San Francisco sounds like something only an insane person would do, but it's surprisingly easy! At least where parking is concerned.
Parking...
There are a number of parking areas among the piers along the Embarcadero, within walking distance to Fisherman's Wharf; see my page on Embarcadero parking for maps and details.
The catch is that it can be double the usual price for special events like Fleet Week. Pier 23 is about a 15 minute walk to Fisherman's Wharf.
Note: I may earn a small commission if you make a purchase through the link below, at no extra cost to you. This helps me provide all the free information I post on this website.
Something you may want to consider is reserving a parking space using the Spot Hero parking app. You can compare the parking garages and lots in the area and book one that works for you ahead of time.
---
Drive or take public transportation...?
I've done it both ways during Fleet Week, and driving and parking at the piers was vastly less stressful and frustrating than waiting in the long lines for the trains and trolleys, and being packed in with the crowds. I live in the city, but if you're coming over the Bay Bridge, the traffic might be as bad as the crowds on Bart!
If you hit the evening rush hour on Bart or Muni, or a Giants game, or both like I did, you have my sympathy! It's a trade-off: expense vs. inconvenience. But it's all worth it to see the Blue Angels come roaring in over the Golden Gate Bridge!
---

Insider Tips:
When to Go. Get there at least a couple of hours before the Blue Angels show starts (usually around 3 p.m.) to avoid the worst of the crowds and to get a good (free) viewing spot. See Blue Angels San Francisco for more info on the best place to watch from. The Blue Angels rehearsal on Thursday is usually the same show, but it's less crowded.
Park at Pier 23 or 27. Much less stressful. Expensive, but makes the whole experience more enjoyable.
See the Pilots. Hang around until evening on Saturday and see the Blue Angels pilots up close at the autograph-signing at the entrance to Pier 39, from 6:15 to 6:45 p.m.
Where to Catch the Trolley. Get on the F-line trolley at either the first or last stops along the Embarcadero: at the end of Market Street at Main Street, above ground from the Embarcadero BART station, and at Jones Street between Jefferson and Beach Streets at the Fisherman's Wharf (marked on map below).
Don't try to board at other stops; the trolley is usually packed and you may not be able to get on. If the crowds are bad at the Embarcadero stop on Market Street, hike back to the previous stop on Market (at 1st Street).
Walking is a great alternative: 25 to 30 minutes from the Ferry Building to Fisherman's Wharf. Or a take water taxi from Pier 1 1/2 (next to the Ferry Building), or a pedicab.
If you are coming for the Friday Blue Angels show, know that the SF rush hour starts around 3:30 p.m.; commuters leaving the downtown area and locals leaving town for the weekend jam the routes to the bridges and freeways, and BART and Muni can be packed leaving the city. Thursday rush hour is almost as bad. For the sake of your sanity, I suggest having dinner in the city and leaving after 7:00 p.m.
---
Transportation to Fisherman's Wharf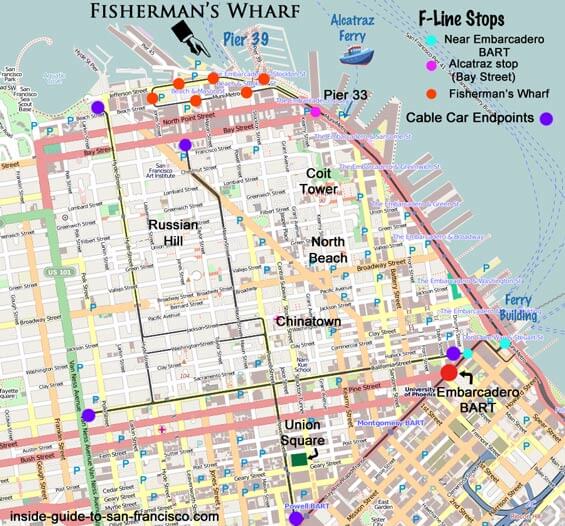 ---
---
---
For more info on the Blue Angels... their history, training, air show, and best viewing spots, see Blue Angels.
---
More to explore...
---
Fleet Week SF