By Karen
Parade of Ships and Ship Tours 2023

SF Fleet Week - Oct 2-10, 2023

Parade of Ships 2023: 
Friday of Fleet Week, October 6, 2023, at 11:00 am.
Ship Tours Schedule for 2023: 
Wednesday, Oct. 4: 10-2, Pier 30/32.
Thursday, Oct. 5: 10-4, Pier 30/32.
Friday, Oct. 6: No ship tours.
Saturday, Oct. 7: 10-4, Piers 30/32 & 35.
Sunday, Oct. 8: 10-4, Piers 30/32 & 35.
Monday, Oct. 9: 9-12, Piers 30/32 & 35.
See below for ship schedules and locations.
Note: locations of specific ships aren't announced now until the ships are at the docks.
---
Parade of Ships
To kick off Fleet Week in San Francisco, the Navy sends a line of ships sailing under the Golden Gate Bridge and past the waterfront area.
Some of these ships are available to explore during the ship tours.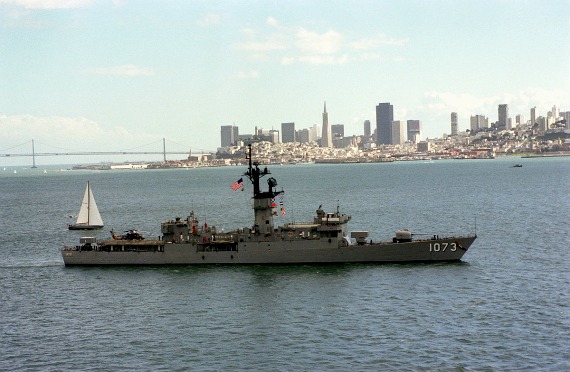 The Parade of Ships in 1981
The parade begins at 11:00 a.m. on Friday of Fleet Week, October 6, 2023, with the first ship passing under the bridge, followed by the remaining ships.
The procession usually continues for an hour or two.
Best Places to Watch
There is a good view of the ships anywhere along the waterfront from the bridge itself to the Ferry Building at the end of Market Street.

---
Fleet Week Ship Tours 
The locations of the specific U.S Navy ships aren't announced until the ships are in place at the docks (for security reasons).
The US Coast Guard ship will be at Pier 19 (possibly).
The US Navy ships will be at Piers 35 and 30/32.
---
Go onboard the ships...
U.S. Navy ship available for exploration
Each year, typically five of the Navy and Coast Guard ships have open houses.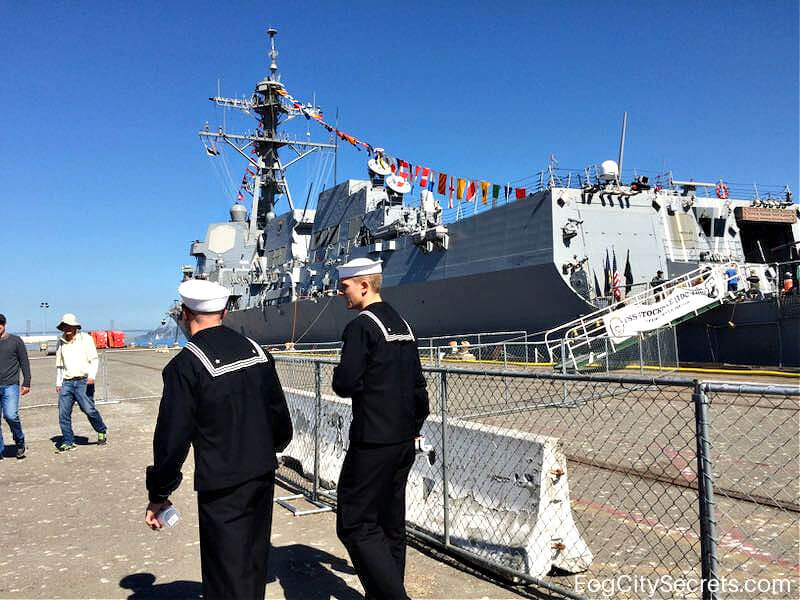 Fleet Week sailors
The public is invited to go aboard, meet the sailors and explore the war ships: pretty cool.

Lines for the ship tours can be long!
Advice for every year: this is very popular, so go early if you can. Expect some serious lines.

Ship tours are free.

Important: be sure to check out the Navy's requirements for visiting the ships, e.g. no children under 7, government-issued, photo ID's required for all 18 and over, no high heels, no large backpacks or large purses (what = "large"?), no glass containers, no pets including service animals, etc.
Plus, there is no storage area for bicycles, skateboards, or strollers, and they can't be left on the pier near the ships.
See current status on the official Fleet Week site for more info.
In 2023, masks are not required to board the ships.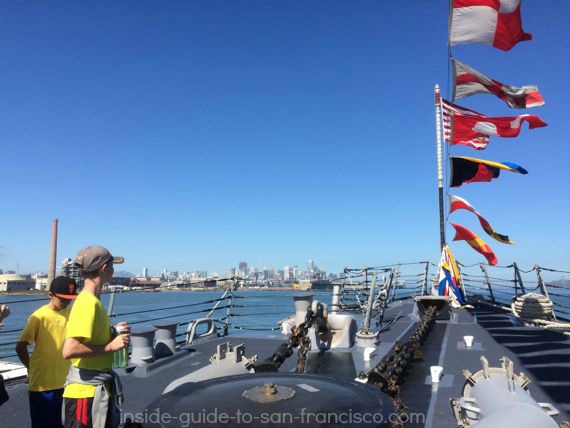 On the Deck of the USS Stockdale
---
They've just announced two of the ships for 2023:
USS John P. Murtha (LPD-26), amphibious transport dock ship.
USS Paul Hamilton (DDG-60), guided missile destroyer.
USS John P Murtha (LPD-26)
USS Paul Hamilton (DDG-60)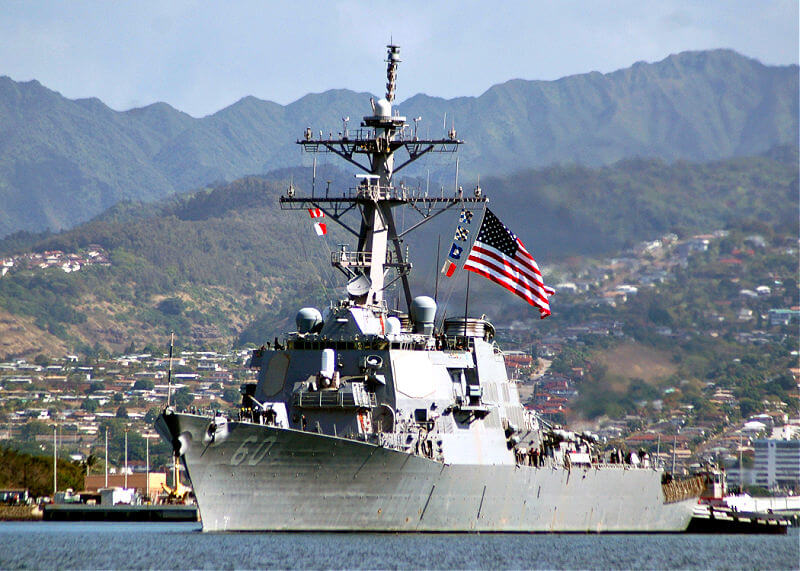 ---
Here are some of the ships from last year, 2022. They usually have the same types of ships each year, though the individual ships vary.
This gives you an idea of what will be available for tours.
USS Fitzgerald (DDG 62)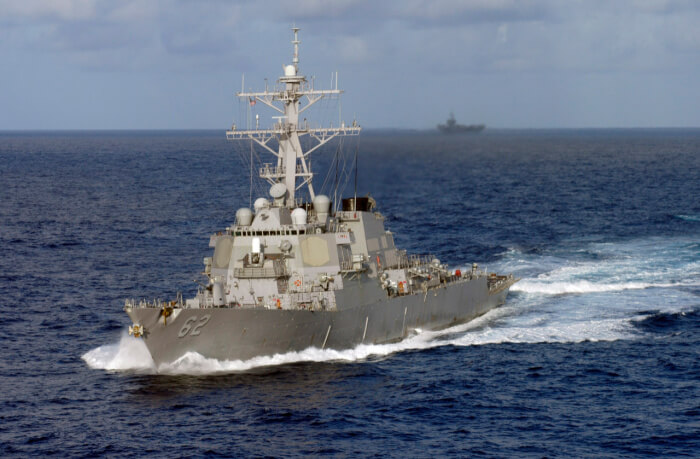 The USS Fitzgerald is a guided missile destroyer, commissioned in 1995 and based in San Diego.

The ship was named after Lieutenant William C. Fitzgerald who was killed in combat in Vietnam in 1967. He received the Navy Cross for heroism in sacrificing himself to save his men.
The Fitzgerald was involved in a serious accident in 2017 when it collided with a Philippine container ship near Japan. Seven crewmen were killed, including the ship's commanding officer. The investigation concluded it was caused at least in part by crew failures, and the damage repairs took two years. See article on the investigation for details.
---
USS Princeton (CG 59)
The USS Princeton is a Ticonderoga-class, guided-missile cruiser. The ship can launch short and long range missiles, and carries anti-submarine helicopters.
The Princeton hit a mine during Operation Desert Storm in 1991 and was severely damaged, and three crew members were injured.
She was commissioned in 1989 and is based in Long Beach.
---
USS Harpers Ferry (LSD 49)
The USS Harpers Ferry is an amphibious assault ship that transports troops, equipment, vehicles, and helicopters for beach landings.
She has been involved in a number of humanitarian missions over the years, performing rescues due to cyclones, typhoons, earthquakes and a ship sinking.
The Harpers Ferry was commissioned in 1995 and is due to be retired in 2024.
---
USS Kansas City (LCS 22)
The USS Kansas City is a littoral combat ship designed for quick maneuvering close to shore. It can land troops, clear mines, and protect larger ships. The ship also carries missile launchers and helicopters that take off from its deck. 
The USS Kansas City is a relatively new addition to the US Navy, built in 2018 and commissioned in 2021. The home port is San Diego. 
---
USCGC Terrell Horne (WPC 1131)
CPO Horne on a training mission
The U.S. Coast Guard Cutter Terrell Horne was commissioned in 2019 and is based in San Pedro, near Los Angeles. 
She was named after Senior Chief Petty Officer Terrell Horne III, who died in 2012 protecting his fellow sailors when their boat was rammed by drug smugglers.
Her missions include sea rescues, smuggling enforcement, and patrolling port areas. 
---
Piers with Ship Open Houses in 2023: 19, 30/32 and 35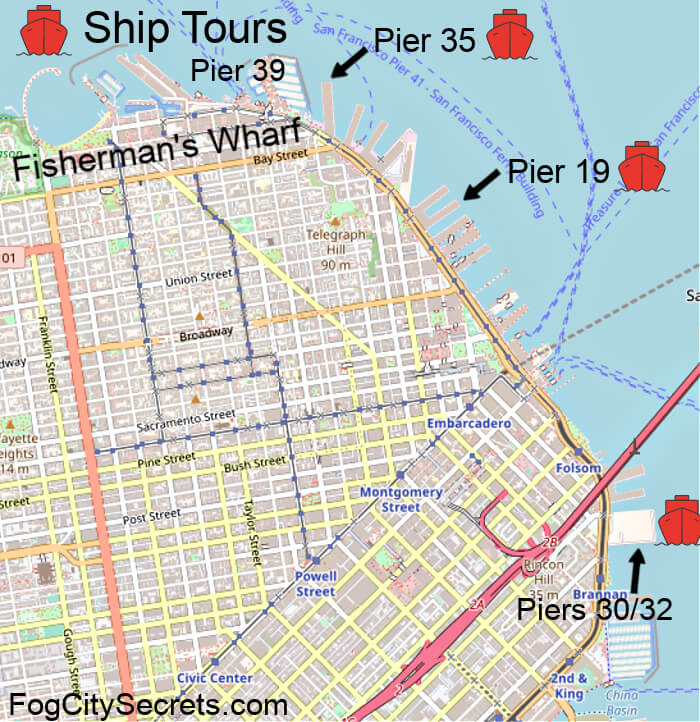 The Coast Guard ship will be at Pier 19, and the other ships will be at the other piers, two ships to a pier.

Pier 35 is near Fisherman's Wharf, and Pier 19 is further down the waterfront towards the Ferry Building.
Piers 30/32 are in the industrial area past the Ferry Building, just on the other side of the Bay Bridge.
Various piers along the San Francisco waterfront are used for the ship tours. Piers 15/17, 19, 30/32, 35, and 50 have been used for the tours in the past.
---
Piers 30 and 32 are at the end of Bryant Street, on the Embarcadero. There is a grand plan to develop this pier into offices and retail spaces, but it hasn't begun yet.

Entrance to Piers 30/32
---
Pier 35 is used to handle the overflow cruise ships when the Cruise Ship Terminal at Pier 27 is in use. It's not far from Pier 39 and Pier 33 (Alcatraz Landing) so parking is challenging.

Pier 35
---
Pier 19 is about halfway between Fisherman's Wharf and the Ferry Building.
---
Piers 15/17 house the Exploratorium. There's an expensive parking lot across the street.

Parking Lot at Pier 15
---
Pier 50 is one of the "industrial" piers south of the Bay Bridge. It's next door to Pier 48, and there's a huge parking lot in front of both of them that's used for baseball game parking at AT&T Park nearby.
---
See my page on San Francisco piers for maps of all the piers and what's located at each one.
---
Parking ideas...
For information on parking in the area, see my tips on Embarcadero parking.
Note: I may earn a small commission if you make a purchase through some of the links on this page, at no extra cost to you. This helps me provide all the free information I post on this website.
Another parking option is to book a parking spot in advance through one of the parking apps. I've been using them more and more; you can try Spot Hero for the best possibilities.
Pier 35 usually hosts one of the ships and is right in the heart of things, near Pier 39 and Alcatraz Landing (Pier 33). This area will probably book up the fastest.
---
Find more information on:
---
More to explore...
---