Parade of Ships and Ship Tours
Fleet Week SF 2018
Fleet Week: October 1-8, 2018
Note: the Parade of Ships and ship tours schedules for 2018 aren't out yet, but you can read about last year's events and ships. They are very similar each year. I'll post the current info when it's available.
Parade of Ships: Friday, October 6, 2017, 11:00 am to 12:00 pm.
Ship Tours: Tuesday, October 3, through Monday, October 9. See below for ship schedules and locations.
Parade of Ships 2017
To kick off Fleet Week in San Francisco, the Navy sends a line of ships sailing under the Golden Gate Bridge and past the waterfront area.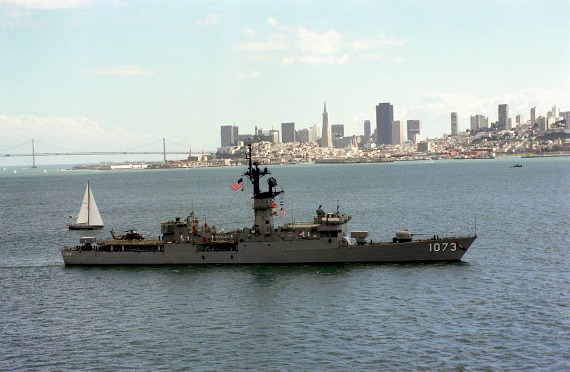 The Parade of Ships in 1981
The parade begins at 11:00 a.m. on Friday, October 6, 2017, with the first ship passing under the bridge, followed by the remaining ships.
The procession usually continues for an hour or two.
Best Places to Watch
There is a good view of the ships anywhere along the waterfront from the bridge itself to the Ferry Building at the end of Market Street.
---
Fleet Week Ship Tours for 2017
Note: last-minute changes. It looks like the USS Dewey has been canceled, and the USCGC Stratton has been substituted for the USCGC Midgett.
Go Onboard the Ships
Typically, five or six of the Navy ships have open houses each year. The public is invited to go aboard, meet the sailors and explore the war ships: pretty cool.
Advice for every year: this is very popular, so go early if you can. Expect some serious lines. Ship tours are free.
Important: be sure to check out the Navy's requirements for visiting the ships, e.g. no children under 7, government-issued, photo ID's required for all 18 and over, no high heels, no large backpacks or large purses (what="large"?), no pets including service animals, etc. Plus, there is no storage area for bicycles, skateboards, or strollers, and they can't be left on the pier near the ships. See ship tours on the official Fleet Week site for more info.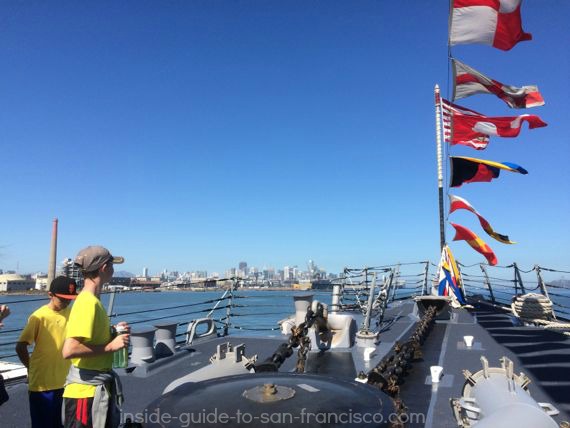 On the Deck of the USS Stockdale, 2015
Guided Missile Destroyer
---
This year's ships available for touring...
HMCS Winnipeg, a Canadian Navy frigate. Pier 15/17.
USS Essex, a US Navy amphibious assault ship. Pier 30/32.
USCGC Stratton, a US Coast Guard cutter. Pier 35.
USS Dewey, a US Navy guided-missile destroyer. Pier 35. (canceled).
USS Champion, a US Navy minesweeper. Pier 35:
MV Cape Horn, a US Navy ready reserve supply ship. Pier 50.
Ship Tour Schedule: October 3-9, 2017
Tuesday, Oct 3: 10 to 2
USS Essex, Pier 30/32

Wednesday, Oct 4: 10 to 2
USS Essex, Pier 30/32

Thursday, Oct 5: 10 to 2
HMCS Winnipeg, Piers 15/17

Saturday, Oct 7: 9 to 4
USS Essex, Piers 30/32
HMCS Winnipeg, Piers 15/17
USS Champion, Pier 35
USCGC Stratton, Pier 35
MV Cape Horn, Pier 50 (10 to 4)

Sunday, Oct 8: 9 to 4
USS Essex, Piers 30/32
USS Champion, Pier 35
HMCS Winnipeg, Piers 15/17 (9 to 12)
USCGC Stratton, Pier 35

Monday, Oct 9: 9 to 4
USS Essex, Piers 30/32 (9 to 12)
USS Champion, Pier 35
HMCS Winnipeg, Piers 15/17
USCGC Stratton, Pier 35


---
Piers with Ship Open Houses for 2017:
---
Piers 15/17 house the Exploratorium. There's an expensive parking lot across the street.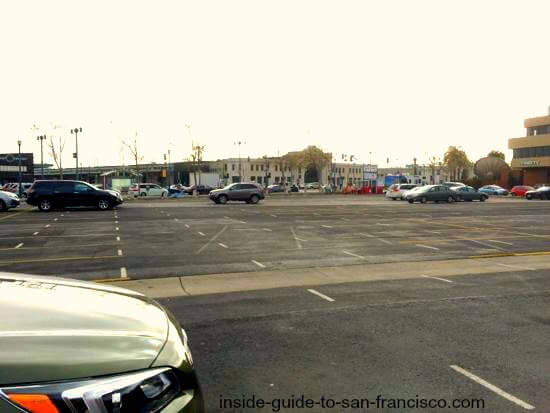 Parking Lot at Pier 15
Piers 30 and 32 are at the end of Bryant Street, on the Embarcadero. There is a parking lot across the street here also.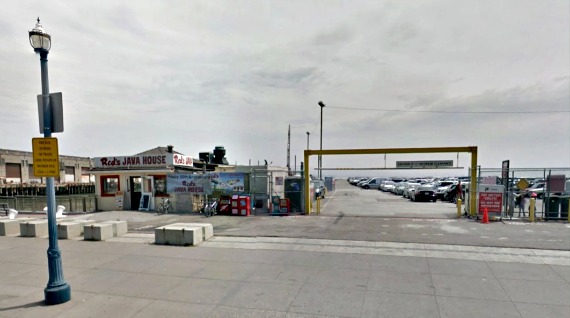 Entrance to Piers 30/32
Pier 35 is used to handle the overflow cruise ships when the Cruise Ship Terminal at Pier 27 is in use. It's not far from Pier 39 and Pier 33 (Alcatraz Landing) so parking is challenging.
Pier 50 is one of the "industrial" piers south of the Bay Bridge. It's next door to Pier 48, and there's a huge parking lot in front of both of them that's used for baseball game parking at AT&T Park nearby.
See my page on San Francisco Piers for maps of the piers and what's located at each one.
Parking ideas...
For information on parking in the area, see my tips on Embarcadero Parking.
Note: I may earn a small commission if you make a purchase through some of the links on this page, at no extra cost to you. This helps me provide all the free information I post on this website.
Another parking option is to book a parking spot in advance through one of the parking apps. I've been using them more and more; you can try Spot Hero or Parking Panda for the best possibilities.
I took a look about a week in advance and found Parking Panda had places at the huge AT&T lot near Pier 50 (one of the ship tour venues). For Pier 32, another venue, Parking Panda had spaces about three blocks away. Spot Hero had spaces a little farther away, but a little cheaper.
Pier 35 is hosting three of the ships and is right in the heart of things, near Pier 39 and Alcatraz Landing (Pier 33). This area will probably book up the fastest.
---
The ships with open houses in 2017...
HMCS Winnipeg (FFH 338)
HMCS Winnipeg
The Winnipeg is a Canadian Navy war ship that operates mainly in the Pacific and Arctic Oceans for the defense of Canada.
The frigate has participated in missions in the Middle East in connection with the wars in Iraq and Afghanistan, and has been involved in efforts to stop drug trafficking in the waters off Central America.
In 2009, the Winnipeg rescued a Norwegian tanker being attacked by Somali pirates in the Gulf of Aden. The pirates were captured, but then released because of the limitations of Canadian law allowing their prosecution. The frigate was in the area protecting ships delivering food and medicine to East Africa.
USCGC Midgett (WHEC-726)
Another Coast Guard cutter, the USCGC Stratton, has just been substituted for the Midgett.
USCGC Midgett
The Midgett is a high-endurance Coast Guard Cutter, designed for being at sea for long periods.
The Midgett is currently based in Seattle and patrols the West Coast, including Alaska and Central America. Her missions are varied and include Homeland Security, enforcing maritime and fishing laws, stopping drug smugglers, and conducting rescue operations.
The ship is named after Coast Guard Chief Warrant Officer John Allen Midgett, who won nation's highest medal for life-saving when he rescued the crew of a burning, torpedoed oil tanker in World War I.
The Midgett family from Virginia has an amazing record. Five other family members have also won that high honor, and there are 130 members of the family still alive that have served with the U.S. Coast Guard (and over 30 now on active duty).
USS Champion (MCM 4)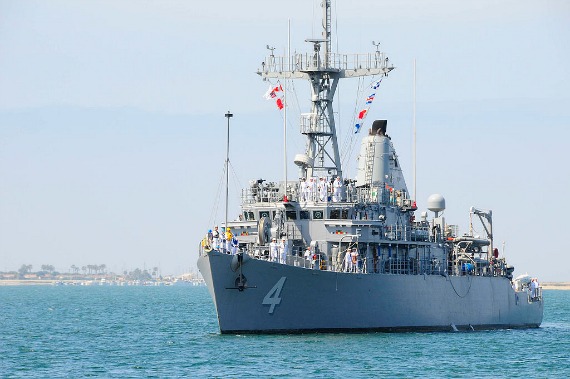 USS Champion
The Champion is a minesweeper, with a crew of 84. The ship has also been involved in other activities, like the evacuation of Albanians from Kosovo in 1999.
USS Champion above is lowering a mine-detecting device in the Gulf of Mexico. The underwater vehicle is operated remotely and can neutralize any mines it locates.
USS Dewey (DDG 105)
The USS Dewey's appearance was canceled.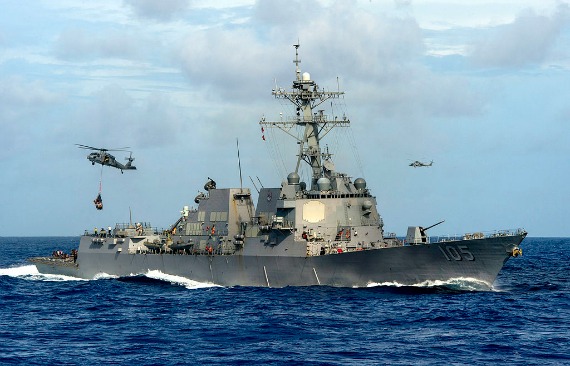 USS Dewey
The USS Dewey is a guided-missile destroyer, named after Admiral George Dewey, a hero of the Spanish American War in 1898.
This ship was involved in a confrontation with the Chinese Navy earlier this year, resulting from it's operation in the South China Sea, in an area claimed by China but considered by the US to be international waters.
The USS Dewey was also one of the ships that went to the aid of the USS Fitzgerald, the US Navy destroyer that collided with a container ship near Japan in June of 2017.
USS Essex (LHD 2)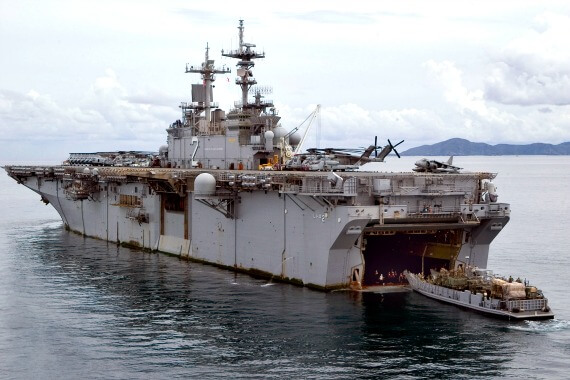 USS Essex
The USS Essex is an amphibious assault ship.
These ships are used to land military vehicles and personnel on shore using landing craft or helicopters. They can carry 5 tanks, 25 amphibious assault vehicles, and 68 trucks, plus over 1800 marines.
The USS Essex was involved in extracting a multinational force from Somalia under fire in 1995, and in the evacuation of US Embassy personnel from Kuwait in 1998 during the Iraq war.
The ship was also involved in rescue operations in Indonesia, following the massive tsunami in 2004, as well as delivering relief supplies to Japan after the 2011 earthquake and tsunami.
MV Cape Horn (TAKR 5068)
USNS Bob Hope (TAKR 300) - (similar ship).
The Cape Horn is part of the ready reserve, a group of ships owned by the US Maritime Administration, and is used as back-up by the US Navy.
These ships are loaded with equipment and supplies and are prepostioned around the world in locations where they may be needed in an emergency.
The ship is berthed normally at Pier 50 in San Francisco, and assigned to the US Navy's Pacific Strategic Sealift Force when activated.
---
More to explore...