By Karen
Visit Alcatraz Like an Insider
Before you visit Alcatraz, check out these tips from a local...

Ticket status during the Coronavirus period. 
Alcatraz Island is open again, Day Tours, Night Tours and Behind the Scenes Tours only.
The Alcatraz/Angel Island Tour is not currently running.
They are back to the normal ticket schedule now, and the Cell Block is open now for the audio tours.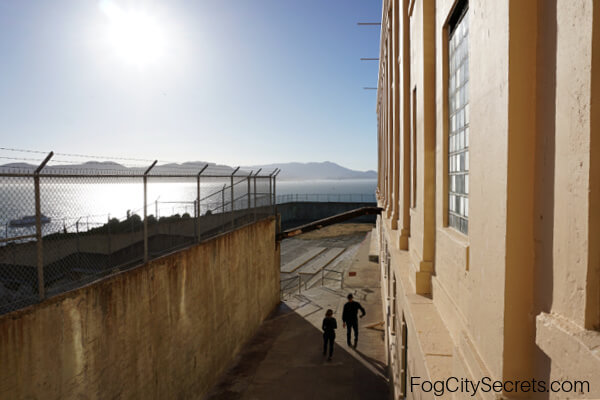 Entrance to the Exercise Area
---
How to Visit Alcatraz
The only way to visit Alcatraz is to take one of the ferries operated by the City Experiences company.
Other Bay cruises may include a trip past or around Alcatraz, but they don't let you get off on the island (see other San Francisco Bay cruises).

The boats leave from Pier 33 on the San Francisco Embarcadero, the waterfront boulevard running from Fisherman's Wharf to the Ferry Building.
Pier 33 is also called Alcatraz Landing. See maps below.

Leaving Pier 33, Alcatraz Landing
---
Alcatraz Tours
City Experiences offers four ways to visit Alcatraz:
Day Tour of Alcatraz
Alcatraz Night Tour
Behind the Scenes Tour
Alcatraz and Angel Island Tour
For information on what is included during these tours and the free guided tours on the island, as well as information on what you'll see in the prison, see Alcatraz Prison Tours.

To find out more about what the the night tour is like, and photos, see Alcatraz night tour.
For the scoop on the newest tour, see the Behind the Scenes tour.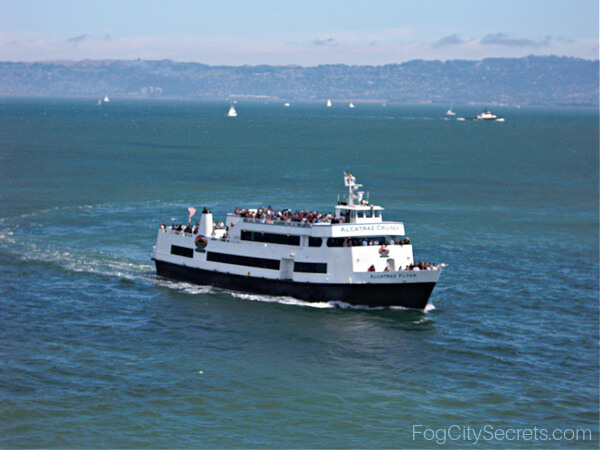 ---
Taking the Alcatraz Ferry
The ferry to Alcatraz leaves from Pier 33 (Alcatraz Landing) on the Embarcadero.
The City Experiences company operates the ferries to Alcatraz.
This ferry only goes to Alcatraz (and Angel Island on the combination tour).
Reservations are required via City Experiences at cityexperiences.com.
Boat Schedule
Day Tours. The Alcatraz ferries for the day tours depart from Pier 33 daily, every 30 or 60 minutes (depending on the day and season) from 8:40 am to 3:50 pm (1:35 pm in winter), or later, and return every 30 or 60 minutes.
Departure times for the return boats are posted at Pier 33 and at the dock on Alcatraz. You can take any boat back, but don't miss the last one!
Night Tours. The night tour currently runs Tuesday through Saturday, at 5:55 and 6:30 p.m, and lasts about 2.5 hours. Return boats leave Alcatraz at 8:40 and 9:25 pm.
It varies with the seasons; winter has only one night tour sailing, and summer season has two.
The Behind the Scenes tour also runs five days a week, one sailing. In summer, it runs Tuesday through Saturday, at 4:20 pm. 4.5 hours.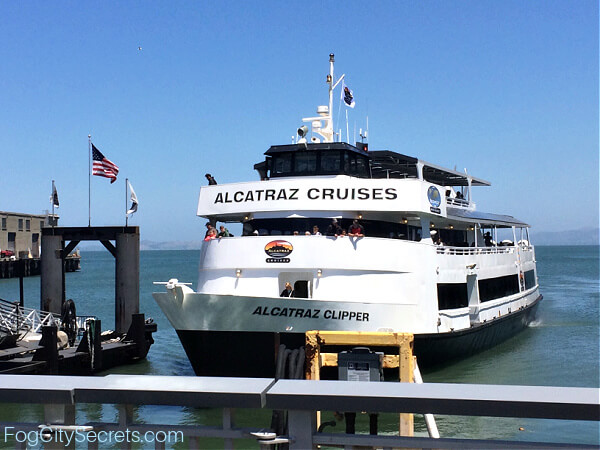 Pier 33, Alcatraz Ferry Landing
---
Alcatraz Tour Tickets
Buying Tickets to Alcatraz
City Experiences is the official concessionaire for the U.S. Park Service which administers the island and prison.
They sell the Alcatraz tickets online, at cityexperiences.com, by phone at 415 981-7625, or at the ticket booth on Pier 33, 9 am to 6:30 pm.

How the Tours and Tickets Work
The ticket that you buy from City Experiences includes:
  1. The ride to and from the island
  2. The Audio Tour of the prison
The Night Tours and Behind the Scenes tours have additional activities.
See Alcatraz tours and tickets for tips on buying Alcatraz tickets and what to expect on the various Alcatraz island tours.
---

Insider Tip:
If you don't plan on doing the Alcatraz Audio Tour (which is excellent) because of time constraints, language difficulties, restless children, etc., you can get a refund for that portion of the tour ($8.00 for adults, a bit less for others).
The Audio Tour is available in English, German, French, Dutch, Spanish, Italian, Russian, Portuguese, Korean, Japanese and Mandarin.
How to get the refund: Unfortunately you can't get it when you buy your tickets. When you enter the prison, you will be offered the headsets for the tour. Tell them you don't want one and you will get the voucher. The refund is only available on the Day Tours.
---
The rest of the activities on the island are free:
  (a) Guided Tours: volunteers with the National Park Service give 45 minute tours on various topics (English only).
  (b) Videos on the history of Alcatraz.
  (c) Walking through the cell block and recreation area.
  (d) Exploring the island, including the old Civil War fort and the nature preserve.
When you arrive at Pier 33, you can get a brochure with a map of Alcatraz and other information.
Booklets about Alcatraz are available on the Alcatraz dock for $1, in English, French, German, Spanish, Italian and Japanese.
There is also a bookstore on the island with a large selection of material about Alcatraz.
---
Alcatraz Combo Tours
Another way of getting Alcatraz tickets is to purchase a combination tour, where Alcatraz tickets are paired with one or more other San Francisco attractions or activities.
Since there are no discounts for Alcatraz tickets, getting a package deal can be one way of saving some money, if there are other tours you plan to do while you're here.
Also, it's one way to get tickets for Alcatraz when the official seller, cityexperiences.com, is sold out.
Alcatraz can be be paired with a large variety of other activities, where the total cost can be less than buying the tickets individually.
If you're planning to do a city tour, or see Muir Woods or Sausalito, or go on a bay cruise, you can find tours like that combined with Alcatraz.
Also things like food tours, Segway tours, beer pub tours, and lots of other fun things may be available along with Alcatraz.
Note: I may earn a small commission if you make a purchase through some of the links on this page, at no extra cost to you. This helps me provide all the free information I post on this website.
Alcatraz & SF City Tour. You can get Alcatraz tickets and a bus tour of the main SF attractions, with pickup from your hotel. $150. See Alcatraz & City Tour for more info and booking.
Alcatraz & Bay Cruise. See Alcatraz and also spend 90 minutes sailing around the bay on a catamaran (and under the bridge). Gorgeous views! $139. See Alcatraz and Bay Cruise for info and booking.
Alcatraz and Bike Tour. Do Alcatraz one day and another day do a guided bike tour, along the SF waterfront, across the Golden Gate Bridge, and down into the charming town of Sausalito. $179. See Alcatraz and Bike the Bridge for info and booking.
Alcatraz, Muir Woods & Sausalito. Tour Alcatraz and explore the ancient redwoods of Muir Woods all in one day, with a stop in the charming, seaside town of Sausalito. $159. See Alcatraz, Muir Woods & Sausalito Tour for info and booking.
To check out the available Alcatraz combo tours, see combination tours (lots to choose from!).
---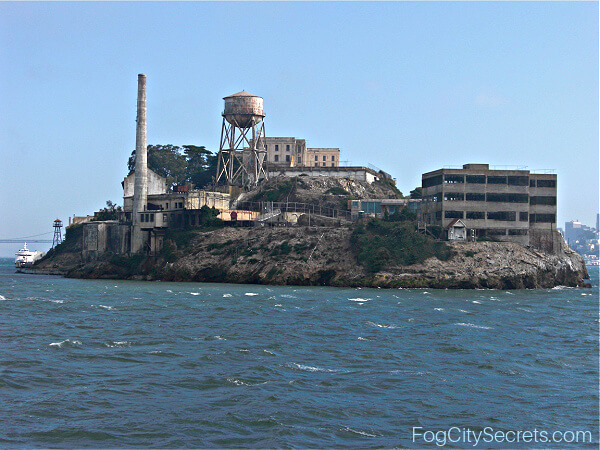 Other Side of Alcatraz Island
Alcatraz tickets sold out?
Don't despair! There are ways to get tickets. See Last Minute Tickets

The Alcatraz ferries and tours run all year round, but the island is closed on Christmas Day, New Year's Day, and Thanksgiving.

---
What is the best time of year to visit Alcatraz? 
The best time of year to visit Alcatraz is in the fall, September or October, our most reliably warm and sunny months.
The ferries run rain or shine, but some months are rainier than others.
As a general guide, September and October are the warmest and sunniest months, November, December, January and February are the coldest and wettest, March can be wet, but not that cold, April is variable (often sunny, with occasional rain), and May, June, July and August are often foggy, but with no rain.
Our rainy season is nothing like Seattle's; even in a typical "wet" year, it will rain off and on for two or three days, then we get a few sunny days, so you can get a good day any time of year.
Blessed as we are with a quasi-Mediterranean climate, even in wet years the rain usually disappears by May, often by April, and doesn't start up again until November.
See more about our San Francisco weather.
---
What to Bring With You When You Visit Alcatraz
No matter what time of year you visit Alcatraz, be sure to bring a jacket! 
What may look like a warm sunny day when you start out often turns into a cold, foggy and windy afternoon, especially in the "fog season": May, June and July. Also, it tends to be colder and windier out on the Rock.
If you forget, however, you can always buy one of those "Alcatraz" sweatshirts once you get there, in the bookstore on the dock or in the gift shop at the prison!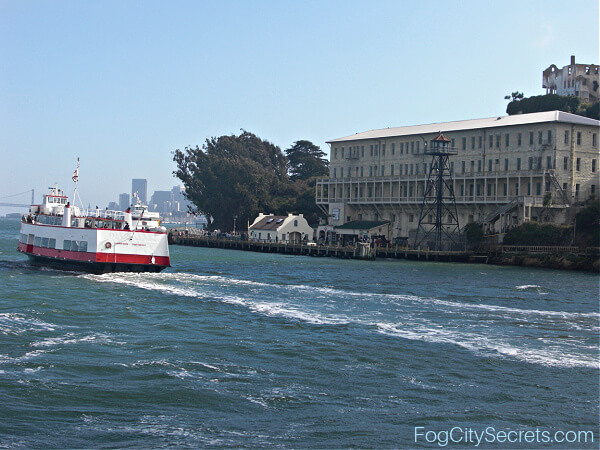 Red & White Ferry Passing Alcatraz Dock

Reminder:
City Experiences has some requirements for boarding the ferries:

 # 1. Don't forget to bring an ID with your photo on it when you visit Alcatraz. It is required as a safety precaution, first to purchase or pick up your tickets at Pier 33, and as you are boarding the ferry if you have a pre-printed ticket. If you used a credit card on the phone, you will need to show them the card used to buy the ticket. Only the person who purchased the ticket on the phone or online needs to show ID.
 # 2. Certain items cannot be taken on the boat, in addition to the obvious ones like weapons. They include:
There is no place to store stuff at Pier 33 while you visit Alcatraz. A few bike racks are available, but they can fill up.
Practical Tip:
The California Visitors Center at Pier 39 used to store luggage for a small fee but it appears they don't do that anymore.

More things to bring:
Bottled water.
You can't get food and drinks on the boat anymore, and there's no food available on the island. They prohibit eating anywhere on the island. You can buy bottled water at the shop on the dock.
Your mobile phone or other camera.
The best views of San Francisco (in my opinion) are from a boat out in the Bay.
It's worth going to visit Alcatraz just to see the City from this amazing vantage point.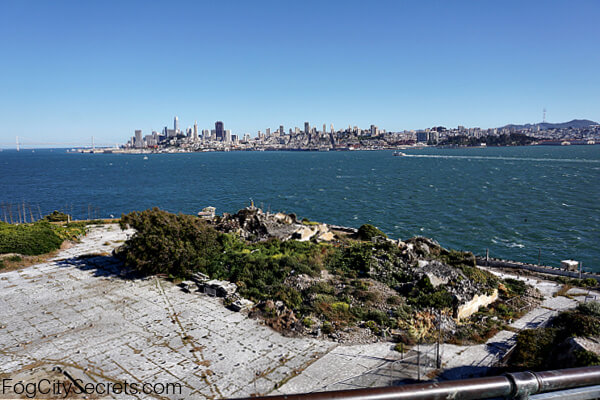 View from Alcatraz
The usual items.
Sunglasses, sunhat, sunblock, etc. Anything you think you might need for the next 3 or 4 hours.
Shopping is very limited on the island, unless you need a shirt, baseball hat, bottled water or a special Alcatraz prison cup!

---
Getting on the Ferry
Covid rules: as of August, 2023, no vaccination proof is required to get on the boat, and masks are recommended, but not required, in the loading area, on the boat, and on the dock at Alcatraz.
Thirty minutes before departure, there will be a long line waiting to get on the boat. Should you get there early so you can be at the front of the line and get a good spot?
No. Good News! There is plenty of seating and the best spots are standing along the railing anyway. People rush on and take the seats on the open decks up above.
When the boat starts, many people leave their seats to go over to the rail where the view is better, or walk around the boat, so the seats will open up if you want one.
You also have a choice to sit outside on the decks or inside and look out the windows.
The ferry company asks you to be at the pier 30 minutes prior to boarding, but you don't have to be in the line for 30 minutes.
There is a snack bar and shop on Pier 33 next to the departure point, so you can relax and have a cappuccino while you're waiting to visit Alcatraz. Have a snack, too; no food is available on Alcatraz, and they don't want anyone eating there, either.
---
On the Island: food, drink and more...
The Park Service has strict rules about food and drink when you visit Alcatraz. 
No eating or drinking other than water is allowed anywhere on Alcatraz.
On the ferry, there used to be a snack bar serving sandwiches, hot dogs, nachos and snacks, plus beverages (beer and wine were served only on the return trip), but apparently now, post Covid, that has been discontinued. 
Your visit to Alcatraz may last several hours, so I used suggest bringing a snack or sandwich with you to eat on the dock before or after you explore the island. But now it's best to eat before you go. 
The only beverage allowed past the dock area is water. Cold bottled water is for sale in the bookstore. Good idea to take some with you; it can be a warm hike up the hill to the prison.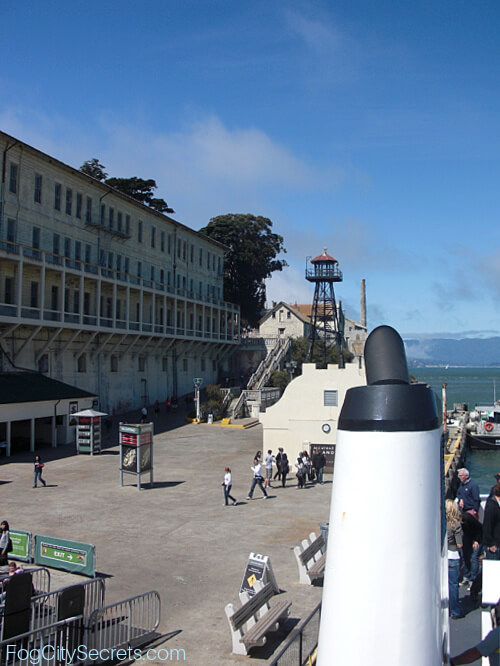 Alcatraz Dock
---

Insider Tip:
Are there bathrooms on Alcatraz? Yes, there are bathrooms on Alcatraz. However...
A word to the wise, especially those traveling with children: there are only two restrooms on the whole island.
One bathroom is on the dock, but the other bathroom is at the top of the hill near the Alcatraz lighthouse, a long way from the dock.
You won't get to it until after the climb up the hill and at the very end of the Audio Tour in the prison.

---
The climb up to the prison is a rather steep and long: a distance of 1/4 mile (.4 km) with one switchback. You will be climbing a hill 13 stories tall.
Wear comfortable walking shoes when you come to visit Alcatraz.
Prior to the federal penitentiary, the island was used as an army fortress, and later as a military prison.
Confederate prisoners were held here during the Civil War. You can explore some of the buildings still remaining from that period.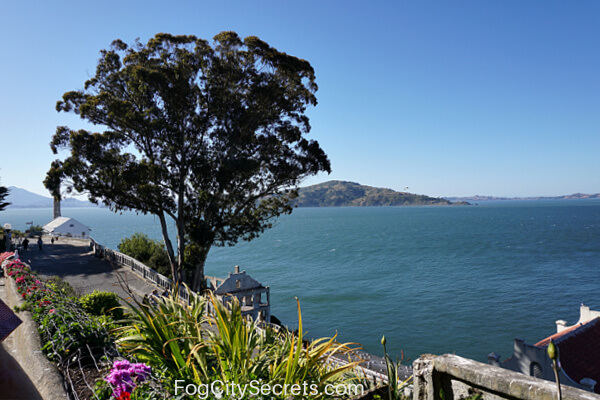 Gardens and View from Alcatraz
Some of the buildings were burned during the Indian occupation of Alcatraz in 1969-1971.
The warden's house on top of the hill was one of the casualties; only the shell remains.

Sign from the Occupation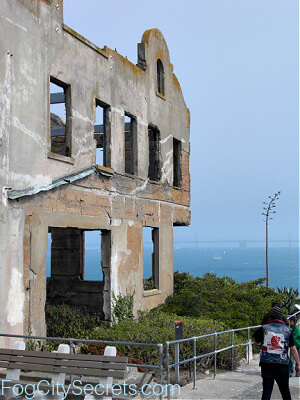 Warden's House
Special transport is available for those with difficulty walking.
An electric vehicle pulling two small cars carries passengers from the landing dock up to the prison every 35 minutes. Ditto going down.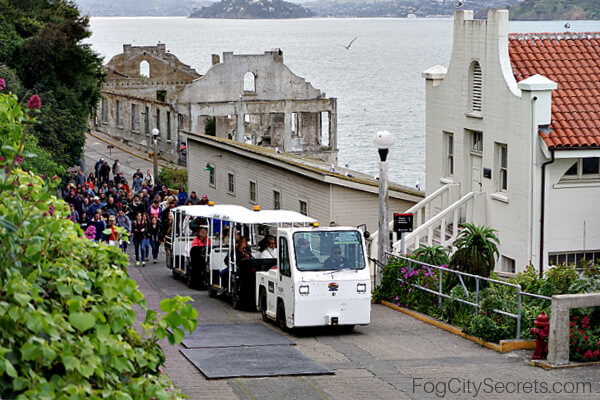 S.E.A.T. Tram
---
Shopping on Alcatraz
If you're interested in getting Alcatraz souvenirs, there is a large selection for sale on the island.
The bookstore has some, but the biggest collection is in the gift shop at the top of the hill, just as you leave the prison.
Along with the usual T-shirts, hats, mugs and posters, you can stock up on replicas of prison clothing, cell keys, official guard pins and tin prison cups!
There are lots of books and DVDs about Alcatraz as well.
---
Getting to Pier 33
Pier 33 is located on the Embarcadero, near Francisco and Beach Streets.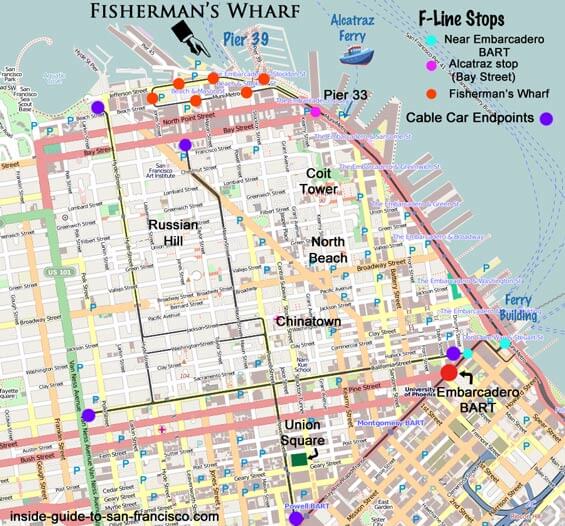 ---
Going by Car - Parking Tips
Street parking in this area is dismal.
There are a few metered spots, but not long enough to visit Alcatraz, so plan to use a parking garage or lot (expensive) or park on the street without meters in another neighborhood (like the Sunset District) and take public transportation.

Pier 33 Parking
There is a cluster of parking garages in the general area of Pier 33 and a couple of parking lots that are possibilities, price-wise.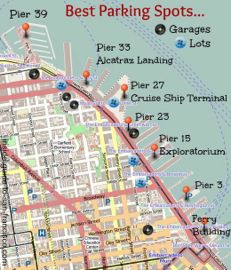 There are about a dozen garages and lots within a few blocks of Alcatraz Landing at Pier 33 that I would recommend.
See my page on Embarcadero parking for details and maps showing their locations.
I think the easiest parking is at one of the nearby piers that offer spaces:

Pier 27 (very close to Pier 33). The new cruise ship terminal has a big lot outside that is fairly reasonable: $15 first 2 hours, $20 per day weekdays, $25 per day weekends. Open 6 am to 11 pm You would need more than 2 hours for Alcatraz.
Pier 27 closes when a cruise ship is docked there. See ship schedule for unavailable days.
Pier 23 (6 minute walk to Pier 33). Cavernous parking area inside the pier building. $20 flat rate. Weekdays 7 am to 8 pm, Sat. 8 am to 8 pm Sun. 10 am to 6 pm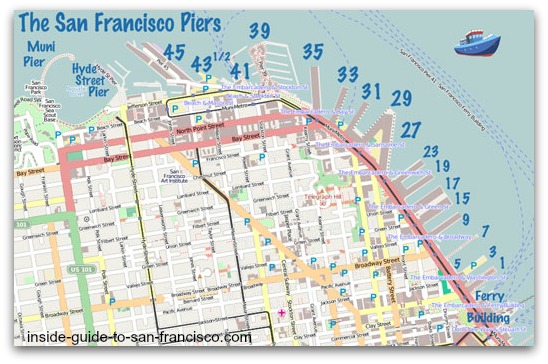 ---

Insider Tip:
Something to try: there's a parking lot right across the street from Pier 33 (at 2 Bay Street), which is usually full and generally quite expensive. But I've had luck getting good deals using parking apps along the Embarcadero.
Twice on visits to Alcatraz, I got 8 hours of parking in that lot for $8. See what you can find on Spot Hero.
But two suggestions: book it in advance and don't leave anything visible in the car. When we got back after dark, one of the cars in the lot had been broken into. This is becoming an epidemic in SF, unfortunately.
Parking Caveat for self-park lots. There have been instances of thieves pretending to be parking attendants and collecting parking fees at unattended lots and garages.
Check carefully to see what the payment arrangement is for the place you're parking. You'll see signs telling you to get a ticket from the machine to place in your car (and see the machines) if it's a self-park lot or garage. This has happened at the Pier 27 lot and other places.
---
Taking BART to Alcatraz Landing
If you're coming into the City on BART, get off at Embarcadero station and come up to the surface on Market Street.
There is an F-Line trolley stop in the same block (see map below); you will want to be on the south side of Market Street (going towards the end of Market Street where the Ferry Building is).
The next F-Line streetcar stop is Steuart Street, just past the end of Market Street towards the Ferry Building and the bay.
Take the trolley along the Embarcadero to the "Bay Street" Stop at Pier 35, and walk back a short distance to Pier 33.
(Also see Map of F-Market Line and Bart Stations for the entire F-Line route).
Standard adult fare on San Francisco buses and streetcars is $3.00, exact change required. Youths 5-18, and seniors 65 and over, pay $1.50.
Or use the Muni Mobile app, $2.50 per adult.
Market Street Trolley
San Francisco has a collection of antique streetcars from U.S. and European cities that run on the F-Line, from the Castro District along Market Street to the Embarcadero, past Pier 33 and Pier 39 to Fisherman's Wharf.
The Alcatraz stop is "Bay Street" at Pier 35, close to Pier 33.
Buses
The #10 Townsend bus stops at Pier 33.
You can go to a page to download a Downtown Transportation Map showing the BART, bus and streetcar routes.
Using public transportation in San Francisco. There are now alternatives to needing exact change on the buses and trolleys.
See getting around SF for my transit tips and a description of the passes, mobile apps, and cards you can use instead of cash.

Walking from Embarcadero BART station. Come up on Market Street and head for the Ferry Building, straight ahead one block at the end of Market Street, then go left and walk along the Embarcadero to Pier 33.
About a 16 minute walk at a brisk pace.

---
Coming from Fisherman's Wharf
Take the "F-Line" Trolley along the Embarcadero and get off at the Bay Street stop at Pier 35, and walk a short distance further to Pier 33.
If you want to take the trolley, get on at the first stop on Jones Street and Jefferson Street. It gets really full and for later stops you probably won't get a seat and sometimes can't get on at all.
Or walk the whole way (about 7 minutes along the Embarcadero from Pier 39, and 20 minutes from the Hyde Street Pier at the other end of Fisherman's Wharf).
There are also pedicabs that go from Fisherman's Wharf down the Embarcadero.
Enjoy your visit to Alcatraz!
---
More to explore...
---