Horseback Riding in San Francisco
After an absence of decades, horseback riding came back to San Francisco, if only briefly!
Pot a Gold Adventures provided horseback riding in Golden Gate Park and McLaren Park during the spring and summer of 2017.
We were hoping horseback rides would become a permanent fixture, but it looks like that isn't going to happen. They didn't return for the summer of 2018 and the future status is unknown at this point.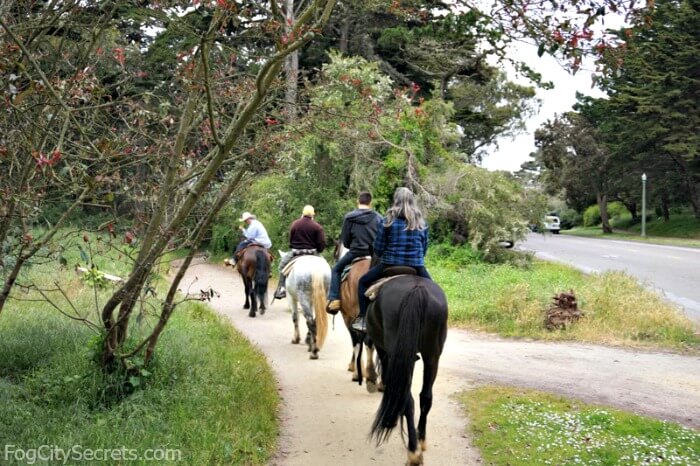 A Ride in Golden Gate Park
---
Guided Tours
Horses were available at the Equitation Field on Chain of Lakes Drive, in Golden Gate Park, and a guide took riders on a trip through the park trails.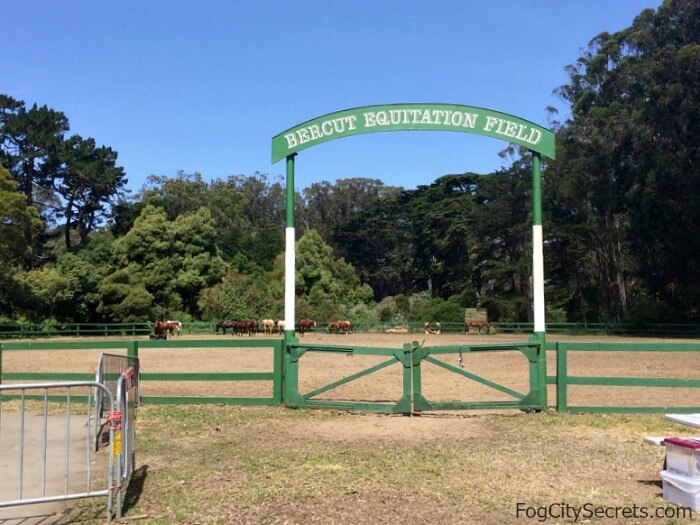 The horses and guides were the same as the ones up in San Francisco's Camp Mather in the Sierras every summer. (potagoldwesternadventures.com)
---
Getting to Equitation Field
By Bus or Muni: 
The 5-Fulton bus runs along the northern edge of Golden Gate park. Get off at 43rd Avenue and head into the park on Chain of Lakes Drive.
The N-Judah Muni streetcar runs parallel to the park two blocks south. Best stop: 40th Ave, then take 41st Ave to Chain of Lakes Drive.
By Car:
There's free parking at the Equitation Field, as well as another free lot across the street.
---
Our Ride
We were fortunate to be able to go on one of the rides while they were available in Golden Gate Park. We saddled up at the appointed time; and they had steps so we city folks could get up on the horses. The horses were very patient (as was the staff).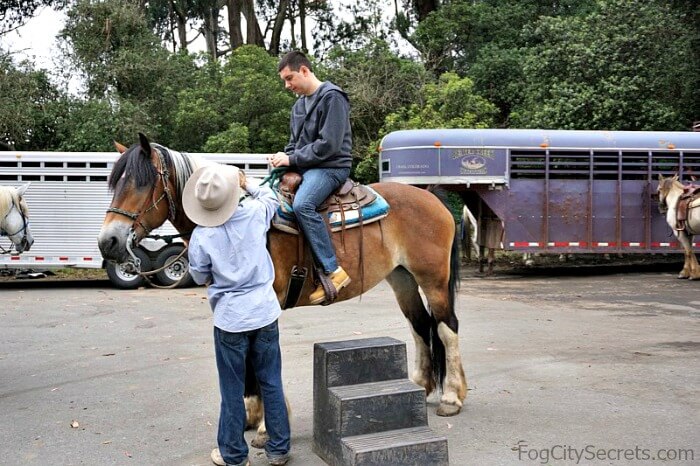 We did a one hour ride, which took us west towards the ocean and past both windmills. The horses were good-natured plodders, following nose to nose with only occasional attempts to eat the grass.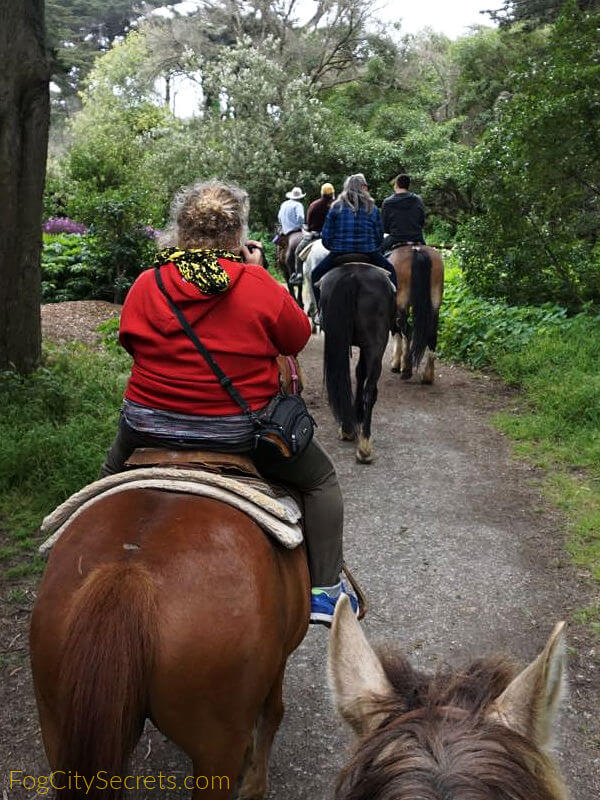 A very relaxing ride; a couple of times crossing a street, but the cars stopped, so no problems. The only problem was getting off the horse; the less said, the better (my problem, not the horse's, who stood patiently while I struggled).
---
Our Guide
Dylan was our leader, very friendly and helpful. A real cowboy; he was the 2016 bull-riding champion of Alaska.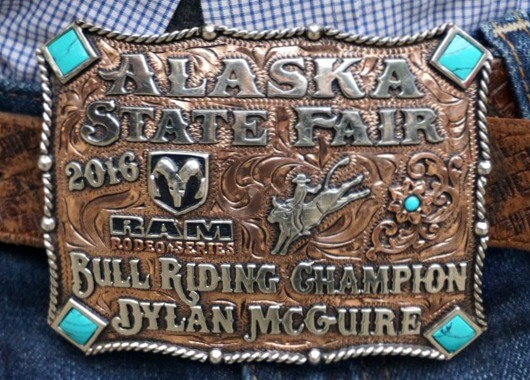 ---
Hours and Prices
Below is information about the horseback riding program that was here in the summer of 2017.
Horseback rides were available daily, from 8:00 am to 5:00 pm, with a 7:00 pm sunset ride as well. Their sign said walk-ins welcome, but they recommended reservations for the weekends when they were busy.
1/2 hour: $40 ($30 SF residents)
1 hour: $60 ($45 SF residents)
1.5 hours: $80
Sunset rides $25 more
15 minute pony ride: $20 (walk-ins)
Helmets were available, but not required. No open-toed shoes or sandals.
Ages 5 and up could ride. There were 15-minute pony rides for kids, too, that weren't mentioned on the website.
---
Here's hoping horseback riding comes back to San Francisco!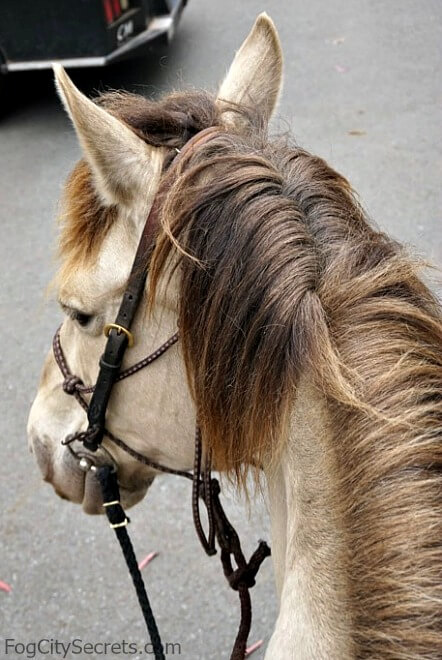 Rosie
---
More to explore in Golden Gate Park...
Horseback Riding