Horseback Riding in San Francisco
They're back!
After an absence of decades, horseback riding is back in San Francisco!
In the summer in 2017, riding in Golden Gate Park reappeared briefly, only to disappear again. Another brief appearance happened in the winter of 2019.
But in the summer of 2020, the horses returned, and are still available for booking in 2021!
The latest company to provide horseback riding in Golden Gate Park is the Chaparral Ranch. 
Horseback riding lessons and trail rides became available in July 2020, and are located at the Bercut Equitation Field.
It's just off the Chain of Lakes Drive that runs through the park between 41st Ave (south side) and 43rd Ave (north side). See map below.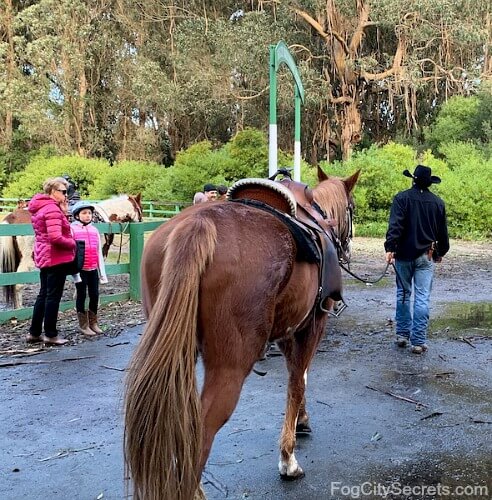 Chaparral Ranch Horses in the Park
---
Chaparral Ranch will be providing the horseback riding in Golden Gate Park.
They're based in Woodside, down the Peninsula, and they also do trail rides there, as well as at Camp Mather in Yosemite.
Pot a Gold Adventures provided horseback riding in Golden Gate Park and McLaren Park during the spring and summer of 2017.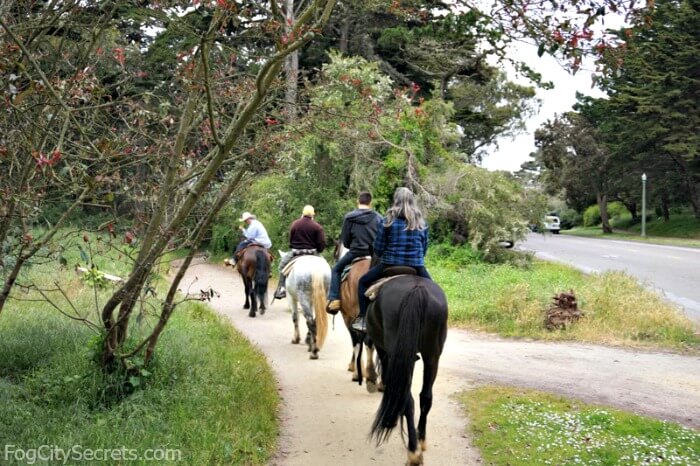 A Ride in Golden Gate Park
---
Guided Tours
Horses are now available at the Equitation Field on Chain of Lakes Drive, in Golden Gate Park, and a guide takes riders on a trip through the park trails.
Before the trail ride begins, there is a 15 minute lesson on how to ride and control your horse.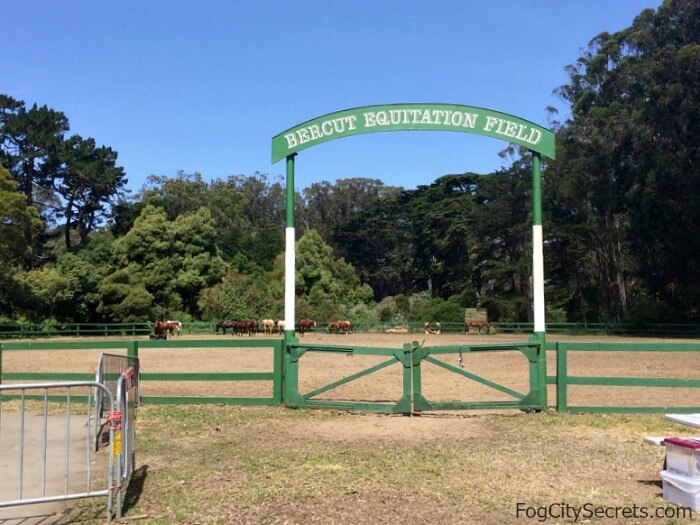 Riding Ring at Bercut Equitation Field.
---
Hours and Prices
Horseback rides are available daily. 
See chaparralcorporation.com for more info and booking.
30 minutes: $40 
45 minutes: $60 
60 minutes: $80
15 minute pony ride: $15 (ages 2-6)
They also do horse camps for kids and riding lessons (for everyone) .
Helmets are available, (and required for riders under 18). Long pants and closed-toe shoes required to ride. Must be at least 8 years old for trail rides.
There are 15-minute pony rides for kids, too. Ages 2-6. 
---
Getting to Equitation Field
By Bus or Muni: 
The 5-Fulton bus runs along the northern edge of Golden Gate park. Get off at 43rd Avenue and head into the park on Chain of Lakes Drive.
The N-Judah Muni streetcar runs parallel to the park two blocks south. Best stop: 40th Ave, then take 41st Ave to Chain of Lakes Drive.
By Car:
There's free parking at the Equitation Field, as well as another free lot across the street.
---
Our Ride (in 2017)
We were fortunate to be able to go on one of the rides in 2017 while they were available in Golden Gate Park. We saddled up at the appointed time; and they had steps so we city folks could get up on the horses. The horses were very patient (as was the staff).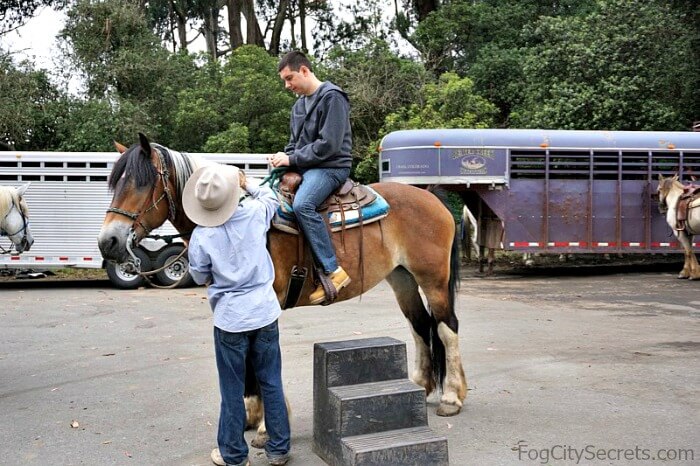 We did a one hour ride, which took us west towards the ocean and past both windmills. The horses were good-natured plodders, following nose to nose with only occasional attempts to eat the grass.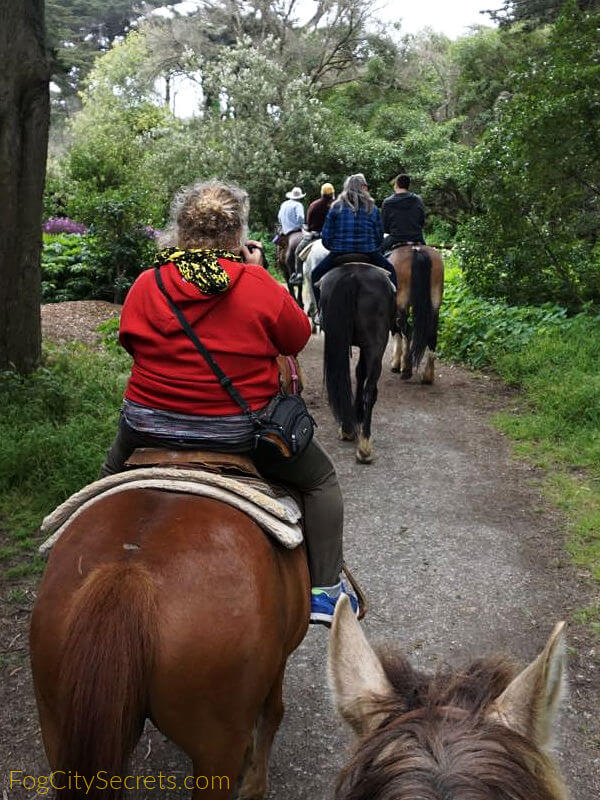 A very relaxing ride; a couple of times crossing a street, but the cars stopped, so no problems. The only problem was getting off the horse; the less said, the better (my problem, not the horse's, who stood patiently while I struggled).
---
Our Guide in 2017
Dylan was our leader, very friendly and helpful. A real cowboy; he was the 2016 bull-riding champion of Alaska.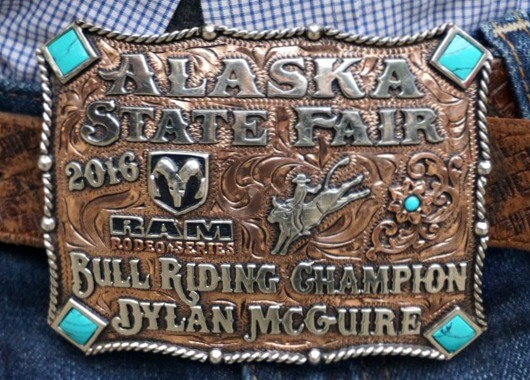 ---
More photos from the 2017 horseback rides in the park.
---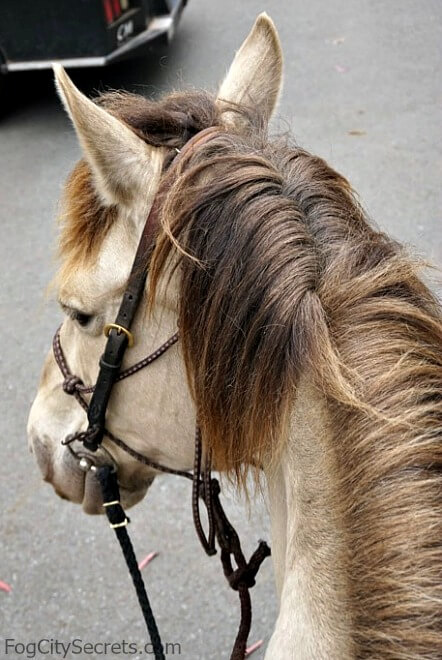 Rosie
---
More to explore in Golden Gate Park...
Horseback Riding