San Francisco Japantown
San Francisco's Japantown is a fun place to explore, but not that many visitors go there. Three indoor malls, and a pedestrian-only block, are lined with a fascinating variety of authentic Japanese shops and restaurants. 
In a way, it's like taking a quick trip to Osaka and immersing yourself in Japanese culture, old and new: anime, ceramics, kimonos, sushi, manga, Japanese fashion, and sweets... a huge variety of Japanese items calling out to be purchased or eaten!
Buchanan Street Pedestrian Way
There are only four Japantown's left in the U.S. now, and San Francisco's is the largest, and oldest surviving one. All four are in California; two are in Los Angeles (Little Tokyo and Sawtelle Japantown) and another is San Jose's Japantown.
San Francisco's Japantown (aka Nihonmachi) tends to be overshadowed somewhat by SF's more famous Chinatown, but there's a lot to see and do in a small area.
It's easy to spend hours here, trying out ramen places, looking at teapots, origami paper and cute, anime-inpired toys.

What's in Japantown?
Japantown in San Francisco is a 6-block area of shops and restaurants along Post Street in the Western Addition neighborhood.
Many of the shops are in a series of malls called Japan Center, as well as a pedestrian-only block of Buchanan Street. This area used to be the center of the Japanese community in San Francisco prior to World War 2.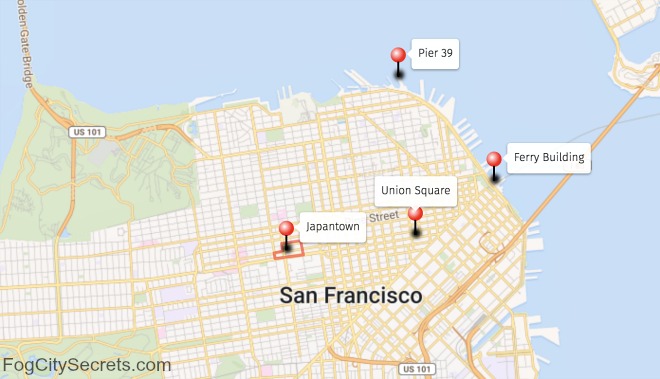 Today, most of the Bay Area Japanese live elsewhere, but many come here to eat and shop, and they've done an impressive job of recreating a Japanese look and feel to this small area of San Francisco.
The Japanese feel is especially strong during one of the annual festivals held in Japantown.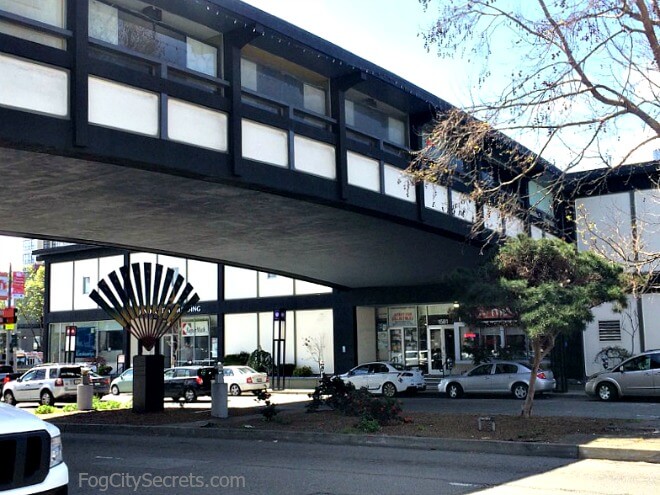 Webster Street Bridge Connecting the Malls
Most of the establishments are inside one of the three, two-story malls built in the 1960's. "Malls" doesn't sound very appealing, but they've created a cool Japanese atmosphere inside the buildings, where rows of unique shops and Japanese restaurants march along the corridors.
The malls run in a row along Post Street, between Fillmore and Laguna Streets: East Mall (Miyako), West Mall (Kintetsu), and Kinokuniya Mall (see map below).
Inside the East Mall
---
Japantown shops to explore...
There are easily a hundred shops and restaurants to investigate; wandering around and discovering all the interesting things is probably the best part of visiting Japantown. Here are some of the highlights:
Note on the "kawaii" phenomenon. Kawaii in Japanese translates roughly as "cuteness", and is currently a big part of the Japanese popular culture. Kawaii encompasses all the ultra "cute" creatures of Hello Kitty, Pikachu and the numberless anime characters, not to mention all the accessories with big-eyed, baby animals, pink hearts, etc.
What started with Sanrio and their ubiquitous kitty, has spread beyond children's entertainment to many aspects of Japanese culture, including fashion, art, film and music. Kawaii is alive and well in Japantown; you'll see oceans of cuteness all through the malls. Pink is the word.
Kids in Japantown
So let's begin with the cute stuff. Kids love Japantown! If you come here with a child, you won't be leaving empty-handed.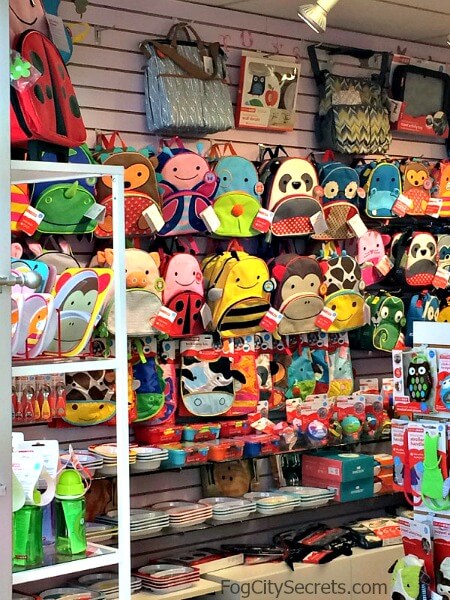 Amiko. Lots of stores like this in Japantown.
Pika Pika
Pika Pika
Pika Pika is a Japanese import, a room with large photo booths where you can take funny pictures and decorate them digitally with all sorts of doodads. Very popular with teens and young adults.
"Pika pika" means sparkle or shine in Japanese. Located upstairs in the Kinokuniya Mall.
Playland Japan
Playland Japan is a popular arcade with all sorts of Japanese games. Kids love it, of course. Located in the West Mall.
Kinokuniya Bookstore
It's a treat to find a huge bookstore with high quality books and other items, in these latter days of disappearing brick-and-mortar stores. There's something about being able to pick up a book and thumb through it that online shopping just can't match.
Kinokuniya is part of a huge Japanese bookstore chain; the San Francisco store opened in 1969, the first one outside of Japan.
It has lots of Japanese books, and books about Japan, but also plenty of English-language books on other topics. The store is in the Kinokuniya Mall, at Post and Webster.
The bookstore also carries other Japanese items related to anime and J-pop. If you ever feel the need for "sushi socks", there they are!
Sushi Socks
If you like the films My Neighbor Totoro and Spirited Away, you'll be pleased to find a large section of Studio Ghibli material, DVD's and books, including many of the less well-known films of Hayao Miyazaki and others.
For Manga Fans...
The entire lower level of the Kinokuniya Bookstore is manga, in Japanese and English.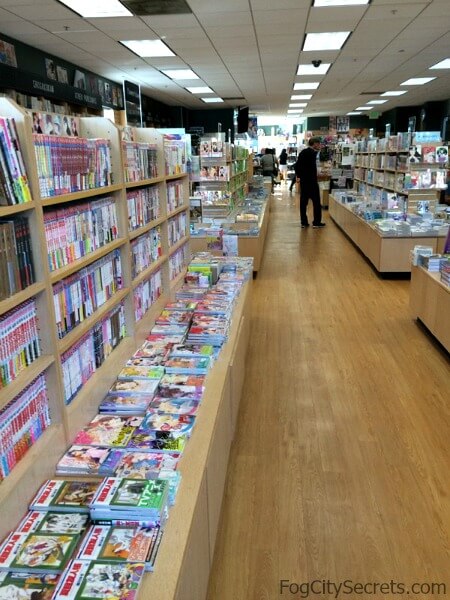 Manga on Lower Level, Kinokuniya Bookstore
Daiso: the Japanese Dollar Store $$$
Or rather the $1.50 Store. All items in Daiso are $1.50 unless marked otherwise. Huge store, with lots of cheap stuff.
This is a Japanese chain store that sell just about anything in housewares you can imagine. Most of it's imported (some Chinese products, but also lots of Japanese items). Check out their large selection of Japanese snacks. Lots of the beloved Pocky stick varieties, plus the candy-stuffed bears. East Mall.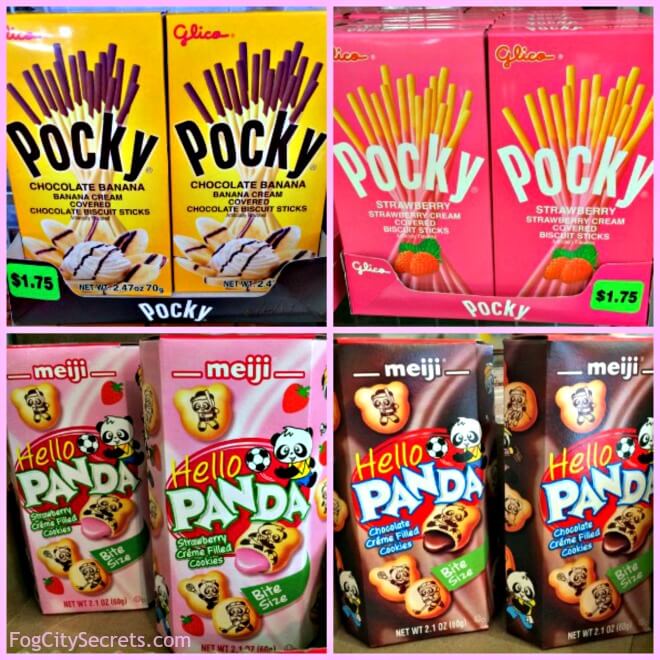 Housewares and More
Japantown has lots of shops selling traditional Japanese goods as well: kimonos, swords, pottery, etc. You'll see them as you explore the malls.
More interesting stores to browse:
Soko Hardware, Japanese housewares, corner of Post and Buchanan Sts.
Ichiban Kan,  fun Japanese knick-knacks, East Mall
Paper Tree, everything origami, pretty paper and books. 1743 Buchanan St.
The "New People" Building
New People, at 1746 Post Street near Buchanan, houses some interesting, contemporary Japanese shops and activities, headquarters for all things J-pop.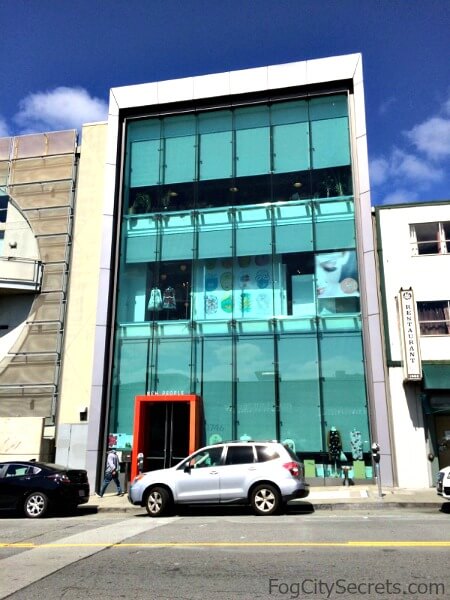 J-Pop Central, New People Building
The first floor has the charming Crown & Crumpet Tea Shop, all in pastels. Up on the top floor is a cool activity: an "escape room" that  is set up with clues to solve the puzzle of getting out of the room. You can reserve times online, at RealEscapeGame.com.
The second floor has two Japanese clothing boutiques. One of the shops is Alice and the Pirates, showcasing a brand of clothing catering to the "sweet Lolita" style, a style and subculture originating in Japan that has super-feminine, frilly, little-girl dresses and accessories for teens and adult women. Odd, but interesting.
Photos in the Alice store are strictly forbidden, but if you want to get an idea of what the fashion is like, check out their online store at Alice and the Pirates. Apparently it's very popular in Japan.
The Cherry Blossom Festival usually has a fashion show based on this style on the Sakura 360 stage.
They also have a theater that shows Japanese films (anime and non) both during the festival, and throughout the year.  
See Cherry Blossom Festival for tips on what to do and see there, plus how to get there, maps and parking.
---
Japantown places to eat...
Eating is one of the delights of Japantown. There are so many restaurants for enjoying ramen, sushi, udon, and more, it's hard to choose! I've just listed a few of my favorites.  Most of the eating establishments here are Japanese, with a few Korean ones as well.
The photo below shows an area labeled "Restaurant Row", in the West Mall.
"Restaurant Row", Japantown
---
Isobune Sushi
&

 the Sushi Boats

Sad news: Isobune Sushi has closed permanently. This was a favorite of many all the way back to the 1980's. It will be missed!


This charming place was the home of the original sushi boats. The owners patented the mechanism and you could nab the irresistible little plates of sushi and more as the boats sailed past your table.

But there's good news, too! Another sushi restaurant, Izumi Sushi, is now at the same location and although they don't have the wooden boats and flowing water, there's a mechanical conveyor belt that sends the tempting dishes past the diners.

Located in the West Mall, just inside from the Peace Plaza. If you park in the Japantown Garage, it will straight ahead as you come up on the stairs or elevator.
Izumi Sushi Restaurant
I tried some of their sushi and it was very good, including my favorites like the lush Dragon Roll and spicy tuna roll.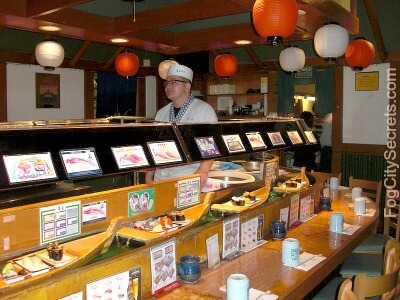 Isobune's Sushi Boats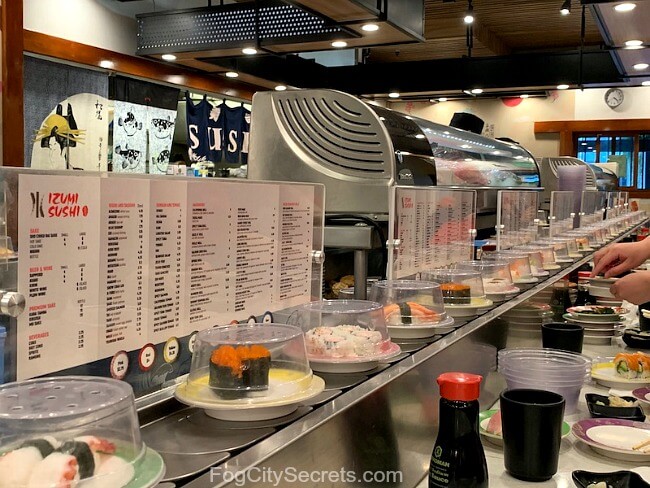 Izumi's Conveyor Belt
There's also another sushi place in Japantown that has the conveyor-belt delivery system: Tenroku Sushi, in the Kinokuniya Mall.
Tenroku Sushi
---
More good places to try:
Marufuku Ramen: new ramen place, Kinokuniya Mall.
Hinodeya Ramen Bar. 1737 Buchanan St.
Udon Mugizo. Kinokuniya Mall.
Shabu-Sen: cook your own meat and veggies. 1726 Buchanan St.
Ramen Yamadaya.  So Cal chain, but good. 1728 Buchanan St.
---
Sweets
Belly Good Cafe and Crepes 
This is a fun place to have dessert for both kids and adults. You design your own crepes from a list of ingredients, including ice cream, honey, kiwi, banana, syrups, chocolate and more. 
Not only are the crepes tasty, they are morphed into adorable animals with little faces made from cookies, cereal, pretzels or candy. More kawaii.
Crepe from Belly Good Cafe
I think I got a rabbit. Delicious, except for the green tea flavored crepe. Interesting, but next time I'll go for the regular one.
Mitsu Teahouse
If you're in the mood for something really different, try their boba tea (sweetened tea with milk and flavorings) topped with a big puff of cotton candy in different colors. Totally kawaii. East Mall.
More sweets:
Benkyodo: family business since 1906, famous for mochi and manju. 1747 Buchanan St.
Sophie's Crepes: sweet and savory, huge yummy crepes. Kinokuniya Mall. Cash only.
Yasukochi's Sweet Shop: family business inside the Super Mira Market at 1790 Sutter St. Reason to go: the coffee crunch cake. Cash or check only.
Mochi are rice flour balls filled with sweet bean paste; they taste better than that sounds. Japantown is a great place to sample authentic Japanese sweets.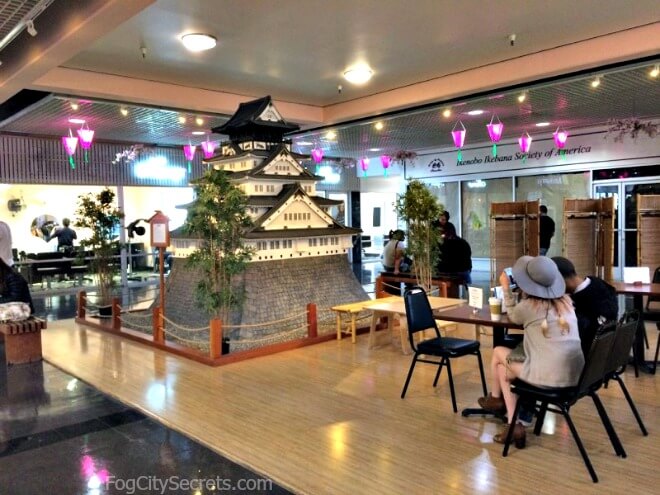 East Mall Japantown, Model of Osaka Castle
---
More Things to Do and See in Japantown
Peace Plaza and Pagoda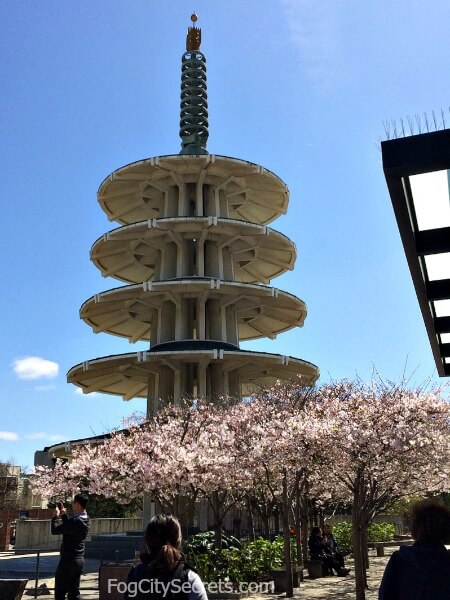 Peace Pagoda During Cherry Blossom Time
Between the East and West malls is a large cement area called the Peace Plaza, with a 5-story pagoda rising above it, the biggest landmark of Japantown. The cement pagoda, a Buddhist stupa, was a gift from Osaka to San Francisco in 1968.  
The Plaza has benches to hang out on; a little bleak without the blooming cherry trees, but convenient for taking a break from shopping.
The Kabuki Theater is now an AMC Theater.
The Kabuki 8 movie theater on the corner of Fillmore and Post Streets used to be one of the coolest theaters in San Francisco, and it's still a good venue to watch a movie. They used to be owned by the Sundance company, but were bought out by AMC in April, 2017.  They've kept some of the theater's original features, but not all.
The Kabuki still shows some independent and art films, but it's mainly mainstream commercial releases now. What made it special were the nice seats, quality food and drink, and absence of commercials. 
They still have the comfortable rocking chairs, reserved seating, and tables next to the seats for the wine, beer, cocktails, and snacks that you can purchase at the bar and bring into the theater with you.
They also have a big selection of cocktails, wines and artisanal beers, draft and bottles, but the food is now more limited to standard movie theater fare, instead of the more varied and "gourmet" selections that Sundance provided.
They sometimes have cocktails that tie in with the movie selection (e.g., the Cantina Cocktail and the Bounty Hunter to go with the Star Wars film).
The popcorn still has real butter, but there are now lengthy commercials shown before the previews. I've read complaints online about the conditions of the bathrooms, but they were clean and well-maintained when I was there.
I went to see a film there recently and it was a good experience. There's a large bar on the second floor where you can order drinks to take in with you or sit and enjoy them in the bar. We took our wine and beer in with us and I was surprised that we got actual glass glasses; much nicer than drinking out of plastic cups! 
There's a parking garage in the same building, with the same low rates as the Japan Center Garage (same people).
Check out their film schedule at Kabuki Theater.
---
Kabuki Springs and Spa
Zone out in Japantown's traditional Japanese bath house. Saunas, massage, facials, baths.  Reservations are a good idea, see their website. Entrance at 1750 Geary Blvd , Kinokuniya Mall.
---
Japantown Festivals
The Cherry Blossom Festival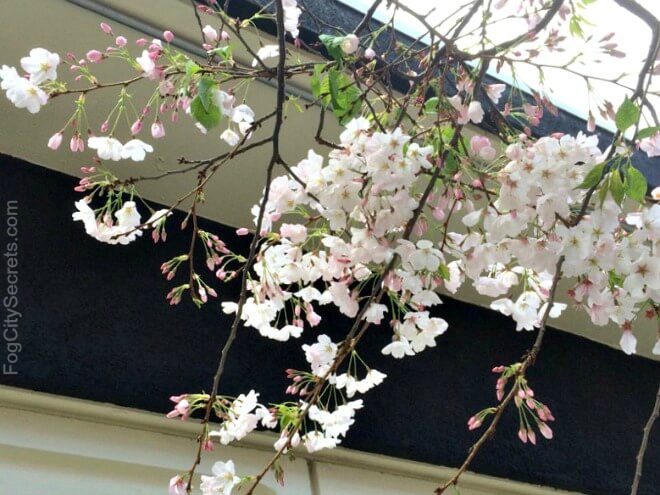 Cherry Blossoms in the Peace Plaza
The Cherry Blossom Festival is a wonderful event that celebrates spring and the arrival of beautiful pink flowers on the cherry trees. And very popular; over 200,000 people show up.
This festival takes place over two weekends in early April every year. Japantown is overflowing with traditional Japanese music and arts, as well as showcasing the latest developments in Japanese popular culture, or J-pop.
Come to enjoy graceful dancers in beautiful kimonos, amazing sword play, and pounding taiko drums.
Or view the latest Japanese fashion in clothes, music, anime and film.
The Cherry Blossom Festival for 2022 returned this April. See my tips on what to see and do.

The Nihonmachi Street Fair
Another fun street fair in Japantown, one weekend in August every year. Wide variety of art, music, and food. Around 30,000 people attend. 
---
Japantown Tours
It can be fun to have someone to take you around and show you the sights and tell you about Japantown's history. There are a couple of ways of doing it.
Note: I may earn a small commission if you make a purchase through some of the links on this page, at no extra cost to you. This helps me provide all the free information I post on this website. 
Free Guided Walking Tours
San Francisco City Guides is a non-profit group that gives free guided tours to lots of San Francisco attractions. No reservations are required, just show up at the time and meeting spot for the tour. Donations go to the organization (not the guides) and are optional, but no pressure.
This organization is very professional and the volunteers who lead the tours know their stuff. They have a combo tour of Japantown and the nearby Fillmore District that takes place once a month. I've been on several of their tours, though not this one yet, and I've really enjoyed them. See City Guides Tours.
Guided Walking Tours
Japantown Food Tour. Take a guided tour with a local expert and learn about (and taste) the fascinating variety of food tucked away in Japantown, along with some of the history. See the  Japantown Food Tour for more info and booking.
Self-guided Walking Tours
You can do your own tour by following a series of 16 signs set up throughout Japantown that explain the history of the neighborhood. Each sign has a map and list of all the signs, so you can move on to the next one easily.
The starting sign is in the Peace Plaza, on the side of the West Mall next to the entryway.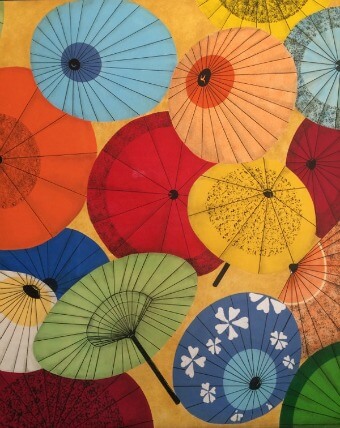 Parasol Mural in East Mall
---
History of SF Japantown
Japanese began moving to the Japantown area in the Western Addition neighborhood after their homes were destroyed in the 1906 earthquake. Most had been living in areas near Chinatown or south of Market Street. 
Western Addition was west of Van Ness Avenue, which was the fire break, so the fire that destroyed a large part of San Francisco never reached the Japantown neighborhood.

The Japanese population was one of the largest outside of Japan by the time World War 2 began. In 1942, the Japanese were interned and the neighborhood was filled in with African-Americans working in the wartime industry.
After the war, some Japanese moved back, but most relocated to other parts of the Bay Area and Southern California, or out of state.
The plaza and malls were created during the 1960's during a flurry of "urban renewal" in the Fillmore District, by this time a center of black culture in San Francisco. Many old Victorians were bulldozed to make room for a widened Geary Boulevard and the  buildings used to house the new shopping area.
This "redevelopment" was controversial, naturally, since it replaced run-down, historically-interesting houses, and small businesses and jazz clubs, with admittedly unlovely commercial buildings, and displaced some of the African Americans who had been living there.
Today there are about 12,000 Japanese-Americans living in San Francisco.
---
Japantown Hotels
Staying in a hotel in  Japantown is a quiet, low-key alternative to the more hectic pace of Union Square or Fisherman's Wharf.
There are two boutique hotels in Japantown that I would recommend: the Hotel Kabuki and the Kimpton Buchanan Hotel.
Hotel Kabuki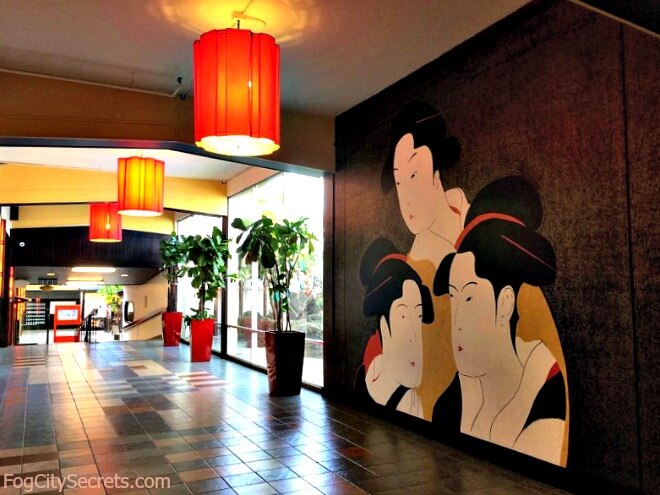 Hotel Kabuki Entrance
The Kabuki creates a serene environment for its guests, with its koi pond, zen garden, and Japanese decor with sliding shoji screens.
Soak in a deep Japanese tub in your room, or use the hotel pass to the Japanese spa nearby. 
Located next to the East Mall at 1625 Post Street. To read the reviews, and for more info and booking, see Hotel Kabuki.
Kimpton Buchanan Hotel
The Kimpton Buchanan Hotel (formerly the Hotel Tomo), is part of the respected Kimpton Hotel chain.
The hotel was recently remodeled, and sits in a quiet neighborhood. They allow pets and provide free bikes for riding around town, free WiFi and a Keurig coffee maker. 
Located across the street from the pedestrian block of Buchanan Street, at 1800 Sutter Street. To read the reviews, and for more info and booking, see Kimpton Buchanan.
---
How to Get to Japantown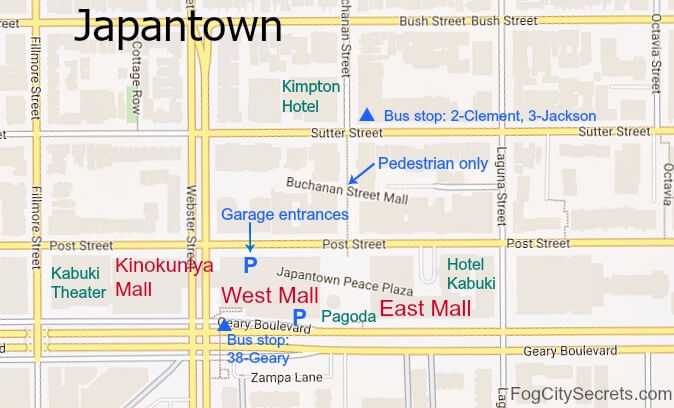 By bus...
The 38-Geary bus stops at Japantown. Get off at the bus stop just before Webster, behind the West Mall. You can catch this bus from Union Square or along several blocks of Market Street.
The 2-Clement and 3-Jackson buses stop on the north side of Japantown, at Sutter and Buchanan, where the pedestrian block of Buchanan begins.
Taking BART...
Taking BART to Japantown is a two step process. Get off at the Montgomery BART stop, then head back along Market Street towards 1st Street half a block (towards the Ferry Building)  and you'll see the stop for the 38-Geary bus, which takes you to Japantown.
---
Japantown Parking
Japantown is generally one of the easier neighborhoods to park in because of the Japan Center Garage. 
Japan Center Garage
This is where I usually park when I go to Japantown. It's safe and very convenient, being right under the Japan Center; you come up inside the West Mall.
The Japan Center Garage is reasonably priced and usually not full. The hourly rate range is between $2 and $3.50.
Most of the Japan Center restaurants will validate, which gives you a $2 discount. Why is this garage so much cheaper than the other ones? Probably because it's run by a non-profit organization;-)

Something cool: if you go on their website, they show the number of spaces available there in real time. See the Japan Center Garage.
There are two entrances to the garage: 1610 Geary near Webster, and on Post Street between Webster and Buchanan.
Kabuki Annex Parking. The Japan Center Garage also manages the parking garage at the nearby Kabuki Theater, so it has the same rates. Entrance on Fillmore between Geary and Post.
Other parking options...
There is street parking in the neighborhood surrounding Japantown, but it's not plentiful and not very safe. There have been a lot of car break-ins around there, so I recommend using the garage.
Parking Apps. Most of the time it's pretty easy to get a space in the Japan Center Garage, but during Japantown festivals it can fill up.
In those cases, you might consider using a parking app like Spot Hero to find and book another garage. The other garages cost more, and are 4 to 5 blocks away, but sometimes you can get good deals using the apps.
---
More to explore...
---