Updated July 19, 2023.
The Anchor Steam Brewery
San Francisco's Gold Rush Beer
Sad development! Anchor Steam Brewery is closing after 127 years in operation. The first of the craft beer companies in the U.S. is going out of business due to financial problems. Anchor Steam Beer will be sorely missed!
See SFgate.com article for more information.
But there are some hopeful signs; some locals are looking into buying it. See SF Chronicle article.
Treat yourself to a tour and tasting at San Francisco's oldest traditional brewery.

This is a really fun San Francisco thing to do. The charming Anchor Steam Brewery hosts tours twice a day and escorts you through the three floors of their operation, finishing off with an opportunity to taste about 7 of their beer varieties.

Anchor Steam Canning Area
The Anchor Steam Brewery goes all the way back to the Gold Rush era, when founder Gottlieb Brekle arrived in San Francisco.
Founded by German immigrants in 1896, this brewery still makes its beer in essentially the same way as it was done in the old country a hundred years ago.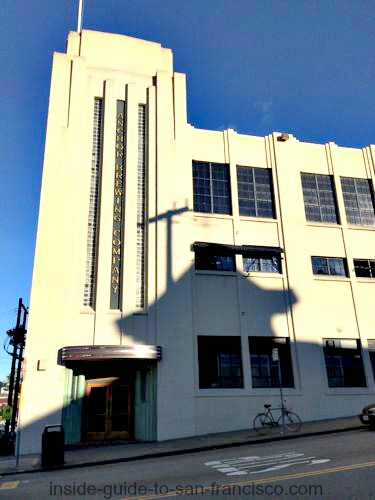 Anchor Steam Brewery Entrance
The tour guide fills you in on the turbulent history of Anchor Steam in San Francisco, while taking you through all the stages of the beer-making process.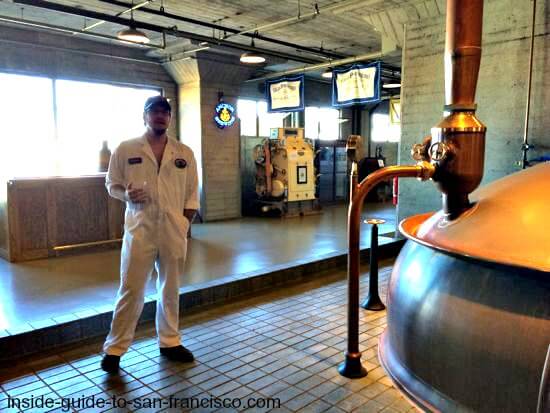 Our Guide
This is one of the original "artisanal" breweries, existing long before microbreweries became trendy. It had such a rocky history, it's almost a miracle it's still here: owners run over by street cars, building destroyed in the 1906 earthquake, shut down for 13 years during Prohibition, etc.!
It almost went under again when American tastes shifted to cans of Budweiser and Pabst Blue Ribbon, but it came back big time in the 1970's, when a demand for flavor and variety reappeared.
Their brewing process is very natural one. Only four ingredients go into their beers; malted barley, hops, water and yeast (with some malted wheat added to their wheat beers). The cooling of the boiling malt and hops mixture is done by the cool, San Francisco air (hence "steam beer", as the steam rises from the cooling tanks).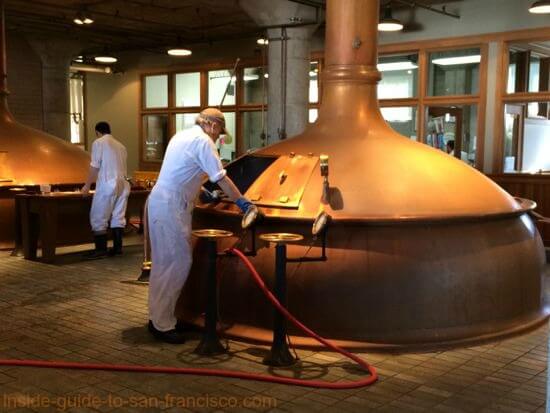 Boiling the Malt and Hops
The brewery is small and has a friendly, family feel to it. You tag along behind the guide, up and down stairs, peering at vats of soupy malt, sacks of feathery hops and beautiful copper kettles boiling the mixture.
Even their office has old-fashioned wooden desks and bookcases, transporting you back to the 1940's.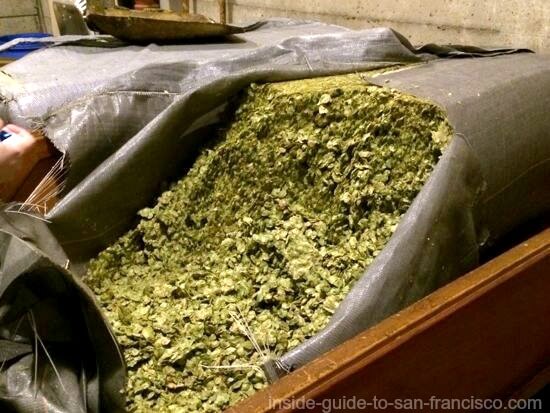 Sacks of Hops
Only the dried flowers of the female hops plant are used.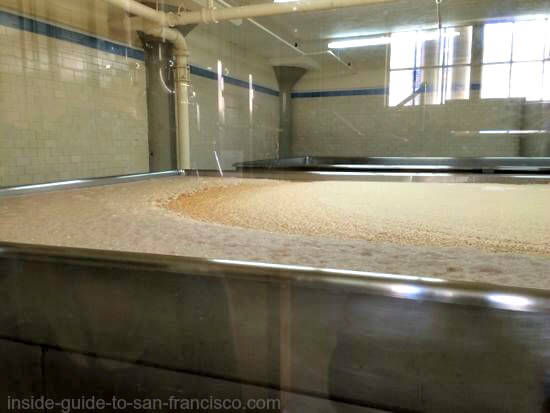 Fermenting the Malt
And then the grand finale. Back to the cozy taproom to taste about 12 of their varied brews.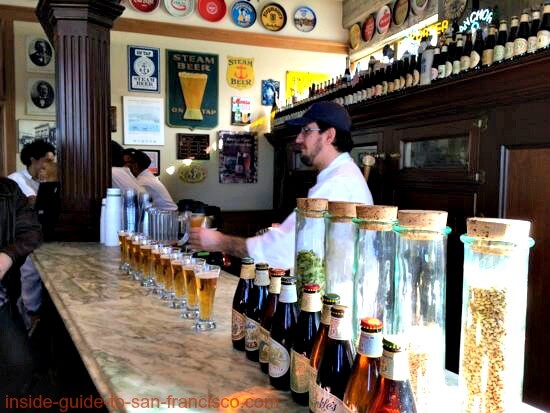 Note the size of the "tastes"
They are generous with their tastings. And there is no rushing you out the door. We found it very relaxing and hung out there probably an hour or more after the tour.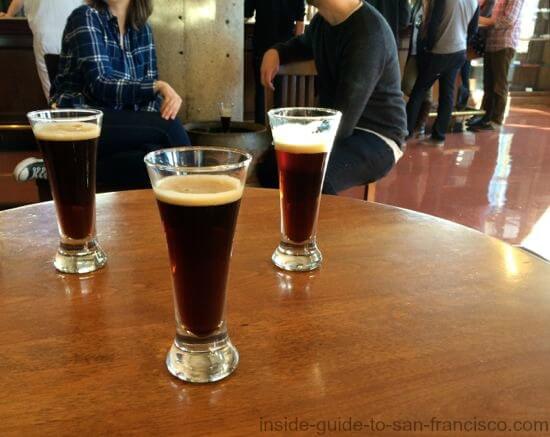 Yummy Dark Beer
---
Brewery Tour Hours and Prices
Reservations are not required, but it's better to have a reserved spot (make them online through their website, anchorbrewing.com).
Children can go on the tours, but you have to be 21 to taste. You have to go on the tour to do the tasting.
Tours run on Wednesday, Thursday, Friday, Saturday & Sunday.
Wednesday tours at 3:00 pm.
Thursday & Friday tours at 1:00 p.m. and 3:00 p.m.
Saturday & Sunday tours at 11:00 a.m., 1:00 p.m., and 3:00 p.m.
Note: the factory only runs Monday through Friday, so if you want to see it in operation, book on a weekday.
$27.50 per person (21+). Under 21 are free.
The tour lasts one hour.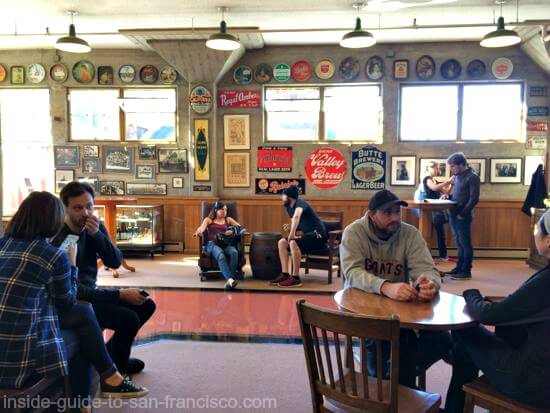 Waiting for the Tour
---

Insider Tips:
Reservations are available online, but not required. But it's much easier to get tickets now that they charge for the tours. It was tough to get in when they were free!
You have to show ID to imbibe.
They supply a lot of beer! Pace yourself. And if you're the driver, restrain yourself;-)
The tour involves a fair amount of walking and stairs, but there are elevators available for those with mobility problems or using wheelchairs.
---
Anchor Steam Varieties
Anchor Steam has a stable of current beers, some year-round and others produced seasonally and available for just a few months a year. In addition, they produce some interesting, one-time, specialty beers from time to time, like Sumerian Beer (based on a 4000-year-old recipe) and Earthquake Beer, after the 1989 quake.
I tried their Anchor Saison Spring Ale, available in February, March and April each year. It's a Belgian-style ale made with a type of yeast that gives it what they describe as a peppery flavor, plus they add in an interesting mixture of ginger, lemongrass and lemon peel. Has a refreshing bite to it, very nice.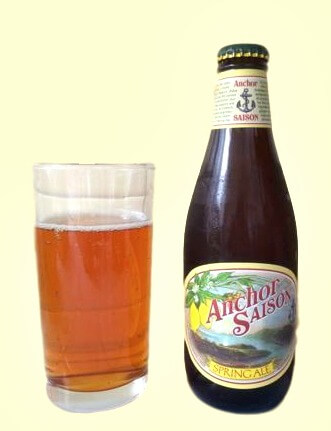 Anchor Saison Spring Ale...yum
---
New Developments...
In August, 2017, Anchor Steam was purchased by the Japanese beer company, Sapporo. At present, there are no plans to move the brewery from its current location, or change its traditional brewing process, as long as it can keep up with the demand (according to the new owners). But who knows what the future holds for Anchor Steam? Now is a good time to visit!
The plan for the big expansion of the brewery at Pier 48 seems to have disappeared following the sale.
Anchor Steam also had a distillery (not purchased by Sapporo) which became Hotaling & Co in 2018. They chose that name because of the whiskey storehouse that survived the 1906 earthquake made famous by the rhyme, "If, as they say, God spanked the town for being over frisky, why did He burn His churches down and spare Hotaling's whiskey?" Now located at Pier 50.
Anchor Steam has opened a pub next door, Anchor Public Taps, serving many of their beers on tap, plus some new ones brewed on the premises. It's a congenial place to hang out and try their beers. Food trucks supply the food, and dogs can visit on the patio. Check out the selection available on tap. Open daily 11:00 a.m. to 9:00 p.m. 495 De Haro Street.
---
Anchor Steam Location
The Anchor Steam Brewery is located at 1705 Mariposa Street, in the Potrero Hill neighborhood. The entrance is on De Haro Street, at the corner of Mariposa.
415 863-8350.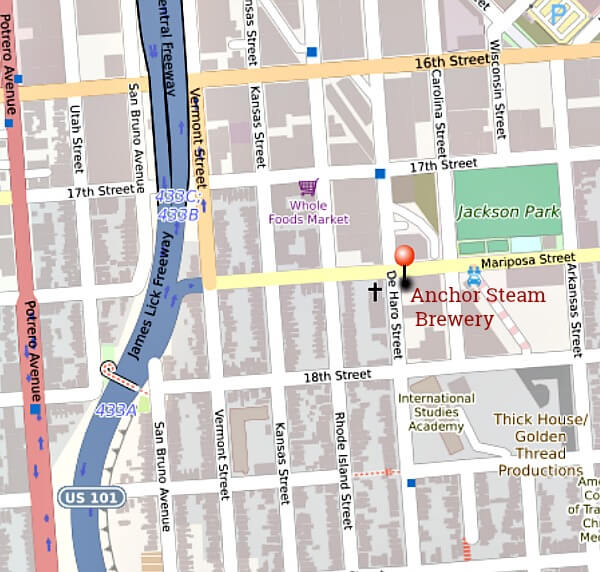 Anchor Steam Brewery
---
By Car
Use their address, 1705 Mariposa Street, for navigation.
There is no parking lot, but you can park on the street. You may have to walk a block or two, but it's usually pretty easy to find a place nearby.

By Bus
Even though it's in a totally different part of San Francisco, it's actually pretty easy to get over there from either Fisherman's Wharf or Union Square.

From Fisherman's Wharf: Catch the 19-Polk/Hunter's Point Bus on Bay Street near Polk Street (near Aquatic Park on the Wharf.)
The 19 Bus will take you within one block of the brewery. Get off at Rhode Island Street and Mariposa Street, then walk one block downhill (east) along Mariposa Street to the brewery at the corner of Mariposa and De Haro Streets.
From Union Square, walk down Powell Street to Market Street and take the Muni Streetcar (underground) one stop to Civic Center. Go back up to Market Street and catch the 19-Polk/Hunter's Point Bus at Market and 8th Street (where the Civic Center stop is). Follow directions above.
Here's a link to the Muni 19-Polk map and schedule.
---
Explore More San Francisco Microbreweries
(Note: I may earn a small commission if you make a purchase through the links below, at no extra cost to you. This helps me provide all the free information I post on this website. Thank you for your support!)
Here are several guided, beer-tasting tours to check out:
Beer tasting tour in North Beach & Fisherman's Wharf. Guided walking tour of both neighborhoods with tasting at three craft beer spots. Good reviews. $109. 
See North Beach & Fisherman's Wharf beer tour for info and booking.
SOMA beer tasting tour. Explore the South of Market neighborhood and do beer tasting at three micro breweries or craft beer spots with a guide. Small group, snacks included. Highly rated. $109.
See SOMA beer tour for info and booking.
Sonoma County Beer & Wine tour. Make a day of it and go farther afield to explore the wine and beer of Sonoma County. Do wine and beer tasting at some famous venues with a small group. Full day tour, group rates. Hotel pickup.
See Sonoma beer & wine tour for info and booking.
---
More to explore...
---