The Japanese Tea Garden Menu
Another Menu Re-Do for
the Japanese Tea House
Updated July 15, 2023.
The Japanese Tea Garden menu has changed again; this time it has shrunk quite a bit from the bountiful menu previously available. No more sushi! And no more tea and crackers/cookies combos that have been a staple for decades: strictly a la carte for that now, and much pricier, too.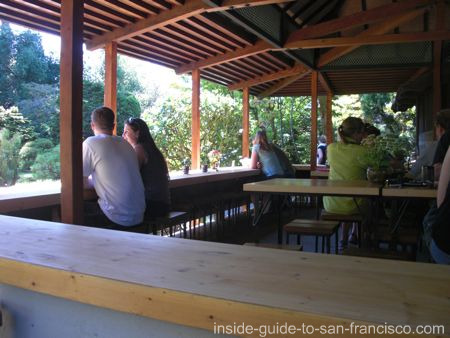 Relaxing at the Tea House
I've listed some specific menu items, along with the prices, to give you an idea of what's available and how much it costs. Naturally, this is subject to change.
Japanese Tea Garden Snacks
The Tea House Cookies include the usual Japanese cookie varieties (sesame and almond), chocolate Pocky Sticks, as well as the famous fortune cookies, first introduced in the U.S. at this tea garden.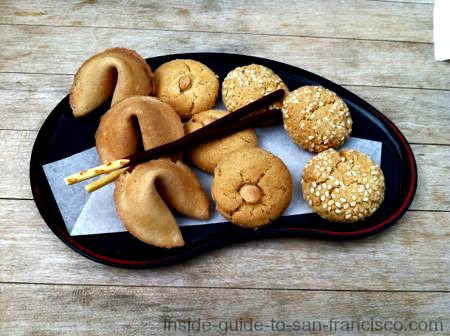 Tea House Cookies, $7.25
Warabimochi, sweet rice cakes, an interesting sticky, gummy texture in different flavors. Currently matcha (tea) and kinako (nutty) flavors. May be an acquired taste. Gone, at the moment, are the fruit-flavored ones in the photo. $6.75 (11).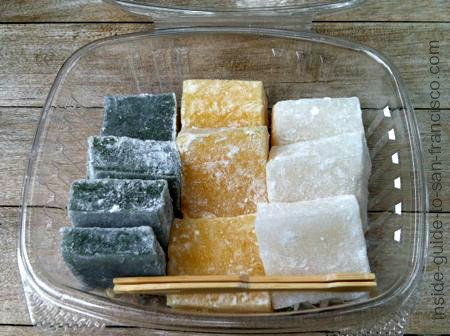 Variety of Mochi Rice Cakes
Green Tea Cheesecake, quite tasty, less sweet than the usual cheesecake. $7.25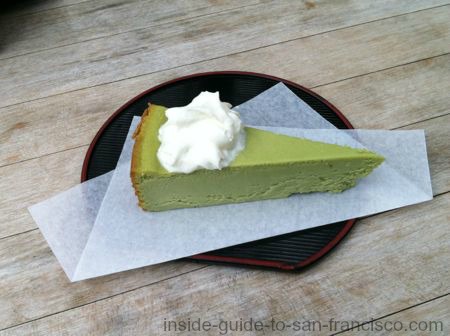 Green Tea Cheesecake
Other Food Items
Arare is a dish of rice crackers, dried peas, peanuts, plus fortune cookies. $4.25 (small), $7.25 (large).
Miso Soup, $4.35.
Edamame, $4.50. Soy beans in pods.
Dorayaki, $4.00. Japanese pancakes filled with red bean paste.
The Latest Additions
Also added: Udon (noodle soup) for $9.95, Chicken Karaage (battered, fried chicken nuggets) for $6.45 (looks good), and Daifuku, bean paste wrapped in mochi, (2) $4.00. And my favorite: Mochi ice cream: ice cream wrapped in mochi dough (sticky rice dough), (2) $4.75.
Japanese Tea Garden Drinks
Japanese Teas. Choice of Sencha (green tea) $5.50, the rest, $4.25: Genmaicha (roasted green tea), Hojicha (another roasted green tea), jasmine tea, or iced green tea. Special tea ceremony Matcha, (powdered green tea) $9.50.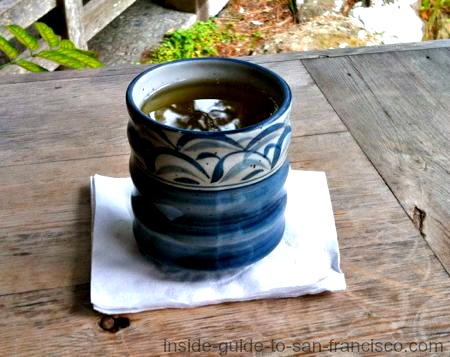 Genmaicha
Also hot chocolate, coffee, Coke, Diet Coke, 7-Up, and bottled water.
The tea and goodies combo used to be $4.50. Now it's a minimum $4.25 for tea and $4.25 for the cracker plate, $8.50 total, and $11.50 for tea and cookies.
A Japanese Children's Drink
The Japanese Tea Garden menu also includes an interesting soft drink popular in Japan, but mostly unknown in the U.S.
Ramune: a carbonated, sweet drink in original, melon (yum!), strawberry and orange flavors.
The Ramune comes in an nifty glass bottle with a trick to opening it. There's a little glass marble at the top, which has to be pushed into the bottle. The marble sits in a little pocket in the bottle while you drink it (it can't escape). Kids would get a kick out of this odd arrangement.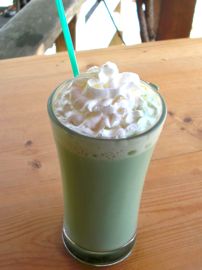 Green Tea Latte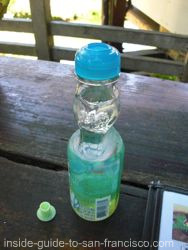 Melon Ramune.
Alas, the green tea latte is no more. Here's hoping they bring back that tasty item! They appeared at the tea garden long before Starbucks had them;-)
The Japanese Tea Garden menu items are available all day, during the hours the garden is open. They stop serving people 15 minutes before closing time.
I hate to say this, because I love the tea garden, but you can get much better Japanese food elsewhere (see below for a suggestion).
Nevertheless, the tea house is a great place to bask in serenity, and watch the birds and fish while sipping your hot tea; the atmosphere is so wonderful and the setting is unique. You can't go wrong with some tea, and rice crackers or cookies to go with it. And mochi ice cream for dessert, naturally.
\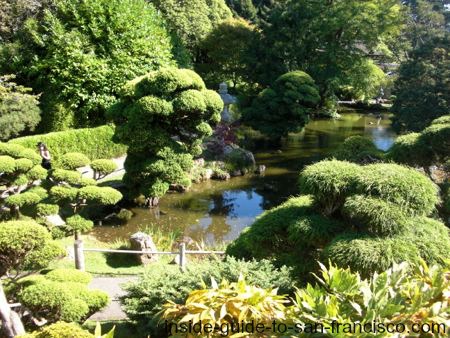 Tea Garden View
You might also be interested in:
Information about the Japanese Tea Garden. What to see in the Tea Garden, hours, maps, photos, how to get there.
---
Looking for a good sushi restaurant nearby?
You See Sushi is a (relatively) cheap and tasty sushi place near UCSF (and walking distance from the Tea Garden).
---
Visit Japantown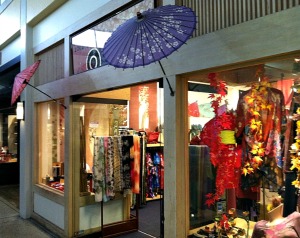 Ready for a quick trip to Japan?
Shop for kimonos, manga and housewares, and stop for some ramen or teriyaki in San Francisco's Japantown.
---
Nearby attractions...