Alert: due to extremely poor air quality in SF resulting from the forest fire, many park areas and activities (including Alcatraz visits) are closed starting Nov 16, through Sunday, Nov 18.
See GGNRA website for list of closed facilities.
See Bay Area Air Quality for current air quality status.
Tank Hill
The Twin Peaks Alternative
Tank Hill is one of our insider secrets; even most locals haven't been up here. But the view of San Francisco is amazing and the tour buses are missing!
City View from Tank Hill
Right near Twin Peaks is another little hill, tucked into an attractive San Francisco neighborhood.
The panorama isn't 360, but it's got a gorgeous view of downtown San Francisco, Alcatraz and the Golden Gate Bridge.
Not many people go there, so you may have it all to yourself. Even on a sunny weekend there may only be a couple of others there.
View Looking Towards the Bridge
Tank Hill sits at a 650 foot elevation, well below Twin Peaks at 922 feet, but the views are just as good, I think, and much less crowded. Plus getting there is definitely easier, either driving and parking, or taking public transportation.
History of Tank Hill
Tank Hill gets its name from the water tank that used to be up there. The tank was built in 1894, then removed in 1957. The little park on top of this rocky outcropping had a close call in 1977; developers wanted to put 20 houses up there, but fortunately the city purchased the land and turned it into a park.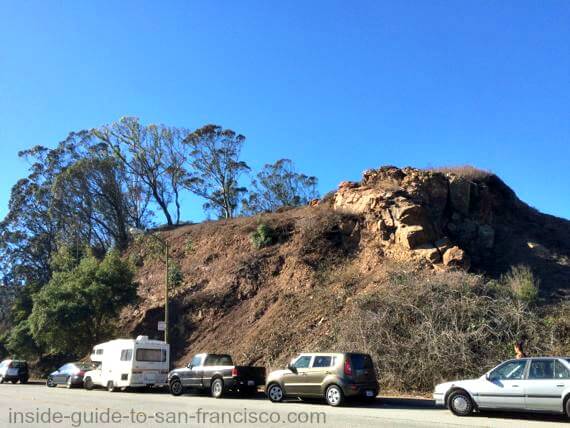 Tank Hill...Easy to Miss
Exploring Tank Hill
The park at the top is quite small, so it doesn't take long to see all of it.
Tank Hill Park
The views are fantastic, and for the young at heart, there are two rope swings to play on.
One of the Rope Swings
Climbing the Hill
There are two ways to get up the hill: a wooden staircase and a rocky path.
The stairway. On Twin Peaks Boulevard at Crown Terrace, there is a wooden staircase that takes you to the hilltop.
Tank Hill Stairs
The path. On the other side of the hill, Where Belgrave Avenue dead ends into the hill, there is a dirt path that winds its way to the top.
Tank Hill Dirt Path
Tip: I think the staircase is the easiest. The dirt path is steep in places and has lots of loose rocks that make it rather slippery.
Getting to Tank Hill
By Car
Park either on Twin Peaks Boulevard, which runs along the side of the hill, or on Belgrave Avenue. I suggest Twin Peaks; finding a parking place there is a lot easier and you can use the stairs for the hill.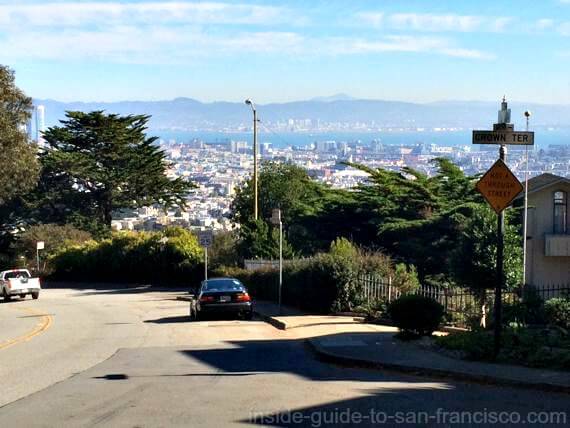 Parking for Tank Hill,
Twin Peaks Boulevard at Crown Terrace
By Bus
Take the N-Judah muni streetcar from Market Street downtown (underground) and get off at Stanyan and Carl Streets. Walk to the end of Stanyan, then go left on Belgrave to the end of the street. It's about 8 blocks to walk it, and goes through a pretty neighborhood.
Or take the 37-Corbett bus to Clayton and 17th Street. Walk south on Clayton, then right on Twin Peaks Boulevard until you get to Crown Terrace where the stairs are. It's about three blocks.
You can catch the bus at Market and Castro. From downtown, take any of the muni streetcars under Market street, get off at the Castro Street stop, then take the 37-Corbett.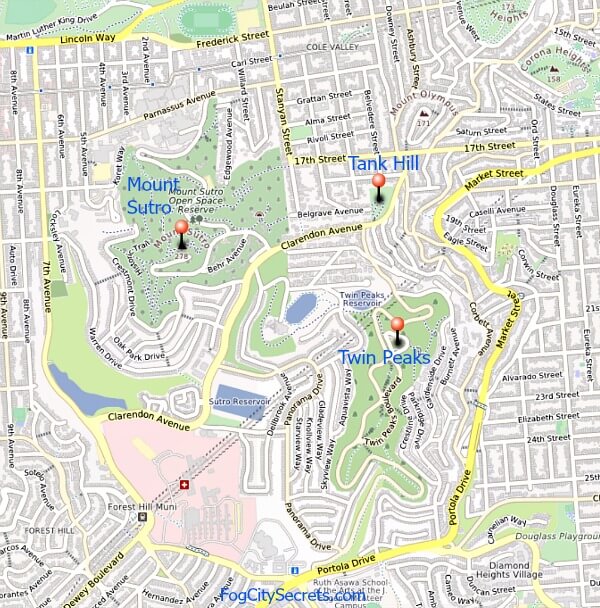 Tank Hill is just down from Twin Peaks. Across the street from the Tank Hill stairs, you can look up and see part of Twin Peaks where the towers are (and one of the tour buses, if you look closely).
Just Below Twin Peaks,
by the Tank Hill Stairs
Note: I may earn a small commission if you make a purchase through the link below, at no extra cost to you. This helps me provide all the free information I post on this website.
If you want to explore this area with a guide, including Twin Peaks and the magical Mount Sutro eucalyptus forest nearby, there's a walking tour that takes people to a number of neat spots in this area, along with the weird and fun Seward Slides. To check out the Urban Hike, Hills and Hidden Gems Tour, click here.
---
More great views...