Top of the Mark
Martinis or Brunch?
Top of the Mark is open again! But only for evening cocktails and snacks. Their wonderful brunch hasn't started up again, but here's hoping it comes back soon.
A trip to the Top of the Mark, the restaurant/bar at the top of the Mark Hopkins Hotel on Nob Hill, is one of the quintessential San Francisco experiences; everyone should do it at least once!
It's so traditional, it's become a little uncool to go there; but doesn't that make it retro-cool? I can't figure that out, but I do know they have one of the most spectacular and scrumptious brunches I have ever enjoyed. And what a view!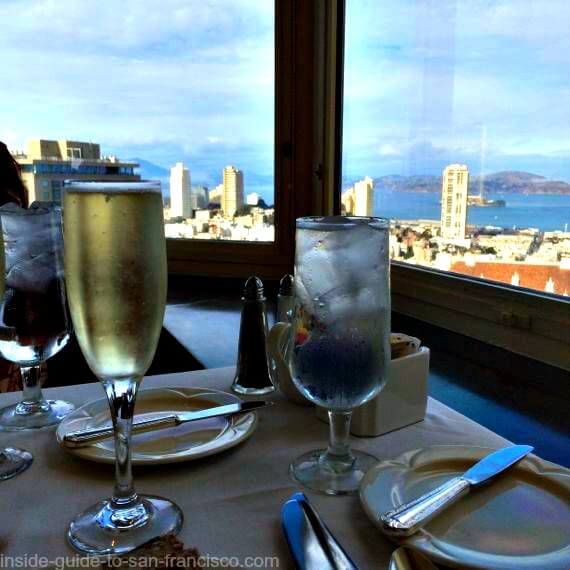 Brunch With a View
History of the Top of the Mark
The Mark Hopkins Hotel is one of the Grand Dames of San Francisco, catering to the rich and famous of the 1920's, 30's and 40's, and sitting on top of Nob Hill since 1926.
The hotel sits in the area that the wealthy of 19th century San Francisco built their mansions. Most of the Nob Hill homes were destroyed by fire in the 1906 earthquake, which also claimed the turreted mansion of Mark Hopkins.
One of San Francisco's most elegant hotels was built on the site of the former mansion 1926 and became one of the most prestigious hotels of the city, along with the Fairmont Hotel across the street.
The Peacock Court (just past the ornate lobby) was the scene of debutante balls, and hosted many of the biggest names of the big bands and entertainers of the gilded age, like Tommy Dorsey, Benny Goodman, Xavier Cugat, Betty Grable, Dorothy Lamour, and Rudy Valley.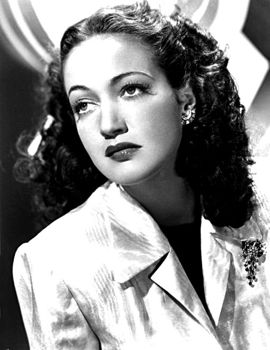 Dorothy Lamour, 1940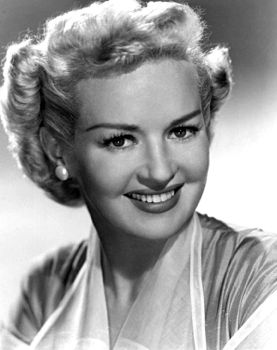 Betty Grable, 1951
The list of famous guests is too long to list, but includes U.S. Presidents Hoover and Eisenhower, Nikita Khrushchev, Charles de Gaulle, Elvis Presley, Elizabeth Taylor, Judy Garland, Michael Jackson and the Rolling Stones.
Go For the View
Most people go up to the Top of the Mark for the 360 degree view. It's on the top floor of the hotel, the 19th, and has its own elevator.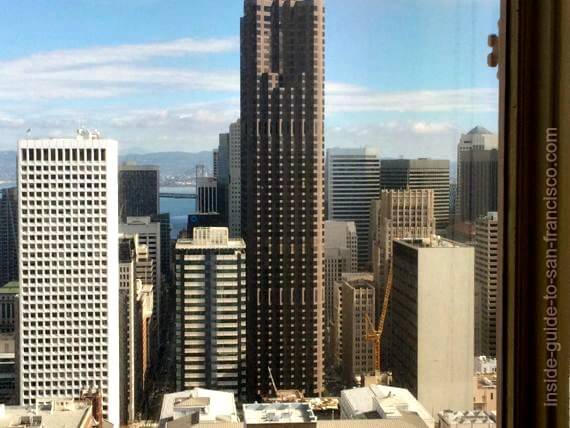 Downtown San Francisco
Which view is better? The sparkling city lights are very romantic, and the day view gives you a great view of the downtown buildings, Alcatraz and both bridges.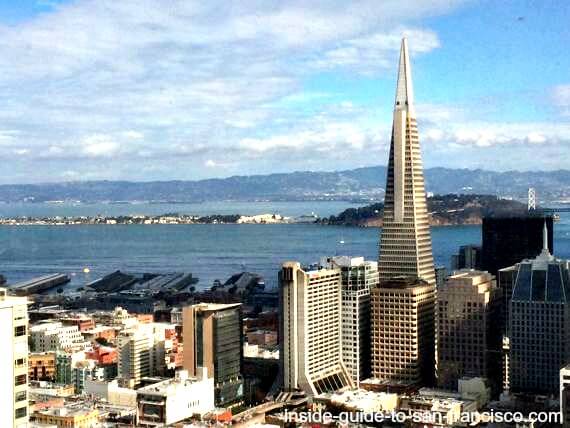 Transamerica Pyramid and Yerba Buena Island
Sunday Brunch or Evening Cocktails?
The two aspects of the Top of the Mark:
Brunch: an opulent, over-the-top brunch, with tables of delicacies that are usually found only as very expensive appetizers...
Cocktails: travel back to the Fifties and sip a Martini (or other selection) like Holly Golightly, gazing at the sparkling lights of San Francisco. Dancing, too!
---
Drinks at the Top
The Mark has long been known as a place to go for a special occasion, like a 21st birthday, an anniversary or marriage proposal.
During World War 2, the bar became a well-known spot for Navy men to meet and have a last drink before shipping out overseas, often promising to meet back there after the war was over.
During it's heyday, the Top of the Mark was a fancy place to go for cocktails and dancing. It still has some of the 1940's ambiance, but unfortunately it's gotten a reputation for mediocre service. According to their more recent reviews, though, the food seems to have improved quite a bit.
Looking for a hip bar with a young vibe, this ain't it. It does tend to attract an older crowd who enjoy the nostalgia of it's romantic history, but many young visitors appreciate that as well. It used to enforce a strict dress code, which did help preserve it's classy, upscale feel, but that has slipped, so it's gotten a bit of a dated feel without the elegance of past years.
Nevertheless, many people still love it, and in spite of everything, I think it's worth it to experience such an interesting bit of San Francisco history in a spectacular setting.
They don't serve actual meals, but have a menu of small plates to go with the drinks, ranging from home-made potato chips and sliders to pricy caviar dishes. Desserts, too.
Note: I may earn a small commission if you make a purchase through one of the links on this page, at no extra cost to you. This helps me provide all the free information I post on this website. Thank you for your support!
The hotel itself, the Mark Hopkins, is a great place to stay, with old-fashioned elegance and excellent service, according to many reviews. See Mark Hopkins for booking info and prices.
Tips for having a great evening at the Top of the Mark:
Go just before sunset - gorgeous, and less crowded.
To get a seat by a window, when it's your turn for a table, tell the hostess you'll wait for a window table.
No shorts allowed. There's no actual dress code, but business casual or above is a good idea.
They used to show a movie on Tuesday nights, but it's not that easy to see or hear from many of the tables.
---
The Best Brunch
Alas, their brunches have not yet resumed; hopefully they will at some point. Previous number for brunch reservations: 415 392-3434.
I can't count the number of brunch places I've been too, but this one tops the list.
The elegant setting and fantastic views would be reason enough to go, but the food is sensational! The variety is impressive and the quality lived up to the presentation.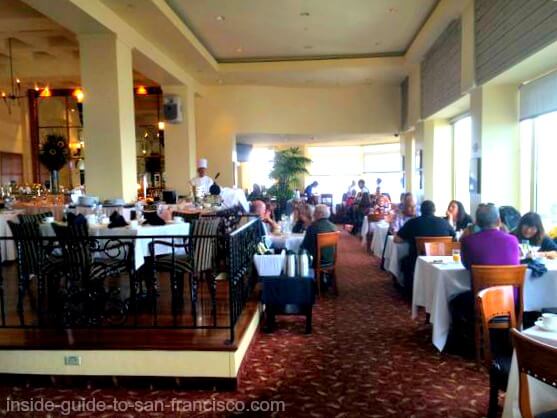 Set Up for Brunch
Pates, smoked fish platters, several kinds of caviar, crabs, oysters, cheeses, artisan breads, blini, many salads, and artistic little plates of imaginative appetizer combinations...for starters. Unlimited glasses of champagne and orange juice served at your table to wash it all down.
Entrees: soups, leg of lamb, prime rib, beef medallions, stuffed chicken, salmon, scallops, tortellini, and more.
Yummy breakfast foods, including crepes and dim sum.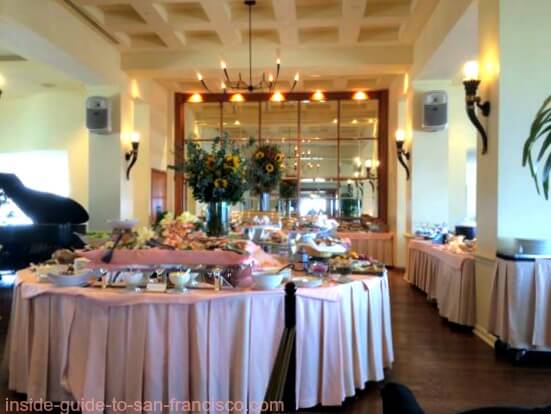 Top of the Mark Brunch
And the grand finale, a beautiful display of desserts: tarts, cakes, candies, mousses, puddings, etc.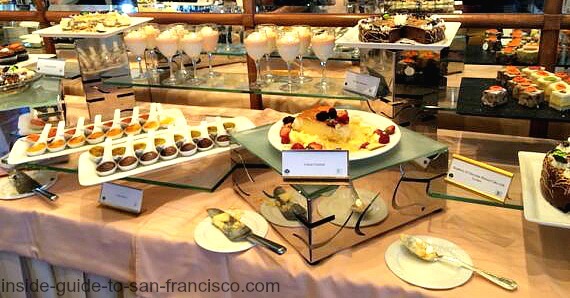 Dessert Table (One of Them)
The hardest part is deciding what to eat, since it might not be possible to try everything!
Visiting the Top of the Mark
The Mark Hopkins Hotel is located on Nob Hill, at the corner of Mason and California Streets, just uphill from Chinatown (two very steep blocks) and 6 blocks from Union Square.
Cocktail Hours: open from 4:30 to 10:30 pm Tue-Thur (4:30 to 11:30 pm Fri &amp Sat); closed Sat and Sun. Live entertainment Wednesday through Saturday, with a cover charge ($5-$15).
For reservations at Top of the Mark, see booking.
Currently no entertainment is scheduled.
Transportation
All three cable car lines cross just below the hotel, at Powell and California Streets, and the California line goes right past the hotel. They can take you to Chinatown, the Embarcadero, Fisherman's Wharf and North Beach.
See riding the cable cars for tips on how and where to catch them, how to avoid the lines, and a route map.
Parking
Garages nearby are expensive and forget street parking. Some suggestions:
Cheapest. 750 Bush Street garage: $6/hr.
Mark Hopkins garage: $10/hr.
Masonic Center, 1101 California, $11/hr. 1 level block.
Nob Hill garage, 875 California Street: $10/hr. 1 steep block.
Tip: Use a parking app, Spot Hero to find the cheapest parking in the area, and space availability. Works best to book it ahead.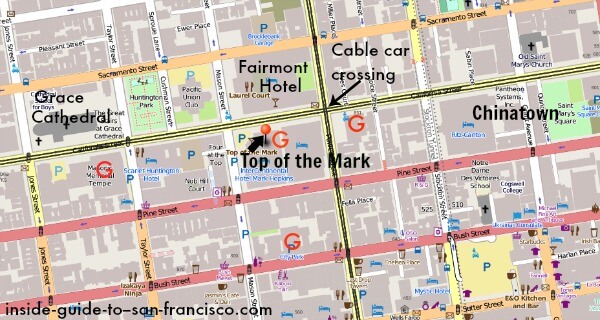 Nob Hill
---
More great views...