Best Parking Apps
for San Francisco
Parking in San Francisco can make you crazy, but using a parking app can ease the pain (somewhat).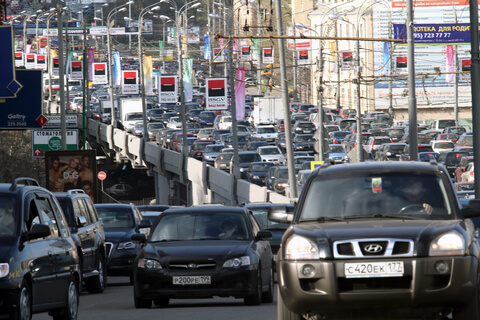 Not San Francisco! (Moscow Traffic)
©Dimaberkut | Dreamstime.com
Cars Stand In Traffic Jam On The City Center Photo
I looked over the main parking apps for San Francisco and found two that I really liked. To evaluate them, I compared prices and availability for specific garages and parking lots in the Fisherman's Wharf and Embarcadero areas as of August 2016.
---
The Best SF Parking Apps
ParkMe.com
Parkme.com is a free app that shows you a big selection of the parking garages and parking lots in the area you are interested in. It also gives you the ability to reserve many of them.
What I like about it: the large number of the garages and lots listed on the map, color coding makes it easy to find the cheaper ones, can see at at glance which ones are available for booking, photos of each one, overall the best prices. They also have a feature where you can compare their price with those of the other apps...handy.
You can access it via a computer or downlaod a free app for your smart phone.
ParkMe.com Map
---
BestParking.com
BestParking.com is also available for free download for your smart phone, as well as computer access. It has a large selection of parking garages and lots, but doesn't have booking capabilities.
What I like about it: large selection, detailed information about rates, and a photo of each garage and lot. Also color-coded for ease of finding the best deals.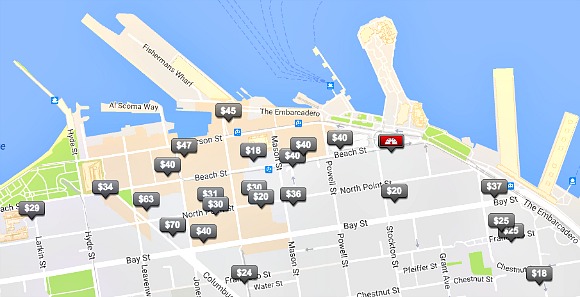 BestParking.com Map
---
Honorable Mention...
SpotHero.com
SpotHero.com only shows lots and garages where bookings are available through them, so doesn't give much parking information about an area generally. However, they seem to have some really good parking deals on a few places. It would be worth checking this site to see what they've got.
Spot Hero Map
---
Parkopedia.com
Parkopedia.com is a Wiki for parking, so it's a work in progress, created by contributions from the public. So far, there aren't as many parking garages and lots covered, compared to the best two apps above. Some whole areas are missing information, like the downtown San Francisco area and the area around the Ferry Building. No doubt, the amount of information will grow with time.
Some of the spots can be booked through this site. They have photos and Google Earth views of each parking area, which is helpful to see how to get into the garage or parking lot.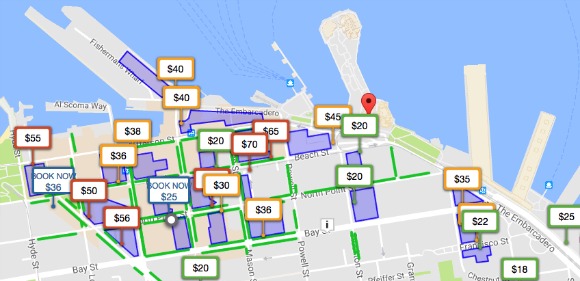 Parkopedia Map
---
PandaParking.com
ParkingPanda.com is pretty good, but has a somewhat smaller inventory of possible garages and parking lots than my favorite two apps above. However, I did see a couple of good deals, better than ParkMe.com, for online bookings, so it might be worth a look to see what's available.
---
Interesting Parking Innovation
SpotOnParking.com
SpotOnParking.com: this local, San Francisco company not only has commercial lots and garages for booking, but also has private parking spaces "owned" by individuals, as well as churches, schools and businesses, who are willing to rent them out.
This means that you can reserve parking spaces in areas that don't have commercial garages and lots. They also have a free app to download for smart phones. I haven't heard any feedback on how well this approach works, but it sounds like a great idea, especially for a parking-challenged city like San Francisco.
---
The Others...
ParkWhiz.com
Parkwhiz.com has a much smaller selection of garages and lots. Also, there are some complaints online about booked spaces not being available, and about inferior customer service.
Park-Now.com
I don't know what Park-now.com's selection is like because you have to sign up before you can see what they have available (free to sign up, but they require a credit card). When I was able to see their selection without signing up last summer (July 2015), no garages or parking lots were showing for large areas of the Embarcadero.
---
Another reviewer looked at some of the San Francisco parking apps (in 2014) and came up with similar impressions: Parkme.com and Bestparking.com were his top picks as well. See Article on best parking apps.
---
For more detailed information about parking on the Embarcadero for attractions like the Ferry Building, the Exploratorium, Alcatraz and Pier 39, see
Embarcadero Parking
.
---
More to explore...