Best Parking Apps
for San Francisco
Parking in San Francisco can make you crazy, but using a parking app can ease the pain (somewhat).
Not San Francisco! (Moscow Traffic)
©Dimaberkut | Dreamstime.com
Cars Stand In Traffic Jam On The City Center Photo
I looked over the main parking apps for San Francisco and found three that I really liked. To evaluate them, I compared prices and availability for specific garages and parking lots in the Fisherman's Wharf and Embarcadero areas. I reevaluated the apps in March of 2017 and my ratings have changed a bit as a result.
And the winners are...
ParkingPanda and SpotHero: best for booking parking at the most reasonable price.
ParkMe: best for seeing all the available parking in the area.
All of the apps are free to use, and have mobile versions available for download.
Note: I may earn a small commission if you make a purchase through some of the links on this page, at no extra cost to you. This helps me provide all the free information I post on this website.
---
The Best SF Parking Apps
PandaParking.com
ParkingPanda.com doesn't have the largest selection of parking places among the apps, but they often have places with the cheapest rates. All the parking places that pop up on their map are bookable, and the price is visible.
What I like about it: in addition to the good deals, ParkingPanda's map is easy to read, and shows online discounts at a glance, plus which ones are valet only. You can move the map around the city and the available parking places will pop up.
They also provide detailed information for each garage, including how your parking reservation is to be redeemed, and whether you need to print out the confirmation.
The list of possible parking garages next to the map gives details about amenities (e.g. wheelchair accessible, mobile pass ok, restrooms, etc.) and a small photo of the garage. Clicking on "reserve" will take you to larger photos of the garage entrance. They also give you the distance in miles to your destination.
If you hover over a garage in the list, the little balloon on the map lights up so it's easy to find them quickly. The garage list will let you know if the garage is full. Plus, if it's filling up, they tell you how many spaces are left; pretty cool!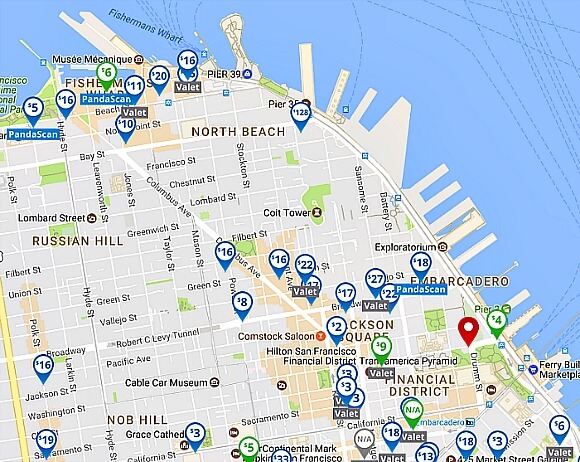 Parking Panda Map
---
SpotHero.com
SpotHero.com has a large selection of parking garages and lots, and they have decent prices as well, though perhaps not quite as low as some of ParkingPanda's.
What I like about it: they provide detailed information about the garages as well as detailed descriptions of the redemption process specific to each garage. They also have nice photos of the garages, usually several large ones, available on the "details" window.
All of the garages on their map are bookable through them.
In their list of garages on the left side of their map, they show the amenities at a glance, as well as walking distance to the location you were searching for.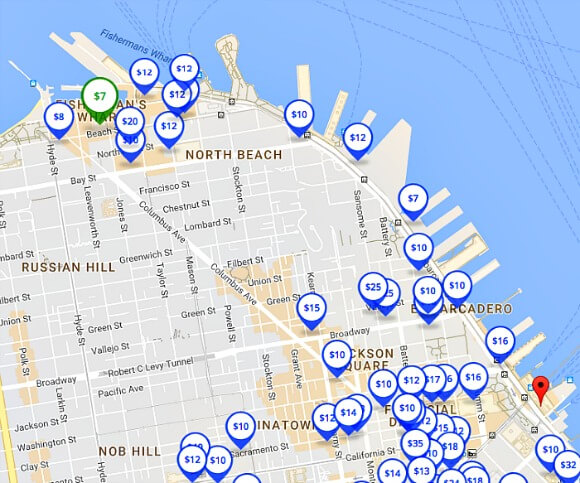 Spot Hero Map
---
ParkMe.com
Parkme.com shows you a big selection of the parking garages and parking lots in the area you are interested in. Most of them aren't bookable through ParkMe, so this site is mostly useful for locating cheap parking on the fly, or for researching for future reference.
What I like about it: it has a large number of the garages and lots listed on the map, and if you click on the dot, a box pops up showing you the price, the address and how full it is in real time. The mobile version of the map also shows the prices and the percentage of spaces filled for each garage; very handy!
The list of garages next to the map on the desktop version displays the % occupancy, amenities, photo, and how many minutes you need to walk to your destination from the garage.
Park Me Map
---
Honorable Mention...
BestParking.com
BestParking.com has a large selection of parking garages and lots, but only a few of the places are bookable through them.
What I like about it: large selection, detailed information about rates, and a nice photo of each garage and lot.
But there's no information about how many spots are still available, or whether the facility is full.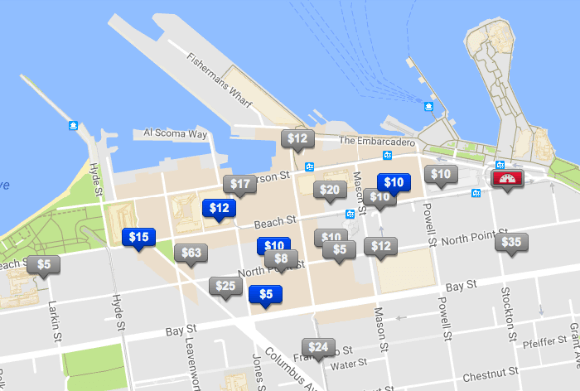 BestParking.com Map
---
Parkopedia.com
Parkopedia.com has progressed well in adding garages to its data base, so it now has a good supply of parking facilities to show. Parking for the Embarcadero area is still scanty, but other popular areas have a decent selection.
About half of the garages shown on their map can be booked through the site.
They have Google street views of each parking entrance, but it's not active so you can't use it to look around the area. I don't see any instructions for redeeming your parking voucher like some of the other apps have, but maybe they provide it after reserving. But if you're traveling and don't have a printer, it would be nice to know if you'll need to print it, prior to making the reservation.
I've found some awkward aspects to using their site. I couldn't tell if a space was available until I went into the booking process, which is a bit inefficient. Also, the price showing on the map isn't necessarily the price you get; you don't find out the actual price until you start to book.
Another function I found frustrating was the search for parking by area. If you want to see the parking in a nearby area, you have to do another search for that area. All of the other apps allow you to move the map around and the parking spots pop up as you go.
Final complaint: on the map, the price signs on the parking garages are too large; they overlap and hide each other unless you zoom way in, making scanning the area difficult.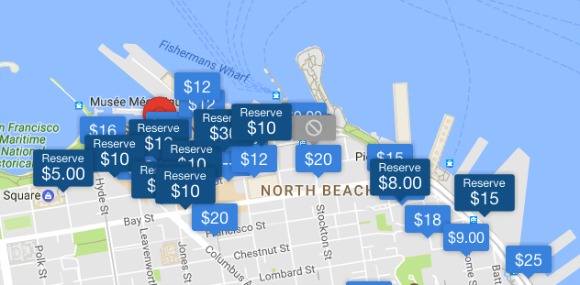 Parkopedia Map
---
Interesting Parking Innovation
SpotOnParking.com
SpotOnParking.com: this local, San Francisco company not only has commercial lots and garages for booking, but also has private parking spaces "owned" by individuals, as well as churches, schools and businesses, who are willing to rent them out.
This means that you can reserve parking spaces in areas that don't have commercial garages and lots. They also have a free app to download for smart phones. I haven't heard any feedback on how well this approach works, but it sounds like a great idea, especially for a parking-challenged city like San Francisco.
---
The Others...
ParkWhiz.com
Parkwhiz.com has a much smaller selection of garages and lots, but they do show some good prices for the wharf area. They also have some nice, large photos of the garages. Instructions for redeeming the parking vouchers aren't available until after booking (i.e., will you need to find a printer!).
Unfortunately, I'm still seeing people complaining online about booked spaces not being available, and about inferior customer service.
Park-Now.com
Park-Now.com has a limited selection of parking places, and the prices for those available are so-so.
---
For more detailed information about parking on the Embarcadero for attractions like the Ferry Building, the Exploratorium, Alcatraz and Pier 39, go to
Embarcadero Parking
. See my recommendations for the best garages and parking lots in that area.
---
More to explore...