Best Parking Apps
for San Francisco 
Parking in San Francisco can make you crazy, but using a parking app can ease the pain (somewhat).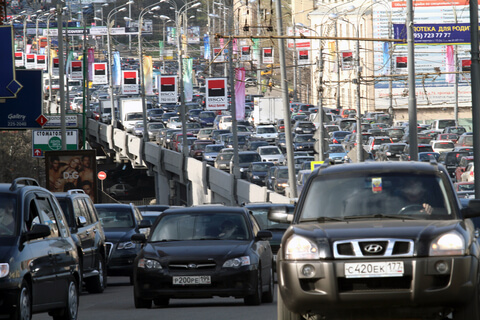 Not San Francisco! (Moscow Traffic)
©Dimaberkut | Dreamstime.com
Cars Stand In Traffic Jam On The City Center Photo
I looked over the main parking apps for San Francisco and found a number that I really liked. To evaluate them, I compared prices and availability for specific garages and parking lots, plus street parking, in the Fisherman's Wharf and Embarcadero areas.
I had to create two categories of apps, because they are aimed at different parking needs:
Apps for finding and booking the best deals in advance. 
Apps for finding available street and garage parking on the fly.
---
And the winners are...
Best apps for getting good deals on booking parking: 
Best apps for finding parking available now:
---
For comparison purposes, I checked all of the apps discussed here for parking on a Monday between 10:30 am and 5:30 pm; the prices shown in the map images reflect that.
All of the apps are free to use, and have mobile versions available for download.

Disclosure: I have an affiliate relationship with Spot Hero, so I may earn a small commission (very small!) if you make a purchase through one of their links on this page, at no extra cost to you. However, I'm recommending Spot Hero here because I sincerely believe in the quality of their app, and that's the app I use myself. 
---
Best Apps for Booking Good Deals
SpotHero.com & PandaParking.com
Parking Panda was also one of my top picks in years past. Spot Hero acquired Parking Panda in April of 2017, and as of May 2021, they have been absorbed by Spot Hero.
SpotHero.com has a large selection of parking spaces (garages and lots) on their site, and overall, the most reasonable prices. All the places marked on the maps are bookable via their sites, and the prices shown on the maps are accurate for the dates and times selected.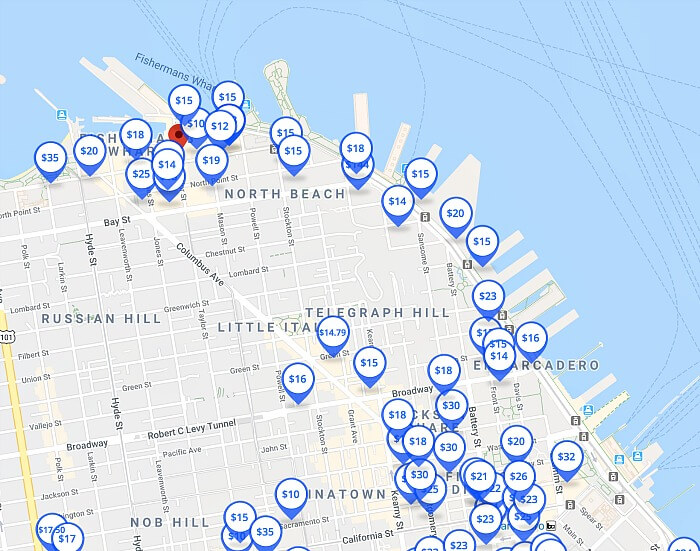 SpotHero
The list of possible parking garages next to the map gives details about amenities (e.g. wheelchair accessible, mobile pass ok, restrooms, attended, etc.) and a small photo of the garage.
Clicking on "reserve" will take you to larger photos of the garage entrance. They also give you the distance in miles to your destination.

What I like about them:  in additions to good deals on parking, they provide detailed information about the garages, as well as detailed descriptions of the redemption process specific to each garage. They also have nice photos of the garages, usually several large ones, available on the "details" window.
Their maps are easy to read and show the online discounts at a glance. You plug in the date and hours you want, and the prices for all the spaces for that period will appear. You can move the map around the city and the available parking places will pop up with the price for the requested date and time.
On the desktop version, if you hover over a garage in the list, the little balloon on the map lights up so it's easy to find them quickly. The garage list used to show if the garage is full, or if not, how many spaces are left, but that feature isn't present any more.

This app is strictly for booking spaces in garages or lots. They don't give any information on other garages or lots in the area that they don't book for, and there's no info on street parking. But I've gotten some good deals using these apps.
Spot Hero provides some information about finding the entrance to the space, e.g. a description of the building or its identity as a hotel, plus photos of the entrance to make it easier to spot.
---
Best Apps for Finding a Spot Now
SpotAngels.com
SpotAngels.com was started by two San Francisco residents who had their car towed because they accidentally left it in a tow-away zone after 4 pm.
Anyone who drives in San Francisco knows this is a major parking hazard, and the guys developed their app with the idea of saving others from their unhappy fate!
What I like about it: SpotAngels shows useful information on every block in San Francisco. In addition to marking areas within each block for no parking, free parking, and metered parking, they provide info on the meters' prices, time limits for both meters and free parking, resident permit areas (2 hour limits for non-residents, common in the city), plus tow-away hours, and street-cleaning days and times (big ticket!).
They also have the parking garages and lots marked on the map, with the hourly fee. Clicking on a garage balloon gives you more information on the garage: rates, hours, address and a photo. 
Clicking on a parking-meter balloon or free-parking balloon gives you the meter rates, a street photo and data on tow-away times, if any, and street-cleaning days and hours. 
SpotAngels
Cool features: in addition to lots of useful information for the parking hunt, they've added some handy services. Once you've parked somewhere, you can set up an alert for any upcoming unpleasantness, like tow away, street cleaning, or neighborhood time limits, for the spot you're in.
You'll get advanced warning via text (and sound, if you want) of the coming event so you can move your car. Plus, for the geographically challenged, you can use GPS to find your car again (I love this feature).
This app also uses community input, so users can verify information or suggest corrections.
Latest addition: see when a parking space becomes available.  Now you can get information from other drivers that a parking space on the street has just opened up! The app encourages you to notify Spot Angels when you're leaving a parking space so others using the app can see it. A great idea!
---
ParkMe.com
Parkme.com shows you a big selection of the parking garages and parking lots in the area you are interested in. Some (maybe half) of them are bookable through ParkMe. But for all of them you can see how full they are in real time, so it's helpful for last minute parking if you're in the area.

It even includes information on free parking available for store customers and hotel guests. Headed to Trader Joe's and wondering about the parking situation? Parkme will tell you.
The map shows areas that are parking garages and lots. Clicking on the marked areas brings up information on the lots' or garages' addresses, regular parking fees and hours, and amenities.
Clicking on the "daily" tab will show the hourly prices on the map. Clicking on the "reserve" tab brings up all the spots that are reservable through their site, with the price for the selected time period visible. (Not many are reservable through them.)
ParkMe Hourly Rates, Fisherman's Wharf (Daily Tab)
What I like about it:  it has a large number of the garages and lots listed on the map, and if you click on the balloon or parking area (under the "daily" tab), a box pops up showing you the price, hours, amenities, address and how full it is in real time; very handy! It also has a link to a GPS map to give you directions. But the occupancy rate only shows up on the desktop version.
This is the only site I've found that gives you parking garage and lot occupancy in real time.  Also, the map shows the location of a number of parking garages and lots in an area even though they aren't bookable through the site. 
On the desktop version, the list of garages next to the map displays the % occupancy, address, amenities, photo, and how many minutes you need to walk to your destination from the garage or lot.
The mobile version gives you the same information, minus the occupancy rate.
Cool features: this app also gives you lots of info about finding street parking in an area.

Clicking on the "street" tab, brings up their map showing a color-coded indicator of how likely you are to find a spot on that block in real time!
If you zoom in, you can see the places on the block where you can park: where the metered parking is, where the free parking is, where you can't park, and which side of the street it's on. 

When you click on one segment of the block, a window pops up with a photo of that block and information on meter rates, street cleaning, free times, etc., for that segment.  
The street info is only available for the really congested areas of the city, like Fisherman's Wharf, downtown, the Mission, etc. The western half of the city isn't covered by this feature, but it's not really that necessary out there.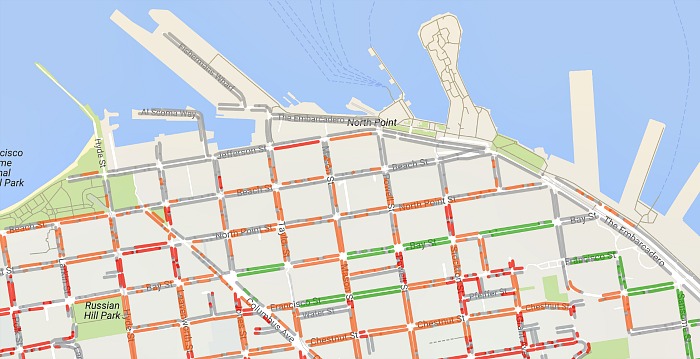 ParkMe Street View (Street Tab)
The down side: the booking prices displayed in the balloons aren't necessarily the correct ones; you have to start the booking process to find out the true price. 

Plus, it's awkward trying to check more than one garage. If you filter for a particular day and time period to check the prices, and go to the garage page to see all the details, all the date and time info you entered disappears when you go back to the garage list. Rather tedious having to re-enter it each time.
---
Honorable Mention
BestParking.com
ParkWhiz.com
BestParking.com and ParkWhiz.com don't have as many parking selections as SpotHero and ParkingPanda, but I have found better discounts in a few cases using these apps.
---
For example: looking at a couple of high demand lots and garages in the Fisherman's Wharf area for an 8-hour reservation, BestParking.com beat SpotHero.com $10 vs $14 in one case, and $13 vs $15 in another.
ParkingWhiz.com beat SpotHero.com on one garage $15 to $20 (for an 8 hour parking period). Mostly the prices are the same or higher than SpotHero, though.
If you've got the time, it can be worthwhile checking these apps as well.
---
BestParking.com
BestParking.com shows you blue and gray boxes with prices for the parking lots and garages in the area.
The blue boxes show the price you can book the space for, through their website, and the gray boxes link to information on the other parking areas that they don't cover. Sometimes it can be handy to see the other lots and garages nearby, and what their regular rates are.
BestParking also provides photos of the entrances.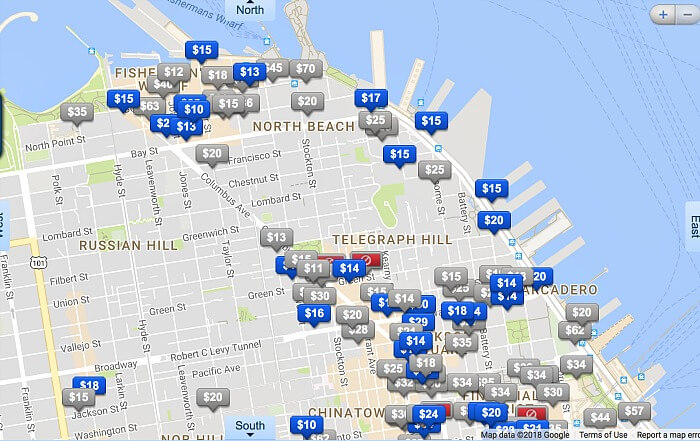 BestParking
What I like about it: occasional really good deals, and information on garages and lots not limited to the ones available for booking.
Drawbacks: no list of the amenities or description of the reservation redemption process. Can't tell it the lot or garage has an attendant present. Self-park? Who knows. It does say if it's valet parking, however.
---
ParkWhiz.com
ParkingWhiz has improved a lot over the past year. They've added a lot more parking spaces and their prices are comparable to SpotHero and ParkingPanda.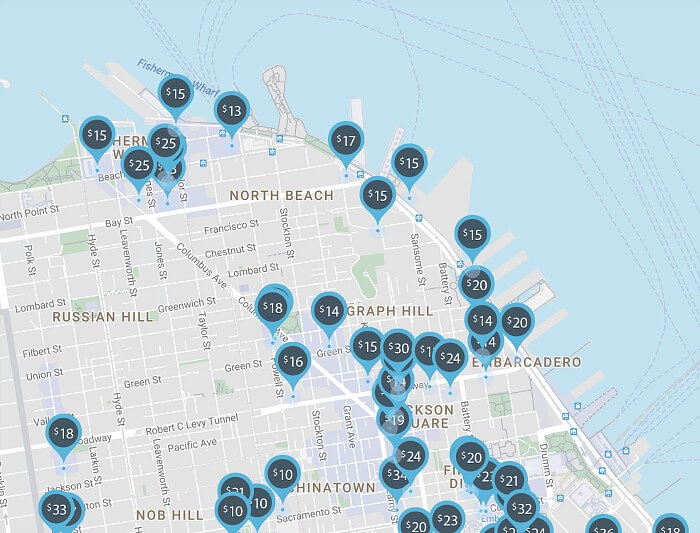 ParkWhiz
What I like about it: their maps are easy to read, and the discount prices are visible at a glance. They also provide good photos of the garage entrances and lots, tell you the distance, list the amenities of each location, and explain the system for using your reservation at each place.
In addition to letting you know if the space is attended, they also tell you if it has security. I don't know what their criteria are for that, but if they do have more than just an attendant at a garage, it would be a very useful thing to know, in this time of out-of-control, car break-ins in the city!
---
Parkopedia.com
I'm afraid Parkopedia has gone downhill since my last review a year ago.
I only saw one listed garage that was bookable from their site, down from about 50% last year. And the other parking options displayed on the map were surprisingly expensive.
In addition, you can't find out if the spot is bookable until you follow the link to another website. And many times, it's not bookable online from that website. 
Parkopedia
---
For more detailed information about parking on the Embarcadero for attractions like Alcatraz, Pier 39, the Ferry Building, and the Exploratorium, go to Embarcadero Parking. See my recommendations for the best garages and parking lots in that area.

---
Note: San Francisco is having an epidemic of car break-ins. Best not to leave anything visible in your car, not even a jacket. Sorry :-(
---
More to explore...
SF Parking Apps