Chinatown Shopping
My collection of tips on the best places to shop in San Francisco's Chinatown...
The two main shopping streets are Grant Avenue, with most of the tourist-oriented stores, and Stockton Street, with its produce markets, where Chinatown residents do their shopping. And don't miss poking around in the Chinatown alleys, and looking at the shops tucked away there.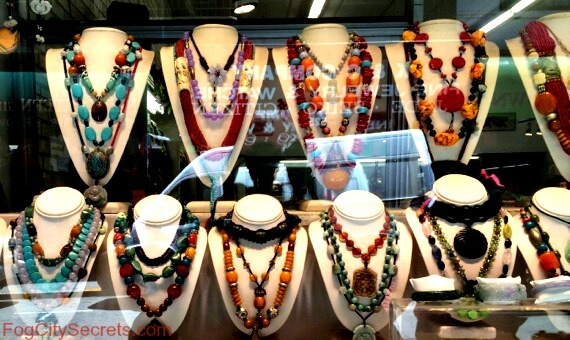 SF Chinatown: a shopper's delight?
Expecting those plastic cable cars and junky shoes? There they are! But there's also lots of interesting stuff to check out... and good bargains to be found. If you're looking for some unusual gifts and reasonably-priced souvenirs, this is a good place to begin your search.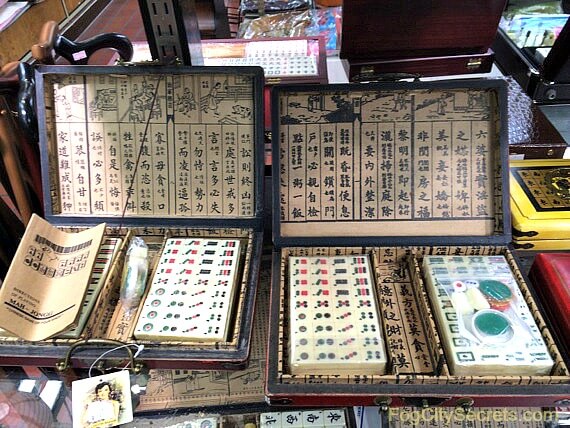 Mah Jong Sets
Grant Avenue
Grant Avenue starts at the Chinatown Gate near Union Square and runs through the heart of Chinatown. This street is the main shopping drag, and most visitors don't venture much beyond it.
It's actually a pretty street for strolling, with a great variety of shops, large and small. Faux Chinese architectural details give some charm to the street, with their curling roof edges, Chinese-style lamp posts, and red lanterns strung across the street.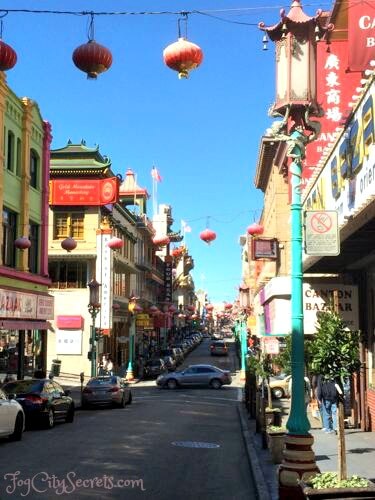 Grant Avenue
The Big Emporiums
Along Grant Avenue, you'll see some large, two and three story stores, full of an amazing variety of things to buy, and actually lots of fun to explore. My favorites: Canton Bazaar and Old Shanghai face each other across the street.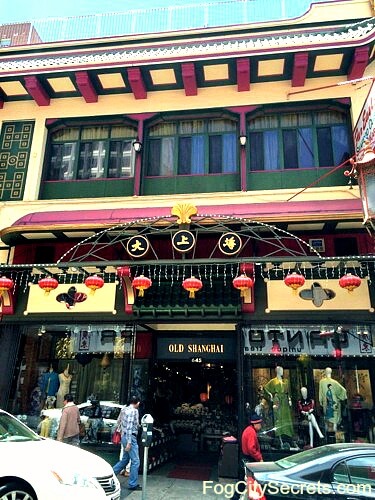 Old Shanghai
Old Shanghai
Two stories of interesting Chinoiserie, of decent quality. Has an old, slightly mysterious atmosphere. Interesting antique furniture on the second floor, and an odd assortment of merchandise downstairs. 645 Grant.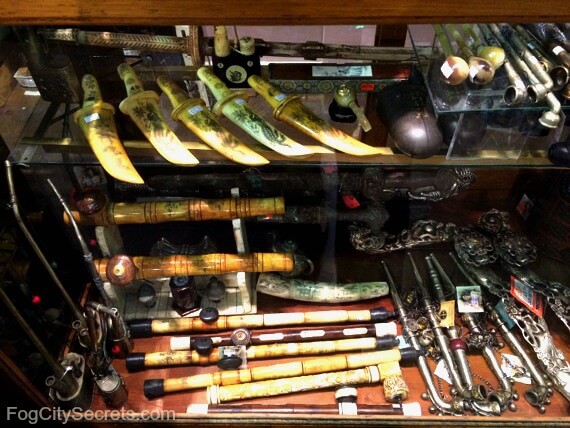 Old Shanghai: Knives, Pipes, etc.
Canton Bazaar
This shop is even bigger, three stories of odd and interesting stuff, along with the usual dolls, parasols, jade, and tchotchkes. 616 Grant.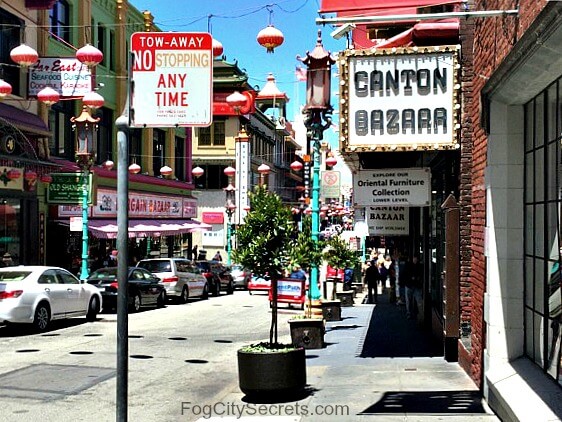 Canton Bazaar
It's easy to spend an hour or more in here, looking at all the Chinese boxes, dishes, statues, prints, scarves, silk dresses, furniture and more. The quality tends to be better than the hole-in-the-wall stalls, and not that expensive.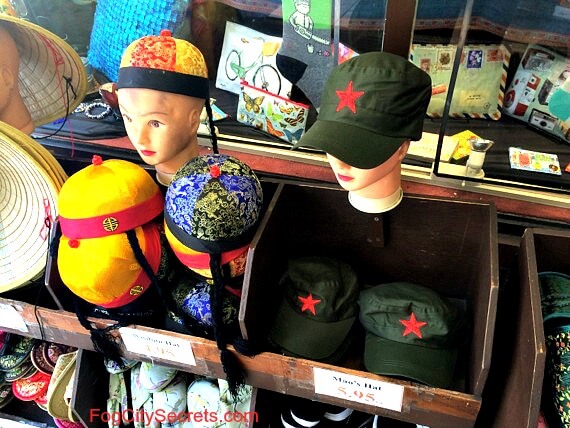 Tradition...or Revolution?
More Gift Shops
Peking Bazaar
Another large gift emporium, with lots to see. Brace yourself for the unattractive, erotic sculptures that are interspersed with some of the other merchandise. This isn't the only store that has this stuff, either. 826-832 Grant.
Asian Renaissance
Asian Renaissance (and its sister store, Asian Image at 800 Grant) is a smaller, prettier, higher-quality version of some of the larger emporiums. 662 Grant.
Stockton Street Shopping
This is where the Chinese residents buy their groceries. There are some fascinating shops along Stockton Street with vast selections of unidentifiable produce: jars and bins and shelves of ...what? Worth a look.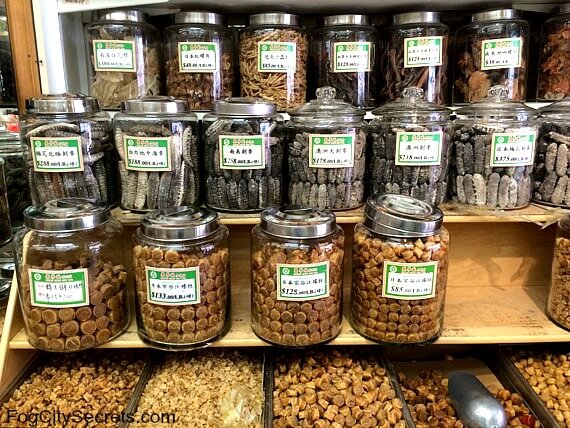 Dried Seafood Market on Stockton Street
There are also live animal markets which can be disturbing to Westerners. There has been ongoing tension between animal protection interests and Chinese culture. Shopkeepers are touchy about photographs (I was forbidden to take any in one of these shops).
More Shops to Explore...
Chinatown has an interesting collection of individual shops worth checking out as well. Here's a list to look over:
Vital Tea Leaf Shops
There are three of these on Grant Avenue. They sell high-quality tea of many sorts and will do a fun and very informative tasting session for you (free). I really enjoyed doing it; learned a lot, and no pressure to buy. But who can resist such delicious teas? I went home with some very nice Chrysanthemum tea. 509, 905, and 1044 Grant.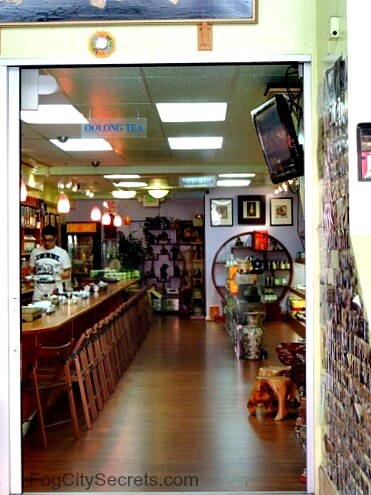 Tea Tasting Shop
Chinatown Kite Shop
A shop full of colorful kites, and other playful items. 717 Grant.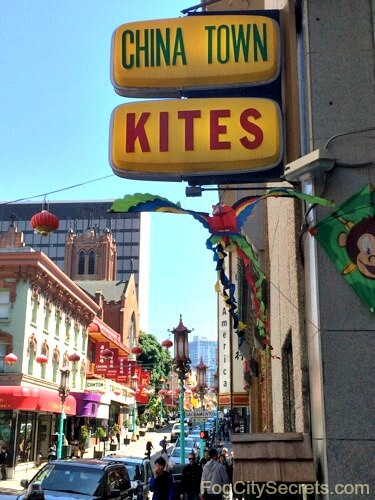 The Kite Shop
Ming Lee Trading Inc.
It might seem odd to recommend a shop that sells only snacks, but I have never seen thousands of different Asian snacks in one place like this. It looks really small on the outside, but it's surprisingly large inside. Be sure to go down into the basement.
Some very interesting tidbits you're not likely to see anywhere outside of Asia. I didn't try the Bamboo Charcoal Peanuts, but the Green Tea Pumpkin Seeds were pretty good. Lots of people are wild about the Pocky Sticks (frosting-coated, biscuit sticks, from Japan). Cash only. 759 Jackson.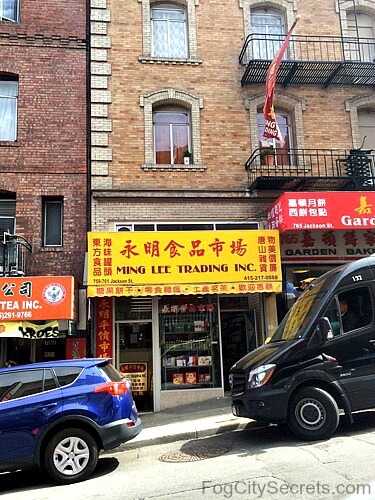 Ming Lee Trading Co.
The Wok Shop
Not just woks, but an impressive display of cookware and a great supply of quality chef's knives. The staff is very knowledgeable and will happily explain their wares. 718 Grant.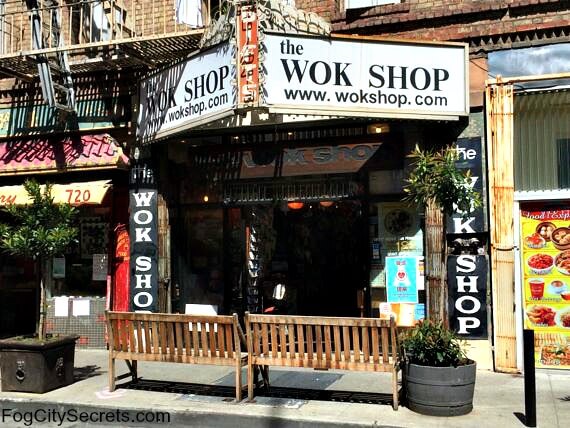 Wok Shop
Clarion Music Shop
This small shop has an unusual collection of musical instruments from all over the world, plus sheet music. They have everything from violins to African drums and the stringed erhu that you see elderly Chinese men playing here and there. 816 Sacramento.
Paulist Center Bookstore
This pleasant shop is on the side of Old St. Mary's Cathedral and has an attractive display of religious gift items, in addition to spiritual books. 614 Grant.
Great China Herb Company
Traditional Chinese apothecary shop, huge supply of Chinese herbs, with a Chinese doctor available for consultations. This shop has been here since 1922, and has the original wooden furnishings. Lots of atmosphere. 857 Washington Street.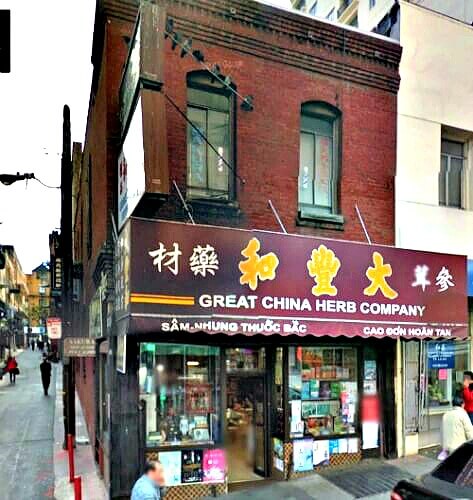 Great China Herb Co.
The Bakeries
While you're shopping, should you get hungry, you might want to stop in at the Eastern Bakery for a snack to revive you. It's on Grant, next door to the Wok Shop; you can pick up some yummy (and cheap) Chinese pastries there. They're famous for their egg custard tarts; the pineapple buns and Chinese donuts are very good, too. The oldest Chinese bakery in San Francisco. 720 Grant.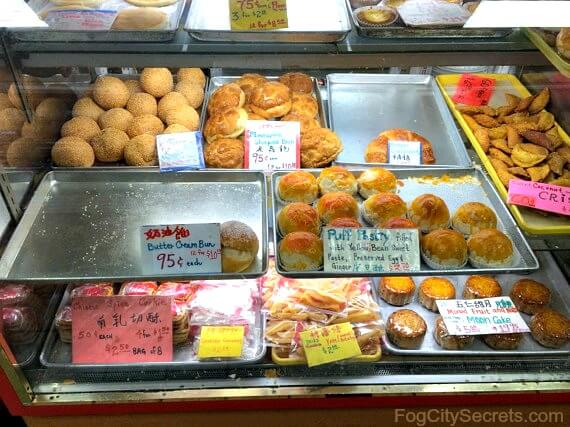 Eastern Bakery
Chinatown Restaurants and Dim Sum
If you're up for a meal, or a substantial snack, check out my page on the best (IMO) restaurants in Chinatown, plus the best dim sum places to try. See Chinatown restaurants.
Getting to Chinatown
It's easy to get to Chinatown on public transportation. The California cable car line goes right through the neighborhood (get off at Grant Avenue) and both Powell lines go right along one side of Chinatown on Powell Street, just one block above Stockton Street. Get off at any stop between California and Jackson.
Also the 15, 30 and 45 Buses go through Chinatown.
You can easily walk from Union Square. Head up Stockton Street to Bush Street, turn right on Bush and go one block, then left on Grant Avenue through the Chinatown Gate, and you're in Chinatown.
Parking in Chinatown
There are two convenient parking garages in Chinatown: Portsmouth Square Garage, at Kearny and Washington, and St. Mary's Square Garage, entrances on Kearny and California Street.
---
Map of Chinatown Shops
Click on a pin to see the name, or click on the square left of "Best Chinatown Shops" on top to see the complete list.
---
More to explore...