San Francisco Chinatown
Walking Tour
The best way to explore Chinatown!
San Francisco's Chinatown is a large area, densely-packed with interesting things to see. Wandering through the streets and alleys of Chinatown is a lot of fun, either on a guided walking tour or a do-it-yourself tour.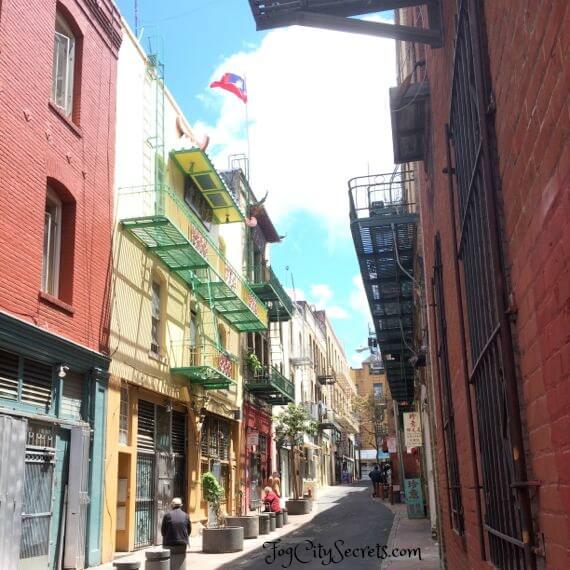 Spofford Alley, Chinatown
Guided Tour or Do-It-Yourself?
There's something to be said for either approach to exploring Chinatown.
Self-Guided Tours
Advantages:
You can go at your own pace.
You can explore whatever you find interesting.
You can enjoy those unexpected and unplanned experiences.
It's always free.
Guided Tours
Advantages:
The guide plans the route and takes you around.
You get to hear the history of the selected locations.
Most efficient way of seeing the highlights of Chinatown.
Can include a sampling of dim sum or other Chinese treats.
You don't have to study the history of every stop or study the maps to find everything.
---

Insider Tip:
My advice, especially for first time visitors to Chinatown is...do both!
A tour is an easy and efficient way of getting around and seeing a lot, and you don't have to spend a lot of time reading about the history of every place beforehand. The tours usually take two to three hours, then you can head out on your own to poke around in the alleys, do a tea tasting, look around in the shops, and have a leisurely lunch.
---
The Best Guided Chinatown Walking Tours
1) The SF City Guides San Francisco Chinatown Walking Tour
San Francisco City Guides is a local non-profit organization, associated with the SF Public Library, that does free tours of all sorts of San Francisco attractions. The tours are conducted by trained volunteers who are very knowledgeable, and have a real interest in the subject. I've been on their Chinatown tour and highly recommend it.
How the free tours work: the times and meeting locations are listed on their website. There are no reservations; people just show up at the appointed time and place. The Chinatown tour lasts about an hour and a half, and it's free. They do ask for a donation to the non-profit organization at the end, but there's no pressure (the tip doesn't go to the tour guide). See for the tour schedule.
In addition to the Chinatown tour, I've been on a number of their other tours and I've really enjoyed them.
There are also some highly-rated, reasonably-priced walking tours that take you through the Chinatown hot spots.
Note: I may earn a small commission if you make a purchase through some of the links on this page, at no extra cost to you. This helps me provide all the free information I post on this website.
2) The Chinatown Walking Tour
Viator has a popular tour that takes you around the markets, schools, fortune cookie factory, Chinatown alleys, temples, herbal shops, etc., and explains the fascinating history of this community. It's two hours and $35 for adults, children $25. For more info and booking, see San Francisco Chinatown Walking Tour.
They also give you an option to add on a 9 course dim sum lunch...yum!
3) The Chinatown Culinary Tour
This is a tasty tour that goes off the beaten track through Chinatown, sampling a variety of Chinese specialties and hearing their background stories. You'll also explore some authentic Chinese crafts, and enjoy a full lunch. $59, 3 hours. See Chinatown Food Tour for more info and booking.
4) Hop On Hop Off Bus + Chinatown Tour
If you are planning to do a Hop On Hop Off Bus tour, the 2-day and premium 1-day bus tours with City Sightseeing include a Chinatown walking tour. See Hop On Hop Off Bus tours for more info and booking.
---
The Self-Guided San Francisco Chinatown Walking Tour
I've listed what I think are the most interesting things to see and do in Chinatown.
I haven't given a step by step sequence to follow, because there are so many ways to walk through the neighborhood, but going in numerical order is probably the most efficient way of doing it. I've marked the places on the map (below) you can use to navigate, and print it out if you would like.
Before you head out to explore, I think the tour will be more interesting if you get a glimpse what life was like here during the Gold Rush era and early 1900's. These streets, and especially the alleys, have seen some rough times, very different from their charming appearance of today.
On my page about Chinatown history, I've included information and photographs from the Gold Rush period and the lawless times that followed, before the 1906 earthquake and fire destroyed the entire neighborhood.
Highlights of the Chinatown Tour:
To fill out some of the details on the sights and places to explore, see my Chinatown page, as well as the pages on Chinatown Restaurants, and Chinatown Shopping.
---
Chinatown Tour Map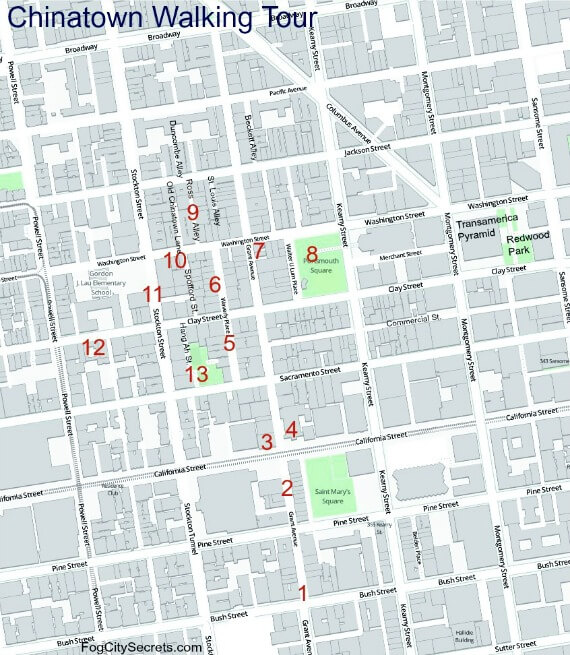 To download a PDF of the map: click here.
Key to Walking Tour
The Chinatown Gate: aka the Dragon Gate, entrance to Chinatown, built in 1970.
Grant Avenue: the main street of Chinatown with most of the tourist shops.
Sing Chong Building: first building of post- earthquake Chinatown, in new "Chinese" style. 601 Grant Ave.
Old Saint Mary's Cathedral: early SF church, only Chinatown building to survive earthquake and fire.
Waverly Place: "Street of Painted Balconies", pretty alley, former setting of brothels and tong battles.
Tin How Temple: top floor, oldest Chinese temple in U.S. 125 Waverly Place.
Old Chinese Telephone Exchange: now a bank, formerly the telephone exchange for Chinatown. 743 Washington.
Portsmouth Square: SF began here, Democracy statue, elderly Chinese chess players.
Ross Alley: "Street of the Gamblers", picturesque alley, location of the Fortune Cookie Factory.
Great China Herb Co.: long-time, traditional Chinese apothecary shop, opened 1922. 857 Washington St.
Stockton Street: where the residents shop. Vegetable, seafood and animal markets.
Chinese Historical Society: museum of Chinese history and culture, different exhibits. 965 Clay St.
Hang Ah Street: alley with Hang Ah Tea Room, oldest dim sum restaurant in Chinatown. Mah Jong parlors.
To download a PDF of the key: click here.
More to Explore on Walking Tour
The following are some additional spots that might also be interesting to check out:
Donaldina Cameron House: rescue mission for Chinese slave girls, now youth center. 920 Sacramento St.
Old Saint Mary's Square: nice park, statue of Dr. Sun Yat Sen and memorial to fallen Chinese-American soldiers.
Buddhist Temple: largest in U.S. 720 Washington.
Gold Mountain Monastery: 800 Sacramento St.
Nam Kue Chinese School: teaches Chinese children Chinese writing and culture, built 1926. 755 Sacramento St.
Chinese Cultural Center: art exhibits, classes. 750 Kearny St. 3rd floor (in Hilton Hotel).
Redwood Grove Park: behind Transamerica Building, former location of saloon where Mark Twain, Robert Louis Stevenson, Ambrose Bierce, Bret Harte hung out.
Li Po Lounge: kitschy, Tiki-themed dive bar, famous for Chinese Mai Tais. 916 Grant Ave.
Eastern Bakery: oldest Chinese bakery in Chinatown. Famous for egg custard tarts and moon cakes. 720 Grant Ave.
Shops:
Chinatown Kite Shop: 717 Grant.
Vital Tea Leaf Shops: tea tasting, 509, 905, & 1044 Grant.
The Wok Shop: treat for chefs, 718 Grant.
Old Shanghai Emporium: interesting old shop to explore, 645 Grant.
Ming Lee Trading: amazing Asian snacks shop, 759 Jackson.
Clarion Music Shop: instruments from around the world, 816 Sacramento.
Eastwind Books & Arts: huge collection of Chinese-related books, 1435 Stockton St.
Historic Chinatown Alleys
Duncombe Alley: used to be lined with opium dens.
St. Louis Alley: site of slave market, late 1880's, early 1900's.
Beckett Alley and Wentworth Alley: were lined with brothels.
Commercial Street: 2 famous brothels, #742, "Parisian Mansion", and #751, Rube Goldberg's house.
Spofford Street: Dr. Sun Yat Sen lived at #36 while planning the overthrow of ruling Chinese dynasty.
To download a PDF of the list of additional places to explore click here.
---
More to explore...