Updated June 1, 2023.
Lombard Street
San Francisco
The World's Crookedest Street?
Well, almost...

Lombard Street in San Francisco is often called the most crooked street in the world. Actually, it's the second crookedest, but San Francisco has the number one street as well!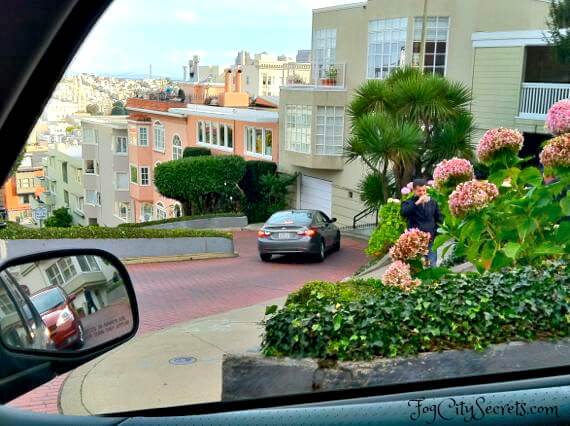 Driving Down
The pretty, postcard view of Lombard Street has become famous worldwide and many visitors enjoy seeing the cars carefully winding down the eight, hairpin turns among the beautiful flower beds.
But it wasn't "discovered" until the late 1950's, when it was featured in a news article. The first post card of Lombard Street appeared in 1961.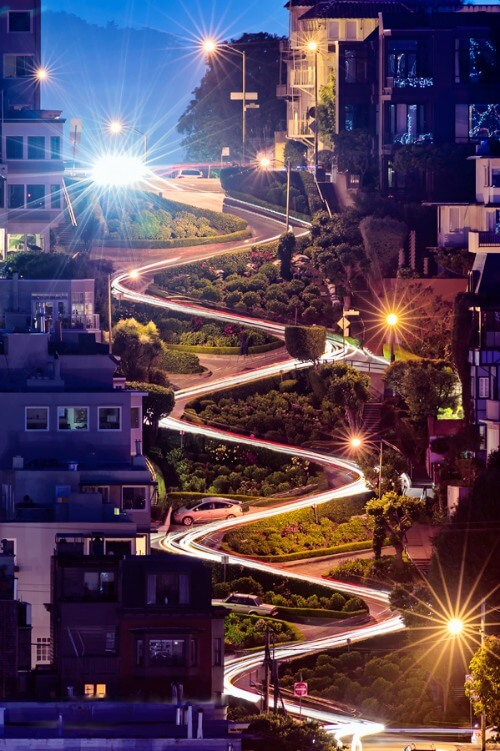 Night View of Lombard Street
(Image thanks to David Yu, under
CC-BY-SA
license.)
---
How Lombard Street Became Crooked
City planners and residents have struggled with San Francisco's steep hills from the very beginnings of the city.
Lombard Street was just one of the many cliff-like streets that horse-drawn wagons and early Model T Ford's had trouble with. Cable cars were one solution, and curvy switchbacks were another.
In 1922, the home-owners on the 1000 block of Lombard Street decided that their street was too steep for comfort, and created the plan to create a series of eight sharp turns to make it more manageable.
The result: eight tight switchback turns in 600 feet of road. Around one million cars drive down it every year.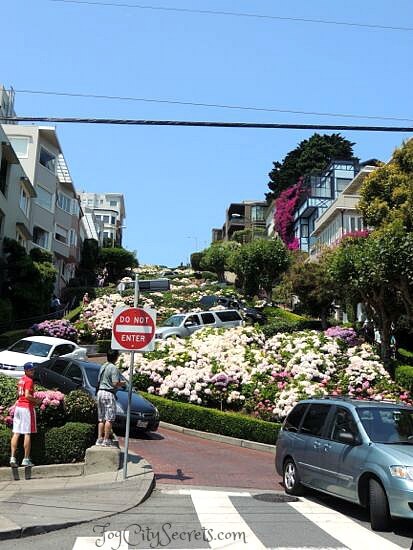 Originally it was a two-way street, but in 1939 it became one-way going down. Lombard Street didn't become the photogenic beauty it is today until the hill was planted with hydrangea bushes, which bloom pretty much all year round.

---
Going Down Lombard Street
Is it better to drive or walk down Lombard Street?

Driving Down
This is a cool experience. Not that it's difficult (the speed limit is 5 miles per hour), but it feels like such an odd thing to do.
The paving bricks are a little slippery, and the turns are tight. Winding down a steep hill in a field of blooming hydrangeas...such fun! And what a great view of Coit Tower, the Bay Bridge and the bay, if you can take your eyes off the road.
Tolls and reservations ahead for Lombard Street? Apparently not. A bill to charge cars $5 (and $10 on weekends) to drive down Lombard Street made it through the California legislature, but it was vetoed by Governor Newsom. See the SF Chronicle article.
Tip for driving down: the crooked part of Lombard has to be approached from Lombard. They won't let cars turn onto it from the cross street, Hyde, because the cars would back up on Hyde and interfere with the cable cars that run along there. So you would need to join the line of waiting cars on Lombard (if there is one) from one of the cross streets further away.
Warning: the stretch of Lombard leading up to the crooked block has a couple of steep blocks as well. Inching up them with a car on your bumper is kind of exciting, too;)
---
Drive a Go Car Down Lombard
And to up the adventure a bit, try Lombard Street in a little Go Car. I finally got around to it, and it was great! Only a little dicier than doing it in an SUV.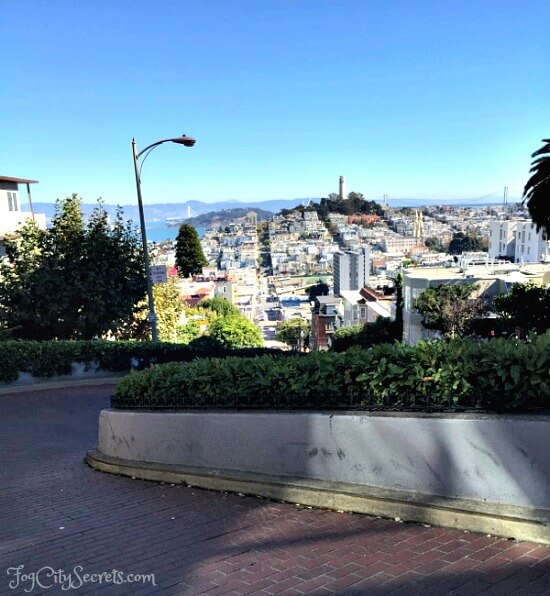 Coit Tower View: driving down in a Go Car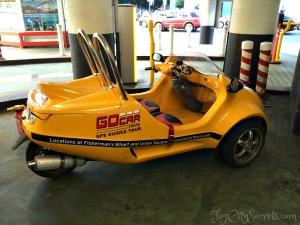 Note: I may earn a small commission if you make a purchase through some of the links on this page, at no extra cost to you. This helps me provide all the free information I post on this website.
Here's my account of it, with lots of tips on the best routes and what not to do (our mistakes revealed!) See Go Cars in the City.
Want to try it? For more info and booking a Go Car, click here.
---
More tours that go down Lombard...
The big buses can't go down this street, but there's a highly-rated, small-group city tour that drives you down Lombard Street in a VW bus. This is the popular San Francisco Love Tour, which takes you to all the main San Francisco sights, plus the homes of Janis Joplin and the Grateful Dead, all with a hippie vibe and 60's music. See the VW bus tour for more info and booking.
There are also Segway tours that go down Lombard Street (for experienced riders, they say). I haven't tried it, but it looks like fun. See Segways for details and booking information.
---
Best times to go down Lombard Street
On sunny weekends, there can be a long line of cars waiting to go down the street. During the week, it's not usually a problem.
Summer and early fall are busier, generally, but I went down it on a beautiful sunny afternoon in October and there was no one ahead of me.
If you're walking down, any time is good, though the views are best on sunny days.
Tips for photographers. There are two views that people like to take: the view from the top of Lombard looking towards Coit Tower and the bay, and the view from the bottom with the road winding down through the flower beds.
To get that pretty picture of the cars coming down through the hydrangeas, try to be there in the morning. The crooked part faces east so the sun is on that section in the morning. In the afternoon, that block will be in the shade. But for the view from the top, you don't want to shoot into the sun, either, so late morning, or noonish is probably ideal for the pictures.
---
Parking Alert: if you are driving to Lombard Street and parking near there, be aware that there have been lots of car break-ins in that area. In fact, it's a huge problem. Don't leave anything valuable or any possessions visible in the car. Here's an article about it.
The perp was witnessed breaking into a tourist's rental van on Lombard Street by a reporter investigating that very problem, and he was photographed by an SF Chronicle photographer working on the story. He was eventually caught; a rare occurrence!
---
Walking Down Lombard
There are stairs down both sides of Lombard Street.
Most people walk down Lombard. It's pretty easy, though it's a full block down. Walking up would be great exercise, which is probably why most visitors start at the top!
Walking down gives you plenty of time to check out the street and houses, and to admire the view, which is very nice. Photography is a lot easier, too.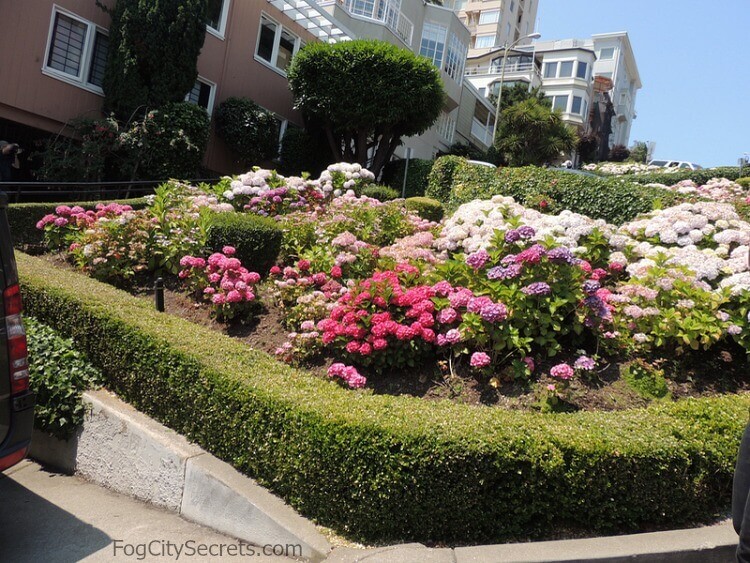 Hydrangeas blooming
---
Famous Buildings on Lombard Street
Several of the buildings have some interesting history attached.
Real World San Francisco. One of the early reality TV shows, Real World, used the house at 949 Lombard, filmed in 1994.
The Haunted Montandon House. One of San Francisco's most famous haunted houses is sitting right on the curves of Lombard Street.
The apartment building at 1000 Lombard belonged to well-known socialite of the 1960's Pat Montandon. In addition to being a famous party hostess and having her own local talk show, she later became known for her work with children's charities. After being cursed by a tarot card reader at one of the parties, her home on Lombard became notorious for a series of tragic deaths, as well as numerous reported supernatural manifestations.
It eventually became unlivable, and after a ghostly woman kept showing up in photographs taken inside the house, Pat arranged for an exorcism, after which things apparently settled down. See an interesting article about the hauntings. Pat herself wrote a book about it, called The Intruders.
The building is obscured by trees on Lombard; there's a better view from Leavenworth Street at the bottom of Lombard, on the right looking up.
The House in Hitchcock's Vertigo. Just below the crooked block is the house Alfred Hitchcock used as Scottie's home in the film Vertigo. Both the exterior and interior of 900 Lombard were used in the film, though the current owners changed the outside appearance in 2012, building a wall around the front (to avoid the tourists, they said).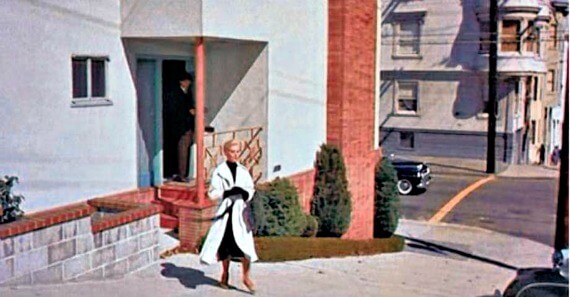 Scottie's House in Vertigo
---
Explore SF Movie Locations
Tip: there is a free walking tour by SF City Guides that explores the San Francisco locations and history of Alfred Hitchcock's films, including Vertigo.

SF Movie Location Tour. Also, there's a very popular movie tour that drives you around to 55 or so locations in San Francisco that appear in some well-known films and TV shows (Vertigo, San Andreas, Mrs. Doubtfire, Full House, etc.).
They swing by Lombard Street on the tour, and show clips from the films on the bus. Doubles as a good city tour. $67, 3 hours. See SF Movie Sights City Tour for more info and booking.
---
Lombard Street Neighborhood
This section of Lombard Street is in the Russian Hill neighborhood, a very affluent, expensive area of San Francisco.
Just to give you an idea, the pink building at 1047-1049 Lombard, consisting of one 2-bedroom flat and one 3-bedroom flat, sold in January 2016 for $4,050,000.
---
Who's the Crookedest of Them All?
The "crookedest street in the world" is actually Vermont Street, in the Potrero Hill neighborhood on the other side of town.

Vermont Street
This neighborhood has more than its share of steep streets, but it's off the beaten track for visitors to San Francisco. Three of the streets here rival the better known Filbert Street for extreme grades.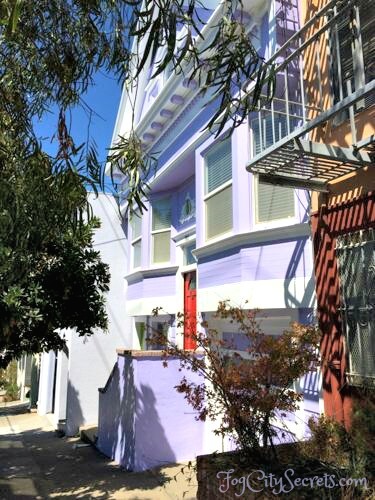 Potrero Hill Neighborhood
Vermont, between 20th and 22nd Streets, was one of those steep ones until 7 curves were added, with tighter turns than Lombard's (Vermont Street surpasses Lombard in sinuosity, one measure of curvature).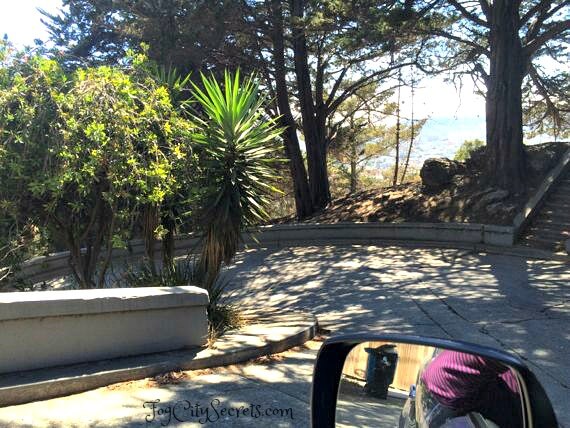 Driving Down Vermont Street
Vermont Street is tucked away in a pleasant older neighborhood of pretty Victorians and great city views. The trees and shrubbery have grown up around it, so it's harder to get the full view of the whole curve sequence.
Vermont Street's other claim to fame is its weird and light-hearted annual event, the Bring Your Own Big Wheel Race, where people (mostly adults) race plastic Big Wheel tricycles down the winding road. Held Easter Sunday at 4:00 p.m. every year. Draws a big crowd of locals.
Film note: the curves of Vermont Street starred in a chase scene in Clint Eastwood's Magnum Force (1973).
(Another contender for crookedest street in the world is Snake Alley, in Burlington, Iowa. It has 7 turns and is curvier than Lombard, but I don't know where it stands vs. Vermont Street.)
Lombard Street Curves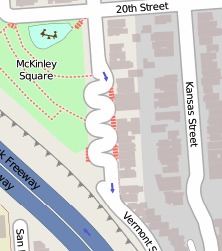 Vermont Street Curves
---
The Steepest Streets of San Francisco
Actually, Lombard Street was pretty tame, at a 27% grade before alteration. San Francisco has much steeper streets than that.
Filbert Street and 22nd Street
The reigning steepest streets in the city had long been Filbert Street (between Leavenworth and Hyde) and 22nd Street(between Church and Vicksburg), both at a 31.5% grade. I've driven down both of these guys and it's a bit of a white knuckle experience. There's that moment when you feel like your car is driving off a cliff and can't see the street in front of you. Quite a thrill! And safe in most cars (with good brakes). Both are one-way, down only.

An intrepid local explorer, Stephen Van Worley, went out and hunted down, drove and measured the candidates for steepest San Francisco streets and found seven more that tied or beat the grade of Filbert and 22nd Streets.
The Winners for Steepest San Francisco Street
Stephen found that Bradford Street, in the Bernal Heights neighborhood above Tompkins Avenue, maxed out at a 41% grade, which actually qualifies it as the steepest urban street in the world (passing even Canton Avenue in Pittsburg at 37%). Check out the amusing account of his search at steepest SF streets.

Worse than driving down those black diamond runs? Driving up one of those and having to stop at the top, especially with another car attached to your bumper! I used to drive a manual shift car around the city; that was always good for an adrenaline rush...and a great test of coordination getting started (with some help from the emergency brake).
For a stimulating challenge, try the two blocks of Jones Street between Filbert and Union, in Russian Hill: two nice stop signs to practice on! Going up Gough and stopping at Washington is always fun, too; the steady traffic enhances the experience.
---
How to Get To Lombard Street
The crooked part of Lombard Street is between Hyde (at the top) and Leavenworth.

Cable Cars
The Powell/Hyde Street cable car that runs from Powell Street on Market Street to Fisherman's Wharf goes right by the top of Lombard Street. The cable car stops there, at Hyde and Lombard, and you can get off at the top of the street for great views of the city, Coit Tower and the Bay Bridge, then walk down.

To see my tips on riding the cable cars, especially on how to avoid the lines getting on, see my cable car guide.
City Buses
The #19 bus runs from Beach Street at Aquatic Park on Fisherman's Wharf, along Polk Street to Lombard, two blocks from the curvy part.

Use the city's trip planner. San Francisco's SFMTA website can show you the routes and buses available; you just plug in the start and stop points. See trip planner.
Driving to Lombard Street
Tip: parking is tough in this area, in addition to the annoying car break-in problems. One solution is to use the parking app Spot Hero to reserve parking spaces at a garage or lot a few blocks away, closer to Fisherman's Wharf.

The parking app Spot Angels can give you information on street parking possibilities in the area, as well as garage and lot info.
Hop On Hop Off Buses
You can also get close to the crooked part of Lombard Street on the Hop On Hop Off buses. One of the stops on the city tour is about three blocks away. See Hop On Hop Off Tours for more info and booking.

Walk from Fisherman's Wharf
If you don't mind walking about five blocks, you can easily get to Lombard Street from Fisherman's Wharf.

Best way: take Leavenworth Street to Lombard, which avoids the series of very steep hills on Hyde Street that take up you to the top of Lombard.
There are some hills on Leavenworth, too, but they're mild compared to Hyde. There's just no avoiding the hills in this area.
Leavenworth takes you to the bottom of the curvy section of Lombard. You can pick it up in Fisherman's Wharf on Jefferson or Beach Streets, towards the end of the wharf near the cable car turnaround and Hyde Street Pier.
---
Maps of Lombard Street
If you walk to the bottom of Lombard Street, you'll be in walking distance to North Beach (5 blocks) and Fisherman's Wharf (4 blocks). To get to Fisherman's Wharf, go left on Leavenworth Street.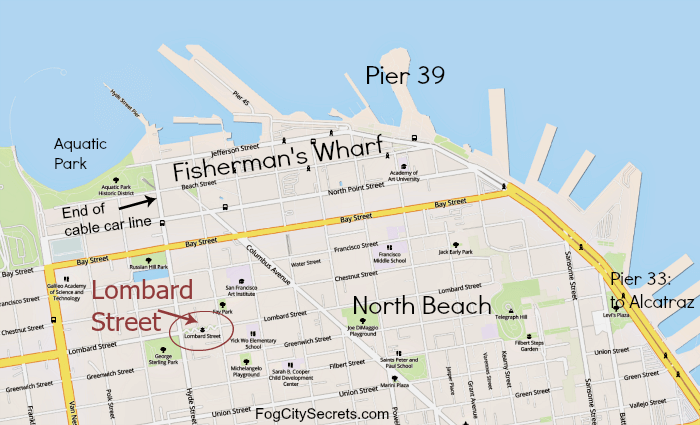 Lombard Street and Fisherman's Wharf
---
More to explore...
---
Lombard Street