Parade of Ships and Ship Tours
Fleet Week SF 2017
Fleet Week: October 2-9, 2017
Parade of Ships: Friday, October 6, 2017, 10:00 am to 12:00 pm.
Ship Tours: to be announced.
Parade of Ships 2017
To kick off Fleet Week in San Francisco, the Navy sends a line of ships sailing under the Golden Gate Bridge and past the waterfront area.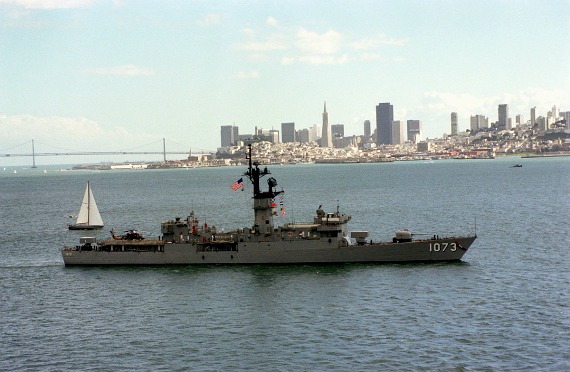 The Parade of Ships in 1981
The parade begins at 10:00 a.m. on Friday, October 6, 2017, with the first ship passing under the bridge, followed by the remaining ships.
I'll add the ship information when it becomes available.
Last year's ships included the following:
1. USS San Diego: Amphibious Transport Ship
2. HMCS Calgary: Canadian Navy Frigate
3. USS Mobile Bay: Guided Missile Cruiser
4. USCGC Mellon: U.S. Coast Guard Cutter
5. USS Montgomery: Littoral Combat Ship

The procession usually continues for an hour or two.
Best Places to Watch
There is a good view of the ships anywhere along the waterfront from the bridge itself to the Ferry Building at the end of Market Street.
---
Fleet Week Ship Tours for 2017
The ship tours for 2017 haven't been announced yet, but last year they were held on the Tuesday, Thursday, Saturday, Sunday and Monday of Fleet Week.
In past years, the ships have been berthed at Piers 15/17 (near the Exploratorium), Piers 30/32, and Pier 35 (cruise ship overflow pier). I'm hoping they'll use Pier 80 this year, which they've used in the past (huge free parking lot!); probably not, since it's being used by an auto-shipping firm just now (but which might be moving out).
See my page on San Francisco Piers for maps of the piers and what's located at each one. Also, see information on parking in the area at Embarcadero Parking.
---
Go Onboard the Ships
Typically, five of the Navy ships have open houses each year. The public is invited to go aboard, meet the sailors and explore the war ships: pretty cool.
Advice for every year: this is very popular, so go early if you can. Expect some serious lines. Ship tours are free.
The five ships that had with open houses in 2016:
USS San Diego, LPD 22: Piers 30/32
HMCS Calgary, FFH 335: Piers 15/17
USS Mobile Bay, CG 53: Piers 35
USC GC Mellon, WHEC 717: Pier 35
USS Montgomery, LCS 8: Pier 35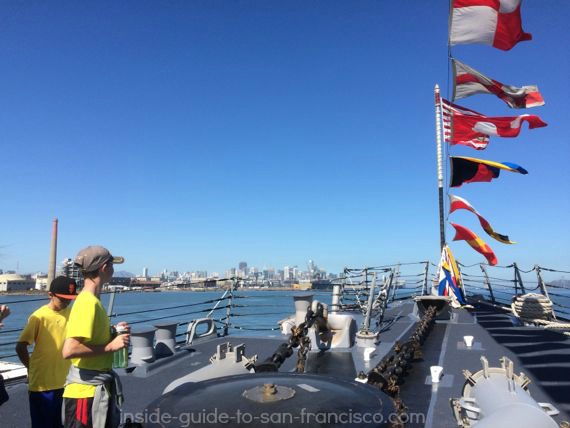 On the Deck of the USS Stockdale, 2015
Guided Missile Destroyer
---
Piers with Ship Open Houses in 2016:
---
Piers 15/17 house the Exploratorium. There's an expensive parking lot across the street.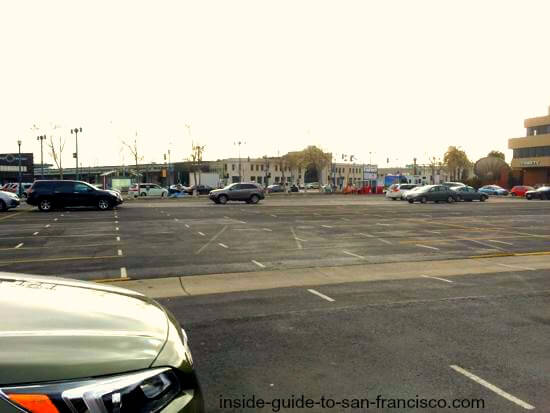 Parking Lot at Pier 15
Piers 30 and 32 are at the end of Bryant Street, on the Embarcadero. There is a parking lot across the street here also.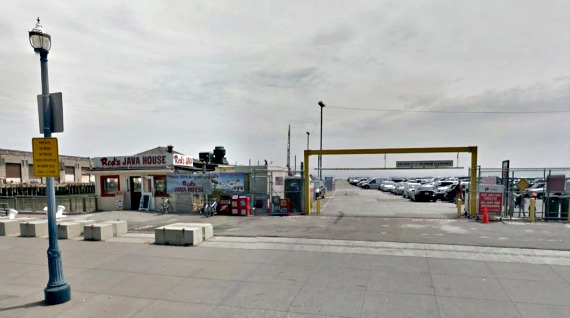 Entrance to Piers 30/32
Pier 35 is used to handle the overflow cruise ships when the Cruise Ship Terminal at Pier 27 is in use. Not far from Pier 39, so parking is challenging.
---
The Ships With Open Houses in 2016
I'll add the 2017 info when they announce it.

USS San Diego, LPD 22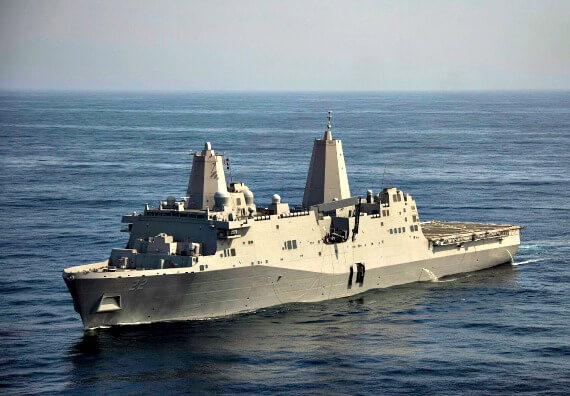 The USS San Diego is an amphibious transport dock ship, used to transport troops and launch landing craft during wartime missions. LPD stands for "landing platform dock".
The ship can transport up to 800 marines, their tanks and armored vehicles, plus two helicopters.
This type of ship has some interesting features; they use some type of stealth technology that makes it harder to track them by radar and it has some protection against nuclear blasts. For the sailors' benefit, they have berths that they can sit up in (!), an operating room for surgeries and a fitness center.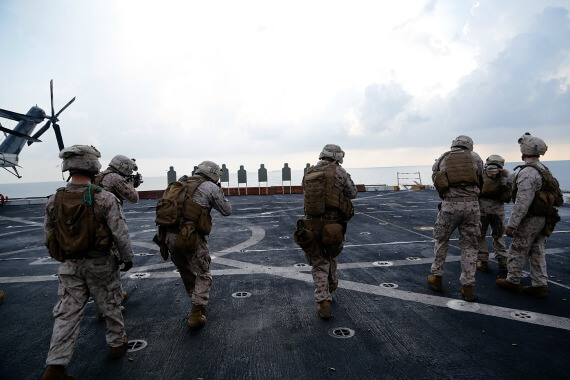 Marines Training on the USS San Diego
(Image thanks to U.S. Naval Forces Central Command/U.S. Fifth Fleet, under
CC-BY-SA
license.)
The USS San Diego was built in Mississippi in 2010, and passed through the Panama Canal on the way to its home port of San Diego.
Below is a drawing of a ship of the same class as the USS San Diego: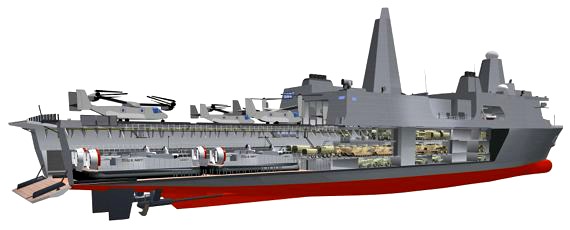 Amphibious Transport Dock Design
---
HMCS Calgary, FFH 335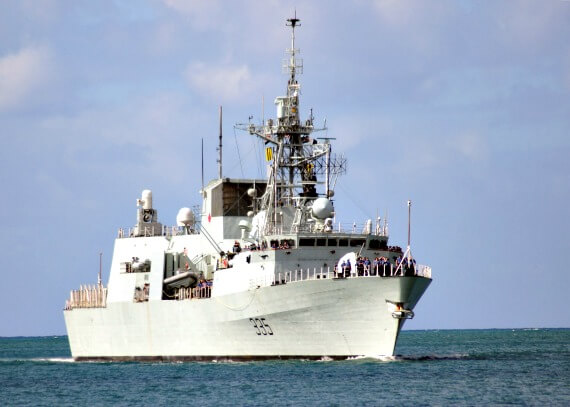 The Calgary was designed for general sea warfare, with special anti-submarine abilities, and is used to patrol Canadian territorial waters.
Their military capabilities include helicopters and surface-to-air missile launchers. For defense, they have some interesting decoy systems involving rockets and torpedoes.
The ship has performed a number of missions in the Persian Gulf, as well as actions against Somali pirates and Caribbean drug-running.
---
USS Mobile Bay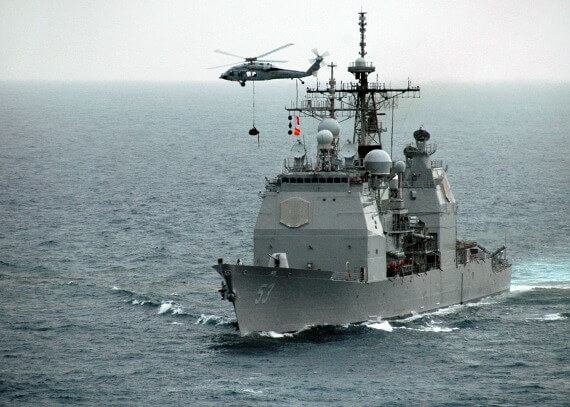 The USS Mobile Bay is a guided missile cruiser, Ticonderoga class. These ships are designed for multiple functions: Tomahawk cruise missile launchers, anti-submarine actions, anti-aircraft defense, and ballistic missile defense. A ship of the same type shot down a dead satellite in 2008.
The ship's name comes from the Civil War battle of Mobile Bay in 1864.
---
USCGC Mellon, WHEC 717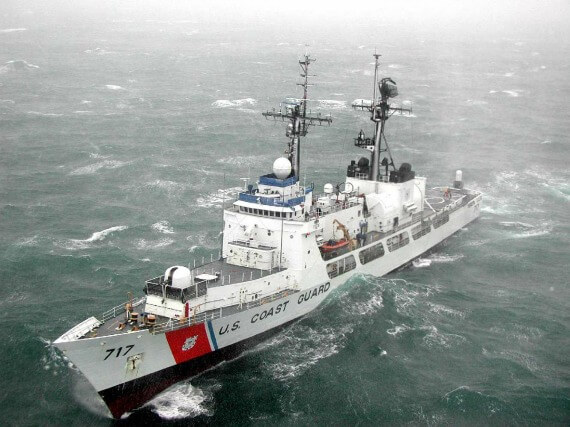 The USCGC Mellon in the Bering Straits
The Mellon is a high-endurance Coast Guard cutter, designed for long periods at sea.
This is an older ship that has seen a lot of search and rescue service since its launch in 1967. In addition to search and rescue, it performs law enforcement duties, and environmental protection and research activities.
The Mellon saw action during the Vietnam War and for decades rescued passengers on ships in distress in the Pacific Ocean and Bering Seas.
The ship's home port is Seattle and it now divides its time between patrolling the Bering Straits for fishing violations and intercepting drug smugglers off the coast of Mexico and Guatemala.
---
USS Montgomery, LCS 8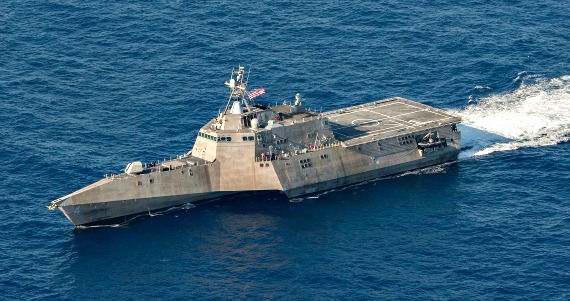 Twin Sister USS Coronado, LCS 4
The Montgomery is a "littoral combat ship", designed to be fast, and able to sail in close to shore. It has a number of uses: landing men and vehicles on shore, launching helicopters, and doing anti-submarine and anti-mine operations. Designed especially to repel swarm boat attacks.
The Montgomery was built by an Australian company, Austal, at their Alabama shipyard, and was christened in 2014 with a bottle of champagne wielded by the wife of Senator Jeff Sessions. It was named Montgomery because of its Alabama connection.
There were some serious mechanical problems with the Montgomery on September 13 on its way to its homeport in San Diego, so it didn't appear at Fleet Week last year. It sailed to Florida for repairs instead.
---
More to explore...