Pier 39 San Francisco
From a Local's Point of View
Pier 39 San Francisco is one of our most popular tourist attractions. Is it fun? Worth a visit? Or just a tourist trap.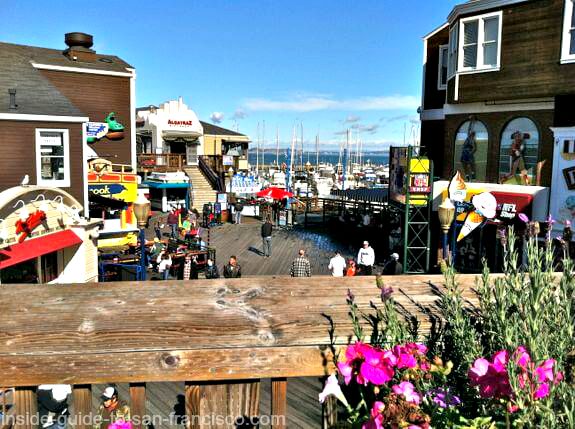 As a long time resident of San Francisco, I can tell you that the locals shun Pier 39. It's gotten a bad rap because it was created specifically for the tourists; but is it fair? Here's what I found.
Into the Heart of San Francisco Tourism
I put on my safari gear and headed down to Pier 39 to do some research, expecting to be drained by the commercialism and tackiness, but instead...I had a great time!
Yes, it's commercial, and it's not the real San Francisco, but there are lots of fun things to do and see, and some pretty cool shops as well. And the views are spectacular!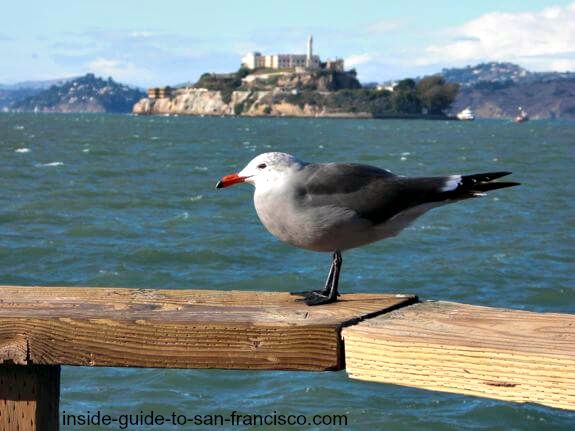 Alcatraz view from Pier 39
San Francisco's Pier 39 is essentially a two-story, outdoor shopping mall, with gorgeous views of Alcatraz and the Golden Gate Bridge, and its own colony of sea lions.
Things to See and Do at Pier 39
The sea lions
The views
Bay cruises
Mazes, 3D rides, carousel, bungee flying
The Aquarium of the Bay
Jugglers, magic shows
Wine and beer tasting
Lots of shops and places to eat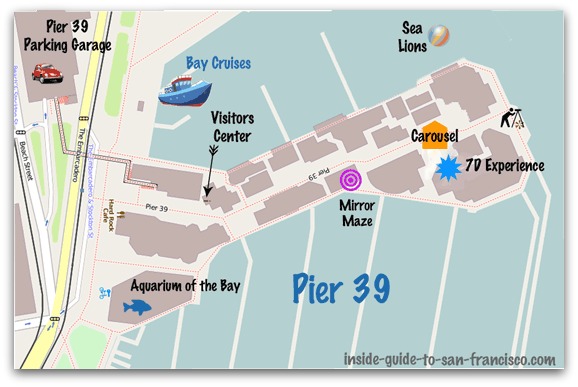 There are directories posted at intervals with all of Pier 39's tenants, so you don't really need a map once you're there.
Highlights of Pier 39 San Francisco
Sea Lions at the Pier 39 Marina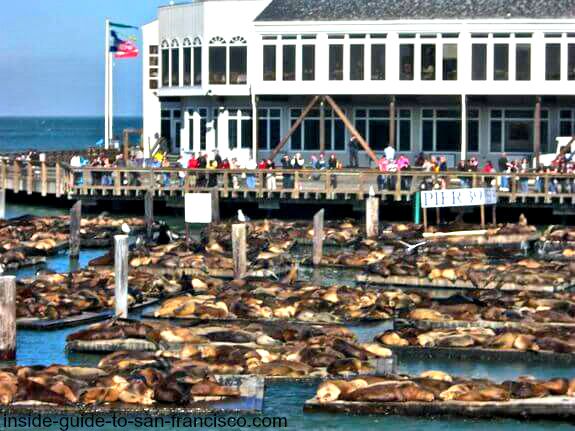 The sea lions started moving to the Pier 39 Marina after the earthquake in 1989. Eventually so many moved in, the boats had to move out, and now they loll on the floating wooden docks all day.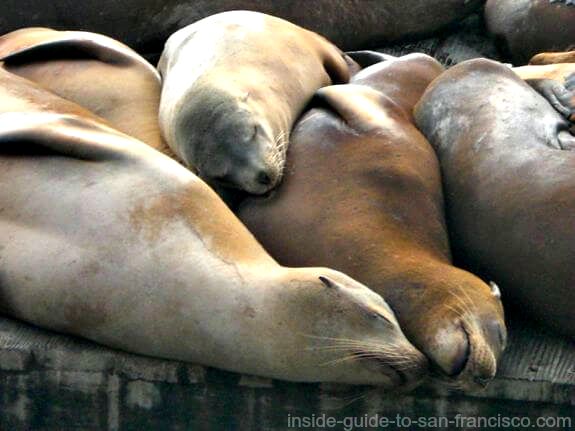 Most of the sea lions are sound asleep, but there are always several malcontents in the group that bellow and groan at each other, arguing over a favorite spot on the planks.
Where are they? Go all the way to the end of Pier 39, and turn left. The sounds and smells will tell you where they are!
---
Gorgeous Views
The setting of Pier 39 on the wharf in San Francisco couldn't be more entrancing. Head out to the end of the pier and there's Alcatraz straight ahead, and to the left, the Golden Gate Bridge.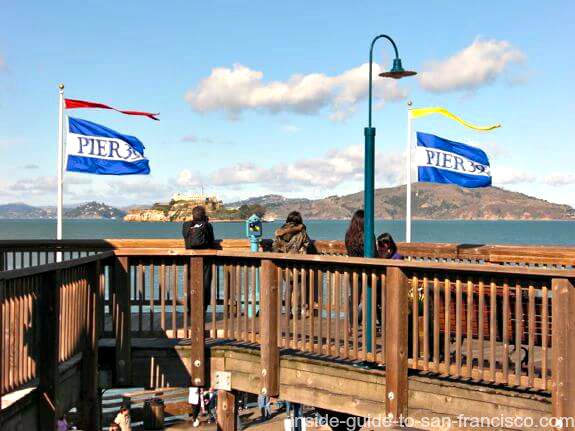 You can watch all the maritime activity, with sailboats and ferries coming and going, and the huge container ships lumbering into the harbor.
---
Aquarium of the Bay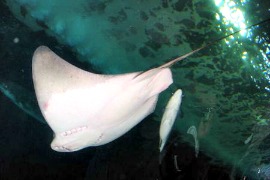 Bat Ray
A fascinating aquarium showcasing the sea life of San Francisco Bay.
Check out who's living in the water just off the dock, and watch sharks being fed!
---
Bay Cruises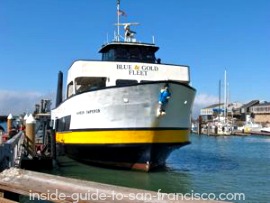 This really is a pier, so it's not surprising that a number of boats leave for their bay cruises from this spot.
The Blue and Gold Ferry leaves from here, as well as the Rocket Boat and Adventure Cat. See San Francisco Bay Cruises for more info and photos.
---
The 7D Experience
The Zombie Apocalypse! Have a virtual adventure with 3D glasses, moving chairs and laser guns to shoot at the bad guys. Even gusts of wind! There are four scenarios to choose from: a zombie invasion, robot bandits in the Old West, Gigamon (monsters attacking in an urban setting), and the newest one, Road Fighter, sort of Mad Max in a city with robot-like guys ambushing you. Or do all four (each "ride" is only about 5 minutes).
The zombie one is really scary, and the other three are exciting, but not as scary (better for younger kids). The Old West ride is probably the best one for the youngest kids. They post your score with your photo on the screen at the end, so stay alert!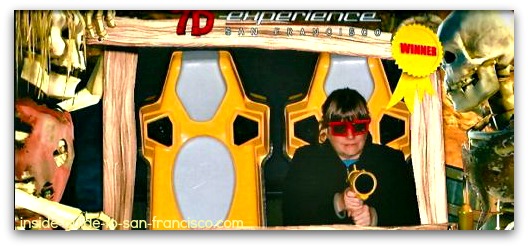 Serious business, fighting zombies...
(and everyone's a winner)
Kids love this and even more mature folks (like me) have a great time. A group of teenage boys coming out pronounced it "awesome!"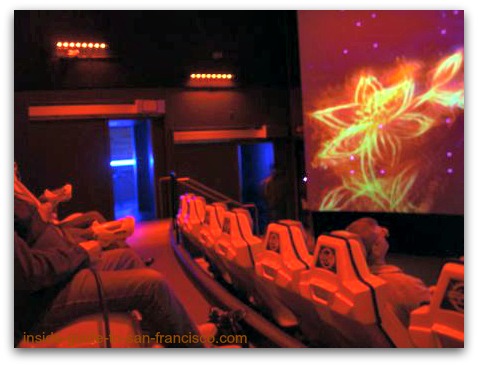 7D Theater Pier 39
First ride $11.99 ($2 less with Fun Pack), rest of day rides are $6. Ground level, at the back on the right.
They also have a laser adventure, a dark room where you can dodge laser beams.
To get discounted tickets through Groupon for the 7D Ride, click here.
---
The Mirror Maze
Dare to enter the Magowan's Infinite Mirror Maze! Appropriately for San Francisco, this is a very cool, almost psychedelic, experience: lights flashing to the music, beautiful, shifting colors, and endless vistas that are not what they seem. Takes about 20 minutes to get out. Very fun. Only $5 ($1 less, with Fun Pack). Second level, on the right.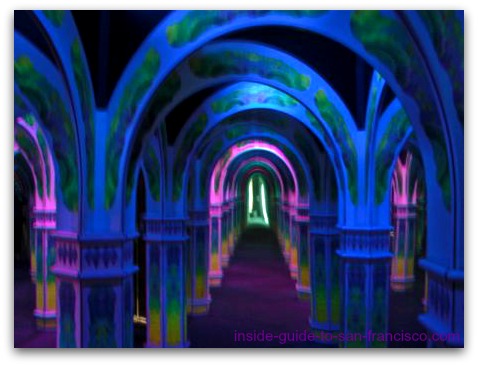 To get 50% off tickets for the Maze via Groupon, click here.
---
The Carousel
This pretty, double-decker carousel was made in Italy and decorated with scenes of San Francisco. Ride some beautifully painted, and rather odd, creatures like sea lions, water dragons and mer-horses (?).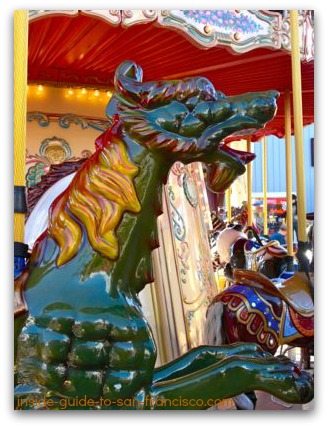 ---
Entertainment
The stage behind the carousel hosts almost non-stop, free entertainment in the form of magic shows, jugglers, comedians, etc.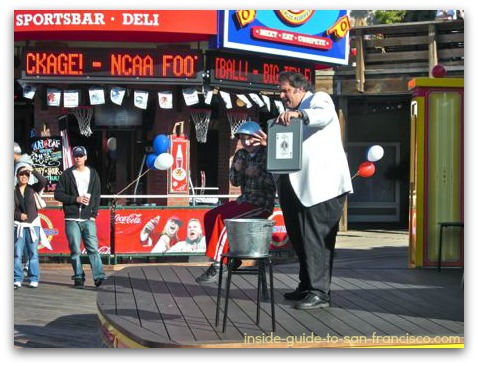 Magician at Work
---
Shopping
Tons of shops, too many to name, but covering just about everything you could imagine, including left-handers' goods, doggie boutiques, handbags, magic tricks, scarves, pearls, charms, puppets, candy, fairies, crystals, bamboo textiles, ceramics, etc.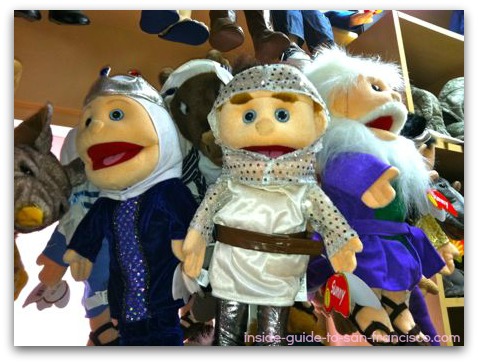 Puppet Shop
The clerk in the Magic Shop was performing some amazing sleight-of-hand tricks for customers when I was last there.
Pier 39 Restaurants
The food here is OK, not great by San Francisco standards, but convenient. Some of the restaurants have great views: Neptune's Waterfront Grill, Hana Zen Japanese Grill, Luigi's Pizzeria and Louis's Swiss Italian and Seafood Restaurant.
Save Money on the Attractions at Pier 39
Buy one of the passes that include some of the more expensive attractions, like the Aquarium, bay cruises, and city tours.
San Francisco WharfPass (www.wharfpass.com)
Go SF Card (smartdestinations.com)
SF City Pass (www.citypass.com)
Money Saving Tip:
Get a Pier 39 Fun Pack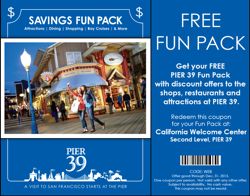 Go up to the California Visitors Center on the second floor, left side, and get a Fun Pack. It's a 55-page booklet of coupons, just for Pier 39 stuff (including 2 hours free parking at the garage across the street). Good deals...free desserts, free appetizers, discounts on attractions and shopping, etc.
To qualify, either bring your AAA card if you're a member, or go to www.pier39.com and download the Fun Pack coupon before you go.
Also, the free Fisherman's Wharf Map and free San Francisco Map available in the Visitor's Center at Pier 39 have lots of coupons for the nearby attractions. They're great maps, too, with attractions, hotels and other places of interest marked on them.

Practical Tip: the Visitors Center provides some other useful services as well. They have luggage storage for $5 a bag, so you can avoid dragging heavy bags around while you explore. They also have free wifi, sell discount event tickets, and rent strollers and wheelchairs.
How to get to Pier 39
Pier 39 is located at the far right end of Fisherman's Wharf on the Embarcadero, which turns into Jefferson Street, the main street of Fisherman's Wharf.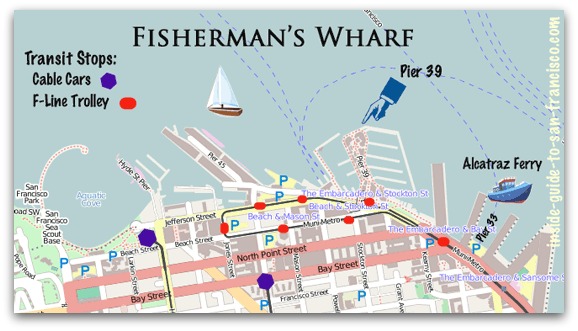 Cable Cars: The two cable car lines leaving from Powell and Market will bring you within a couple of blocks of Pier 39.
The F-Line Trolley: The antique street cars of the F-Line also stop at Pier 39. The F-line runs all the way down Market Street, and then all along the Embarcadero to Fisherman's Wharf.
Pier 39 Parking
If you are driving, know that parking in this area is gruesome. I have been lucky on occasion with street parking, but the meters run 24 hours a day, even on Sundays and holidays (unique to this part of town) and they are only good for a half hour or an hour.
The parking garages are very expensive, but if you're not staying long, one solution is the Pier 39 parking garage, because of coupons and restaurant validations.
The Pier 39 Parking Garage
This is a large garage just across the street from Pier 39; very convenient, but pricey at $8 per hour.
Two ways to save money at the garage:
Get a free hour with a validation stamp if you eat at one of the full-serve restaurants at Pier 39 (listed on the back of the parking ticket), or 2 free hours with validation after 6:00 p.m.
Or get your parking ticket stamped at the California Visitors Center at Pier 39, for two hours of free parking, as part of the Fun Pack described above.
More Parking Ideas: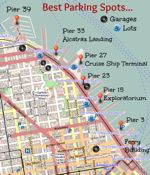 There are numerous parking lots and garages in the general area of Pier 39, if you don't mind walking a few blocks.
The easiest way: check out the prices and availability for the garages nearby and book a space ahead of time using parking apps like Parking Panda or Spot Hero. I've been doing this more and more; this way you can usually get a good deal and don't have to worry about The Hunt;-)
Map of Pier 39
---
Nearby Attractions...