By Karen
Updated September 13, 2023.
Christmas in San Francisco 2023 
Things to do in San Francisco for Christmas!
Christmas is a beautiful time to be in San Francisco!
The shops are decked out, the Christmas lights are sparkling, and holiday favorites like the Nutcracker ballet, Dickens' Christmas Carol and Handel's Messiah are playing.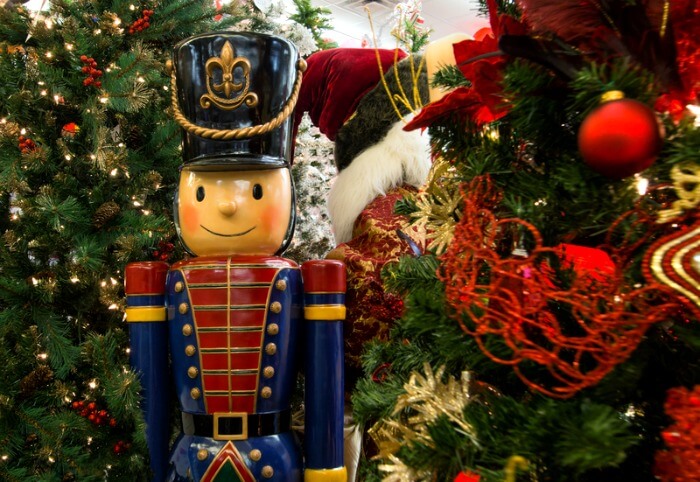 I may earn a small commission if you make a purchase through some of the affiliate links on this page. See disclosure policy. This helps me provide all the free information on the site. Thank you!
---

San Francisco Christmas Shows

Every year, there's another opportunity to see these Christmas favorites in world-class productions in the city.
The Nutcracker
The San Francisco Ballet's performance of the Nutcracker is the ultimate SF Christmas experience.
The American premier of the Nutcracker was took place in San Francisco, in the War Memorial Opera House, performed by the San Francisco Ballet on Christmas Eve in 1944.
This event launched an American Christmas tradition, and you can still see the SF Ballet do the Nutcracker every year at the SF Opera House.
Join young Clara and the sugar plum fairies this year in one of our most delightful holiday traditions.
2019 was the 75th anniversary of San Francisco's first Nutcracker performance.
The Nutcracker is back for 2023! Check with their website for the offerings and performance dates of 2023 ballet season.
For tickets, go directly to their website for the best prices.
Covid note: proof of vaccination is no longer required and masks are recommended but not required. See their website for details.
---
Dickens' Christmas Carol
Dickens' beloved story of Scrooge and Tiny Tim is performed every year in San Francisco by the American Conservatory Theater, at the Geary Theater, 415 Geary Street.
The live performance of the Christmas Carol is back for 2023! 
Performance dates: Dec 6-24, 2023. See Christmas Carol for more info and tickets.
---
Handel's Messiah
In most years, you can enjoy this beloved work in the SF Symphony's grand Davies Hall, in the gorgeous Herbst Theater, or in Grace Cathedral.
San Francisco Symphony - Messiah
See the Messiah performed by the SF Symphony and 100-member Symphony Chorus in Davies Hall. Always a great show.
The SF Symphony is doing the Messiah this year on Fri, Dec 8, and Sat, Dec 9, 2023 at 7:30 pm.
To check current Covid requirements for attendance, see Covid rules. Mask and vaccination no longer required, but strongly recommended.
See Messiah for tickets (on sale July 15, 2023).
---
Grace Cathedral - Messiah
One long-standing San Francisco tradition is the performance of Handel's Messiah in the beautiful Grace Cathedral, on Nob Hill.
Also performed on period instruments, and sung by the American Bach Choir, this has been a very popular event for past 20 years.
Book early for this one.
The Grace Cathedral Messiah is back for 2023. 
Performances on Dec 14 & 15, 2023. See Messiah tickets. 
See Covid rules for attendance.
---
Grace Cathedral Carols
Grace Cathedral does Christmas carol programs as well, both sing-along, and performances by their Choir of Men and Boys. Beautiful setting.
See Grace Cathedral Christmas programs for info and tickets.
For info on Christmas services at Grace Cathedral, see services.
---
Sing-Along Messiah
The Golden Gate Symphony usually does a Sing it Yourself! Messiah each year, at Herbst Theater, 401 Van Ness Ave. 
The Sing-along Messiah is back for 2023.
Monday, December 18, 2023, at 7:30 pm.
See Golden Gate Symphony Messiah for info.
The San Francisco City Chorus also is doing a Messiah sing-along on Dec 9, 2023, at 3 pm.
Lakeside Presbyterian Church, 201 Eucalyptus Drive.
See Chorus Messiah more info. 
---
More Christmas Events with the Symphony
Christmas Movies with the SF Symphony
The San Francisco Symphony often does a Christmas classic.  You can watch the movie while the symphony orchestra plays the music. 
For 2023 holiday season, the Symphony is doing The Nightmare Before Christmas, Love Actually, A Charlie Brown Christmas, and Home Alone.
Check SF Symphony Movie for more info and tickets.
The SF Symphony does a special family-oriented Christmas concert called Deck the Halls with familiar holiday songs and some singing along.
Dec 3, 2023,  at 11 am and 3 pm.
See Deck the Halls for program and tickets.
---
Christmas Activities in San Francisco
Christmas time is San Francisco has all sorts of visual treats for visitors.
The major shops and hotels have their Christmas decorations out, and it's fun to check them out.
Here are some more ideas for things to do in San Francisco for Christmas.
Macy's Believe Meter
---
Kittens & Puppies in Macy's Windows
One of San Francisco's most loved Christmas activities is going downtown to see the adorable puppies and kittens available for adoption, in the windows of Macy's Union Square store.
Dates TBA. Usually starts late November and runs through Jan 1.
The SPCA brings a selection of kittens and puppies needing homes to the downtown Macy's every holiday season, a 30-year tradition. 
Even if you're not looking for a pet, it's still a heart-warming thing to see; how much cuter can it get?
Pretty irresistible! I used to take my son down there when he was little; he loved it, and so did I. We still love to go down there and see them.
Prior years' kittens and puppies...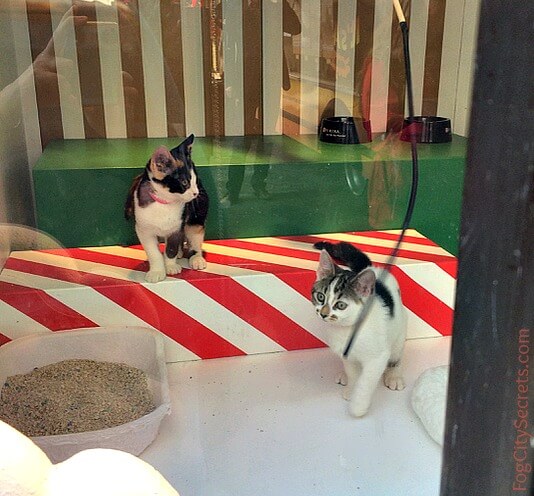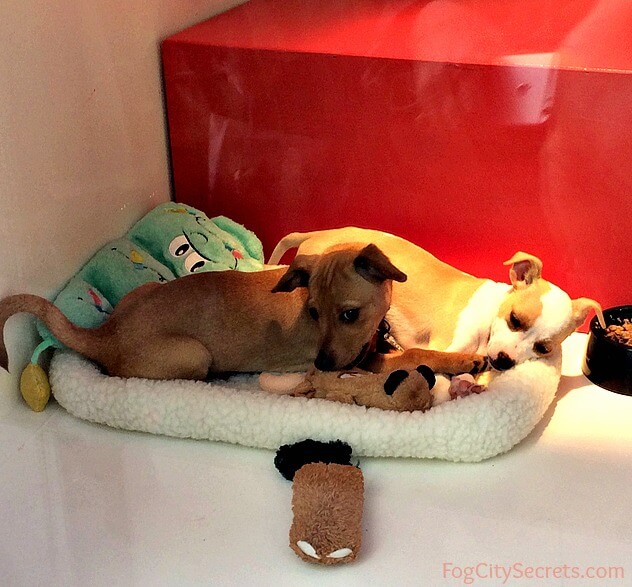 ---
Dickens Christmas Fair
The Dickens Fair is back for 2023! 
The 2023 Dickens Christmas Fair is returning to San Francisco at the Cow Palace for five weekends, Nov 18 - Dec 17, 2023.
Get in the Christmas spirit, sample the roasted chestnuts and ale, and pick up some gifts. Wander through the lamp-lit streets of Victorian London in this extremely popular recreation of another time and place.
The entire Cow Palace arena is converted into street after street of vintage shops and pubs, with costumed actors selling food and Christmas items. A San Francisco tradition since 1970.
It's lots of fun: plays, music, pantomimes, Punch and Judy, Christmas carols, and more.
(Discounted tickets available if purchased before October 15, 2023.)
---
Ice Skating in Union Square
Ice Skating in Union Square
An ice skating rink is set up in Union Square over the holiday season every year.
The rink is  open from November 1, 2023 through January 15, 2024.
2023 hours and rates: Open 10 am to 11:00 pm daily. Closes 9:30 pm on New Year's Eve.
Admission and skate rental included: $20. Kids under 9: $15.  Lockers available for rent.
For more info, see Union Square ice rink.  

More ice rinks in San Francisco: 
Holiday Ice Rink, on the Embarcadero (2023? TBA). A 30-year holiday tradition, reopened Nov 6, 2019, and then closed through 2022. Hopefully it will return in 2023. Outside of Four Embarcadero Center, by Justin Herman Plaza, across from the Ferry Building. 

Yerba Buena Gardens (open for 2023). Open year round, indoor rink at Yerba Buena Gardens. Holiday decorations. Adults $14.  See ice skating for info.

The Dickens Fair has an ice rink, along with all the other festivities. See Dickens Fair for more info.
---
Huge Christmas Trees in the City
Several locations in San Francisco have massive Christmas trees set up outside to enjoy.
Union Square Christmas Tree
Every year, Macy's contributes the enormous Christmas tree in Union Square. 
In the past, the lighting ceremony has included performances by the San Francisco Boys Choir and the Oakland Interfaith Gospel Choir, and Santa and Snoopy have made a visit.
For 2022, no tree-lighting ceremony was held, but the tree was lit up November through January 1, 2023.
2023 events TBA.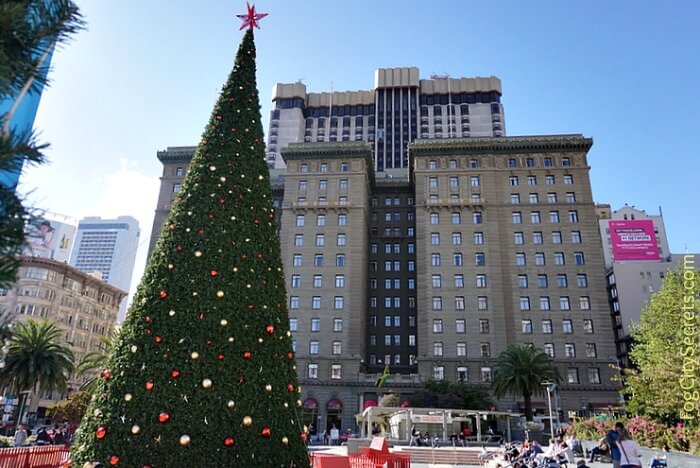 Christmas in Union Square
---
Pier 39 Christmas Tree
Pier 39 puts up a 60-foot Christmas tree at the entrance to the pier every year.
They do a tree-lighting show on the hour from 5 to 10 pm, every night during the season through the first week of January. Synchronized Christmas music and lights.
2023 Pier 39 holiday celebrations Nov 21, 2023 through Jan 7, 2024.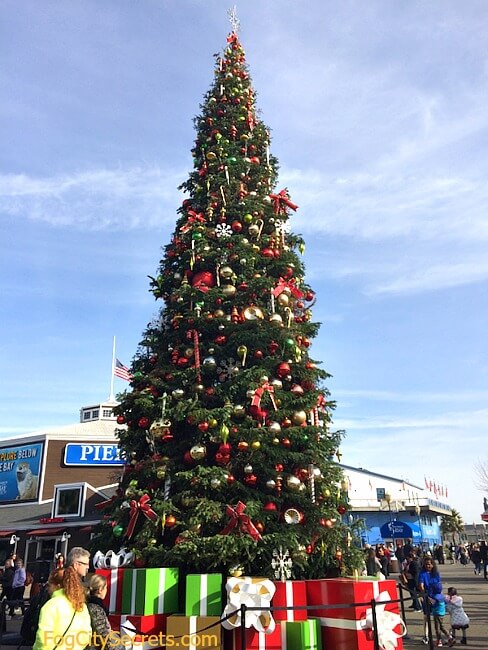 Pier 39 Christmas Tree
More info on things to do at Pier 39.

---
Ghirardelli Square Christmas Tree & More
Ghirardelli Square has a big tree every year as well.  Music and crafts, also.
Enjoy some hot cocoa and other goodies during the festivities! Santa will be there, too.
They usually do outdoor screenings of some Christmas movies each year. See what's happening at the square: Ghirardelli Square holiday activities.
Ghirardelli Square's Winter Wonderland: TBA.
More on things to do at Ghirardelli Square.
---
The Presidio Tree
Lighting the big tree on the Main Post of the Presidio is typically the first week of December. 2023 date TBA.
Sing Christmas carols and enjoy the refreshments, then do a walk in the forest with lanterns at 6 pm.
Check events calendar for Presidio ceremony.
---
More Pretty Christmas Trees
The Fairmont Hotel's lobby is gorgeous any time of year, but especially so during the Christmas season.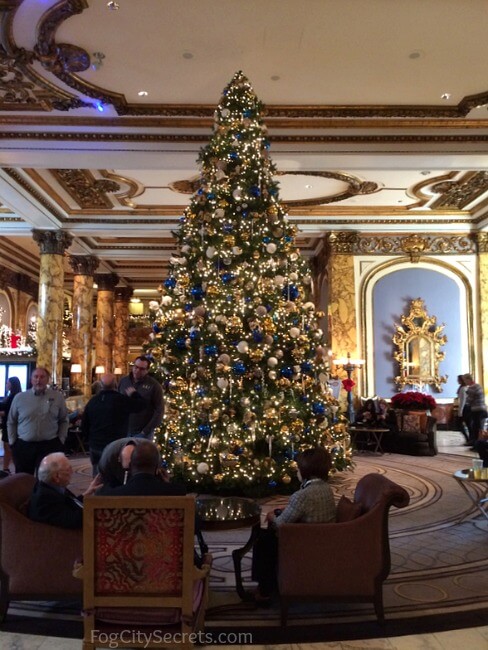 Fairmont Hotel Lobby
In addition to a beautiful tree, the Fairmont sets up a life-size, gingerbread house each year, that you can walk through (but not nibble on). 
It's really made of gingerbread, candy and icing, but it's not edible.
You can watch the toy train running along the track. A delight for kids.
The gingerbread house is back for 2023. You can even book a private meal inside the house! 
Another yummy tradition: book a Holiday Tea at the Fairmont, or enjoy a Christmas buffet.
See Fairmont holiday bookings for info and reservations.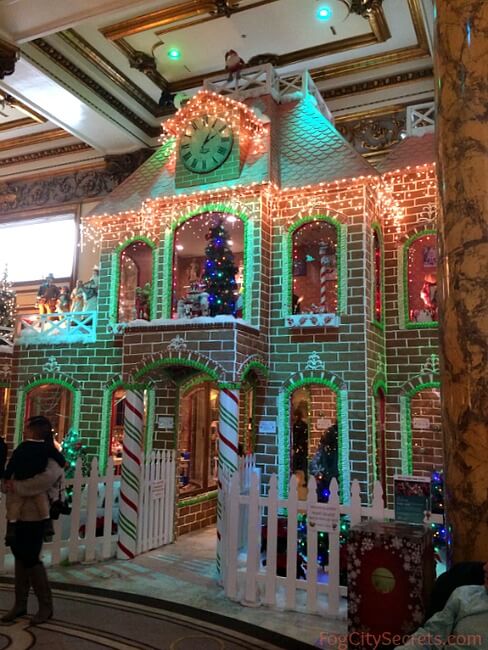 The Fairmont's Gingerbread House
Getting there: the Fairmont Hotel is on Nob Hill, walking distance from Union Square: go up Powell Street, then left on California (up a very steep hill).
Or take the cable car that runs up Powell Street, and get off at California Street.
If you're in Union Square over the holidays, be sure to check out the beautiful tree in the entrance of Neiman Marcus.
Their entry way is already gorgeous, with its Art Deco, stained glass ceiling.
Neiman Marcus Atrium
Tip: they have really nice bathrooms, too. Downstairs in the men's department.
The Palace Hotel also has a beautiful tree every year. At 2 New Montgomery Street, downtown.
And the Ritz Carlton Hotel will have a pretty, 40-foot tree. 600 Stockton Street.
The Westfield Shopping Centre (downtown SF, 865 Market Street)  has had a huge, upside-down, hanging tree the past two years, we'll see if it's happening again this year. The Centre is having difficulties at the moment, so probably not.
Apparently, it's started an international trend, which some like and some don't. Decide for yourself ;-) 
---
Tell Santa What You Want
Santa is waiting to hear what you want for Christmas, at a number of locations around San Francisco.
Santa at Macy's, Union Square
You can visit Santa at Holiday Lane, on the 6th floor of the Union Square Macy's store, starting end of November. Dates TBA.
It's usually by reservation only. To book, see Santa. Masks optional.
Santa's SF appearances for 2023-TBA 
Macy's Union Square

(see above)

. 
Stonestown Galleria. Available for photos with kids. I used to take my son to see Santa here;)  Dates TBA. At the mall, 3251 20th Ave. Book a meeting.
Ghirardelli Square. Photos with Santa, last year it was December 13, 17, 21 and 23, 2022.  Walk-ins, no reservations. 2023 TBA.
Santa is often doing a special bay cruise for the holidays; see Red & White cruises closer to Christmas.
---
Teddy Bear Tea at the Ritz
For a special treat, take the kids for a holiday season tea party at the Ritz-Carlton.
They put on a holiday show for the kids, while they drink their hot chocolate and eat teddy-bear-shaped cookies. Book early for this one.
See Teddy Bear Tea for info and booking.  2023 TBA.
---
Dolly & Me Holiday Tea
Yes, it's a holiday afternoon tea for young children and their dolls! Doll crafting and tea for the kids, adults get tea or champagne. At the Westin St. Francis Hotel on Union Square.
2023 dates TBA. See Afternoon Tea for more info and booking.
Book a room at the Westin St. Francis.
---
Christmas Brunch at the Palace Hotel
A lovely Christmas tradition is having Christmas brunch at the elegant Garden Court of the Palace Hotel. This sells out fast, so book way ahead. 
They have Holiday Lunches, Holiday Teas, Holiday Brunches, Holiday Dinners, and even Santa Claus Teas to choose from. See Palace holiday dining for more info and reservations.
The Palace Hotel is at 2 New Montgomery Street, just off Market, downtown. For booking a room, see Palace Hotel.
---
What's Open Christmas Day?
The following are open on Christmas Day:
---
Tours on Christmas Day
Here are some of the more popular tours available on Christmas Day:
---
Festive Christmas brunch & dinner cruises
Sail around the bay and enjoy a special holiday meal.
Christmas Day Buffet Brunch Cruise. 2 hours on the bay. 11:00 departure. Leaves from Pier 3.
Live music and Christmassy decorations, plus unlimited mimosas, champagne, and sparkling cider!
Check availablility and rates.
Christmas Eve Dinner Buffet Cruise. 2.5 hours on the bay. 4:00 pm departure. Leaves from Pier 3.
Jolly dinner buffet and live entertainment.
Check availability and rates.
---
Christmas Lights Tours
Let someone else take you around...
Go caroling while you view the Christmas lights.
Santa's waiting...
Something a little different:
Do a Holiday Lights Tour.

S

ee the lights of the city in a vintage 70's VW bus. See Holiday Lights Tour for more info and booking.
See the city lights from a real fire engine.  Ride an SF fire engine around the city, singing carols, and checking out the Christmas lights. See Christmas Fire Engine Tour for info and booking.
---
Or see the lights from the Bay...

 
Dinner Cruise of the Bay. City Experiences has a festive dinner/dance cruise that sails around the bay, past the city skyline and Embarcadero Center lights, under the Golden Gate Bridge and around Alcatraz.
Then on to the spectacular light show on the Bay Bridge.
Meanwhile, there's a four-course, gourmet dinner and live entertainment and dancing to enjoy.
I've been on one of their dinner cruises; a great four-course meal and gorgeous views!
See dinner cruise for more info and booking, or see my page on our Hornblower dinner cruise experience, with photos.

Red, White and Green Cruise. Christmas festivities (and Santa), with holiday refreshments and games for the kids, on the Bay 2 Bay Cruise, when the Red & White Ferry turns into a Christmas cruise.
Various dates in December 2023, TBA. 90 minutes. See Red & White cruises.
---
Christmas Lights Tour in a Tuk Tuk
This is a fun way to see the Christmas lights in San Francisco, riding in a rickshaw! Put on your Santa hat and sing carols while you go around the city to see the lights.
Travel through Fisherman's Wharf and Pier 39, up to the Fairmont Hotel on Nob Hill to see the life size gingerbread house, then on to the big tree and festive decorations at Unions Square. All with no driving or parking hassles.
Check out availability and rates for the Christmas Lights Tik Tuk Tour.
Private Christmas Lights Jeep Tour
Deck the halls with Santa hats, Christmas carols, and hot chocolate in a private tour by jeep. See the city all lit up!
The extensive tour takes you to see the holiday lights at Fisherman's Wharf, Union Square, the Embarcadero, Palace of Fine Arts, the gingerbread house at the Fairmont Hotel on Nob Hill, Presidio, City Hall, Ferry Building and Bay Bridge, and even crosses the Golden Gate Bridge for some spectacular views.
See Holiday Lights Jeep Tour for rates and availability.
Santa's Train to the North Pole
If you're going up to the Napa Valley over the holidays, the Napa Wine Train has a special excursion to the North Pole for kids (and their staff).
The Santa Trains are back for 2023. Napa to Yountville and back.
Santa and his elves will be on the train and travelers can enjoy holiday singing, games, hot chocolate and other goodies during the 1.5 hour train trip to the North Pole. But this books up fast.
There's the Santa's Cookie Car train and Jingle on the Rails for the kids, and a Gourmet Holiday Express train and Very Merry Vista Dome trip for the grownups.
See Holiday trains for info and booking.
Plus they also have Murder Mystery excursions, and other special occasion train trips.
---
In addition to the big outdoor trees mentioned above, there are some very pretty Christmas lights and displays to be seen around town.
San Francisco Christmas Lights
Union Street. Decorated and lit up between Van Ness and Steiner St.
Tom & Jerry's house. Decorated doesn't begin to describe this house in the Castro! 3650 21st Street. Santa shows up every evening, too, with candy canes for the kids, between 6:30 and 10 pm through Dec 24. Decorations up through Dec 31. Tom passed away in 2020 but the tradition continues.
SF Zoo. Santa and his reindeer aren't coming to the zoo this year, but the elves are hiding everywhere. Try to spot the all elves hiding all around the zoo.  See SF Zoo for more info.
City Hall. San Francisco's City Hall is lit up in red and green for the holidays every year.
The Embarcadero Center buildings. All four Embarcadero Center buildings are lighted to look like giant Christmas presents, starting mid-November. Right near the Ferry Building on the Embarcadero. 
Golden Gate Park Winter Lights. The park often has a cool program during the Christmas season involving lights at night. TBA for 2023. Might be Entwined 

again

, last year's event: a forest of light in Peacock Meadows.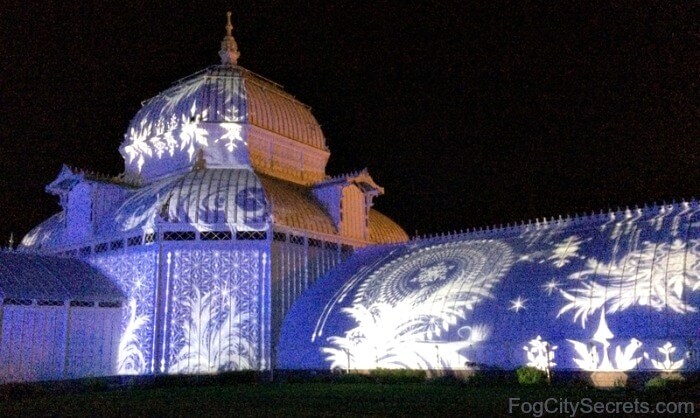 Previous Holiday Lights, Conservatory of Flowers
---
Parking Downtown for the Holidays
Parking is especially challenging in San Francisco around Christmas. Here are some tips to make it less painful:
Parking Garages.
The main parking garages for Union Square shopping are:
Union Square Garage on Geary (under the square)
Sutter-Stockton Garage,  corner of Stockton & Sutter Streets. 
They are pretty expensive by the hour and they fill up fast in December.
Sutter-Stockton is a little cheaper ($4 to $5 per hour) and is larger; if you get there early (before 10 am), you should get a spot.
Another option is to use one of the parking apps to find a spot.
You can get some good deals sometimes on these sites, especially if you book ahead.
See SpotHero.com to book a place in a garage or lot.
Embarcadero Parking. If you are heading for Alcatraz, the Ferry Building, the Exploratorium, or any other places along the Embarcadero, check out my suggestions for the best places to park on the Embarcadero.
---
Last minute gift!
Stumped for an original gift? Want something San Francisco-ish?
There's a new board game called Alarm 22, Escape from Alcatraz.
Play as one of Alcatraz's inmates and see if you can escape the island without getting captured (or worse).
It's based on real escape attempts and was designed by Jimmy Treehorn, the man who built the big scale model of Alcatraz at Pier 33. 
One of the inmate cards
Fun game with just the right amount of strategy. 
It's for sale in the Alcatraz Gift Shop at Pier 39 (upstairs), as well as a number of other local shops (and online). 
See alarm22.com for more details and store locations.

---
More to explore...